The 25 Most Iconic Album Covers Of All Time
Truly iconic album covers don't just define an album, they define an era, a generation and, in some cases, an entire musical genre.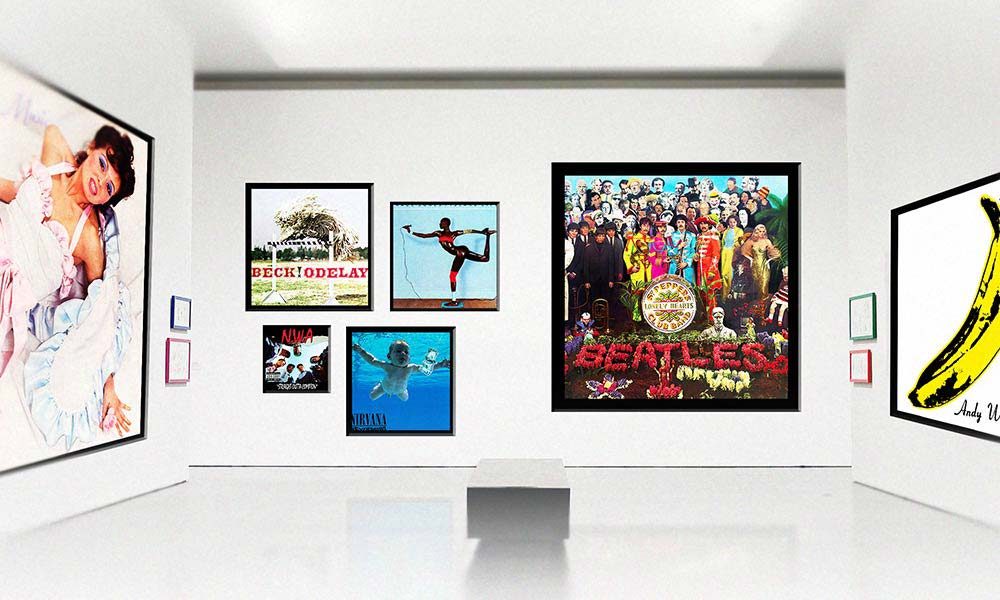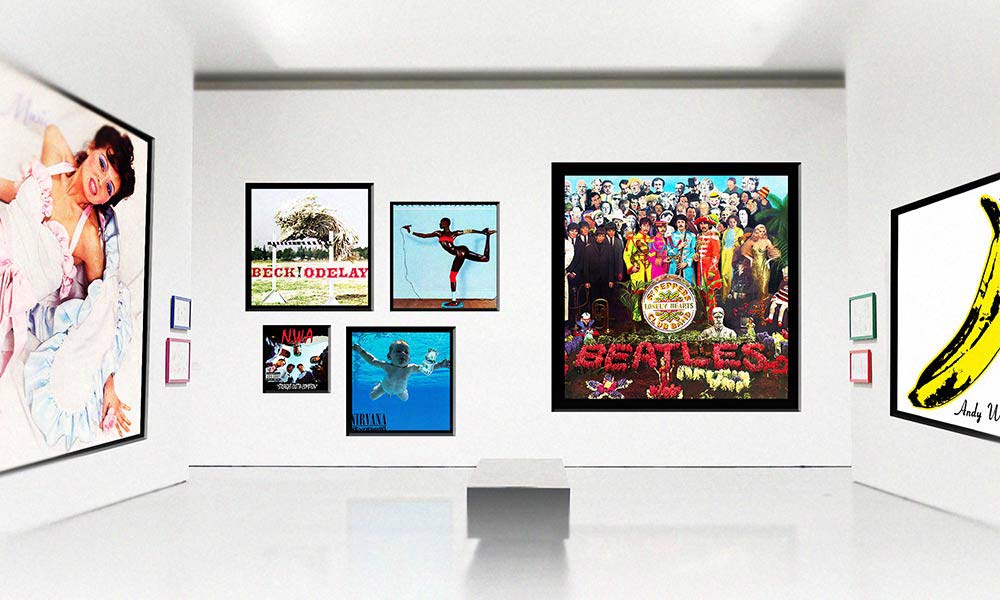 Truly iconic album covers don't just define an album, they define an era, a generation, and, in some cases, an entire musical genre. Sometimes they do all three: what is The Beatles' Sgt Pepper's Lonely Hearts Club album cover, if not the ultimate manifestation of 60s psychedelia for the "peace and love" crowd?
Sometimes album covers are helped on their way to iconic status because of the musicians they feature: photogenic stars, such as Elvis Presley, David Bowie, or Prince, whose godlike images are burned into our retinas. Other iconic album covers are envisioned by creative masterminds. The firm Hipgnosis defined the 70s with their many optical illusions. Peter Saville made Factory Records a sensation with the radio waves of Joy Division's Unknown Pleasures (and many more). Andy Warhol, meanwhile, dreamed up The Rolling Stones' iconic blue jeans crotch and zipper on Sticky Fingers. The best album covers see these graphic designs bypass linear thinking and emerge with an image that is a bona fide work of art in its own right.
While art might be a matter of taste, lasting legacy is something that's more easily measured. Our list of the 25 most iconic album covers of all time may not be exhaustive, but it certainly reveals why album covers deserve to be held in as high a regard as more traditional modes of artwork.
While you're reading, listen to our Greatest Album Covers playlist here.
Elvis Presley: Elvis Presley (1956)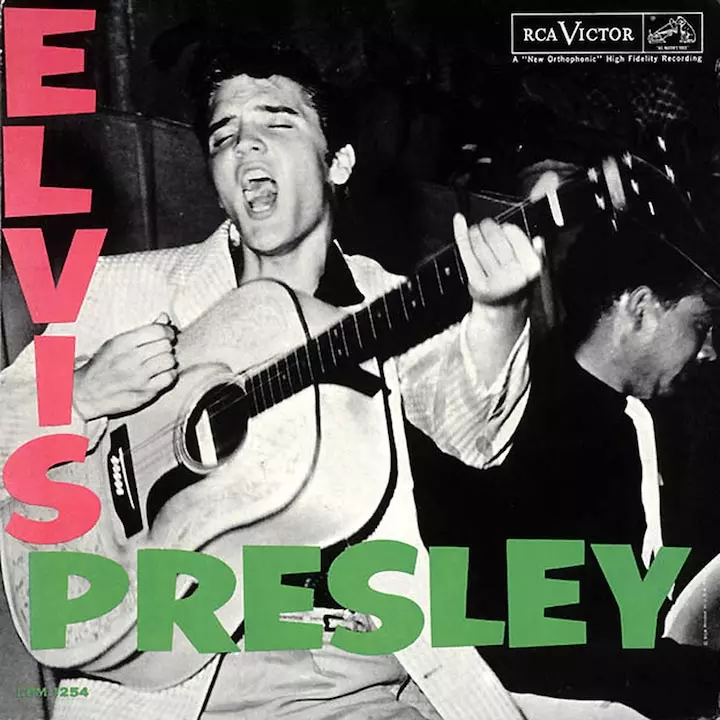 Two simple words: "Elvis" and "Presley" (the latter barely hiding that controversial pelvis from view): that's all it needed to say. Caught playing the guitar and singing during a performance at the Fort Homer Hesterly Armory, Tampa, Florida, on July 31, 1955, you can still feel the primal rock'n'roll energy from a young man ready to take over the world. Two decades later, The Clash and photographer Pennie Smith felt there was still none more rock'n'roll, and nicked the idea for the epochal London Calling vinyl album cover.
The Beatles: Sgt Pepper's Lonely Hearts Club Band (1967)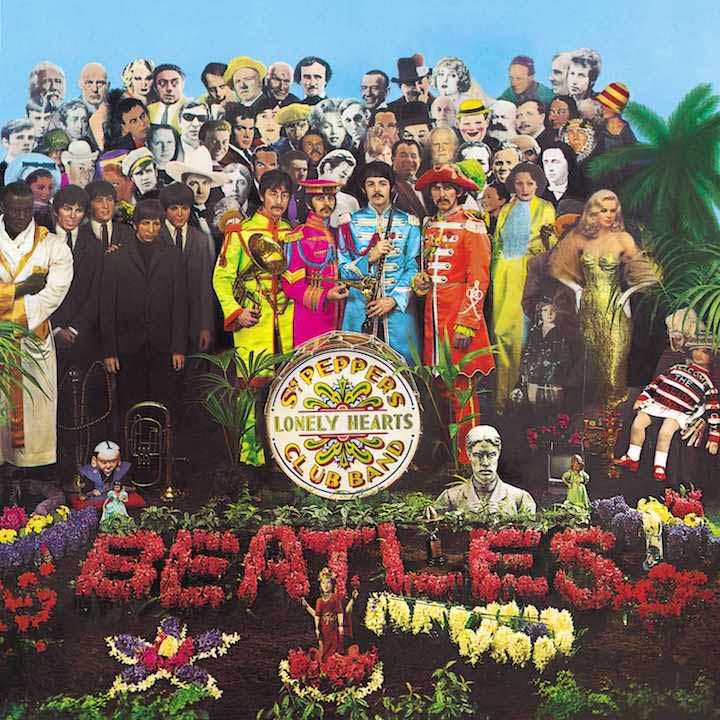 The Beatles, of course, had plenty of iconic album covers in their career, including Abbey Road and The White Album. But the most important and, at the time the most expensive album cover ever made, the Sgt. Pepper album cover remains a pop art masterpiece that has influenced everyone from Frank Zappa (We're Only In It For The Money) to The Simpsons (The Yellow Album). Staged by British artist Peter Blake and his then-wife, Jann Haworth, the Sgt Pepper album cover depicted 58 different people, chosen by John Lennon, Paul McCartney, George Harrison, Peter Blake, Jann Haworth and London art dealer Robert Fraser, presenting a fascinating cross-section of cultures, importance, and each Beatle's individual interests like Marlon Brando, Karl Marx, and Marilyn Monroe.
Click here for an interactive Sgt Pepper cover to discover who's who on one of the most important album covers of all time.
The Velvet Underground & Nico: The Velvet Underground & Nico (1967)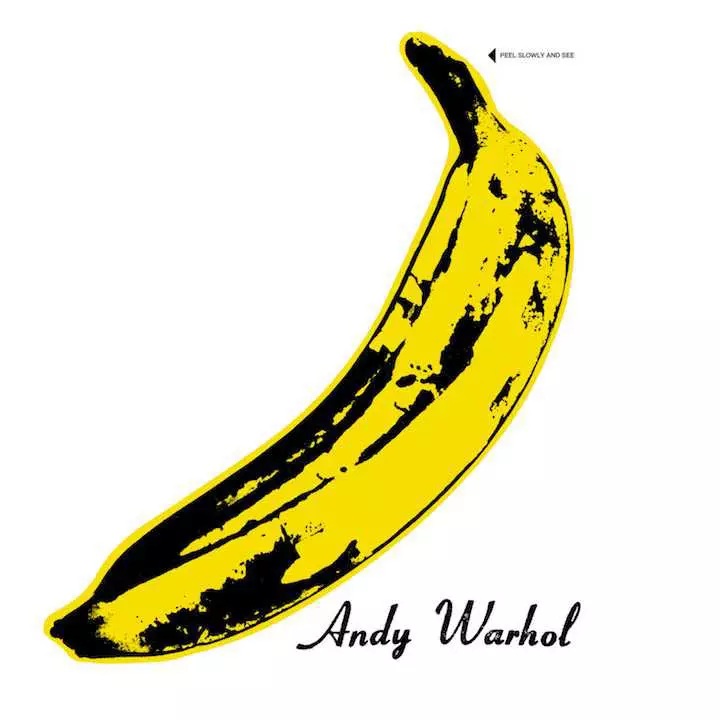 If Peter Blake's Sgt Pepper album cover is the most famous example of British pop art, then Andy Warhol's design for The Velvet Underground's debut, released that same year, remains one of the most famous from the US. It's "Peel Slowly And See" banana peel was actually a sticker that revealed the phallic fruit beneath – a typically wry move from Warhol, though the joke was on anyone who removed the sticker. Fully intact copies of the VU's debut album are now hugely collectible rarities.
Frank Zappa/The Mothers Of Invention: Weasels Ripped My Flesh (1970)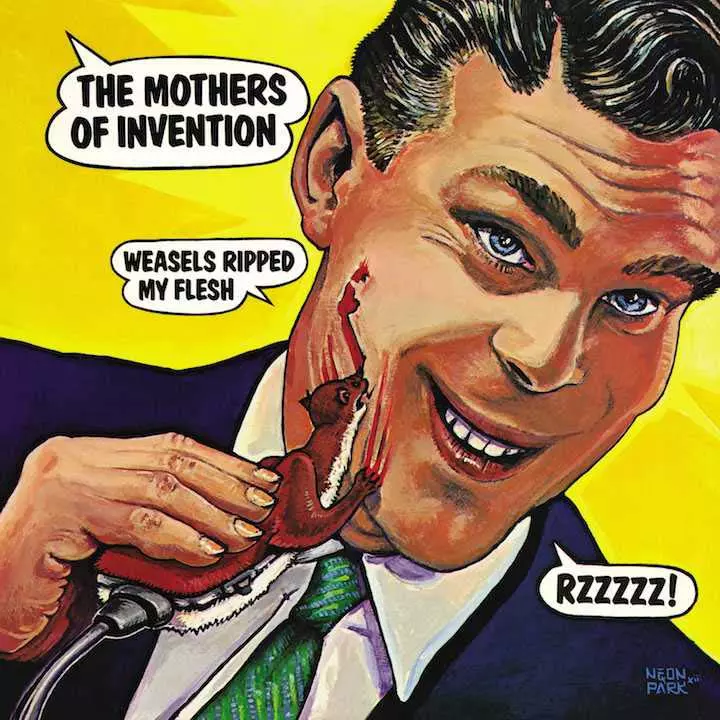 As well as creating artwork for almost every Little Feat album, illustrator Neon Park's distinctive style was put to unforgettable effect on a collection of Mothers material recorded from 1967-69. Having come across the September 1956 edition of Man's Life, an adventure magazine whose cover pictured a man being attacked by weasels, Zappa took the "Weasels Ripped My Flesh" caption for a title and challenged Parks to make something "worse than this". The result: a gruesome spoof advert for an electric razor.
Roxy Music: Roxy Music (1972)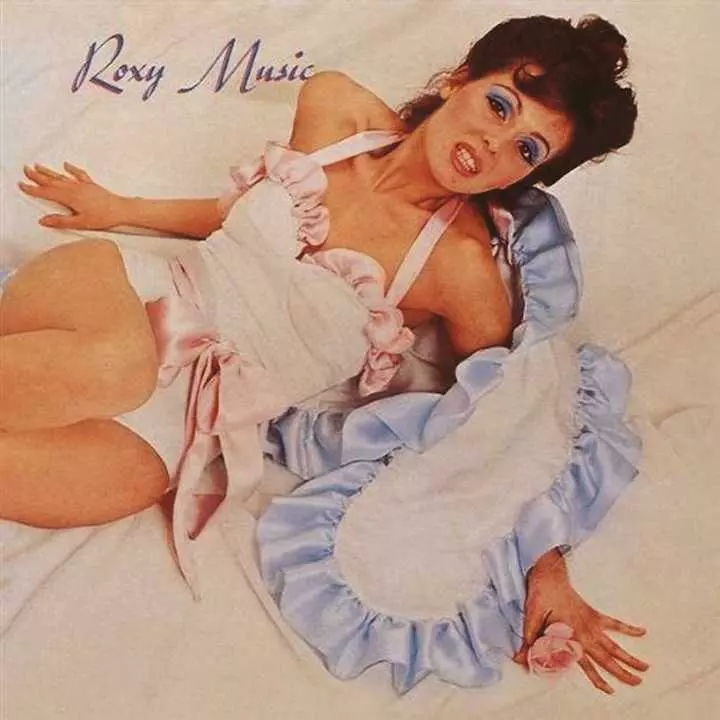 While many of the most memorable album covers of the early 70s were high-concept artworks designed by the likes of Hipgnosis or Roger Dean, Roxy Music's approach was startlingly simple: glamorous imagery, more like a 50s fashion shoot than an album cover. Often romantically linked with frontman Bryan Ferry, each model had their intriguing own back story. Having appeared as a Bond girl in On Her Majesty's Secret Service, Kari-Ann Muller featured on the front of Roxy Music for the sum of just £20. Latterly a yoga teacher, she went on to marry Chris Jagger, whose brother has an interesting tale of his own…
Pink Floyd: The Dark Side Of The Moon (1973)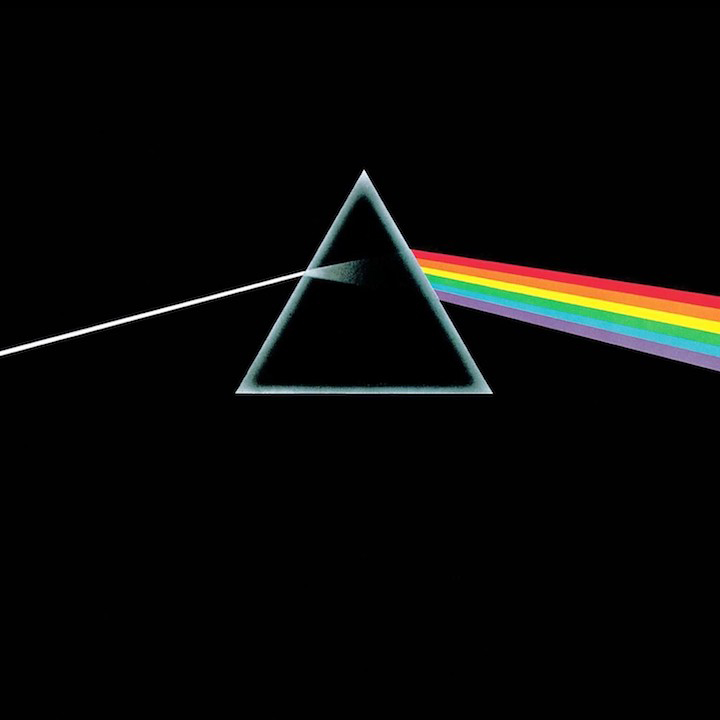 One of the most iconic album covers of all time, created by one of the most iconic design teams of all time. Hipgnosis' main men, Storm Thorgerson and Aubrey Powell, came up with the concept for The Dark Side Of The Moon, while their colleague George Hardie executed it: a prism refracting light into six of the seven the colours of the spectrum (indigo is missing). The triumvirate of light beam, prism and spectrum apparently stood for three aspects of the band and their music: ambitious stage lighting, Dark Side's lyrics and keyboardist Richard Wright's request that Hipgnosis create something bold yet simple. Job done, then.
David Bowie: Aladdin Sane (1973)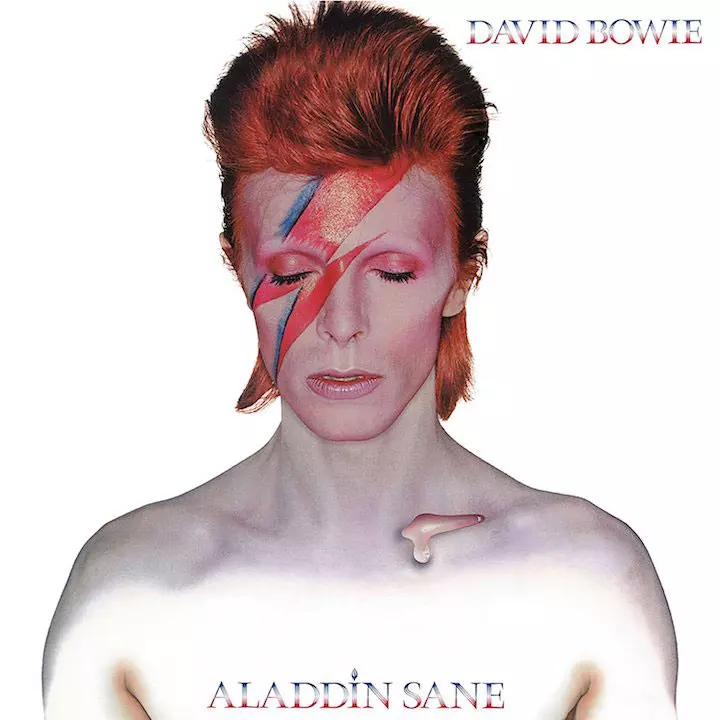 Brian Duffy's portrait remains the image most associated with David Bowie: his Aladdin Sane persona an extension of Ziggy Stardust; the lightning bolt a representation of the "cracked actor" that Bowie felt he had become during his sudden rise to superstardom. Yet while Bowie exuded otherworldly powers at this point in his career, the cover photo was taken in the very earthly confines of Brian Duffy's studio in Primrose Hill, London. The teardrop on Bowie's clavicle was an addition of Duffy's after the shoot: a perfect touch that makes Bowie seem both mysterious and tender at the same time.
Led Zeppelin: Houses Of The Holy (1973)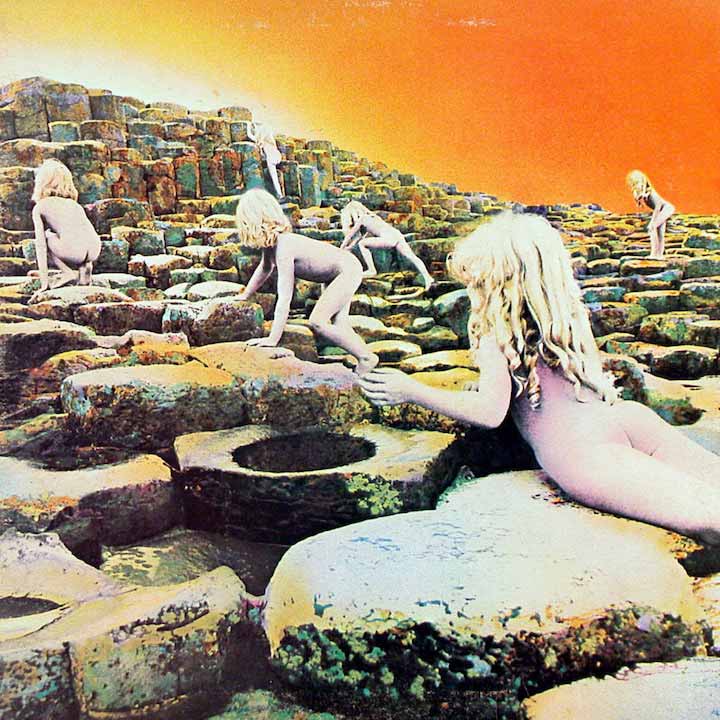 Another one of Hipgnosis' arresting album covers, the artwork for Houses Of The Holy was inspired by the ending of Childhood's End, a 30s sci-fi novel by author Arthur C Clarke. A collage pieced together from several photos of two children scaling Giant's Causeway in Northern Ireland, taken over a ten-day period, the artwork's eerie colouring was an accidental effect that gave the image a suitably otherworldly feel. Another unintended after-effect: some stores found the naked children too controversial and refused to stock the record.
Fleetwood Mac: Rumours (1977)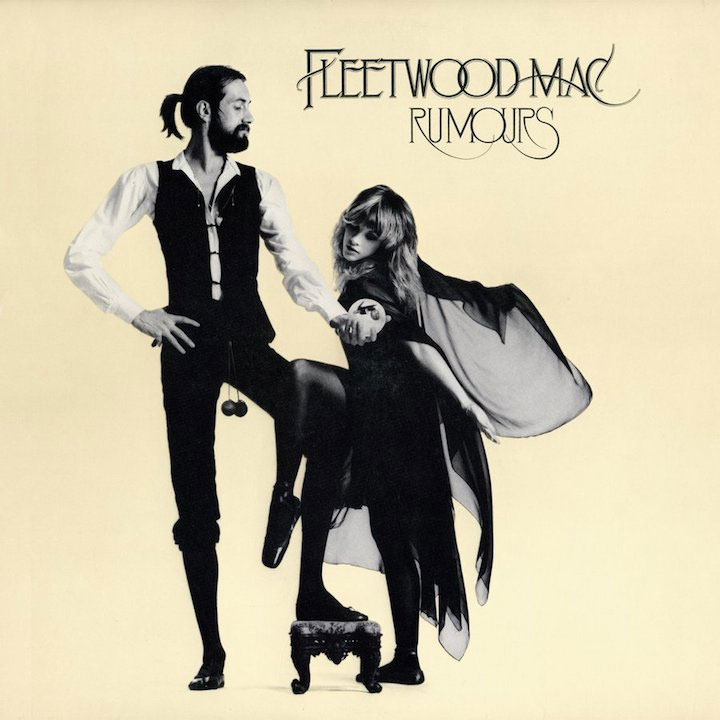 At a glance, the artwork for Fleetwood Mac's best-selling album is simple: drummer Mick Fleetwood working up some theatrics with the none-more-melodramatic Stevie Nicks channelling the Rhiannon muse that consumed her for a period in the mid-70s. Oh, and then you see the nod to his manhood dangling proudly between his legs. Not just a schoolboy prank in the spur of the moment, the balls were actually toilet chains that Mick pulled from a cistern and placed between his legs before performing one of the band's earliest gigs – and there they would remain for future live performances, presumably dangling dangerously close to the drummer's tom-toms.
Prince: Purple Rain (1984)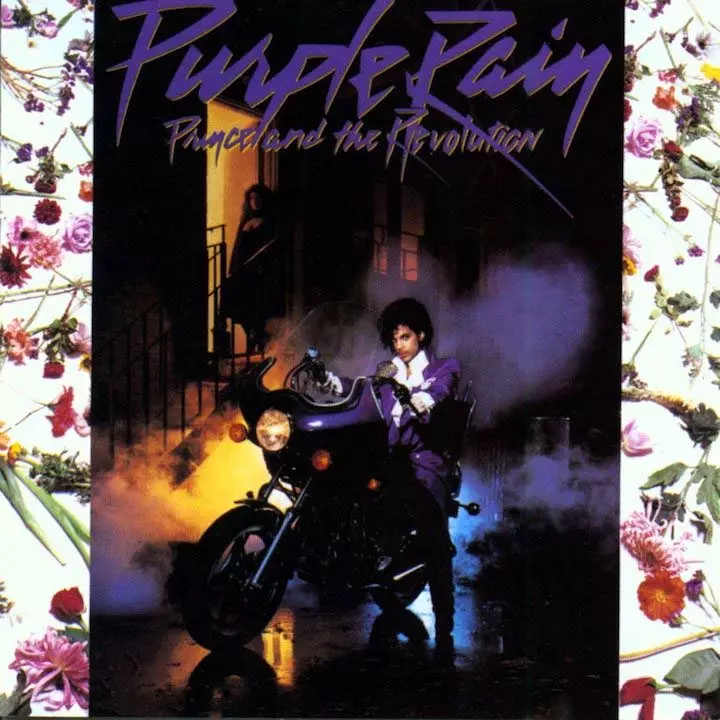 An unavoidable image (and album) from the mid-80s through the rest of the decade, Purple Rain introduced the world to Prince as an enigmatic presence ready to disappear at will into the night, all Little Richard pompadour and wry smile, as if in on a joke that no one else could ever hope to understand. Photographer Ed Thrasher had previously snapped the similarly flamboyant Jimi Hendrix on a motorbike (a shot that graced the posthumous compilation album South Saturn Delta), while, if you look closely at the bike, you'll see the androgyny symbol that would later find echoes in the "Love Symbol" that Prince changed his name to.
Bruce Springsteen: Born In The USA (1984)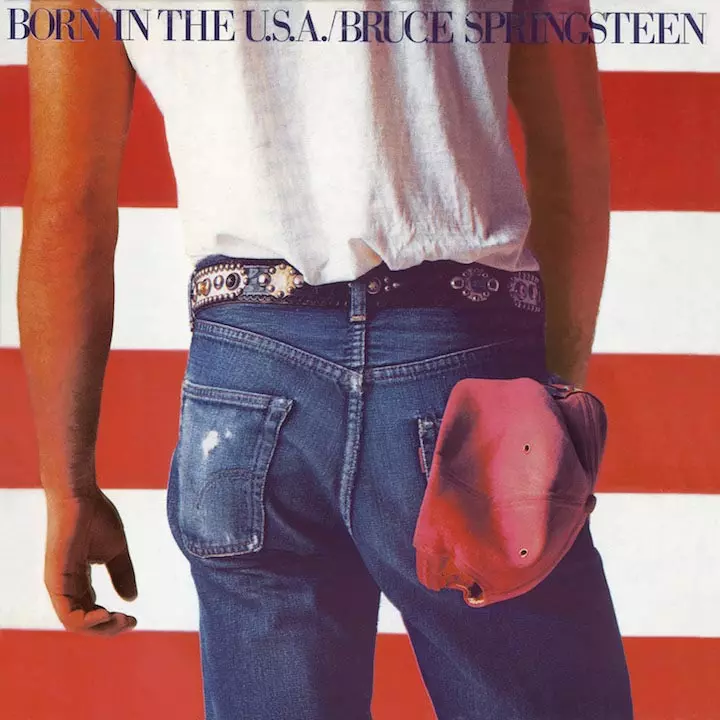 Inspired by Born In The USA's title track, Rolling Stone photographer Annie Leibovitz shot Springsteen in red, white and blue, before a backdrop of the American flag, creating the ultimate American everyman photo for the ultimate American everyman album. However, like the album's title track – which has been open to political misinterpretation over the years – the artwork drew some negative connotations. Some thought The Boss was relieving himself on the flag – an unintentional result of Springsteen choosing, from a number of photos, "the picture of my ass" because it "looked better than the picture of my face".
Grace Jones: Island Life (1985)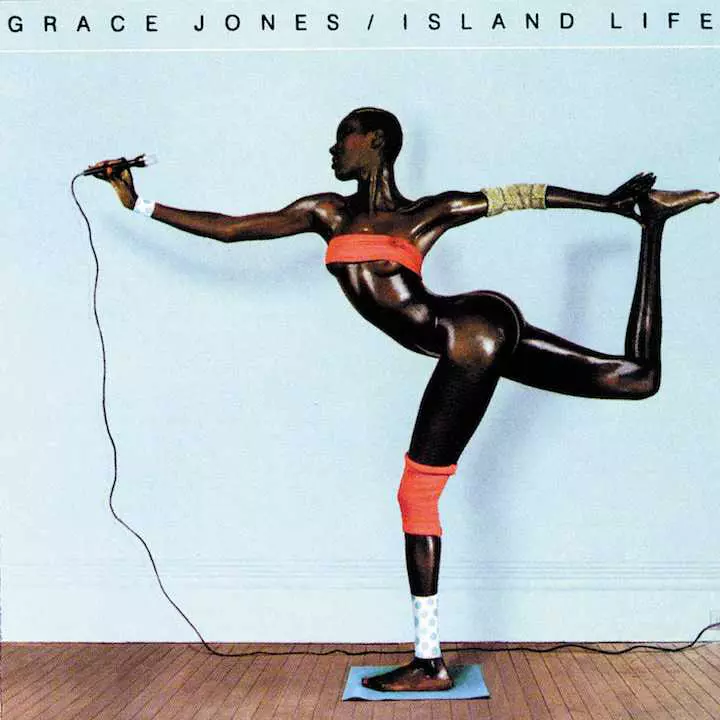 As a model, actress, and songwriter, Grace Jones' career is littered with iconic photo shoots, from downtown disco snaps to uptown magazine spreads and, of course, a great album cover or two. While almost all of her record sleeves qualify for "iconic" status, the 1985 collection Island Life remains arguably her most famous. Originally printed in a 1978 edition of New York Magazine, the image was created by Jones' then partner, designer and photographer Jean-Paul Goode, who fashioned Jones' implausible posture from a composite of several photographs.
The Smiths: Meat Is Murder (1985)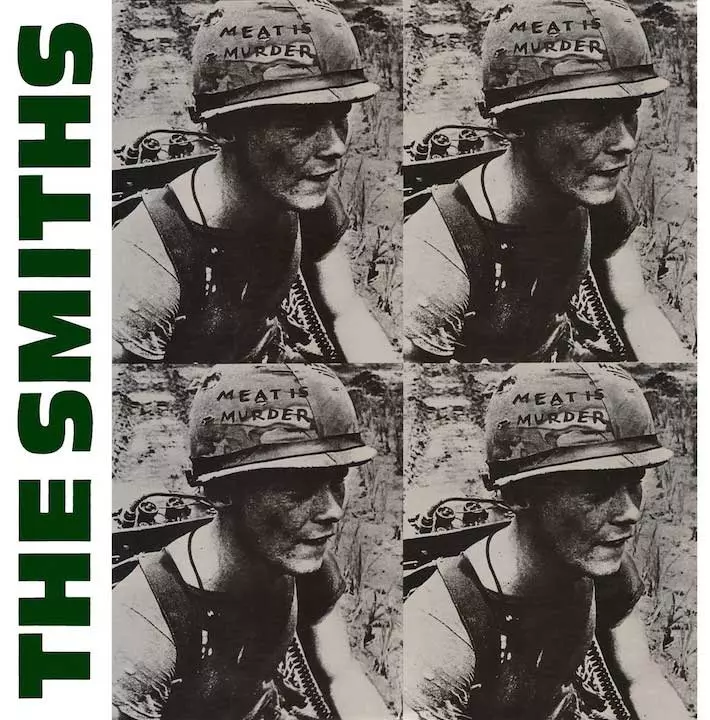 The Smiths were always handy with an eye-catching image – taken together, their album covers amount to a gallery of black-and-white images with histories as compelling as Morrissey's lyrics. For Meat Is Murder, the devoutly vegan Morrissey sought to draw a parallel between meat-eating and warfare, picking a controversial image of a Vietnam War soldier whose helmet had been emblazoned with the album's title. Not that the original photo bore the "meat is murder" slogan. The 20-year-old Marine Corporal Michael Wynn, pictured on the album cover, had been photographed on 21 September 1967 in Da Nang, South Vietnam, during Operation Ballistic Charge – and the slogan he'd actually written on his own helmet turned a countercultural catchphrase on its head with the hippie-baiting "make war not love".
NWA: Straight Outta Compton (1988)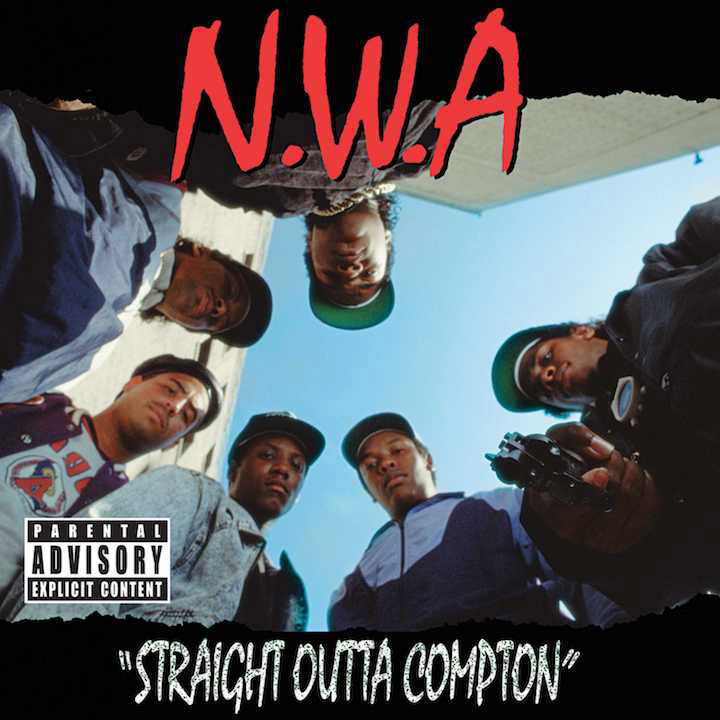 From sound to lyrical content and imagery, Straight Outta Compton defined the emerging gangsta rap genre, and its artwork has gone down in history. Speaking to CNN years after, photographer Eric Poppleton, then just out of university, put the image's impact down to the fact that, "You're taking the perspective of someone who is about to be killed… We don't even print that stuff in newspapers." Poppleton still doesn't know if Eazy-E's gun was loaded – though it was certainly real ("There wasn't anything fake back then," he told NME), brandished by Eazy while Poppleton and the group – with one-time sixth member, producer Arabian Prince, in tow – ducked down an alleyway to capture the shot on the fly.
Nirvana: Nevermind (1991)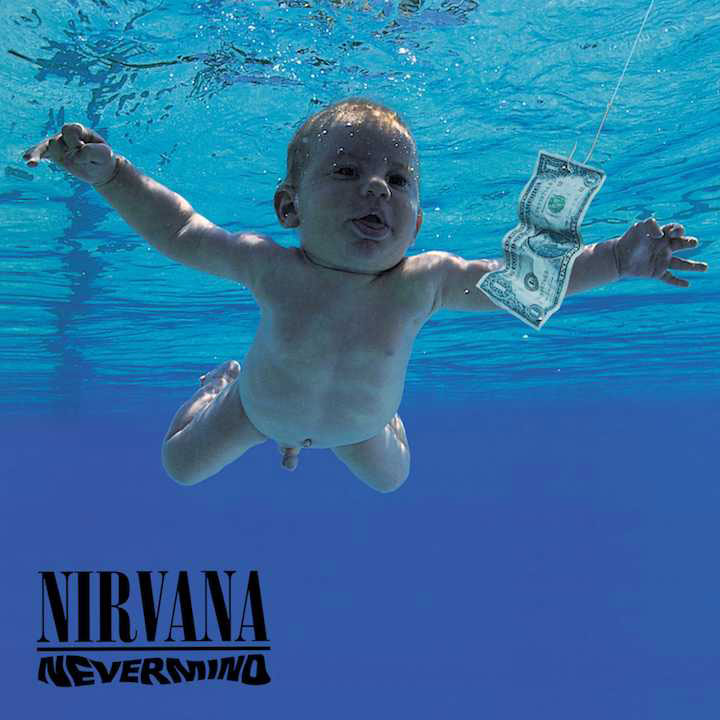 The controversial cover of Nevermind was interpreted by many as an innocent band reaching for the almighty dollar when in reality (according to Geffen Records art director Robert Fisher) it was the result of Kurt Cobain's fascination with a documentary on water births. Clearly his interest in maternal themes would crop up again for the band's follow-up, In Utereo. While the label pushed for a cover sans baby anatomy, Cobain's proposed compromise was a sticker covering that would read, "If you're offended by this, you must be a closet pedophile." The cover design has inspired endless satires.
A Tribe Called Quest: The Low End Theory (1991)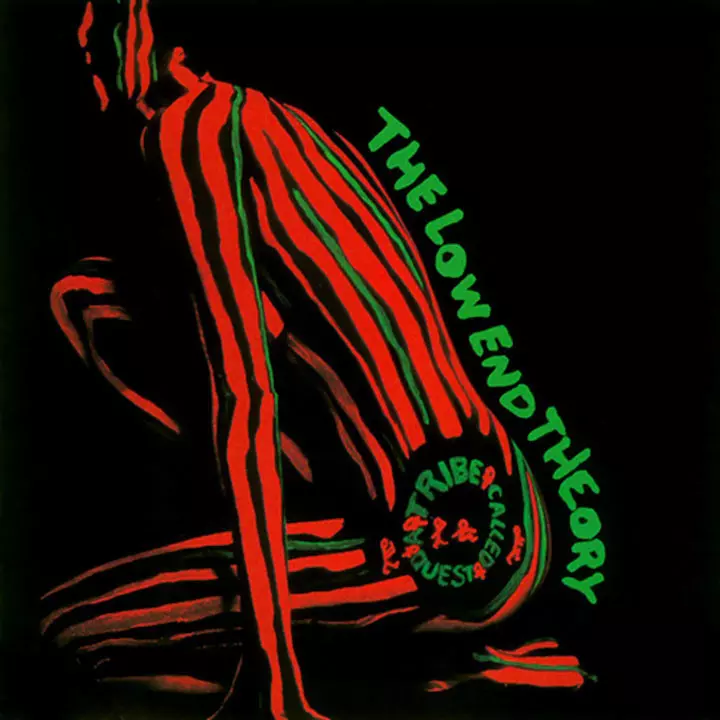 While rock music is littered with logos, the Queens rap collective A Tribe Called Quest inadvertently created one of the most recognizable symbols in hip-hop with the cover of their jazz-rap fusion masterpiece, The Low End Theory. Inspired by the provocative covers of old Ohio Players albums, it featured a nude model bedecked in DayGlo body paint that is at once alluring and Afrocentric at the same time. The bold colors and funky imagery lent itself to Tribe's creative vision on what would become their breakout album. The painted lady would later appear on subsequent Tribe releases and surely inspired the equally provocative Stankonia album art.
Green Day: Dookie (1994)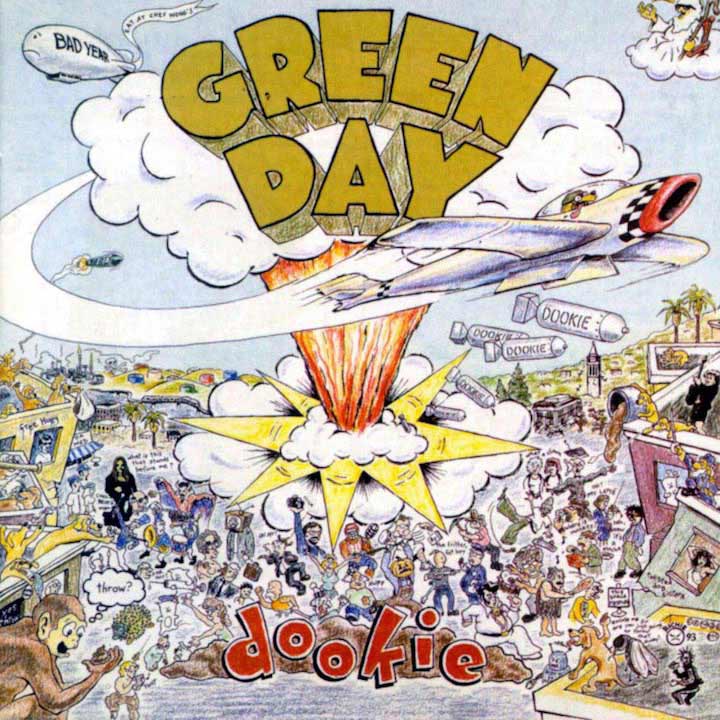 Illustrated album covers had been around for decades by 1994, but when it came to conjuring up cover art for Green Day's major label debut, artist Richie Bucher created a comic book style world that reflected the Bay Area punk scene the band was birthed from. Part Mad Magazine-style fold-in and Where's Waldo? for the 90s alternative scene, you don't need a magic decoder ring to spot the various Easter Eggs hidden under the spray of dookie: from AC/DC's Angus Young to Big Star's Alex Chilton, Patti Smith, the University Of California Marching Band and elements of Ramones' Rocket To Russia cover art, it's a real Who's Who of Oakland's Telegraph Avenue.
Weezer: Weezer (aka "Blue Album") (1994)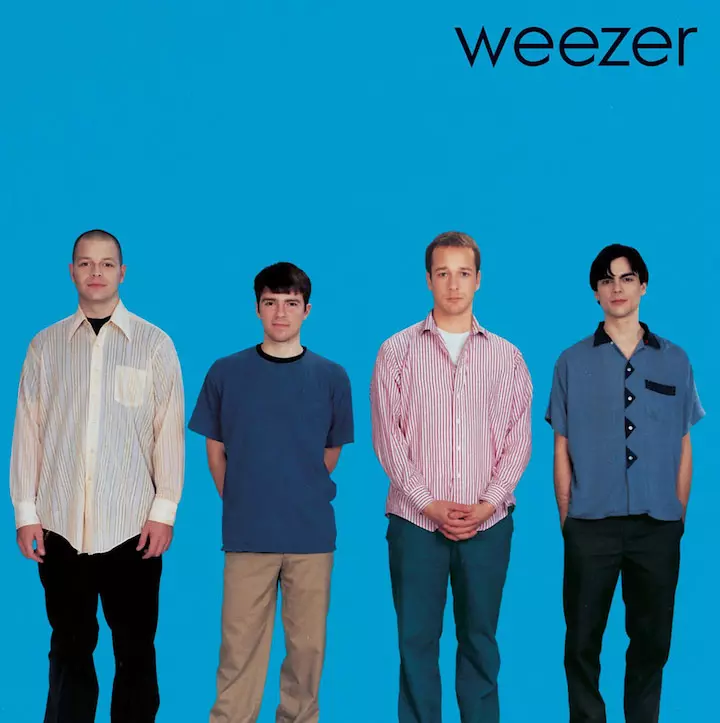 Either Weezer has a slavish devotion to monochromatic colour schemes or Rivers Cuomo has synaesthesia; either way, since releasing their iconic "Blue Album" in 1994, their discography represents a rainbow of releases that includes their "Green" (2001), "Red" (2008), and "White" albums (2016). While many early 90s releases experimented with artistic imagery, Weezer's aesthetic was decidedly more "60s Sears family photo", according to former Geffen A&R man Todd Sullivan. After the album's release, many pointed out its similarity to The Feelies' cover for Crazy Rhythms, when in reality, Cuomo was aiming for the clear-cut boy band image of The Beach Boys. As a result, Weezer not only had an iconic cover on their hands, but predicted the normcore movement.
The Smashing Pumpkins: Mellon Collie And The Infinite Sadness (1995)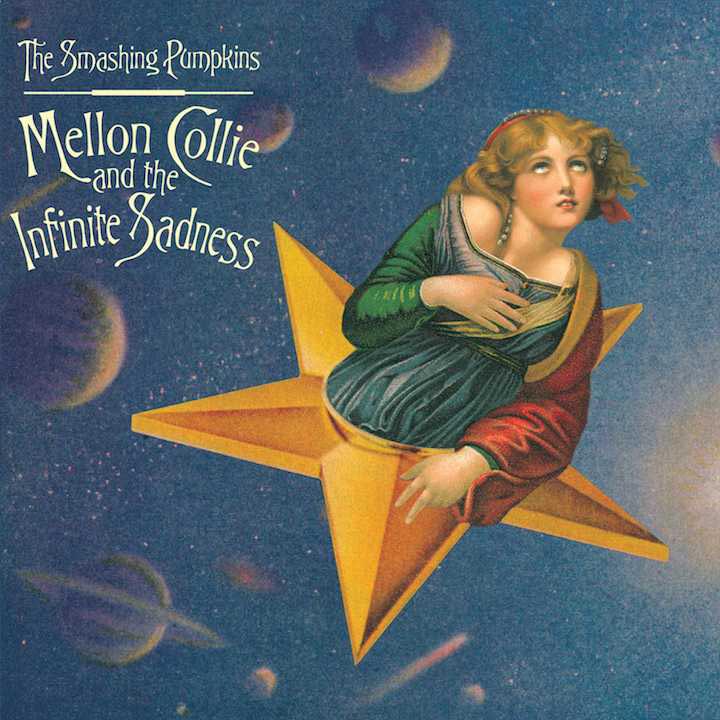 Immediately recognizable, the dreamy, Victorian-esque cover of The Smashing Pumpkins' landmark 1995 album captures a woman in perpetual eye-roll, or a look of ecstasy that she's held onto for over 20 years. It perfectly summarises the aimlessness youth to which Corgan was preaching, and the fanciful imagery matches the grand ambitions of the sprawling, 28-track album. From just a series of crude, faxed sketches, illustrator John Craig (former designer for Mercury Records and the man behind some of Rod Stewart's most iconic sleeves) created a composite image using a celestial background from an old children's encyclopaedia, along with the body from a Raphael painting of Saint Catherine Of Alexandria, and the woman's face from an 18th-century painting by Jean-Baptiste Greuze entitled The Souvenir (Fidelity). Though you don't need an Art History degree to appreciate this enduring image.
Beck: Odelay (1996)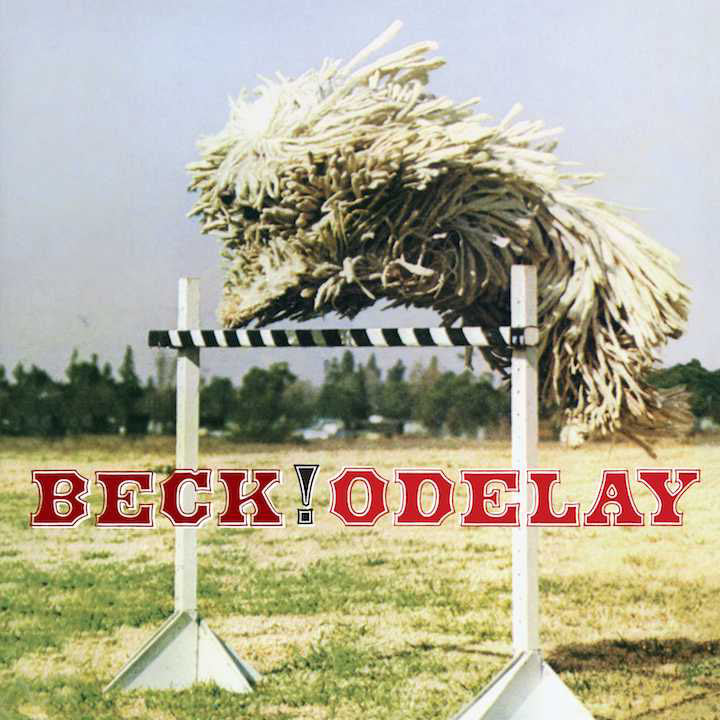 Some album covers are meant to convey deeper musical themes and their imagery is meticulously conceived, while others are just happy accidents. In Beck's case, the somewhat inscrutable cover image of Odelay came about after he was shown an image of a rare, Hungarian breed of herding dog called a Komondor. After he couldn't stop laughing at the image that he described as a "bundle of flying Udon noodles attempting to leap over a hurdle", and with the deadline for the album just a day away, he decided it would make the perfect cover and left it open for interpretation. Is it a bale of hay or a flying mop? The artwork has become the ultimate Rorschach test.
The Roots: Things Fall Apart (1999)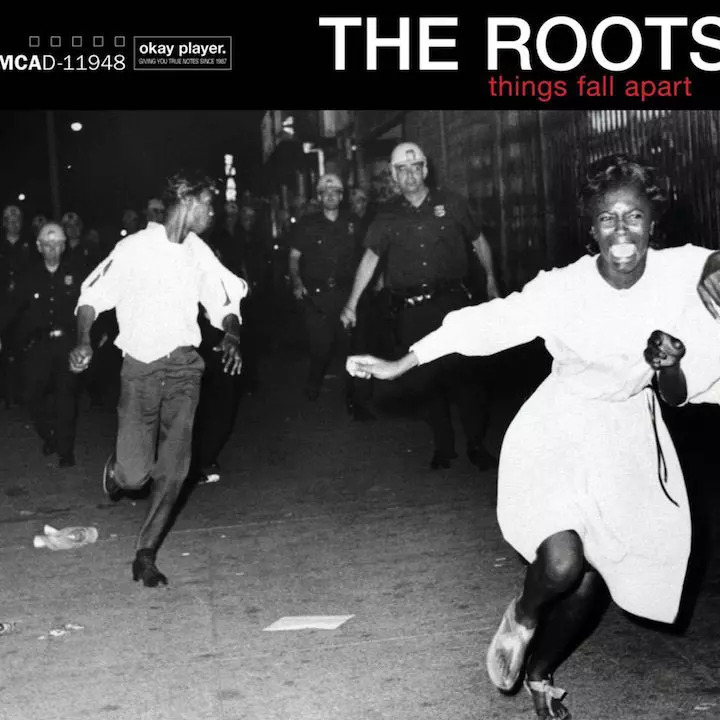 At the dawn of the Millennium, the majority of hip-hop album covers were not the optimal vehicle for social commentary. At the time, The Roots were still something of an underground act, but that was all about to change with their seminal album and provocative cover – or covers –for their breakthrough album. The Philly outfit released five limited edition album artworks featuring famous photos that depicted "visual failure in society", from a murdered mafia boss to a burning church, a baby crying amid the rubble in Shanghai after WWII to the 90s famine in Somalia, and, most famously, two women being chased by police during the 60s riots in the Bed-Stuy neighborhood in Brooklyn. While most of The Roots' previous covers just depicted the band, Things Fall Apart was a step towards social activism both in their music and imagery.
Blink-182: Enema Of The State (1999)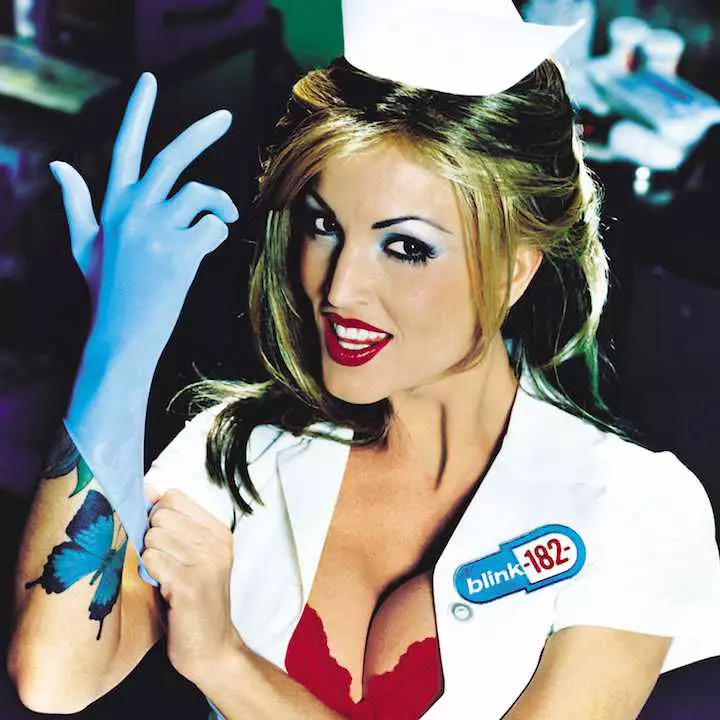 As the face of the pop-punk explosion, Blink-182 knew their audience well and catered to it accordingly with their explicit cover to their 1999 hit album Enema Of The State – much to the delight of their prepubescent male fans. Adult actress and exotic dancer Janine Lindemulder posed as a nurse for the cover, much to the chagrin of the American Red Cross, who demanded the band remove their logo from the artwork, as it was a "violation of the Geneva Convention". Lindemulder would reprise her nurse role in the band's video for 'What's My Age Again', thanks to music turned porn publicist Brian Gross. The cover and accompanying video made Blink-182 famous and brought the adult industry to middle America.
The Strokes: Is This It (2001)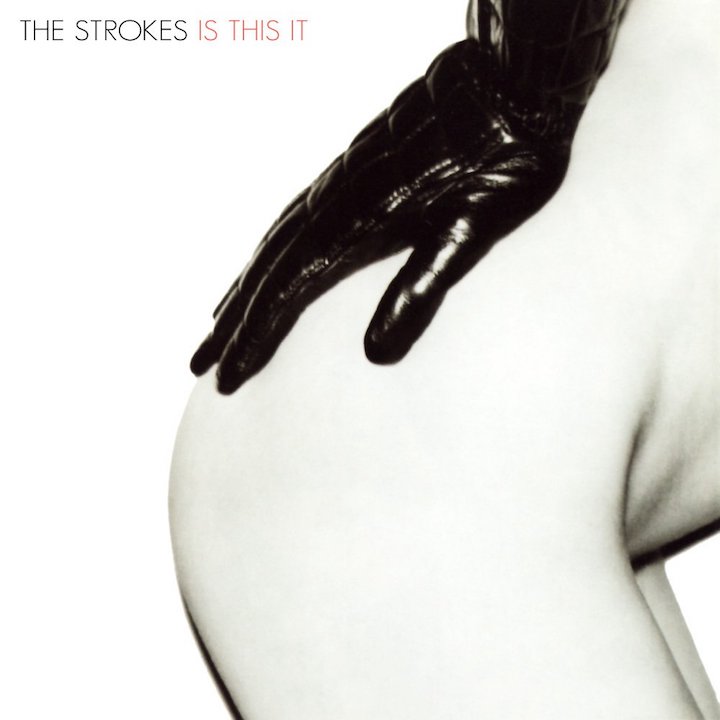 Hailed as the leaders of the "great-rock-revival", The Strokes' subscribed to the age-old model of "sex sells" for their S&M-inspired cover. A mix of Helmut Newton fashion photography and Spinal Tap's Smell The Glove, the evocative cover was shot by photographer Colin Lane, who used his girlfriend as the model and a leftover prop to create the stark image. When it came to selling the album in the States, however, stores weren't having it, and the cover was changed to a close-up image of subatomic particle tracks in a bubble chamber. Chalk this one up as another win for puritanical America.
Amy Winehouse: Back To Black (2006)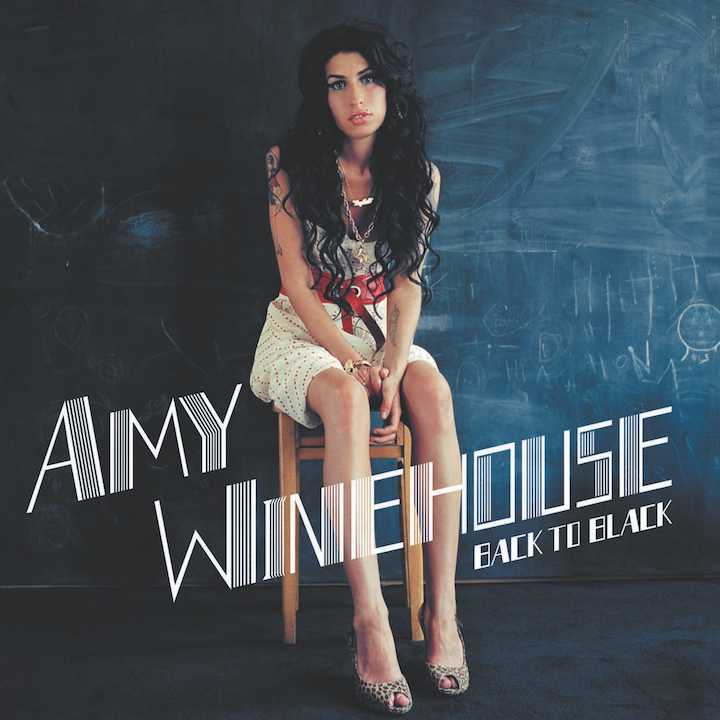 As an artist whose personal image is inseparable from her music, it was only fitting that the promising young singer should grace her own album cover. Back To Black would be her introduction to America and the rest of the world, and much had changed since her UK debut, Frank. With her cascading hair, sleeve tattoos, and rockabilly makeup, even simply sitting in a chair appeared as an act of defiance, albeit with a hint of vulnerability, with her hands tucked between her legs. This indelible image would come to define Amy Winehouse's legacy and inspired countless young girls to adopt her girl-group-member-gone-bad style.
Katy Perry: Teenage Dream (2010)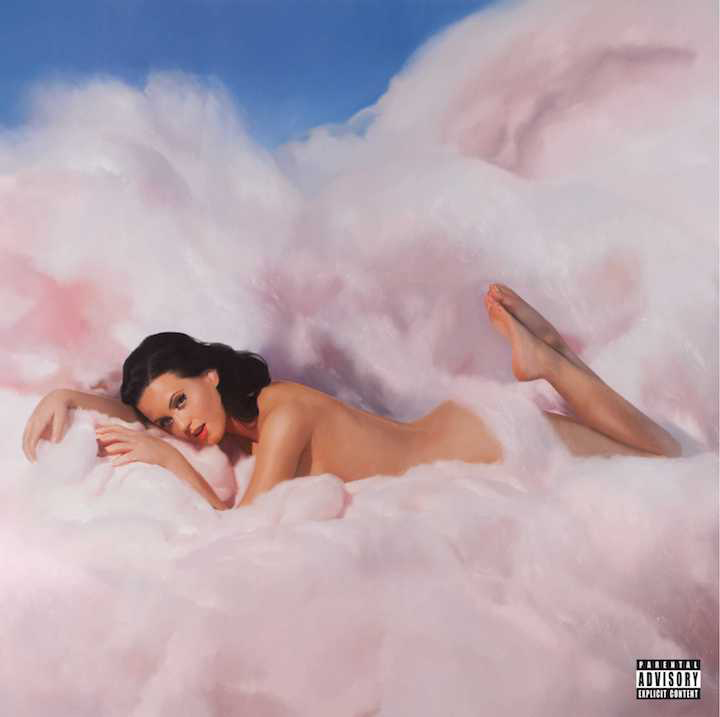 In popular music, there's no shortage of scantily-clad women on album covers, but it's usually the domain of male musicians. Always one for pushing the envelope using her own image, Katy Perry teamed up with Los Angeles-based artist Will Cotton to create her own pin-up artwork for the cover of her hit album, Teenage Dream. The result was the cartoonish sensuality of Art Frahm meets Candyland camp, and it has shaped Perry's Technicolor universe ever since. Cotton was also the creative director for Perry's 'California Gurls' video, which established Perry's signature trademark of tongue-in-cheek sex appeal.