Best Stax Vocal Groups: 11 Essential Acts You Need To Hear
Among the best Stax vocal groups, you'll find some of the finest soul singers of the 60s and 70s, letting you know how it felt to be young, gifted, and black.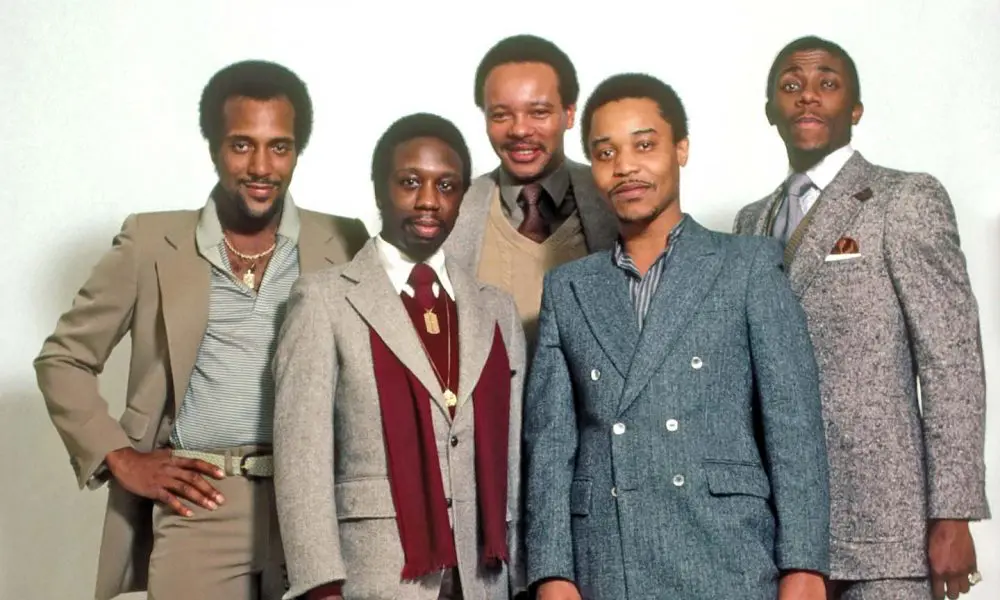 Even the least committed soul fan knows about Stax Records and its gutsy, down-home Memphis sound. This music lit up the 60s and early 70s thanks to singers such as Otis Redding, Johnnie Taylor, Isaac Hayes, and Rufus Thomas, and its hits fueled the movies The Blues Brothers and The Commitments in the 80s and 90s. But while soul soloists such as Redding, Carla Thomas, and William Bell were the cornerstone of the label's success, the best Stax vocal groups also deserve mention. Indeed, Stax and its subsidiaries boasted some of the greatest vocal groups of its era, cutting heartfelt and sophisticated records that made you dance and put you firmly in the shoes of their singers, letting you know how it felt to be young, gifted, and black in the 60s and 70s.
Here are 11 of the best Stax vocal groups in history.
The Staple Singers
A family quartet led by singer-guitarist Roebuck "Pops" Staples, and featuring his children Mavis, Cleotha, Pervis, and Yvonne (that makes five – Pervis and Yvonne swapped places twice), The Staple Singers were one of the best Stax vocal groups with a social conscience. Their sound was earthier and rawer than that of most vocal groups of the late 60s and 70s. While solo acts that started in gospel were legion, entire vocal groups who switched from the spiritual to the secular were scarcer. The Staple Singers never left the church: they took the feel into the soul arena, scoring huge hits and reflecting the way life changed for African-Americans of their era.
The group began recording in the 50s, making fine sides for Vee-Jay, United, and Checker, and their blend of gospel and folk grew popular in the Civil Rights era, with songs such as "Uncloudy Day" gaining an underground listenership. While it is often said that the Staples "went secular" when they signed to Stax in '68, they'd already demonstrated their facility for funky pop in '67 with a hard-groovin' cover of Stephen Stills' "For What It's Worth."
Their debut Stax album, Soul Folk In Action, was ambiguously titled to draw in a variety of fans and featured versions of The Band's "The Weight" and Otis Redding's "(Sittin' On) The Dock Of The Bay," as well as the politicized "Long Walk To DC." The Staples really hit their stride in '71 with The Staple Swingers, which included uplifting songs such as "Heavy Makes You Happy (Sha-Na-Boom-Boom)" and "Give A Hand – Take A Hand." Mavis Staples' lead voice had authority yet sounded sexy without her even trying.
That same year's Be Altitude: Respect Yourself was even better, packed with deeply felt performances such as "I'll Take You There" and "Respect Yourself," songs that easily uphold The Staple Singers' claim to being one of the best Stax vocal groups of all time. Be What You Are (1973) was another masterpiece, and featured their anthem "If You're Ready (Come Go With Me)," which rode a lilting reggae rhythm. When Stax's empire crashed in the mid-70s, the group continued to develop, hitting with a glorious cover of Talking Heads' "Life During Wartime" in 1985. They found gospel where it had previously seemed absent, and put a rootsy feel into everything they did.
Selected track: "Respect Yourself" (1972)
The Dramatics
The Dramatics were a superb vocal quintet from Detroit – a place with no shortage of vocal groups. They cut records that ranged from the thrilling to the finger-snapping, recording at United Sound in their hometown with producer Don Davis, who'd given Stax's Johnnie Taylor a massive hit with "Who's Making Love" in 1968. It was a tad irregular for Stax artists not to record in the south, but what really separated The Dramatics from other outfits asserting themselves among the best Stax vocal groups was their stage show. They lived up to their name, acting out their songs with grace and dynamism (their original name had been The Dynamics). Luckily, they had powerful music to act out.
They cut records for local labels before inking a Stax contract in 1968. After a stuttering start, The Dramatics hit their stride in '71 with a string of classic singles, kicking off with "Whatcha See Is Whatcha Get," which strolled on a funky, Latin-flavored beat and had a melody that allowed falsetto singer and leader Ron Banks to contrast beautifully with the roar of Wee Gee Howard on lead vocals. "Get Up And Get Down" showed they were just as comfortable on tougher funk, and the subsequent "In The Rain" proved their signature piece. All were assembled on Whatcha See Is Whatcha Get, a debut LP plundered for breaks by everyone from Coolio to Public Enemy.
1972's A Dramatic Experience delivered emotive songs such as "The Devil Is Dope," "Jim, What's Wrong With Him" and "Hey You! Get Off My Mountain," and proved that, even among the best Stax vocal groups, this outfit was a force to be reckoned with. Their 1975 version of Billy Paul's "Me And Mrs. Jones" is an unexpected lesson in soul vocal excellence. Regrettably, a series of rifts and personnel changes held them back, though one of their new members, LJ Reynolds, eventually became a minor star in his own right. Despite deaths, splits, and clone groups hitting the road, The Dramatics battled on, joining Snoop Dogg on "Doggy Dogg World" in 1994, and they still tour today.
Selected track: "In The Rain" (1972)
The Mad Lads
Memphis' Mad Lads signed to Stax-Volt in '64 when they were not long out of high school, and their boisterous behavior prompted their name, courtesy of Deanie Parker, a stalwart Stax employee across decades. The Mad Lads' first 45, "The Sidewalk Surf," was a stomping dancer aimed at the surf music wave. Luckily it flopped, so wasn't held against them when they cut the beautiful retro doo-wopper "Don't Have To Shop Around," their first chart success. "I Want Someone," "Patch My Heart," "So Nice" and "Whatever Hurts You" kept them on the R&B listings through to '69, when their soulful interpretation of Jimmy Webb's "By The Time I Get To Phoenix" tickled the lower reaches of the Hot 100. The group soldiered on through membership changes enforced by the draft for Vietnam, cutting three albums for Stax in the 60s, including The Mad, Mad, Mad, Mad, Mad Lads in '69, named after a comedy movie; similar wit marked their comeback album in 1990 for a revived Stax, Madder Than Ever.
Selected track: "Don't Have To Shop Around" (1965)
Don't Have to Shop Around
Ollie And The Nightingales
The Dixie Nightingales were legendary among gospel vocal groups in the South, cutting numerous records and bringing the Lord to rapt audiences through the late 50s and early 60s. But in 1968, Al Bell, who'd had the group cut three singles for his Stax gospel imprint Chalice, talked them into "going secular", which prompted one member to quit. Changing their name to Ollie & The Nightingales, after leader Ollie Hoskins, they had a strong soul chart hit with "I Got A Sure Thing" and did OK with "You're Leaving Me" the following year. "I've Got A Feeling" closed their chart run in 1969. Their only album, an eponymous effort with a sleeve that appeared as if it was trying to look like a gospel record (albeit a hippie one), appeared that year. Ollie quit in 1970 and the group continued as The Nightingales, cutting three singles with Tommy Tate in the band, who, after having served in one of the best Stax vocal groups, would go on to become a respected deep soul singer.
Selected track: "I Got A Sure Thing" (1968)
The Temprees
Stax was the local record company for The Temprees, a trio that started as The Lovemen. Gutsy falsetto Jabbo Phillips met Del Calvin and Scotty Scott at school, and they hung out with Larry Dodson, one of the keystones of the label's house band The Bar-Kays, when the group re-formed after the tragic flight that killed most of its members while on tour with Otis Redding. When they inevitably joined Stax, it was on subsidiary We Produce, for whom they released three fine albums, including one that echoed their early name, Loveman. Their biggest hit was a lush version of "Dedicated To The One I Love" (1973), which they followed with a fine cut of Etta James' hit "At Last."
This was smooth, sophisticated soul music tooled to compete with the slicker sound of Philly bands rather than echo the gritty Memphis grooves that most of the best Stax vocal groups were known for. When the label collapsed in the mid-70s, The Temprees signed to Epic and scored a modest hit with the formulaic "I Found Love On The Disco Floor" in 1976.
Selected track: "Dedicated To The One I Love" (1973)
Dedicated To The One I Love (Long Version)
The Epsilons
Even some of the best Stax vocal groups suffered in the early 70s, as to some extent the label's earthy style was seen as unsophisticated compared to the slicker sounds of Philly International. But had the label been a bit slicker itself in '68, it might have seen the way the wind was blowing, and hung on to its Philadelphia act, The Epsilons. Named after the fifth letter in the Greek alphabet, the group was polished but powerful, with fine dance moves executed in smart white strides and roll-neck tops. They toured with Otis Redding and sang back-up on the hit he produced for Arthur Conley, "Sweet Soul Music."
Despite only releasing one Stax single, "The Echo," it was Philly perfection that ranked the band among the best Stax vocal groups, with ringing vibraphones and local legend Bobby Martin delivering the kind of sweet arrangement The Delfonics were then hitting with. Sadly, the record flopped, but several members went on to greater things: Gene McFadden and John Whitehead wrote "Backstabbers" for The O'Jays, among hits for The Intruders and Archie Bell & The Drells, as well as their own anthem "Ain't No Stoppin' Us Now"; Lloyd Parks turned up in Harold Melvin & The Blue Notes during their hitmaking period.
Selected track: "The Echo" (1968)
The Soul Children
Assembled in 1968 by Isaac Hayes from singers who'd been struggling for a break around Memphis, The Soul Children were unusual among vocal groups, thanks to their configuration of two male and two female members. They quickly made the R&B charts with "Give 'Em Love" and soon revealed themselves to be a slightly rootsier, funkier vocal act than many of the era, thanks to tunes such as "Take Up The Slack" and "Tighten Up My Thang." The gentler "The Sweeter He Is" made No.52 on Billboard in '69 and a chunky revival of Sam & Dave's "Hold On, I'm Comin'" deserved to do likewise the following year. "Hearsay," written by two members of the group, John Colbert and Norman West, made No.44 in 1972. It was topped by "I'll Be The Other Woman," fronted by Shelbra Bennett. Worthy of more success, perhaps the sometimes male-led, sometimes female-led line-up worked against The Soul Children: their identity was perhaps hard to pin down. The group called it a day in 1979; Colbert went on to score the beautiful deep soul hit "Taxi" in 1984, under the name of J Blackfoot.
Selected track: "Hearsay" (1972)
The Emotions
The Emotions were one of the most dazzling and brilliant female vocal groups as the 60s became the 70s, capable of delivering tearful soul and vocal pyrotechnics in successive lines. Chicagoan sisters Sheila, Wanda, and Jeanette Hutchinson had cut several flop singles under such unappealing names as The Hutch Stereos and The Hutchinson Sunbeams before signing to Stax as The Emotions in 1969 and pricking up ears with "So I Can Love You," which hit the R&B chart. Despite breaking big in his own right, Isaac Hayes found time to play on their early Volt 45s, and their 17 singles for the label included "Black Christmas," "Show Me How" and the alluring "My Honey And Me." Two fine albums for Volt, So I Can Love You (1969) and Untouched ('72), failed to sell as they were expected to, but the group would eventually hit big. Their Chicago connections with Earth, Wind & Fire found them signed to Colombia for Flowers, and they landed a global disco hit with the brassy "Best Of My Love," written and produced by EWF's Maurice White.
Selected track: "My Honey And Me" (1972)
The Sweet Inspirations
The Sweet Inspirations were famous among backing singers – if that's not a contradiction. Led by Cissy Houston (mom to Whitney), their line-up included her cousins Dionne and Dee Dee Warwick, the R&B star Doris Troy, and Sylvia Shemwell, the sister of Stax vocalist Judy Clay. As solo careers soared, the line-up settled as Cissy, Sylvia, Estelle Brown, and Myrna Smith, and the group backed everyone from Aretha Franklin to Van Morrison to Elvis. They cut five albums for Atlantic, their biggest hit being – you guessed it – "Sweet Inspiration" in 1968, much in the mold of the material they'd been cutting with Aretha back then. Cissy quit in 1969 to go solo. In 1973 they signed for Stax and released the underrated Estelle, Myrna & Sylvia, their only album for the label, which featured the sassy single "Slipped And Tripped." The group continues today, led by Estelle Brown.
Selected track: "Slipped And Tripped" (1973)
The Charmels
The Charmels were never famous. In some respect, they represented a backward step for two of their members, Mary Hunt and Mildred Pratcher, who'd toured on the back of a hit single they had not sung on. But in one of those curious tales that soul tends to deliver, their music was loved by a future generation without any of the kids that heard it knowing where it had come from.
Hunt, Pratcher, and Shirley Thomas were from Memphis and sang as The Tonettes, who recorded two flop singles for Stax's Volt label in 1962, "No Tears" and "Teardrop Sea." The following year, Nashville label Sound Stage 7 hit with the soul ditty "(Down At) Papa Joe's," which had been sung by white session singers. Needing a black group to take the song on the road, it hired The Tonettes, rebadged as The Dixiebelles. When Shirley Thomas eventually quit the group, Hunt and Pratcher returned to Stax in '66, where producer Isaac Hayes teamed them with Eula Jean Rivers and Barbara McCoy for four singles as The Charmels.
They may not have been hits but they had their, er, charms. "Please Uncle Sam (Send Back My Man)" was a romantic tale rooted in reality: the US was mired in the Vietnam War. "As Long As I've Got You" was a beautiful, moody record, as if Burt Bacharach had switched from supervising Dionne Warwick to Stax. But by 1968 the gig was up: the group disbanded, forgotten by all but soul aficionados who still remember them fondly as one of the best Stax vocal groups. Among them was RZA of Wu-Tang Clan, who built the 1993 hip-hop anthem "C.R.E.A.M." on a sample of "As Long As I've Got You," bringing it to a new generation. The Charmels had proved their commercial worth – 26 years too late.
Selected track: "As Long As I've Got You" (1967)
The Goodees
If the classic white girl-group sound was dead by 1969, nobody told The Goodees, a Memphis trio apparently based on the Shangri-Las, who, improbably became of the best Stax vocal groups of the era. Indeed, "Condition Red," their small hit, was a sister to "Leader Of The Pack." Signed to Stax's Hip imprint, Kay Evans, Sandra Jackson and Judy Williams started singing together in high school and, in '67, won a talent show which offered a prize of an audition at Stax. The label assigned them to producer Don Davis, who co-wrote "Condition Red" and produced their sole LP, Candy Coated Goodees (1969). It included "Jilted," which found them in church wailing over a missing groom, and "Double Shot," which wearily bragged about a guy for whom once is not enough. The group soon faded into obscurity, though Sandra Jackson remained attached to her time at Stax, working on an online archive for the label.
Selected track: "Double Shot" (1969)
Listen to the best of Stax Records on Apple Music and Spotify.