Best Fall Out Boy Songs: 20 Pop Punk Classics
Fall Out Boy is unafraid of reinventing their sound with each and every new album. Here's an introduction to some of their best songs.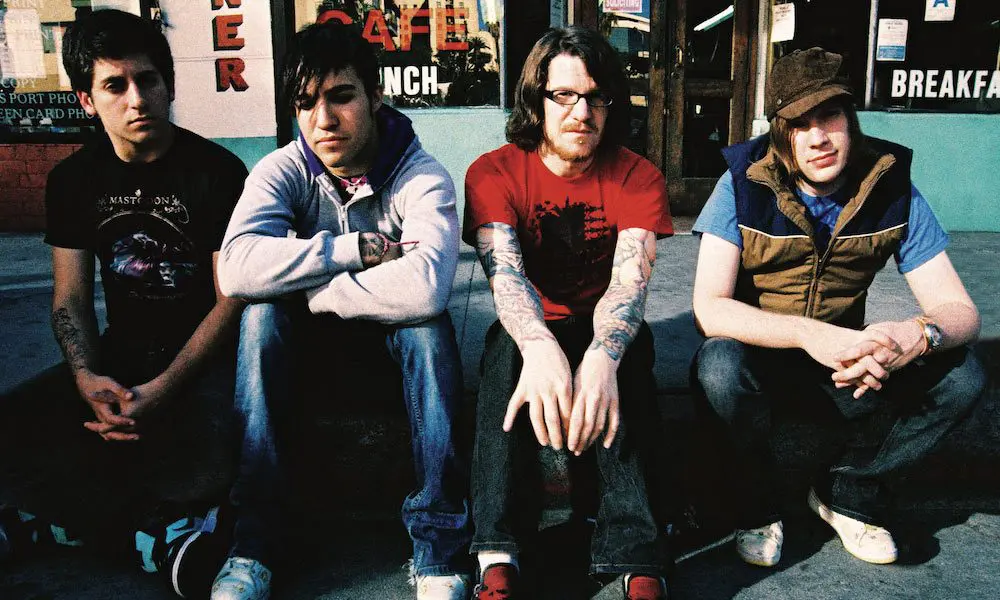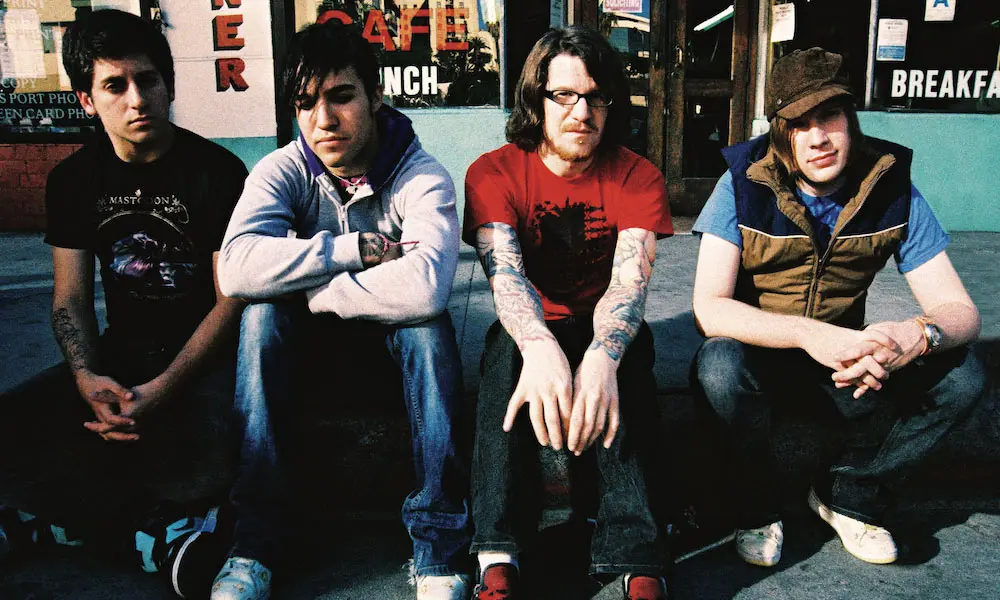 Fall Out Boy are defined by their boundless energy for reinvention. The fact that all four members originally formed the band as a side-project just highlights that all the more. After growing up in Chicago's hardcore scene, bassist Pete Wentz and guitarist Joe Trohman started Fall Out Boy as an outlet to write pop punk songs. Once lead singer and guitarist Patrick Stump and drummer Andy Hurley came onboard, they recorded their debut album, 2003's Take This To Your Grave, and realized they found their calling.
Fall Out Boy broke into the mainstream with the release of 2005's From Under The Cork Tree, an album defined by enticing guitar melodies, pop-indebted choruses, and song titles that may exceed a character limit ("I've Got A Dark Alley And A Bad Idea That Says You Should Shut Your Mouth (Summer Song)"). After earning a Grammy nomination for Best New Artist in 2006, they released similarly chart-topping records like 2007's Infinity on High and 2009's Folie à Deux, cementing Fall Out Boy as a tentpole of the pop punk genre.
Listen to the best Fall Out Boy songs on Apple Music and Spotify.
Following a three-year-long hiatus and a handful of side projects, Fall Out Boy returned in 2013 with a new, grandiose vision. Instead of rehashing their singular style of pop punk, they decided to try their hand at writing alternative pop fit for stadiums. The result was three increasingly bold albums – 2013's Save Rock and Roll, 2015's American Beauty/American Psycho, and 2018's Mania – that covered previously unfamiliar ground while still flaunting their trademark combination of catchy hooks, anthemic choruses, and lyrical pop culture nods.
Ever since their formation, Fall Out Boy have proven themselves to be a group that thrives with the creative challenge of making rock songs fit for pop radio, be it on an early hit single like "This Ain't A Scene, It's An Arms Race" or a later one like "My Songs Know What You Did In The Dark (Light Em Up)." That musical evolution may make their catalog appear intimidating to explore. When broken down into categories, though, Fall Out Boy's songs are approachable and alluring – and very well may draw you into their fandom for the long run.
The Radical Radio Hits
(Sugar, We're Going Down; Thnks Fr Th Mmrs; Dance, Dance; Centuries)
When Fall Out Boy burst onto the national radar in the mid-2000s, pop punk was already undergoing a transition. Bands like Blink-182 and Green Day were departing from their raw punk origins to embrace glossy production, and alternative rock was increasingly claiming the genre as one of its own. Enter Fall Out Boy, whose artful twist on tried-and-true formulas shook things up.
Fall Out Boy - Sugar, We're Goin Down (Official Music Video)
Armed with genuinely impressive vocals and magical-realism music videos, Fall Out Boy rolled out a handful of songs that rapidly claimed top 10 spots on Billboard's Hot 100 charts. In 2005, Wentz deployed one of the most memorable basslines in pop punk with "Dance, Dance" and Trohman made chunky, fuzzed-out guitar sound as comforting as piano chords in "Sugar, We're Going Down." Come 2007, they released one of their most popular singles, the theatrical "Thnks Fr Th Mmrs," with violins and an euphonium. Even years later, Stump pushed his singing range to massive heights on a single like 2015's "Centuries." By infusing each of these tracks with a distinct, memorable trait, Fall Out Boy were able to rack up a string of well-deserved commercial hits.
Fall Out Boy - Thnks fr th Mmrs (Official Music Video)
The Pop Punk Punches
(Grand Theft Autumn/Where Is Your Boy; Calm Before The Storm; Saturday; Of All The Gin Joints In All The World; A Little Less Sixteen Candles, A Little More "Touch Me")
If the '90s bands that came before them used pop punk as a sounding board for anti-authoritarianism and outlining their ethics, then Fall Out Boy were treating pop punk as a LiveJournal for witty, day-late comebacks and young adulthood romance – a lyrical choice that felt relatable in the 2000s. The unrelenting pining that steers "Grand Theft Autumn/Where Is Your Boy" and the heartbreak that rocks "Calm Before The Storm" still feel topical today. Even the wistful laziness of "Saturday," a song about nostalgia preventing any real personal growth, hits the sweet spot of relatability during both teenagerdom and adulthood.
After releasing those Take This To Your Grave cuts, Fall Out Boy tightened their lyricism and musicianship, namely by quickening their tempos, pushing vocals to the front, and fortifying the strength of their dueling guitars. They perfected their spin on the genre with From Under The Cork Tree, their sophomore record. With a Casablanca-referencing title and an endorphin-rush chorus, "Of All The Gin Joints In All The World" takes the traditional head-over-heels narrative and gives it an anxiety-riddled update. Later, on "A Little Less Sixteen Candles, A Little More "Touch Me,"" Fall Out Boy deliver a memorable, self-pitying anthem that's bolstered by a wiry guitar hook. On the strength of these two songs alone, it's obvious why this album has been labeled one of the best pop punk albums of all time by Rolling Stone and Vulture.
Fall Out Boy - A Little Less Sixteen Candles, A Little More "Touch Me" (Official Video)
The Pop Pivots
(The Take Over, The Breaks Over; I Don't Care; She's My Winona; The (Shipped) Gold Standard)
Fall Out Boy penned a string of iconic pop punk songs with their first two albums. When they began writing material for their third and fourth records, Infinity on High and Folie à Deux respectively, they embraced the influences that didn't necessarily align with their hardcore punk pedigree, like Marvin Gaye, Elton John, and Prince. Initially, that meant incorporating more piano into their music, like the triumphant keys in the bridge of ""The Take Over, The Breaks Over,"" to reach beyond the limits of guitar-pop.
With Folie à Deux, Fall Out Boy decided to go even farther, namely with Stump feeling more comfortable to explore how high and low he could stretch his vocals. He lets out a liberating run in "I Don't Care," a tongue-in-cheek hymn for narcissists and a not-so-subtle dig at celebrities of that era, and immediately follows it with a tricky mid-song key change in "She's My Winona." During "The (Shipped) Gold Standard," Stump explores his lower register with subtle trills and deep vocal slides. All three songs are radiant guitar pop numbers to begin with, yet Stump's vocal acrobatics manage to elevate them to the realm of certified pop pleasure.
The Collaborations
(Rat A Tat; Tiffany Blews; What A Catch, Donnie; 20 Dollar Nose Bleed)
Over the course of their career, Fall Out Boy have recorded music with a diverse array of musicians, ranging from beloved legends like Elton John to rising stars like Burna Boy. "Rat A Tat" is a blistering rock number from their comeback album Save Rock and Roll that races ahead thanks to aggressive drumming by Hurley and snarky sing-talking by the inimitable Courtney Love, a combination that's a no-brainer in theory and then actually delivers when you hear it. Others, like "Tiffany Blews" with Lil Wayne, appear random on paper, but are pulled off so smoothly – Wayne raps his verse through an additional filter so the whole cameo ripples like a dream – that it almost makes you forget he's not a member of the band.
Other partnerships came as a surprise, even to the band. After finishing the recording sessions for their big ballad "What A Catch, Donnie," Fall Out Boy sent it to Elvis Costello on a whim. The band was shocked to learn that he not only enjoyed the song but was willing to sing its emotional conclusion. Perhaps the most fitting collaboration in their catalog, though, is one that felt like a long time coming: "20 Dollar Nose Bleed" featuring Brendon Urie, their Fueled by Ramen labelmate and Panic! At The Disco frontman. Full of bright horns and delightful drum fills, "20 Dollar Nose Bleed" plays out like a hit Broadway song with two powerhouse singers trading off verses, finishing one another's lines, and teaming up to tackle the chorus. It's one of many tour-de-force numbers by Fall Out Boy that highlights just how good they are at creating their own stages and sharing them with others.
The Comeback Stadium Singles
(Alone Together; Uma Thurman; Hold Me Tight Or Don't)
Following their short hiatus from 2009 to 2012, Fall Out Boy once again decided to evolve their sound, this time embracing mid-2010s trends like electro-pop, pitched-up vocal clips, and dance rhythms. They tapped producer Butch Walker instead of their longtime staple Neal Avron, added more keyboards and samples, and shifted the focus from story-driven lyrics to shortened, mantra-like phrases. On 2013's Save Rock and Roll, these changes come to life during "Alone Together," a starry-eyed love song that goes back and forth between acoustic guitar and jittery electronica that's fit for a football stadium.
Fall Out Boy - Alone Together
By the time they released American Beauty/American Psycho in 2015, Fall Out Boy knew how to pair their modern pop with a rock undercurrent. Their use of samples turned the album's songs into guessing games, the most exciting of which is "Uma Thurman." Named after the Pulp Fiction actress, the song rides a surf rock melody lifted from The Munsters' theme song and gives a new generation a reason to break into dance at a burger joint. Even on 2018's Mania, Fall Out Boy found new muscles to flex with "Hold Me Tight Or Don't," dipping their toes into dancehall while giving electropop a spin.
Think we've missed one of the best Fall Out Boy songs? Let us know in the comments section below.