Elton John
His legacy of recorded music is staggering in volume, scope and quality and lucky is the person who, familiar with his recent work, is yet to navigate his 1970s recordings.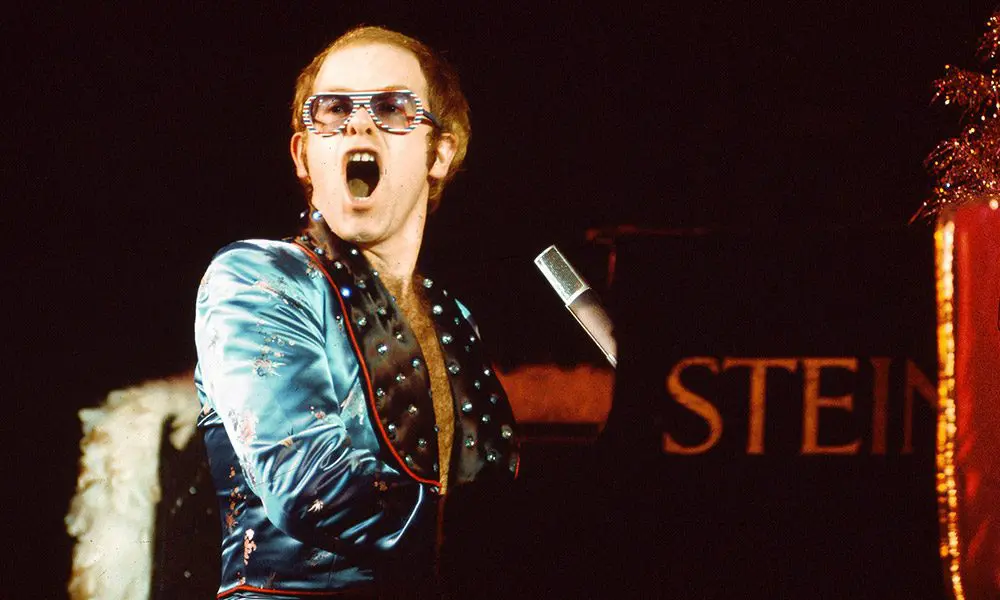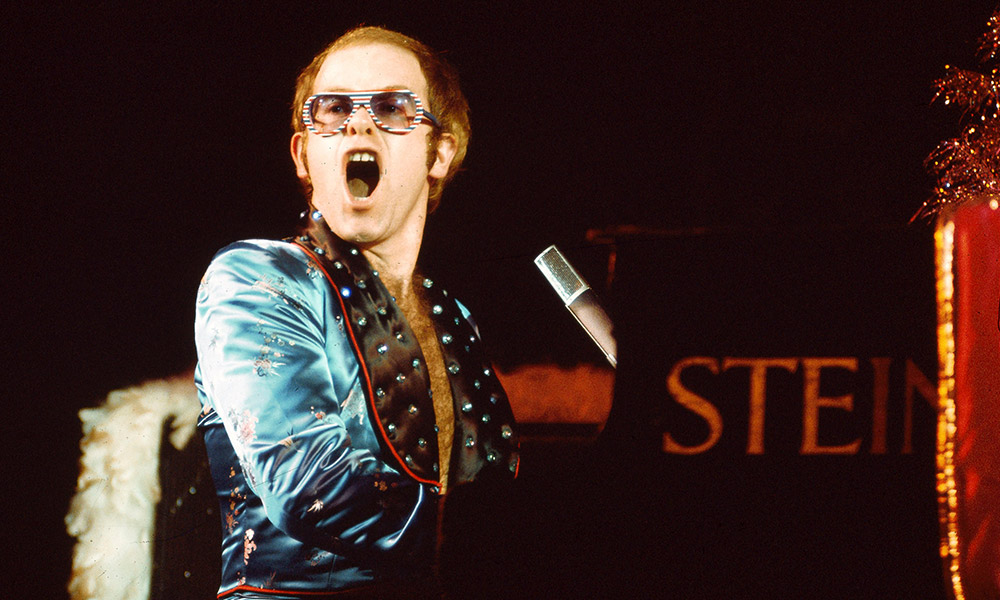 Rumour has it that at one point during the 1970s Elton John's record sales accounted for 2% of all records sold worldwide. Success on that scale has rarely ever been topped and in that tumultuous decade, Elton John was a megastar. He released a staggering 14 albums, 10 of which spent time in the UK Top 10 and three of those at No. 1. And on top of that, he had 17 Top 20 singles. Of course, that's only 10 years in a career that is still going strong, is punctuated with numerous worldwide hit singles and albums, and studded with enough creative highlights and artistic achievements to fill several lifetimes.
Elton John is one of the very biggest names in popular music and everything he does is still newsworthy. His legacy of recorded music is staggering in volume, scope and quality and lucky is the person who, familiar with his recent work, is yet to navigate his 1970s recordings. For there you will find, especially in Don't Shoot Me I'm Only The Piano Player and Goodbye Yellow Brick Road, a very special artist at the peak of his powers.
Born Reginald Dwight in the London suburb of Pinner in March 1947, Elton had pre-school piano lessons and his natural aptitude for the keyboards eventually won him a part-time scholarship at the Royal Academy of Music. While still at school he'd started playing semi-professionally – pub songs and pop hits of the day at the Northwood Hills Hotel – and a life in music seemed more and more inevitable. He left school in March 1965, weeks before he was due to take his A levels, and worked as an office boy in the post room at Mills Music, a music publishing company in Denmark Street which in those days was the beating heart of the UK music business. He'd also joined a local semi-pro beat group/R&B band called Bluesology who eventually eased into soul mode and backed the likes of Major Lance, Doris Troy, Patti LaBelle and Billy Stewart. They also made three unsuccessful singles, the first of which Reg sang vocals on before a mass personnel change saw Long John Baldry join and he had a No. 1 MOR hit – 'Let The Heartaches Begin' – with them in November 1967.
The lucrative but creatively stifling cabaret circuit beckoned, which was not to Reg's liking and he left early in 1968 to concentrate on songwriting with his new pal Bernie Taupin whom he'd met the previous summer and with whom he'd penned the b-side, 'Lord You Made The Night Too Long', to Baldry's hit. Now having changed his name to Elton John (being an amalgam of two names from old Bluesology band members Elton Dean and John Baldry), he and Taupin signed up with Dick James Music publishers as £10-a-week staff-writers. They were also able to make demos there and it wasn't long before Elton released his first single proper, 'I've Been Loving You Too Long', in March 1968. It made no impression and the follow-up in January 1969, 'Lady Samantha', if not a strong seller did at least gain significantly more airplay and illustrated how well the John/Taupin songwriting partnership was developing. Another single, 'It's Me That You Need', followed in March and his first album, the very promising Empty Sky, came out in June. Still no chart action though so Elton and Bernie continued to write, and Elton did session work, most notably on The Hollies' 'He Ain't Heavy'.
Then, with the new decade, came a change of fortune. The single 'Border Song' released in March 1970 and, although not a hit, nevertheless paved the way for his eponymous, Gus Dudgeon-produced debut album that reached No. 11 in the album charts here and perhaps an even more impressive No. 4 in the US. Momentum was definitely gathering and Elton had moved up a level or two. A further album, Tumbleweed Connection, followed in October and did even better here reaching No. 6 in the charts, by which time he'd formed a trio with Nigel Olsson on drums and Dee Murray on bass and they'd made their live debut at The Roundhouse, to great acclaim, in April. The US took Elton and his increasingly flamboyant sense of showmanship to their hearts almost immediately and he received an ecstatic reception when he made his US live debut at The Troubadour. The press there dubbed him "a spectacular talent "the first big rock star of the new decade".
1971 saw a minor blip in Elton's otherwise upward trajectory – there was a live album, 17.11.70, that reached No. 20 in April but which suffered in the US when, in a sure sign that he'd really made it, it was bootlegged weeks before the official release. And then in November came Madman Across The Water with its Paul Buckmaster string arrangements that some found intrusive and which drew some fairly heated critical response. As a result, it only managed No. 41 in the chart. Honky Chateau, containing the classic hit 'Rocket Man', restored things to order the following year (both reaching No. 2 in the singles and album chart) setting the scene for what proved to be an unbeatably successful and prolific 1973. In October 1972 'Crocodile Rock' was released and in January the elegiac 'Daniel' followed it " both Top 5 singles and both taken from Don't Shoot Me I'm Only The Piano Player, Elton's first No. 1 album, both here and in the US. He was now indisputably on the top of his game and the album, recorded incidentally at the Chateau d'Herouville in Northern France, former home to another star pianist, Chopin, gave an impressive overview of the range of pop styles that Elton could tackle with real skill and panache. He later admitted that it was the first album on which he felt comfortable experimenting with his vocal performances and style.
Onward and upward, the pinnacle of Elton's early career was arguably reached in October of 1973 with the release of the astonishingly accomplished, critically lauded and mega-selling double album Goodbye Yellow Brick Road, a record that further established him as a songwriter and performer of immense range, able to operate convincingly in a variety of styles and have them all gel satisfyingly within his persona. A remarkable feat and one perhaps never repeated in pop music. One need only listen to the four memorable singles lifted from the album to gain a glimpse at how versatile an artist Elton had become: the piano-led rock-out 'Saturday Night's Alright For Fighting', the lilting title track, live favourite and infectiously bombastic 'Bennie & The Jets', and perhaps most poignantly his paean to Marilyn Monroe, 'Candle In The Wind'. Goodbye Yellow Brick Road was again produced by Gus Dudgeon and made at Chateau d'Herouville after initial attempts to record in Jamaica were abandoned, and it emulated its predecessor by reaching No. 1 in both the UK and US album charts. Worldwide it has now sold nearly 20 million copies.
Impossible to top that kind of success, Elton did the next best thing and matched it.
His next album, Caribou, was released in June 1974 and was an immediate No. 1 hit on both sides of the Atlantic again, and another raft of Top 20 singles, including 'Don't Let The Sun Go Down On Me', 'The Bitch Is Back', 'Lucy In The Sky With Diamonds' and 'Philadelphia Freedom', maintained his position as a supreme pop artist of the day. And so it went on through the rest of an unprecedented decade of success. Incredibly, by November 1974, just over four years after his first chart album, he was able to release an entirely credible Greatest Hits album that not surprisingly captured the No. 1 album spot yet again.

Captain Fantastic And The Brown Dirt Cowboy and Rock Of The Westies followed in 1975, another live album, Here And There, and another double, Blue Moves, in 1976, a volume two of Greatest Hits in 1977, and A Single Man in 1978 – every one a Top 10 album. This astonishing run of creativity and success obviously couldn't continue indefinitely and towards the end of the 1970s and throughout the 1980s, 1990s and beyond Elton's success ratio was a little less constant.
There were still plenty of Top 20 albums though, almost on an annual basis – 21 At 33 (May 1980), The Fox (May 1981), Jump Up! (April 1982), Too Low For Zero (June 1983), Breaking Hearts (June 1984), Ice On Fire (November 1985), Reg Strikes Back (June 1988), Sleeping With The Past (September 1989), The One (June 1992) and Duets (November 1993). Top 10 singles haven't exactly dried up either, with his most high-profile hit being the re-release of 'Candle In The Wind' in September 1997 and which he sang so memorably at Princess Diana's funeral.
For his 25th studio album, Elton harked back to his roots for Made in England (1995) which featured 'Believe' that became a hit on both sides of the Atlantic. Two years later along came The Big Picture (1997), another album completely written by Elton and his longtime collaborator, Bernie Taupin. It was dedicated to Elton's long time friend, the fashion designer, Gianni Versace who was murdered s few months before its release.
It would be a four year wait for Elton's next studio album, the excellent Songs From The West Coast (2001), which many consider harking back sonically to his classic albums from the 1970s, featuring as it does both guitarist Davey Johnstone and drummer Nigel Olsson, as well as Take That's Gary Barlow on backing vocals. Three years later Peachtree Road (2004), named after the street in Atlanta where he has a home, was solely produced by Elton, the only one of his long career.
The Captain & the Kid (2006) was the second of Elton's autobiographical albums, the first being Captain Fantastic And The Brown Dirt Cowboy; 'The 'Kid' and the 'Cowboy' being Bernie Taupin. It features both Elton and Bernie on the cover, the first in 29 studio albums. Four years later there was another album to feature someone else on the cover with Elton. For The Union (2010) it's Leon Russell, who collaborated with Elton on the album, performing as well as writing and co-writing some of the tracks. It also features Booker T Jones playing Hammond organ, Neil Young contributes vocals as does Brian Wilson. It was a big selling album around the world and in America, it made No.3 on the Billboard album charts.
From a very 'traditional' album, it was a complete change of direction for Good Morning To The Night a collaboration with Australian dance music duo, Pnau. It features tracks that include elements of numerous of Elton's material from his back catalogue. It proved extremely popular in the UK where it made No.1 on the album chart.
If his previous album was experimental then The Diving Board (2013) is a return to familiar territory with all fifteen tracks being co-written with Taupin. The standout tracks for many are the exquisite 'Home again', which came out as a single in June 2013 and 'Oceans Away'; like The Union, it was produced by veteran producer T-Bone Burnett whose recent credits include both Elvis Costello and Diana Krall.
In 2016, Elton released the excellent Wonderful Crazy Night, again produced by Burnett. The old John/Taupin team is bang-on here, the songs energetic and positive, and the return of Ray Cooper on percussion is most welcome. Stand out tracks include 'Looking Up' and 'A Good Heart', but the whole thing is a fulfilling listen.
Celebrations for John's 50th year of songwriting are set to be huge. With concerts being announced for 2017 – everywhere from Las Vegas to UK football grounds – the idea that Sir Elton is retiring any time soon is complete nonsense.
Max Bell
Format:
UK English