Take That
The British pop group's initial lineup included Robbie Williams, Gary Barlow, Howard Donald, Mark Owen, and Jason Orange.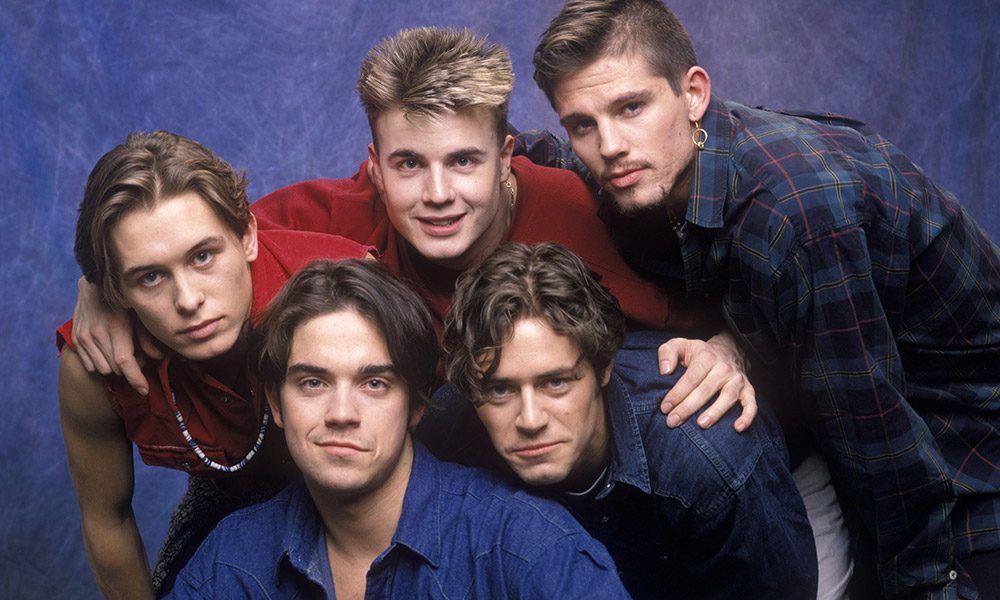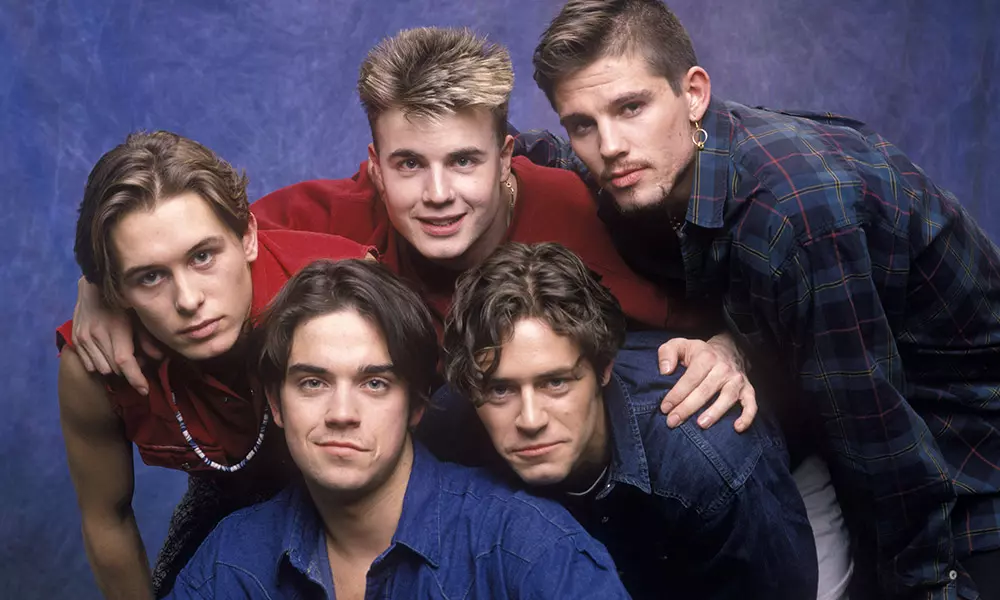 Although they were stylised initially as a classic boy band the Manchester-based quintet who wowed a generation from 1990 onwards were always far more than a customised or manufactured outfit. In Gary Barlow, they had – still have – a ready-made talent, a singer-songwriter of genuine ability who would be nobody's puppet. The addition of Howard Donald, Jason Orange, Mark Owen and Robbie Williams added fortuitous completeness – here were five lads who could sing, dance and entertain the masses while offering classic teenage pop that filled arenas with screaming fans and shifted dizzying amounts of discs.  In time all five members would prove to be expert and commercial pop tunesmiths.
The most successful act of their era, Take That have thus far had 27 top 40 singles and 11 number one hits in the UK alone. Internationally the figures are far more impressive: 54 number one singles and 35 number-one albums. Their awards cabinet overflows with BRITS, Ivor Novello Awards and accolades connected to sales and career earnings. They are the most successful boy band in chart history but of course, they are no longer just that since their reunion tour of 2006 simply picked up where they'd left off and consequent minor shifts in the line-up haven't diminished their pulling power or their draw as musicians. In a business where tastes change – everything changes – and pop music enjoys rapid shifts of name and fame Take That proves to be made of a far more durable metal than their competition.
The origins of Take That go back to 1990 when the entrepreneur Nigel Martin-Smith sought characters for a British male vocal troupe loosely fashioned as a British answer to New Kids on the Block. But once Gary Barlow appeared Martin-Smith realized he had something even better than a copycat idea – he had real talent. Once the other boys were in place TV shows were booked and the then fashionable blend of New Jack Swing and urban R&B were worked into a formidable act. Assiduous appearance gigs built a fan base with the relevant age group and after some test-the-water singles bubbled promisingly it fell to their debut album to make the auspicious breakthrough.
The cleverly named Take That & Party was a revelation and captured the zeitgeist. It contained a string of hit singles: "It Only Takes a Minute", "I Found Heaven", "A Million Love Songs" and a cover of Barry Manilow's "Could It Be Magic" (smart move since it drew in the mums and daughters) and would stay in the album charts for over a year with 2xPlatinum sales. Look out for it now on the Expanded release.  This is where they came in and it's quite an entrance.
If that was Act One, then the follow up was and is a sensation. Everything Changes (1993) stormed the charts and won a Mercury Prize nomination while the stark fact was that this 4xPlatinum masterpiece also holds the record for the number of top 10 singles for a group plucked from one album in the UK. The whole thing was a roaring success from start – "Everything Changes" – to finish –  "Babe". In between the Take That boys could bask in the brilliance of "Pray", "Relight My Fire", "Love Ain't Here Any and "Why Can't I Wake Up With You", all written by Barlow with the exception of a cute cover of Dan Hartman's "Relight…"  a choice that put the group in Michael Jackson territory. No point aiming low. Again, check out the Expanded version for extra mixes. And note that like The Beatles before them Take That made significant inroads into the major European markets of Germany, Italy and Holland. The mania was underway.
1995's Nobody Else was their last before they shocked the world by disbanding for ten years but there was no let-up in quality and class. How could there be when "Sure", "Never Forget" and the ultimate anthem "Back for Good" were in the can? Adding extra frisson to the control room Take That were joined by Jim Steinman and David Morales while Brothers in Rhythm added a house element that kept Take That on the dance floors at night and in the charts by day.
Momentarily gone but never forgotten the Greatest Hits would sell over 5 million copies thanks to the inclusion of everything one could want – from their cover of The Bee Gees "How Deep Is Your Love" to the US version of "Love Ain't Here Anymore". Recommending this collection is a no-brainer. It's an instant party classic. Following Never Forget – The Ultimate Collection Take That reconvened as a four-piece for Beautiful World, minus Robbie Williams who was doing fairly well for himself elsewhere! No matter because the old Barlow magic hadn't dimmed and they returned to their 1990s sound with a contemporary flair. Mark Owen helms the vocal on "Shine" – a very Manchester sounding piece while Will Malone adds some sparkling arrangements with the London Session Orchestra. The fans hadn't forgotten and Beautiful World is as big as they get with 9xPlatinum sales and further tip-top hits via "Patience", "I'd Wait For Life" and "Rule the World". They ruled the airwaves again.
By now Take That have taken their original crowd along with them and the parent album for all these goodies is a constant source of delight.
The Circus (2008) is another stunning album. We heartily recommend immediate rediscovery for the epic "Greatest Day" alone – pop perfection personified. But it's all good and doesn't rely on nostalgia and goodwill to sustain it. Barlow has become a genuine contender in the ballad field and rivals Elton John and the old school singer-songwriters for immaculate melodic flair. That is backed up by the kind of reviews Take That get now when even highbrow publications sit up and notice of what they do and report on it favourably and fairly.
After the second coming, the hallelujahs ring loud for The Greatest Day –Take That Present: The Circus. Their first one of two live albums this captures them live at Wembley Stadium in summer 2009 and also in intimate close-up In Session at Abbey Road. Their last album as a quartet before Robbie Williams' return this is a priceless document.
And so to Progress, and the return of the prodigal; Mr Williams, we've been expecting you. They could hardly fail with that news and they didn't. Recording in New York, Los Angeles, and London and in Peter Gabriel's Wiltshire facility they came back as if they'd never been away. The singles "The Flood", "Kidz" and "Happy Now" accompanied a groundswell of interest that is manifest in the huge pre-release orders, the amount of airplay received and the Five Star across the board rave-up reviews. Check this out as the double-disc Progressed where their noteworthy modernity can be heard to full advantage on tracks like "When We Were Young" (sung by Robbie and Gary) and  "Love Love") vocals shared with Gary and Mark). A fully rounded triumph, this disc puts Take That in the limelight again.
Progress Live is the perfect and obvious accompaniment, recorded before their natural fan base in London and Manchester in July 2011. Not only does this contain all the big That hits, it also finds time for a Williams section where his versions of "Let Me Entertain You", "Angels" et al signal a true reunification.
And so to the immediate present and III (2014), the group's seventh studio album, arriving in time for Christmas. With production coming from Greg Kurstin (Katy Perry, Kylie Minogue, Lily Allen), John Shanks, Stuart Price and – amid much secrecy – Jeff Lynne, this was the most eagerly awaited album of the season.
An amalgamation of the last eight years of the band's sound, the disc took its title from the reconfigured line-up, distilled to Gary Barlow, Mark Owen and Howard Donald. This holy trinity was more than capable of springing further surprises, to judge by the lead-off single "These Days", and the shared credits on "Fall Down At Your Feet" and the exquisite and euphoric "Get Ready For It", which sounded like a future smash.
Its follow-up, Wonderland, released in March 2017, is available in standard and deluxe editions, and to celebrate its release the boys will undertake a summer tour where they will be appearing in the round. Meanwhile, Mr Barlow continues his own high-profile multi-media career as the host of the talent show Let It Shine for the BBC. A new greatest hits set is also in the pipeline.
We'll let you chew it over and make up your own minds. The smart money says Take That are back… for good? Watch this space. It's just great to have them around again.
Words: Max Bell
Format:
UK English