Spice Girls
The British pop group comprised of Mel B, Mel C, Emma Bunton, Geri Halliwell, and Victoria Beckham are famous the world over.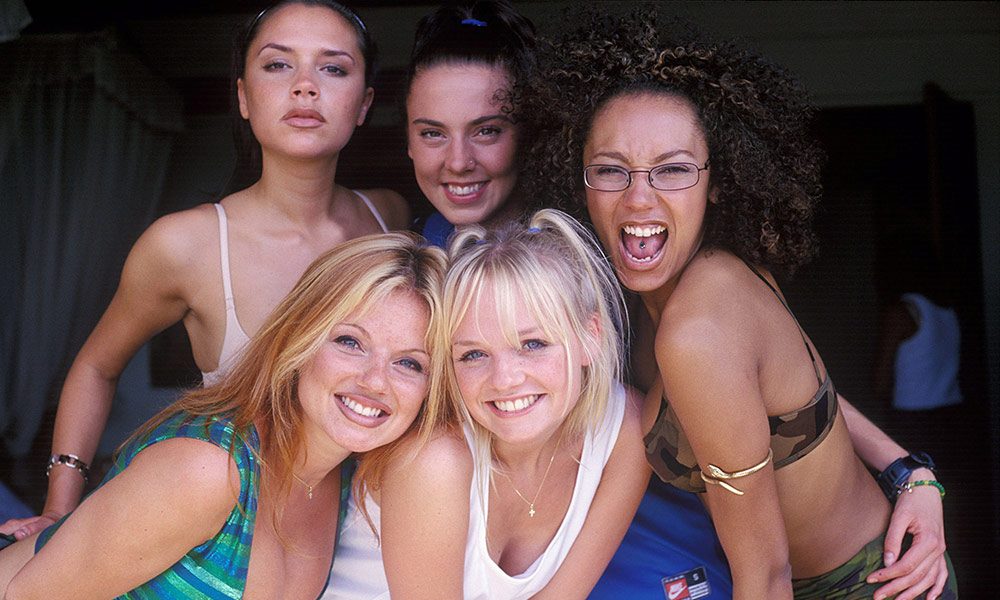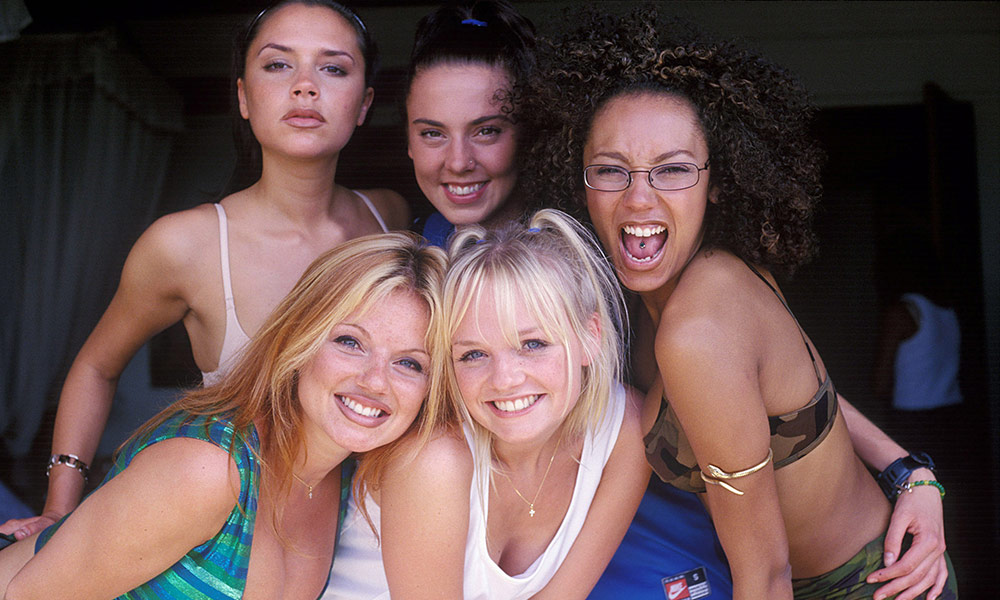 Finally the pop phenomenon Britain needed. It's not too far fetched to say that the Spice Girls rejuvenated the British pop market with a verve and swagger not seen since the days of Beatlemania. True, Britpop was in its pop when they burst onto the scene with their single 'Wannabe' making them overnight sensations – becoming household names took a week – but that style while vital to the independently minded was pretty much an all-male preserve. The Spice Girls catered for the all-important younger end of the market, and their parents but it was impossible to escape them or ignore them.
Their debut album Spice, a canny amalgam of R&B, dance and teeny-bop pop, took the concept of Girl Power to arenas – having filled those they would soon be filling stadia. They made records and broke them. Spice was a Number One in 17 countries and went 10x Platinum in the UK alone. The rest was hardly icing on their sweet cake either. America made them 7x Platinum and Europe, Canada and Australasia all crumbled thereafter. Spice sold nearly 30 million copies on its own and the next three albums ensured they'd become the best selling female group of all time. Brilliantly managed and marketed by Simon Fuller and Virgin it goes without saying that everything they did thereafter turned to Gold and beyond.
The origins of Spice Girls go back to the mid-1990s when Victoria Adams, Melanie Chisholm and Melanie Brown amongst 400 others answered a trade advert for 'outgoing, ambitious, dedicated' artists prepared to join an all singing and all dancing girl group. Geri Halliwell became the next girl to join the happy throng (originally called Touch, then Spice) and finally Emma Bunton came on board. To cut a long story short, after much humming and hawing the Spice core opted to work with Sheffield producer Eliot Kennedy who was impressed with a showcase and whose Absolute tram contacted Simon Fuller. After a promotional visit to California, it was heads down and write. There were intensive sessions of choreography and gym work. Images were polished but characters weren't squashed. On 7 June they released 'Wannabe' (the video shot in St. Pancras Chambers) and two weeks later they appeared on Surprise Surprise. The publicity machine in overdrive now 'Say You'll Be There' followed 'Wannabe' into the charts. The Girls then bossed Christmas with '2 Become 1′ while the Spice album ripped the throats out of all opposition. The Spice Girls turned on the Christmas lights in Oxford Street and then turned the whole nation on. Video awards and Brits followed as a matter of course with Geri's Union Jack mini-dress heralding the start of the Brits Are Coming and British Invasion Part 2 in America.
It's tempting to wallow in all the hyperbole but look and listen to the debut. The Girls worked hard and fast, 'Wannabe' was recorded in 50 minutes flat (shades of 'Please, Please Me') while 'Something Kinda Funny', 'Last Time Lover' and 'Naked' added some R&B dance integrity to the shebang. Songs about female empowerment and teenage love are all over Spice – why not? – and the global success of Spicemania goes hand in hand with the sound. Produced by Eliot Kennedy, Richard Stannard and Matt Rowe the arrangements are beyond catchy thanks to Craig Armstrong's immaculate strings. The programming is club floor tight and the vocals are spot on.
Spiceworld was accompanied by a world tour which introduced millions to the personalities of Posh, Ginger, Baby, Scary and Sporty – surely the most recognisable nicknames since the Mop Tops or Dave, Dozy, Beaky, Mick and Tich. The opening hit 'Spice Up Your Life' was a bubblegum epic with carnival roots while 'Too Much' and 'Stop' added a sensual curve to the groove. There was all-out Girl Power mayhem when they appeared at Wembley Arena and Birmingham's NEC with dance routines that updated the whole Motown girl group soul revue popularised by The Supremes and Martha Reeves and the Vandellas.
Halliwell's departure after 'Viva Forever' (strings arranged by Anne Dudley) was a blow but Spiceworld the album and Spice World the movie meant she left the others on a high. The mania had barely subsided an iota when the Girls released Forever in November 2000. It sold 4 million copies worldwide, an unprecedented success for a third disc.
The album is also a conscious effort to age up with their fans and it succeeds thanks to production from Rodney Jerkins, Jam & Lewis with LaShawn Daniels adding a vocal gloss to the quartet of Brown, Chisholm, Bunton and – now – Beckham! Amongst the high-grade pop here are the tracks 'Goodbye' (a heartfelt adieu to Geri H) and 'Holler', another number one double-sided with 'Let Love Lead The Way', debuted on their 1999 Christmas in Spiceworld tour.
The Spice Girls Greatest Hits did exactly what it said on the tin. Considering it was released seven years after Forever the fact it still sold 7 million copies is testimony the durable nature of Girl Power. With a jewel-encrusted logo and a sales campaign pitched at the lingerie outlet Victoria's Secret in the USA the emphasis here is something a lot more mature than simple teen fandom. Fans old and new can rediscover the delights of those glorious hits and check out 'Headlines (Friendship Never Ends)' where Halliwell reunited with her partners to grand effect. A cool electronic-ballad with a dishy pop chorus penned by Geri and Emma. The old zig-a-zig-ahhh factor was also restored on 'Voodoo'.
The Greatest Hits album provided the basis for the Return of the Spice Girls tour in 2007, which included an astonishing 17-night stint at London's O2 Arena as well as shows in Las Vegas, Los Angeles and Vancouver by which time the girls had all released solo material and remained fixtures in the press and on TV. The tour resumed global proportions in 2008, tickets selling out in seconds, with accolades including a Best Live Return Award that beat off reunions by Led Zeppelin and the Sex Pistols.
Obviously, they ain't Rage Against The Machine but the Spice Girls still represent a seminal moment in pop history and their influence on popular culture and the rock establishment cannot be disputed. They partied with Royalty and Presidents and helped close the London 2012 Olympics. Their legacy as a huge part not only of Girl Power and Cool Britannia cannot be denied. To remember the good times or to reassess the fuss we point you in the direction of their four iconic albums. Go on – Spice up your life.
Words – Max Bell
Format:
UK English