Original Outlaws: 10 Country Heroes Who Paved The Way For Americana
From original rebels such as Hank Williams to genre-defying country heroes like Willie Nelson, these are the icons who paved the way for Americana.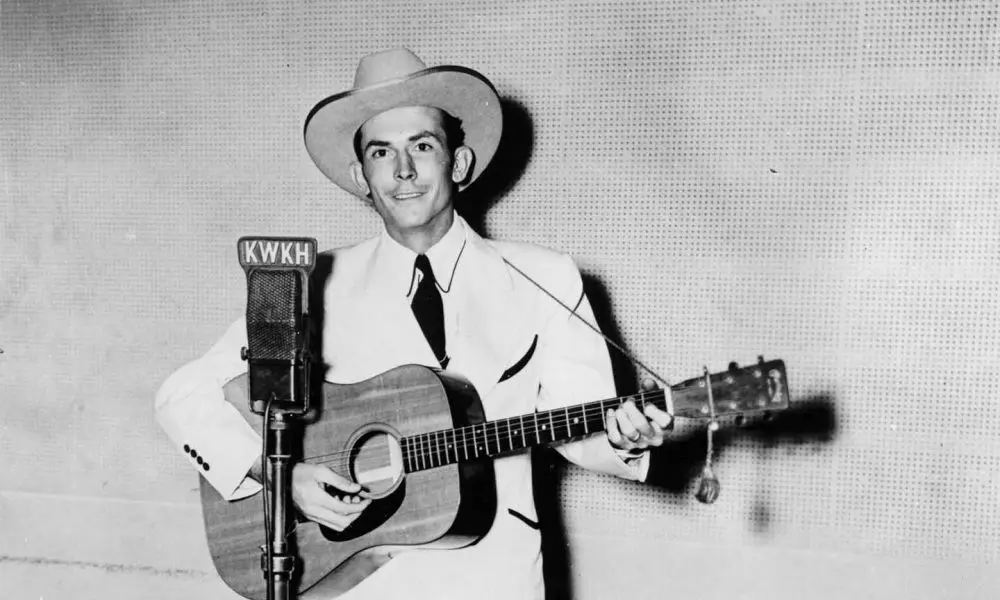 Americana, a music deeply rooted in the musical culture of the United States, has arguably been around in one form or another for more than a century: country heroes such as Jimmie Rodgers and his traveling tent shows of the late 20s were one of the earliest incarnations. And while "Americana" has been a category recognized at the Grammy awards since 2009, the term has been in widespread use for three decades.
Whether incorporating bluegrass and country swing, or the storytelling folk of Woody Guthrie, elements of Americana and roots music flourish in countless modern country stars such as Chris Stapleton, Jason Isbell, Vince Gill, and Rosanne Cash. Here we present 10 groundbreaking country heroes who paved the way for the modern Americana explosion.
Bob Wills
In addition to early pioneers such as Jimmie Rodgers and The Carter Family, Bob Wills And His Texas Playboys were a huge influence on most of the country heroes who laid the foundations for Americana. Wills and his band blended fiddle, piano, acoustic and steel guitar, banjo, bass, drums, and brass in the 30s, and sparked the ambition of aspiring young musicians such as Willie Nelson, who idolized Wills. Early in his music career, Nelson co-promoted a Bob Wills Dance Night, near Hillboro on the Brazos River. Nelson said he was struck by the "magnetism" of Wills and the way the bandleader blended different musical instruments and vocals and "kept the people dancing and moving." Nelson's sometime musical partner Waylon Jennings also wrote a tribute song called "Bob Wills Is Still the King."
A tribute album, called Still The King, was released in 2015, and among the stars who recorded songs in Wills' honor was Lyle Lovett. Rising stars from the Americana universe – including The Avett Brothers and Old Crow Medicine Show – also contributed, along with long-time fans Buddy Miller and George Strait. Wills is in the DNA of Americana music.
Woody Guthrie
Lots of early pioneers played a part in the future Americana phenomenon – including artists as diverse as bluegrass legend Ralph Stanley and blues men Huddie Ledbetter (aka Lead Belly) and Robert Johnson – but one singer from the 30s and 40s most directly influenced Pete Seeger, Ramblin' Jack Elliott and Bob Dylan: Woody Guthrie, who stands as perhaps the original singer-songwriter. He transformed the storytelling art of country music, something Dylan acknowledged when he praised Guthrie, saying, "He was so poetic and tough and rhythmic. The songs themselves, his repertoire, were really beyond category. They had the infinite sweep of humanity in them."
Guthrie's song "This Land Is Your Land" remains an Americana anthem that inspires to this day. It was sung by Seeger and Bruce Springsteen at the first Barack Obama inauguration. In 2016, Guthrie was awarded the American Music Association's President's Award, during which he was praised for having "elevated the protest song to high art."
Hank Williams
The best songs of Hank Williams – such as "Jambalaya (On The Bayou)," "I Saw The Light" and "Your Cheatin' Heart" – are a key part of the soundtrack to America in the 20th Century. More than half a century after his tragic death, at just 29, Williams is recognized as having set the agenda for contemporary country songcraft – one of the true country heroes. His songs have been appropriated and built on by so many outstanding Americana musicians, including Leon Russell, Ry Cooder, Alan Jackson, Kris Kristofferson, and Gram Parsons. Neil Young, who was also a massive fan of the man who wrote "I'm So Lonesome I Could Cry," owned Williams' old Martin D-28 guitar.
Hank Williams - Cold Cold Heart
Johnny Cash
If Americana is where folk, country, gospel, rock, bluegrass, Celtic traditional music, Appalachian music, and the Delta blues collide, then those elements combined and sparkled in the music of Johnny Cash. The AMA held its first convention in 2000 and, three years later, Cash, who has long been hailed as one of the original country heroes, accepted its first "Spirit Of Americana" Free Speech Award. At the ceremony, along with June Carter Cash, he performed a stunning recitation of his song-poem "Ragged Old Flag." His American Recordings albums of the 90s and 00s helped bring Cash back to a national audience with songs that are pure unadulterated Americana. The spirit of The Man In Black lives on through the music of his daughter, modern Americana great Rosanne Cash, but he also inspired so many modern greats, including Ray Charles, Ryan Adams, Steve Earle, and Elvis Costello, all of whom have covered his songs.
Patsy Cline 
Alongside Kitty Wells, Patsy Cline was one of a very few pioneering female country heroes in a male-dominated market. Cline used her heart-wrenching emotions to challenge the barriers of gender and class in her music. Among her many admirers are Natalie Cole, Norah Jones, Patty Griffin, and Diana Krall – who has recorded a version of Cline's hit "Crazy." Cline died in an air crash at the age of 30, and among the people she directly inspired was Reba McIntyre, who said, "'Sweet Dreams' was a song I recorded because I was such a fan of Patsy Cline and for many years I would end my concerts with an a cappella version of it. Her songs touch your heart."
Crazy (Live At The Grand Ole Opry/1962)
Loretta Lynn
In 2014, Loretta Lynn was awarded an AMA Lifetime Achievement Award For Songwriting. The singer is a bona fide trailblazer with a back catalogue of memorable songs such as "Rated X," "Don't Come Home A Drinkin' (With Lovin' On Your Mind)," "I'm A Honky Tonk Girl" and "Dear Uncle Sam." Lynn, who was celebrated in the Oscar-winning movie Coal Miner's Daughter, produced some of the most heartfelt lyrics in modern music and inspired current stars including Lucinda Williams, Lee Ann Womack, and Sheryl Crow. Williams has paid tribute to Lynn's "vivid and poignant" imagery, and the effect it had on future Americana performers.
Willie Nelson
Willie Nelson, who is due to turn 85 in April 2018, is one of the remaining living country heroes with a link to the days when pioneers such Hank Williams played town dances and dominated the airwaves. Nelson is one of the great musical innovators – experimenting in styles as diverse as country, reggae, and jazz – and his music has had a lasting impact on Americana artists. The acclaimed Sturgill Simpson covered a song that Nelson cut, "I'd Have To Be Crazy." Nelson's unique songwriting has influenced a generation, and, in 1985, he teamed up with Waylon Jennings, Johnny Cash, and Kris Kristofferson for the critically acclaimed Highwaymen album and tour. Some of the musicians he influenced, including Ryan Adams, Keith Richards, and Patty Griffin, appeared with him on the album Willie Nelson & Friends: Stars & Guitars.
Willie Nelson - My Own Peculiar Way (Official Video)
Merle Haggard
Merle Haggard, who died in 2016, aged 79, was a talented songwriter and multi-instrumentalist. Haggard had remarkable commercial success, including 38 No.1 country hits, notably "Okie From Muskogee" (1969). Along with Buck Owens, Haggard was a key exponent of what became known as the Bakersfield Sound, which led the way for later Americana artists by rejecting polished production and heavy orchestration in favor of an authentic, earthy acoustic sound. Haggard was one of the most resonant figures in country music for almost half a century. By the 90s he was receiving respectful recognition from younger artists, being name-checked in songs by George Strait, Brooks & Dunn and Dixie Chicks.
Merle Haggard - Okie From Muskogee (Live)
Waylon Jennings
Waylon Jennings seemed almost to define the outlaw movement in country music. As well as singing and playing guitar, he was a noted songwriter who recorded 60 albums and had 16 No.1 country singles in a career that started when he played bass for Buddy Holly. Some of Jennings' songs from the 70s, such as "Mammas Don't Let Your Babies Grow Up To Be Cowboys," nurtured a spirit later embraced by Travis Tritt, Steve Earle, and others. Earle said that Jennings' use of an electric guitar influenced modern Americana musicians to experiment with different sounds and added that, personally, "Waylon was incredibly supportive. He put me on shows. And he recorded 'The Devil's Right Hand' twice – once on his own and once with The Highwaymen."
The Nitty Gritty Dirt Band
During the 60s, musicians such as Bob Dylan, The Statler Brothers, and Marty Robbins continued to lay the ground for the boom in Americana music, but one band played a particularly important role: The Nitty Gritty Dirt Band. Often overlooked as country heroes, they were founded around 1966 in Long Beach, California, by singer-guitarist Jeff Hanna, and included Jackson Browne among their early members. Harmonica and jug player Jimmie Fadden said that in the early period they were just happy to play American roots music, adding, "In the days when the band formed, experimental music was the norm. Back in the 60s, format didn't seem to be a very big problem."
Their sound, showcasing American roots music, soon attracted the attention of Liberty Records. Their fifth album, Uncle Charlie And His Dog Teddy, which included the hit single "Mr. Bojangles," was one of the first albums considered to be pure Americana. Their follow-up, 1972's Will The Circle Be Unbroken, cemented this reputation.
Will The Circle Be Unbroken
The album featured country and bluegrass legends such as Earl Scruggs, Roy Acuff, Maybelle Carter, Doc Watson, and Norman Blake. The songs, such as the title song and AP Carter's "Keep On The Sunny Side," appeared on the iconic album O Brother, Where Art Thou? 28 years later, when established stars such as Gillian Welch and Alison Krauss cut such a memorable Americana soundtrack for the Coen brothers.
Looking for more? Discover How Country And Roots Music Found A Brand New Dance.