Alison Krauss
Working solo, or with her group, Union Station, she has won an unbelievable 27 Grammy Awards from 41 nominations, making her, alongside Quincy Jones, joint second only to the venerated Sir Georg Solti.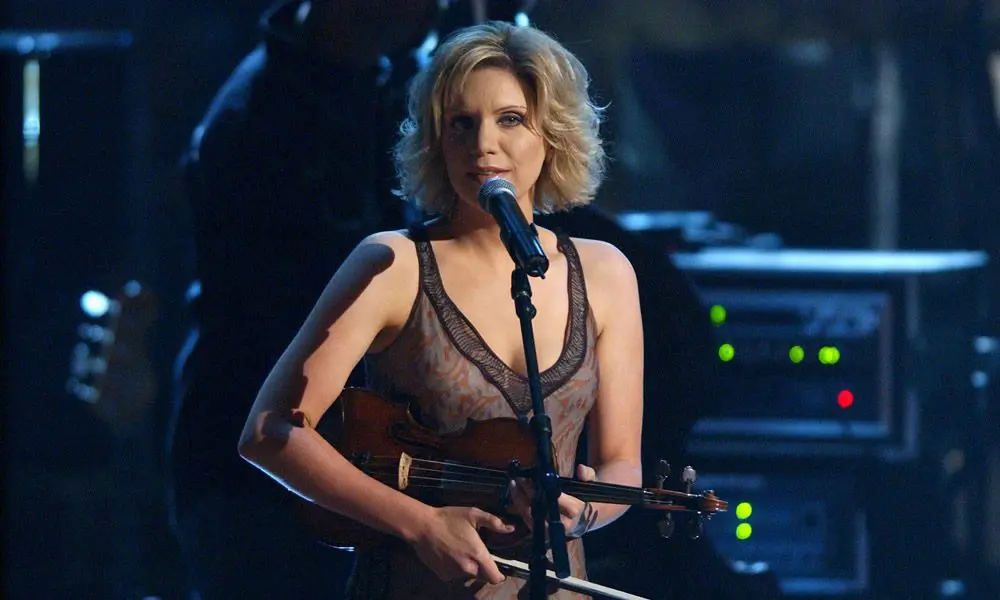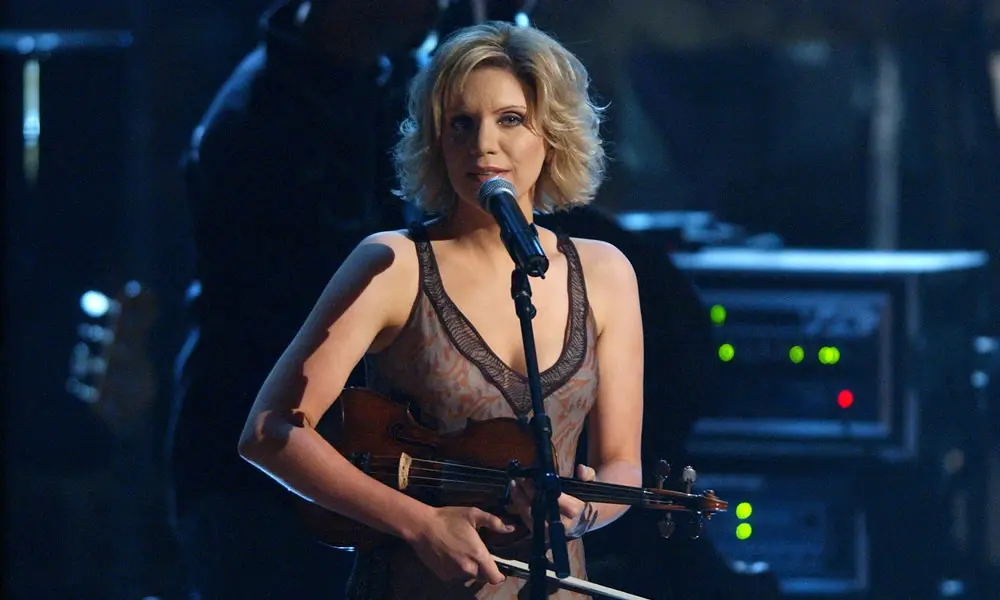 For many, the first time they became aware of Alison Krauss was the release of her remarkable duet album with Robert Plant, Raising Sand, which was released in 2007. Numerous listeners who heard her in this setting then had the joy of going back and discovering the work of the talented artist who has done more to popularise bluegrass music in the modern-day than any other.
More than that, those in the know understood just how well-known a secret she was. Working solo, or with her group, Union Station, she had won an unbelievable 27 Grammy Awards from 41 nominations, making her, alongside Quincy Jones, joint second only to the venerated Sir Georg Solti, who amassed 31 awards in his lifetime.
Alison Krauss was born in Decatur, Illinois on 23 July 1971 and grew up in nearby Champaign. She began learning the violin at the age of five, at the request of her mother who wanted her daughter to "find interesting things to do." She started in classical music and quickly moved to bluegrass, and by the age of 10 she was already sitting in on country bands. By the age of 13, she had won the award for Most Promising Country Fiddle Player (Midwest) from the Society for the Preservation of Bluegrass Music.
Her first release came in 1985 with the instrumental album of traditional music, alongside her brother Viktor, Different Strokes, on the independent label, Riddle Tunes. Around this time she played fiddler in John Pennell's band Silver Rail, who, finding there was another group with the same name, changed theirs to Union Station. Even though the line-up was to change considerably throughout the years, Union Station remains Krauss' band and they have played together throughout. Pennell wrote a great deal of her early material for her. Krauss signed with Burlington, Massachusetts-based roots-focused Rounder Records in 1985 at the age of 15 and has, remarkably, remained with the same label ever since, despite many offers to lure her to somewhere bigger when she broke through at the start of the 2000s. Her contract stipulated that her release should alternate between solo albums and Union Station albums.
Her first solo release on Rounder was Too Late To Cry, in 1987, which featured Union Station, then comprising banjoist Alison Brown, Krauss' brother Viktor on bass and guitarist Jeff White. The first release credited to Krauss and the group was Two Highways, in 1989, which was Grammy Award-nominated for Best Bluegrass Recording. It demonstrated a willingness to uphold the bluegrass tradition while experimenting with songs from outside of the genre. Krauss's next album, I've Got That Old Feeling, in 1991, was a huge hit and did, indeed, win the Grammy Award for Best Bluegrass Recording. It crossed over into the national charts. Subtle moves towards the mainstream occurred – she recorded a promo video for the single of Louisa Branscomb's poignant 'Silver Rails'. By now, Krauss was producing and arranging most of her own work.
The AKUS album, Every Time You Say Goodbye, in 1992, was a typically assured collection, while I Know Who Holds Tomorrow, in 1994, was recorded with the Louisiana-based bluegrass specialists, the Cox Family. Its modern take on gospel songs proved popular, reaching No. 32 on the Billboard Contemporary Christian chart.
However, it was the 1995 compilation, Now That I've Found You: A Collection, which propelled Krauss into the mainstream. It contained just enough hooks to get the non-traditional listener entranced – a beautiful version of Paul McCartney's 'white album' ballad, 'I Will', but most striking was its title track, a cover of the Foundations' 1967 hit, delivered sweetly and openly. The single of 'Now That I've Found You' went to No. 3 on the Billboard Country singles chart and into the Hot 100; the album went to No. 2 in the Country charts and No. 13 in the Billboard 200.
Suddenly, Krauss had arrived, the album sold over a million copies and another track from it, the tender version of 'When You Say Nothing At All', originally recorded for a Keith Whitley tribute album, became an enormous radio hit. In the UK, Radio 2 began to pick up on her beautiful, plaintive vocal style. So Long So Wrong was the first new album from Krauss and Union Station since her upswing in popularity, in 1997. It went to No. 4 in the Country charts and won three Grammys. At 26, Krauss had become one of the most respected performers in the US, just 10 years after her first contract with Rounder.
Forget About It in 1999 was a return to solo work, tender and mellow in equal measure. It contained a sweetly affecting cover of Todd Rundgren's 'It Wouldn't Have Made Any Difference'. Mojo said in their review at the time, "Usually, bare opening bars have just an acoustic guitar and Krauss singing. She seems to murmur, though she is perfectly clear. Turn it up to 11 and you would still find yourself leaning in to meet her intimacy."
At the age of 29, she became the youngest member of Nashville's Grand Ole Opry. It was her appearance on the hugely popular, multi-million-selling O Brother, Where Art Thou? soundtrack that further enhanced her popularity. On the back of the success of the film, AKUS album New Favorite was an instant hit on its release in August 2001. Her Live album the following year was a fine précis of her career to date. Lonely Runs Both Ways, released in November 2004, showed the outfit going from strength to strength, picking up three Grammys in the process, including Best Country Album. A Hundred Miles Or More: A Collection was released in April 2007.
Released on 23 October 2007, Raising Sand, her duet album with Robert Plant, became an enormous runaway hit. Plant, a long-time admirer of her work, had wanted to record with her. If people were not aware of her work, they truly were now. A collection of personally-selected covers, it reached No. 2 on both the UK and the US charts, and went on to win Album of the Year at the Grammy Awards in 2009, while its stunning shimmering 'Please Read The Letter', a track that had previously been on Plant's collaboration with Jimmy Page, Walking Into Clarksdale, won Record of the Year. The Times said, "Krauss may have never sounded better than she does here; as for Plant, though, it doesn't make sense to say the same thing. On Raising Sand, he has quite simply found a whole new voice." The two worked so well together.
After the success of Raising Sand, The Essential Alison Krauss was released in July 2009, to send all her new listeners back through her 20 years of releases. With the line-up of Union Station now stabilised as Jerry Douglas (Dobro, lap steel, vocals), Dan Tyminski (guitar, mandolin, lead vocal), Ron Block (banjo, guitar) and Barry Bales (bass, vocals), with Krauss on lead vocal and fiddle, they released the accomplished Paper Airplane, which after such a distinguished career, was Krauss' first Country Music No. 1 album and a Billboard Top 3 success. Well respected in the UK, with followers the world over, Alison Krauss' reputation has grown and has enjoyed sustained commercial crossover. Without 'Baby, Now That I've Found You', her contribution to O Brother, Where Art Thou? and Raising Sand she would have still been multi-award winning and respected within her genre. The success of those diverse projects has ensured that her star has kept twinkling. With such a wealth of catalogue, there is a great deal of the work of Alison Krauss to discover.
Format:
UK English