Keith Urban
The New Zealand-hailing country singer-songwriter's had a career of chart-topping hits including 'Wasted Time' and 'Long Hot Summer.'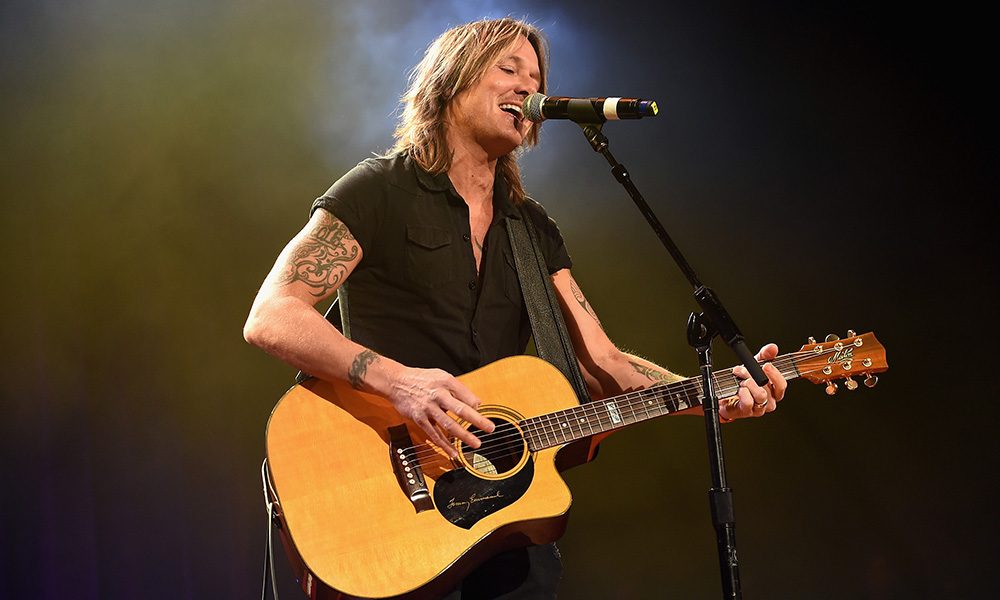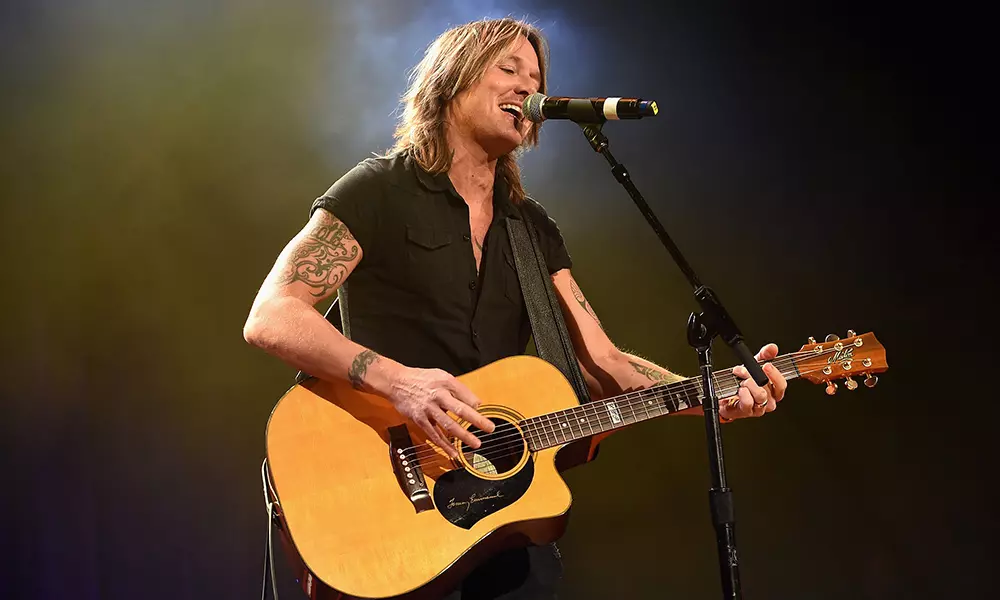 With his six consecutive top ten US country albums since 2000 and thirty-two – count 'em – straight top ten singles in the same period the ever-popular New Zealand-born Australian country music artist Keith Urban is a multi-million selling international star whose fourth solo, Be Here, bossed the years 2004-2005 by going quadruple platinum in the US and smashing the record books in his homeland. But there's far more to this engaging 47-year-old than a bunch of facts and figures. A gifted singer obviously, also a fine songwriter and guitarist, or rather a multi-instrumentalist, Urban is one of the modern breeds of musically minded entrepreneurs. His reputation as a premier songwriter, vocalist, musician and virtuoso guitarist has afforded Urban the opportunity to collaborate with the likes of The Rolling Stones, John Mayer, Steven Tyler, John Fogerty, Alicia Keys, Tim McGraw and Taylor Swift, Vince Gill, Eric Church and countless others. He was asked to perform on both nights of Eric Clapton's Crossroads Festival and on CBS' 2014 extravaganza "The Night That Changed America: A Grammy Salute To The Beatles."
A coach/mentor on the Aussie version of The Voice and a well-known face on American Idol, he has three Grammy Awards for Best Male Country Vocal Performance and so many other gongs that he and his wife, the superstar actress Nicole Kidman, could probably fill every mantelpiece in the house. Like many who occupy the fast lane in the music business Urban's life has not been without mishap and trauma – as evidenced between the lines on his disc Love, Pain & The Whole Crazy Thing and the magnificent ballad "'Til Summer Comes Around", one of his greatest numbers to date. But life is about the ups for him now and with the family to ground him Urban looks set to enter another significant chapter of his career with the projected follow-up to 2013's Fuse. Get ready to be lit up…
Keith Lionel Urban was born in Whangerei, New Zealand and would move with the family to Queensland, Australia as a teen. After taking guitar lessons and attempting to emulate his first influences, Mark Knopfler and Lindsey Buckingham, he tried his hand in the numerous talent contests around Brisbane before EMI Australia snapped him up and rush-released his self-titled 1991 debut. It wasn't plain sailing but he did get to appear on the INXS disc Live Baby Live, though not at Wembley Stadium but on the studio recording of "Shining Star" and suitably taken with what he experienced Urban made his move. Arriving in Nashville in 1992 he pitched songs and played in the country music trio The Ranch before signing to Capitol Nashville and striking out solo for the second time with another self-titled disc, produced by Lyle Lovett Big Band regular and all-round go-to guy Matt Rollings. This Keith Urban was a huge success. "It's a Love Thing", "Your Everything", "But for the Grace of God" and "Where the Blacktop Ends" gave him his breakthrough and made him Mr Popular at Capitol when that third CD single went to the top. Co-written with Charlotte Caffer and Jane Wiedlin from The Go-Go's the track gave Urban plenty of wriggle room for crossover. Producer Dann Huff shaped the destiny of Golden Road (2002), enlisting some fine players of the calibre of drummer Matt Chamberlain and Dan Dugmore while encouraging Keith to bring his own unique instrumental skills to the room. Three more #1 hits were the result: "Somebody Like You", "Who Wouldn't Wanna Be Me" and "You'll Think of Me".
Notwithstanding his country hunk image Urban kept himself relevant on Be Here so that while he'd become a phenomenon he could still get inside some serious material, Rodney Crowell's "Making Memories of Us"  for example, or something more romantic and breezy and downright radio-friendly:  "You're My Better Half" is pure Urban.
Love, Pain & The Whole Crazy Thing was his most ambitious disc to date and is thoroughly recommended for discovery today. Punchy horns and David Campbell's soaring string arrangements are part of the sonic palette and Urban is right at home interpreting Sarah Buxton's "Stupid Boy" (at Kidman's suggestion) and the British artist Billy Nicholls' "I Can't Stop Loving You", a track made famous by Leo Sayer in 1978. The chorale work on "God Made Woman" added more strings to Keith's bow on another double-platinum smash.
Time for a Greatest Hits and 18 Kids (later boosted thanks to a newly recorded version of "You Look Good in My Shirt" to 19 Kids) reflected his musical offspring and went on to sell well over a million copies, proof that the artist had arrived and maintained a devoted fan base.
The if it ain't broke don't fix it routine ensured that Defying Gravity strutted its stuff in 2009 with "Kiss a Girl", "Thank You" (about Nicole) and "Sweet Thing" wrapping up a fine slice of romantic country-pop balladry; the Stonesy "I'm In" putting meat on the bone.
Maintaining a hectic schedule Keith Urban's Get Closer (2010) won him rave reviews in most places with a full-on examination of personal relationships being at the heart of the matter. Quality songs are everywhere. Sarah Buxton returns to fine-tune "Put You in a Song" and the riffs and rhythms that are a given in Keith's work are expanded upon in the highly recommended re-boot. As well as three additional new studio tunes, "Big Promises", "The Luxury of Knowing" and "Winning," you get four live tracks taken from Keith's Love, Pain & the Whole Crazy World Tour: "Once in a Lifetime",  "You Look Good in My Shirt", "Better Life" and "Everybody".
Keith fulfilled a lifetime ambition when he was invited by Vince Gill to be a member of the Grand Ole Opry. He was inducted in 2012. He was overwhelmed. "It's such a long journey for me to get to this stage," Keith said tonight. "The first time I played the Opry was actually backing another guy, Slim Dusty, a legendary Australian country artist who was invited to perform. He used this little band I had called The Ranch as his backing band and I was standing back there thinking it would be great if I could get up there sometime and sing on that microphone. From that to this tonight is extraordinary." As first non-North American artist to be inducted into the Opry, Keith's gratitude was plain to see and he received a standing ovation when he performed.
So to the present time. After playing the guitar on Tim McGraw's single duet with Taylor Swift, the number one country hit "Highway Don't Care", Keith resumed work on his eighth studio album Fuse. A proper old-school meeting of pop and rougher country with a canny infusion of programming and an appearance by the Stargate crew on "Shame", giving the overall sound a new direction. Check the drum loop on "Cop Car" or the feisty guitar licks on "Somewhere in My Car". With other cuts featuring Miranda Lambert and Eric Church, Urban allies himself to the next generation, though keeping faith with his songwriting sensibilities, heartland grit and the old buddies who have been with him along the way. Diversity is the keyword here. Who knows where he may go next?
Words: Max Bell