Tim McGraw
The Grammy-winning country singer and songwriter is one of the most famous and successful artists in the genre.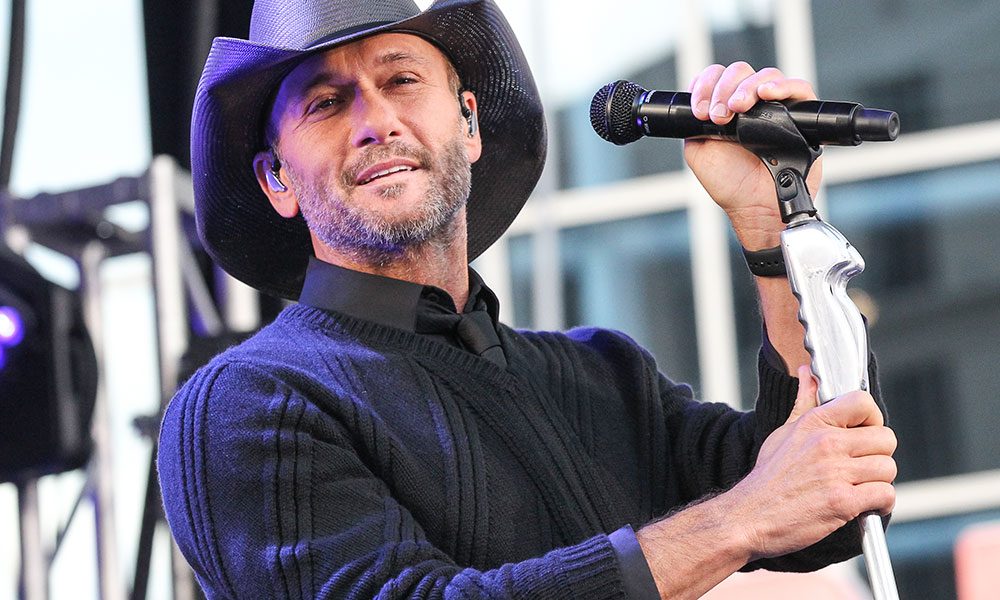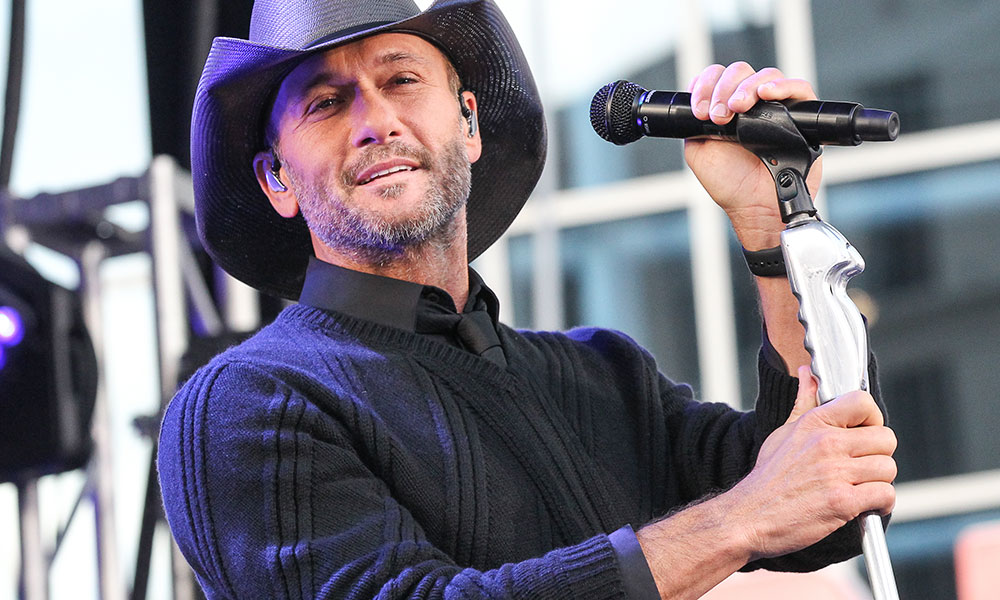 Dressed in a white tee, belt buckled Levis and sporting his trademark Stetson, Tim McGraw is really the archetypal All-American country hero. Not just our opinion either; ask Taylor Swift whose song "Tim McGraw" is sung in his honour and references the smash hit "Can't Tell Me Nothin'". Tim's accolades and sales figures are off the scale: his imminent fourteenth album Damn Country Music is set to be a 2015 event, smooth and easy as you like. His track record suggests as much since ten of his albums have hit number one on the Top Country Albums charts and his single releases have proven equally fertile with "It's Your Love", "Just to See You Smile" and "Live Like You Were Dying" being the top country songs of 1997, 1998 and 2004 respectively on Billboard's end of year reckoning.
Tim's husband and wife double headlining tour with Faith Hill – the Soul2Soul 11 Tour is the highest-grossing in country music history and brought houses down across America. Featuring solo and duet material that tour staggered many who were delighted to hear covers of "The Joker" and "Chasing Cars", some George Strait and Tom Petty and a rousing version of Merle Haggard's "Mama Tried".
A traditionalist with an eye on the longevity of the country-pop form McGraw is a consummate showman, singer and guitar player who also happens to be a pretty decent actor, pilot and genuinely nice guy, seemingly unaffected by his fame and reputation. He must have had to build an extension to contain his vast awards collection – all the expected Academy of Country Music, Grammy Awards, CMA gongs and People's Choice selections jostle for space. His PCA as Country Music Icon in 2014 is said to be one of his most cherished since he won the AMA for Not a Moment Too Soon, the 1994 Album of the Year and the moment that really put him on the map.
Samuel Timothy McGraw was born in Delhi, Louisiana in 1967, his long-estranged father Tug McGraw being a star pitcher for The New York Mets and the Philadelphia Phillies. Boasting eclectic European ancestry Tim was a fine sportsman himself but also a keen country fan with a particular penchant for Keith Whitley. In 1989 he decided to follow his heart and set off for Nashville where his talents were spotted but the folks at Curb Records, for whom he would record eleven studio albums and be the subject of several compilations, most of them multi-platinum affairs.
The self-titled debut, Tim McGraw, was a slow burner despite an excellent roster of guests such as Sonny Garrish, Brent Rowan and Glenn Worf. Birthing pains having subsided our hero arrives in style on Not a Moment Too Soon, Billboard's best-selling album of 1994. What an entry! Containing five top ten hits – "Don't Take the Girl" and the title track hitting #1 – this is a 6xPlatinum monster that simply clicked with the public thanks to expertly chosen and performed songs that weld Southern county rock on to heartland lyrics with a whiff of outlaw cordite to keep things honest.
All I Want and Everywhere repeated that feat as singles like "I Like It, I Love It" and "It's Your Love" pitched McGraw as a fine family man with unpretentious values and a fabulous singing voice. Now the arrangements are lusher, the attention to detail is scrupulous and the VIP guest list expands to include Timothy B. Schmit, Paul Franklin and Pat Buchanan.
With records for longevity on the charts, successful single runs and packed out arenas all now a given McGraw enjoyed his superstar status with the winning streak album A Place in The Sun, the disc that spawns "Please Remember Me", "Something Like That", "My Best Friend" and "My Next Thirty Years" – a run of romantic ballads that is hard to top.
With the six million-selling Greatest Hits ushering the millennium in and a prestige date at Madison Square Garden Tim's phenomenal strike rate refuses to abate on Set This Circus Down, that includes crowd favourite "Angry All The Time" one of many of his duets with Faith Hill.
The genre bucking Tim McGraw and the Dancehall Doctors (featuring his actual road band rather than the expected session folks) still attracted some top names. He covers Elton John's "Tiny Dancer" to grand effect and Kim Carnes, Don Henley and Schmit mosey on down for some classy vocal collaboration. This is one of our favourite TM discs and as a mid-period item, it is well worth discovering. The performances are as stellar as ever and the Grammy Award-nominated "She's My Kind of Rain" is classic McGraw. Hey, we also appreciate that the video for the latter song was shot in London.
Live Like You Were Dying, dedicated to his father Tug, with whom he had become reconciled, is an emotional affair that topped the charts for seven weeks. Recognised by the industry as a milestone disc it also paved the way for an unlikely liaison with hip hop artist Nelly on the single "Over and Over", a #1 across Europe and Down Under where McGraw is revered.
Let It Go, combined with the Soul2Soul11 Tour, includes the 'soldier's letter home' weepie "If You're Reading This" co-written by Tim with Brad and Brett Warren, also the Tim and Faith duets "I Need You" and "Shotgun Rider". More plaudits, more Platinum: just more of everything. Check out the track "Kristofferson" and take a sideways glance at "Nine Lives" where Tim combines with the English hard rock masters Def Leppard on their Songs From the Sparkle Lounge disc. McGraw's own efforts were rewarded with his eleventh #1 placing.
After a spate of Curb Greatest Hits comps, Tim returns to the studio for Southern Voice where David Campbell's orchestration is bolstered by an appearance from keyboards wizard Jimmy Nichols. Chad Kroeger from Nickelback co-wrote "It's a Business Doing Pleasure with You", one of the twelve solid marvels on display. As for the evocative title cut McGraw states "I hope it's a record that you can put on and just sort of melt into. And that's what the purpose was for it. We wanted a sort of earthiness that when you put this thing on, it just sort of kicks out all over you." Indeed it does do just that.
Emotional Traffic was the curtain closer for Curb, which brings us to Two Lanes of Freedom (2013). Another subtle alteration of style finds Tim and Taylor Swift and Keith Urban uniting on "Highway Don't Care". The other standout tracks are "Southern Girl" and "Truck Yeah", sonically fresh and optimistic pieces that seem to set the groundwork for whatever McGraw wants to do next.
Still working with his trusted studio sidekick Byron Gallimore Tim drops Sundown Heaven Town in 2014. We're grooving on "Diamond Rings and Old Barstools" (a duet with Catherine Dunn) and "Meanwhile Back at Mama's" where Faith keeps ole Quick Draw McGraw in check on a classic rootsand family number: everything they do best.
And so to the present day disc, Damn Country Music, whose lead single, "Top Of The World", sets the scene for another plush suite of mellow magnificence. The deluxe edition adds "Everybody's Lookin'", "Kiss A Girl" and "Country And Western": straight down the line fare that the artist calls "one of those electric moments. It speaks to a passion and being at a crossroads in your life when you make that decision to pursue it knowing you might pay a heavy price."
Still, waters run deep with this man. He is a real country icon, a Shotgun Rider whose best years lie ahead. As a handy intro, why not try his 35 Biggest Hits collection, or McGraw: The Ultimate Collection? If you're lucky, snaffle tickets for his 2017 co-headlining Soul2Soul World Tour, with Faith Hill.
Fancy discovering him? It's not a moment too soon.
Format:
UK English