Patty Griffin
The Grammy-winning folk singer-songwriter from Old Town, Maine is known for also working in gospel as well as her rich song catalog.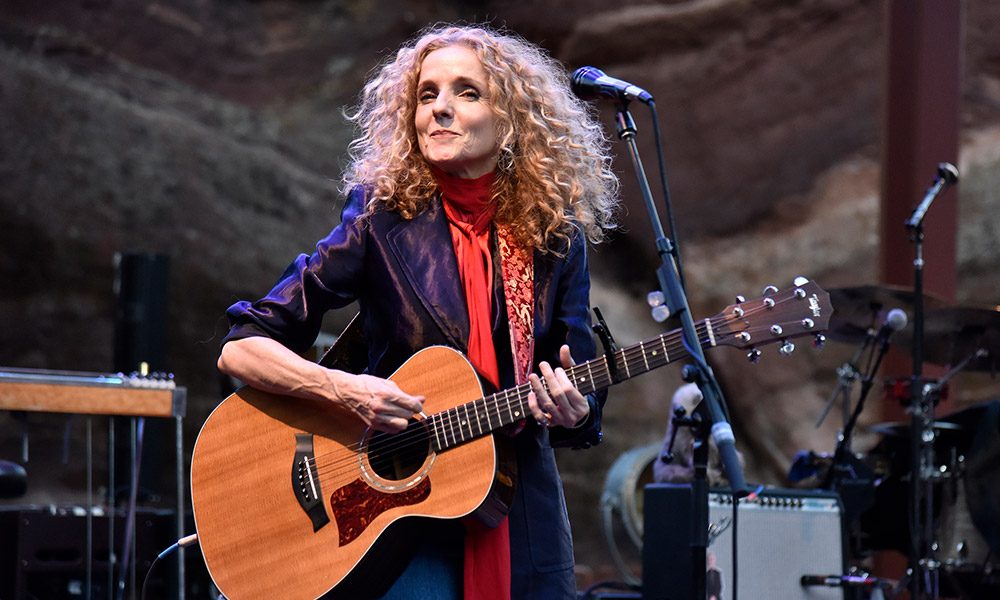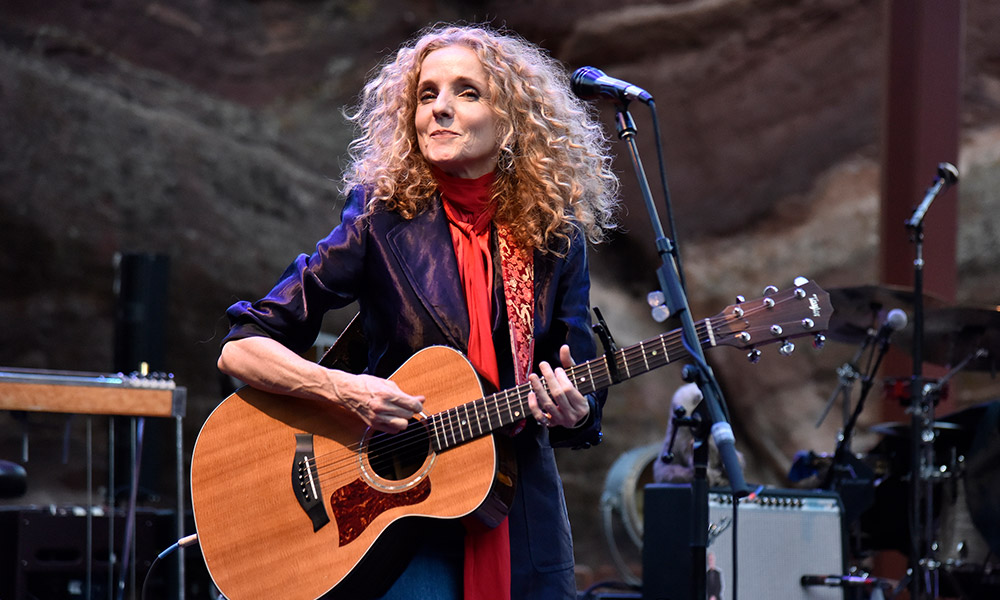 Lauded for her emotive, stripped-down songs and her acrobatic vocal range, New England-born singer-songwriter Patty Griffin remains one of the American folk scene's most vital performers. Though hardly a household name, she has frequently infiltrated the mainstream. Her 2011 LP, Downtown Church, won the Grammy Award for Best Traditional Gospel Album, while songs from her nine critically acclaimed albums have been covered by a host of influential performers ranging from Linda Ronstadt to The Dixie Chicks, and even soul legend Solomon Burke.
Griffin first appeared on the industry's radar with her remarkable A&M debut, Living With Ghosts, released in May 1996 and still hailed as one of her most breathtaking discs. In reality, though, she had quietly been working up her act for years. Born in March 1964, she grew up in Old Town, Maine, a small town of fewer than 10,000 inhabitants situated near the Penobscot Native American Indian reservation. The youngest child in her family (she has six older siblings), Patty Griffin loved music at an early age and bought her first guitar – reputedly for the princely sum of $50 – when she was just 16.
She sang and played rudimentary self-penned songs as soon as she learned a few chords but, initially, Patty Griffin had no intention of pursuing music as a career. Instead, she took the domestic route, marrying – but then divorcing after only a few short years. By the mid-90s, however, she'd strapped on her guitar full-time and was making a name for herself playing well-received, fanbase-establishing shows on the coffee-house circuit in Boston, Massachusetts.
Griffin's intimate shows led to her signing with A&M Records, who were stunned by the strength of her demo tape. The original plan was for Patty Griffin to enter the studio and re-record the songs, with the tracks fleshed out by studio musicians overseen by producer Nile Rodgers, but when the record company heard the finished product they felt the results were overproduced.
After some discussion, the album that emerged, Living With Ghosts, was Griffin's original demo tape unadorned. Yet while few major record companies would have had the guts to introduce a newly signed artist in such a naked, stripped-back setting, A&M were right to have the courage of their convictions. As a whole, the impassioned 10-track album had an intensity that transcended the bare-bones minimalism of the musical backdrop, while the best songs ('Moses', 'You Never Get What You Want' and 'Poor Man's House') painted ultra-vivid portraits of chronically lonely people. All 10 tracks, meanwhile, were delivered by a seemingly fearless voice with a range that ran the gamut from brittle vulnerability through to sabre-rattling intensity.
The critics agreed that Patty Griffin was indeed a major new folk talent and, while Living With Ghosts was a commercial slow-burner, it sold solidly, eventually racking up sales of over 220,000 copies. After the album was released, however, label and artist agreed Griffin should again try recording with a backing group; after a successful full-band version of Living With Ghosts' 'Let Him Fly' was cut, Griffin recorded her sophomore LP, Flaming Red, with a band that included Nashville session aces Buddy Miller, John Cougar Mellencamp drummer Kenny Aronoff and even Emmylou Harris, who contributed backing vocals to several tracks.
Taken neat after the intimacy of Living With Ghosts, Flaming Red was an acquired taste, with its eclectic contents taking in everything from belting bar-room rockers ('Wiggly Fingers'; the bratty, no-nonsense title track) through to yearning, radio-friendly pop anthems ('Change'; 'Blue Sky') and the superb 'Tony': a vivid portrait of depression-fuelled teenage suicide played out over loping trip-hop beats. Crucially, however, the album was just as cathartic as its sparse predecessor and the brashness was balanced out by affecting, roots-flavoured numbers such as 'Goodbye', 'Mary' (later covered by The Dixie Chicks) and the piano-framed 'Peter Pan'.
Flaming Red again performed well in the marketplace. It climbed up to No.12 on the US Billboard Heatseekers chart on release in June 1998 and eventually sold well over 120,000 copies in North America. Griffin completed a third album, Silver Bell, for A&M, but they shelved it at the time and Griffin eventually signed with Dave Matthews' ATO label, for whom she recorded her official third album, 2002's 1000 Kisses.
Recorded live in the studio with a small, mostly acoustic band, 1000 Kisses landed between the stark acoustics of Living With Ghosts and the full-on electric textures of Flaming Red. A delightful record, with exotic sonic textures including vibraphone, accordion and mandolin, the album featured a slew of fabulous tracks including the Latin-flavoured 'Mil Besos', the late-night torch song 'Tomorrow Night' and a stirring cover of Bruce Springsteen's 'Stolen Car'. With Griffin again on tip-top vocal form, the album racked up the critical plaudits and performed well in North America, topping the Billboard Heatseekers Chart and climbing to No.101 on the mainstream Billboard 200.
A sister piece to 1000 Kisses, Griffin's first officially sanctioned live LP, A Kiss In Time, followed in October 2003. Recorded at an enthusiastically received show at Nashville's Ryman Auditorium (formerly the home of the legendary Grand Ole Opry) with Griffin backed by members of the 1000 Kisses band, the album's material was culled from all three of her LPs to date, and it again met with a positive reception, garnering critical applause and climbing to No.21 on the US Billboard Heatseekers chart.
Griffin picked up further critical praise for her live performances in 2004 when she toured with the Sweet Harmony Travelling Revue: a star-studded country-roots line-up which also included Emmylou Harris, Buddy Miller, Gillian Welch and David Rawlings. The same year saw the release of Griffin's fourth studio LP, Impossible Dream: a reflective, dreamy affair featuring a couple of beautiful, sparse piano ballads ('Mother Of God'; 'Kite'), the gospel-tinged 'Standing' and the winsome, folk-flavoured 'Useless Desires', which featured vocals from Emmylou Harris and violin from ex-4AD Records star Lisa Germano.
Rising to No.67 on the US Billboard 200, Impossible Dream proved to be one of Griffin's best-selling discs, though it was eclipsed by her final ATO album, Children Running Through, which climbed to No.34 in North America within a fortnight of its release in February 2007. Winning the Americana Music Association's Artist Of The Year award and nominated in the Best Contemporary Folk/Americana Album at the 2008 Grammy Awards, the album was greeted by a welter of positive critical notices and is widely regarded as Griffin's most indispensable disc.
Poised and diverse, Children Running Through undeniably featured some of Griffin's finest material, ranging from the tough, horn-assisted R&B of 'Stay On The Road' and the Pretenders-esque rockabilly of 'Getting Ready' to the haunting, country-roots ballad 'Trapeze' and the striking, gospel-fuelled 'Up To The Mountain (The MLK Song)', which was based on the Reverend Dr Martin Luther King's famous 'I Have A Dream' speech. Kelly Clarkson later covered this last song (with guest Jeff Beck on guitar) on the special Idol Gives Back edition of American Idol, which aired on US TV in April 2007.
Griffin parted ways with her long-time label, ATO, after Children Running Through and made her next album, Downtown Church, for Credential: a Christian label distributed by EMI. On paper it seemed an unlikely alliance, especially as Griffin described herself as "a lapsed Catholic", yet the sublime Downtown Church was steeped in the gospel tradition. The album was recorded at the Downtown Presbyterian Church in Nashville and the sessions (helmed by long-time acolyte Buddy Miller) featured contributions from Emmylou Harris and The Mavericks' Raul Malo. A compelling and exuberant LP, the record featured a couple of fiery Griffin originals in 'Coming Home To Me' and 'Little Fire', but mostly consisted of joyous – and beautifully realised – covers of vintage gospel tunes such as Hank Williams' 'House Of Gold' and Willie Mae "Big Mama" Thornton's 'Wade In The Water.'
Downtown Church again performed well in the charts, debuting at No.38 on the Billboard 200 as well as topping two specialist Billboard listings, the Christian Album Chart and Folk Album Chart, respectively. 2010, meanwhile, proved to be quite a year for Patty Griffin, as she also featured on Robert Plant's acclaimed Band Of Joy LP (released by the Rounder imprint), which charted at No.5 on the US Billboard 200 and swept up to No.3 on the UK Top 40.
Plant rapidly returned the favour, appearing on three songs on Griffin's next solo LP, 2013's American Kid. Arguably her most candid and reflective set since her debut, the album was another career highlight. The best of the Robert Plant collaborations came in the shape of the shimmering, ethereal 'Ohio', while elsewhere the sonic backdrop dug into early folk, blues and gospel styles on tracks such as the lonesome 'Go Where You Wanna Go', the wracked 'Don't Let Me Die In Florida' and the pointedly personal 'Gonna Miss You When You're Gone'.
Christmas came early for Patty Griffin devotees in 2013, as not only was American Kid released, but A&M/Universal Music also finally issued her legendary "lost" third LP, Silver Bell, which had been completed in the wake of her second LP, Flaming Red, but remained released after Griffin parted ways with A&M. Akin to Bob Dylan's The Basement Tapes, Silver Bell had assumed almost mythical status among her fans, while The Dixie Chicks had previously dropped some tantalising hints as to its contents, covering two of its best songs, 'Top Of The World' and 'Truth #2', on their 2002 LP, Home.
Originally recorded in New Orleans with U2 producer Daniel Lanois, Silver Bell was specially remixed for release by renowned UK rock producer Glyn Johns (The Who; The Rolling Stones) and its finely wrought melange of atmospheric country-soul and tough, brawny roots-rockers didn't disappoint. Griffin's grateful fans snapped it up quickly and duly propelled Silver Bell to No.64 on the US Billboard 200 on release in October 2013.
More recently, though, Griffin released her ninth studio LP, Servant Of Love, through 30 Tigers and her own PGM imprint in September 2015. Again featuring on the US Billboard 200 (where it recently peaked at No.68), it was another earthy, heartfelt folk-blues set, most of whose songs explored love in its myriad of mysterious guises, from the power of physical attraction analysed on 'Snake Charmer' through to the many stages of failing relationships examined by tunes such as 'Hurt A Little While' and 'Good And Gone'.
Servant Of Love again attracted a clutch of highly positive reviews and Patti Griffin recently embarked on her latest tour to support the album's release. She will be treading the boards soon and offering fans ample opportunity to enjoy an unforgettable evening in the presence of one of contemporary Americana's most versatile voices.
Words: Tim Peacock
Format:
UK English