John Mellencamp
John Mellencamp is a rock singer-songwriter who's known for such hit songs as 'Jack & Diane', 'Hurts So Good' and 'Pink Houses'.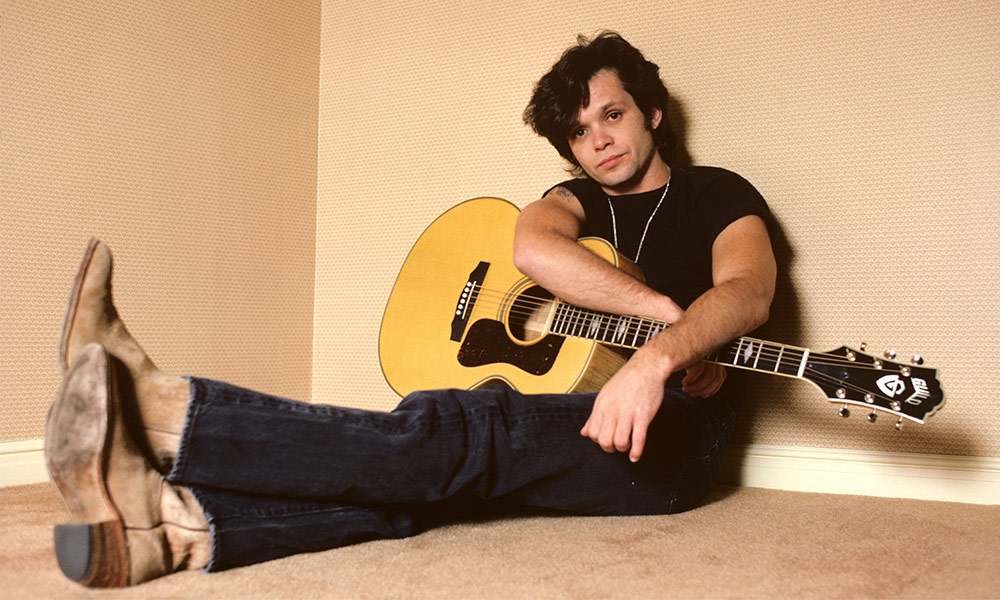 One of Indiana's most celebrated sons, John Mellencamp's music has become a byword for blue-collar authenticity, literate songwriting and heartland rock verity. His lucid style enabled him to crossover during the 1980s from an established cult figure with a fanatical following to a somewhat more mainstream entertainer and eventually, a superstar in his field, though he hasn't actively sought out the shallower end of fame and concentrates on his work regardless of whatever fad and fashion is around at the time.
From 1982 on he enjoyed a string of hit singles, including "Hurts So Good", the signature piece "Jack and Diane", "Crumblin' Down", "Small Town", "R.O.C.K in the U.S.A." and "Cherry Bomb". His album sales flourished exponentially and he has moved over 40 million discs while hitting the Top 40 in America 22 times. His successes include the fact that he has had more number-one on the Hot Mainstream Rock Tracks chart, seven, than any other artist and he is a Grammy winner to boot with 13 nominations. His most recent disc is Plain Spoken, which does what it says on the cover and has garnered enthusiastic reviews to match a career where maturity and craft are a byword.
Alongside Willie Nelson, Bob Dylan and Neil Young, Mellencamp is one of the founders of the influential Farm Aid organisation, a more American grass-roots answer to Band Aid. An inductee into the Rock and Roll Hall of Fame (2008) his combination of liberal protest music, partially derived from the likes of Dylan and Woody Guthrie, rock and soul has been expanded across the years to encompass rural instrumentation and what he calls a 'raw Appalachian' sensibility. His habit is to address social realism head-on rather than wallow in nostalgia or escapism for their own sake. He seems to be at the peak of his powers right now and that is testimony to his enduring appeal.
After a difficult childhood when he recovered from spina bifida, Mellencamp immersed himself in pop music as a teenager. His earliest influences were Anglo inspired and he became something of an expert on the British glam rock movement with particular regard to Roxy Music and David Bowie, enabling him to be viewed as a trailblazer in otherwise conservative Indiana circles where country and old school rock were perhaps more the norm.
After touting his wares across the New York record business John fell in with Bowie's MainMan manager Tony DeFries and the Englishman swiftly signed him to a deal while insisting that he adopt a stage name, Johnny Cougar, and sport a US version of high camp glam with make-up. The resulting debut, Chestnut Street Incident, had an air of Bruce Springsteen around the edges but the following album, The Kid Inside, was rejected by DeFries (though he released it in 1983 once Mellencamp had made his name). Maintaining the English connection, John fell into the clutches of Rod Stewart's management guru Billy Gaff and spent his time commuting between London and the States without great results. The London-recorded A Biography and the starker John Cougar were his last efforts in the 1970's – the latter spawning a hit for Pat Benatar in "I Need a Lover".
Feeling cut adrift from his roots, Mellencamp returned with the Steve Cropper-produced Nothin' Matters and What If It Did, but still didn't find fulfilment as an artist. We pick his story up again with American Fool, where he is still called John Cougar but is developing his own voice and style with producer Don Gehman (Stephen Stills, R.E.M., Hunters and Collectors and others) and people suddenly sat up and took notice. This album features the playing skills of one Mick Ronson, as well as the rock-solid rhythm section of Kenny Aronoff and George 'Chocolate' Perry. American Fool is a breakthrough in that the best songs have a narrative strength, which will become our man's calling card. "Jack & Diane", largely arranged by Ronson (the pair had worked together on and off in the early days); "Hurts So Good" and "Hard to Hold On To" had grace and depth that retain their allure now. Amazingly too, after years of struggle, this is the album that shoots John into the public consciousness since it became the best-selling disc of the year and took him to the coveted top slot on Billboard's Top 200. We totally recommend this outing, one that also comes in remastered format with the extra track, the title song itself.
After The Kid Inside finally sees the light of day in 1983, the real John Cougar Mellencamp stands up to be counted on the fine Uh-Huh, another smash and one of the greatest albums of an era not known for classic albums. Again the hits helped – "Crumblin' Down" deals with fame and the aftermath, "Pink Houses" is a delightful snapshot of a moment in time and  "Authority Song" finds Mellencamp widening his angles. Incidentally, some of the backing singing here comes from Spirit's Jay Ferguson and the main players will become John's stage group.
The new straight-talking approach paid dividends and John finds himself with an audience who want to hear what he's got to say, and that's plenty. Again there is a remastered version with the extra bonus of an acoustic "Pink Houses" that captures the original intent well.
Now able to shed the last vestiges of his pretty-boy image – though he is a handsome fellow for sure – JCM returns to Indiana to record the sublime Scarecrow set where a more rugged and rootsy approach shines bright on "Small Town", "Lonely Ol' Night" and the bittersweet anthem "R.O.C.K. in the U.S.A. (A Salute to 60's Rock)". Check out the remastered 2005 version for more goodies.
In 1987 The Lonesome Jubilee was born from a stack of nose-to-the-grindstone rehearsals and introduced John's following to the artist's desire to use heartland instrumentation and specialists like Lisa Germano (fiddle) while allowing long time collaborator Larry Crane scope to add neat sounds conjured on autoharp, banjo, mandolin. A real down-home treat is this and his most critically acclaimed release at that point. Finally, critics started to get the point: John could make credible music that didn't pander to the mainstream but enriched the medium as the remastered version of bonus cut  "Blues from the Front Porch" amply demonstrates.
Big Daddy (1989) is self-produced and maintains the folkier elements while fusing a darker lyrical stance than he's attempted before. But there's light and shade, not least in the inclusion of a cover of The Hombres' 1967 classic garage Dylan/hippy parody "Let It Out (Let It All Hang Out)" and the deeply felt  "Mansions In Heaven". This album repays reinvestigation 25 years later. It's often overlooked but should not be.
Whenever We Wanted (1991) is the first album released as plain John Mellencamp and the move towards hard rock punch with a light pop sensibility singles this out as another milestone. Human Wheels shifts the man's stance further away from the norm via  "When Jesus Left Birmingham" – one of his greatest achievements – and the lovely "Suzanne and the Jewels" where the addition of Malcolm Burn's ambient keyboards add extra lush textures to the sonic palette. It may be many folks favourite Mellencamp moment but there are plenty of others to draw the listener in that are as good.
The deliberately radio-friendly Dance Naked (1994) was the swiftly accomplished follow-up and features a neat cover of Van Morrison's "Wild Night" (the opening track on the latter's lovely Tupelo Honey) where Me'Shell Ndgeocello adds her considerable bass guitar and vocal clout to proceedings.
Mr. Happy Go Lucky closes out a chapter in 1996. Recorded after he suffered a minor heart attack, he deals with encroaching middle age with wit and humour and no little pathos too on "This May Not Be The End Of The World" where a small-town scenario takes on apocalyptic significance – a marvellous, defining song that graces a really strong suite of Mellencamp at his considered best.
The Best That I Could Do 1978-1988 – typically self-deprecating title – is, of course, an anthology of good stuff that traces beginnings at Riva Records through to the initial heyday. Of extra interest is his cover of the eclectic track  "Without Expression", penned by Terry Reid and Graham Nash. A classy addition. Add to this one the mostly acoustic collection Rough Harvest, a tying up of loose ends with nods to Dylan's "Farewell Angelina" and the bonus "Seventh Son" and a vibed up assault on The Drifters' "Under the Boardwalk": again this one slipped through the net – unless you're a diehard fan – but anyone becoming acquainted with Mellencamp now will enjoy this rootsy epic set.
Words & Music: Greatest Hits is just that but is also an esoteric collection with many surprises spread over 2-discs. 2007 offering Freedom's Road moves him on apace with a 1960's feeling adapted to modern technology – since John is no Luddite but rather a lover of honest sound. Joan Baez guests on "Jim Crow" and the American country band Little Big Town enhance matters with some lovely harmonies.
Life, Death, Love and Freedom has a portentous title but Mellencamp doesn't mind that as he views it to be up with his best work and we don't disagree. His entire dedication to heartland music is all over the songs and producer T Bone Burnett adds appropriate gravitas to the sound, using the pioneering CODE process. Life, Death, Live and Freedom is the companion piece –featuring eight live versions of the parent disc recorded in Toronto, Philadelphia and Los Angeles with an appropriately stripped back acoustic feel that brings out all the majesty of the songwriting.
Evidently on a roots roll now, Mellencamp's most recent discs are No Better Than This, recorded with Burnett at historic landmarks American sites like Sun Studio, the First African Baptist Church, Savannah, GA and the Gunter Hotel in San Antonio, Texas where blues legend Robert Johnson holed up to write in 1936. A mouth-watering and important disc, this encourages John to provide some of his finest acoustic guitar playing abetted by T Bone's own prowess and the masterful Marc Ribot. Needless to say, No Better Than This won major plaudits and if it's too early to say it's a durable masterpiece just yet, we wager it will be viewed as such soon.
In keeping with the country blues theme Trouble No More Live at Town Hall (2014 – New York City Town Hall) situates originals alongside Dylan, Guthrie, Son House and Hank Williams. The most recent Plain Spoken confirms a talent in full spate with Burnett seemingly part of the fixtures and fittings and everything in order in John Mellencamp's world.
Those who wish to explore further should check up on the box set On the Rural Route 7609 where a 4-CD set finds ample space for writing demos, left-field spoken word interpretations and so many rarities that it truly is an essential addition to the Mellencamp world, a real cornerstone event and a homage to Indiana.
A storytelling giant then whose music arrives like sepia-tinted snapshots of real America rather than the plastic version, John Mellencamp goes from strength to strength. Dig in and fill your cowboy boots. There is music to savour for all time here.
Words: Max Bell
Format:
UK English