Neil Young
The Canadian singer-songwriter has charted a massively influential career over the last fifty years.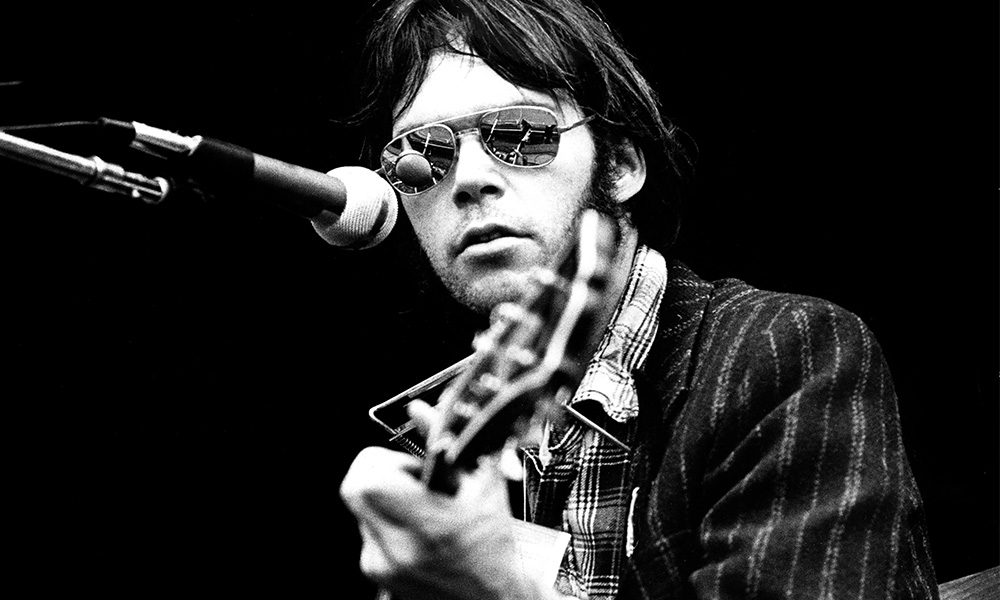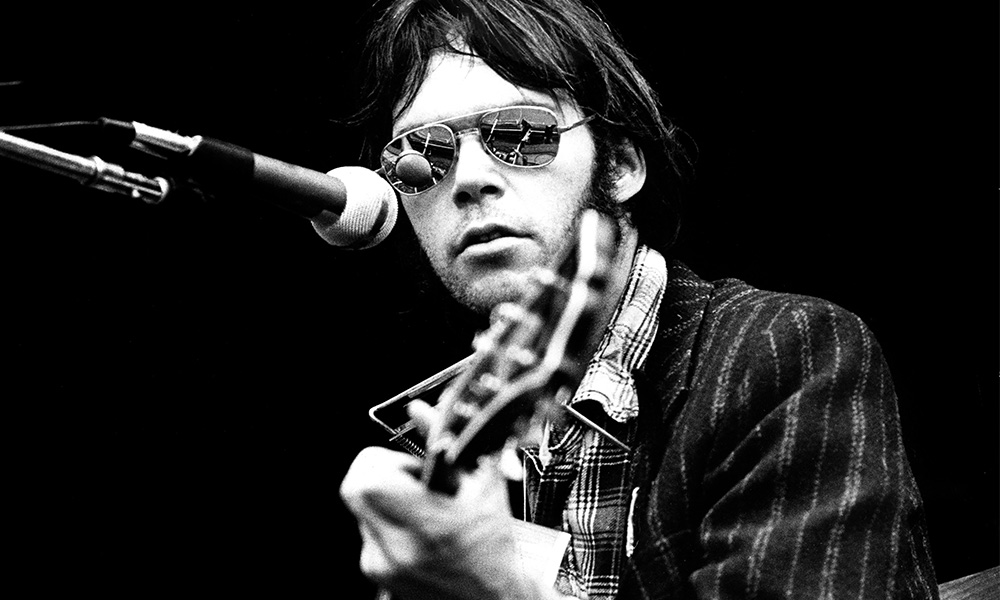 One of the most adored rock artists, guitarists and singers of all time, Neil Young inspires a devotion that reminds you of the true meaning of "fanaticism". Born in 1945, in Toronto, Canada, he found fame when he relocated to Los Angeles in 1965. Ostensibly setting out to hook up with Stephen Still, Young made the journey in a converted hearse with friend Bruce Palmer. By chance, Stills spotted the pair in a traffic jam and the trio began playing with Richie Furay and Dewey Martin as Buffalo Springfield.
Neil Young's for that group, 'Mr Soul', 'Expecting To Fly, and 'Broken Arrow', wherein the confessional folk style that Young then made his own on a string of classic albums in the late 60s and early 70s. However, renowned for having a contrary side, Young didn't always stick to that template. His on-going work with Crazy Horse often rips up the rulebook and goes for broke – one of the reasons why Young was dubbed The Godfather Of Grunge.
As one of Crosby, Stills, Nash & Young, he achieved superstardom but always seemed happier ploughing his own furrow. Neil Young's prolific output (it's not unheard of for him to release several albums in one year, and then there's a litany of unreleased projects) stretches from an eponymous debut to 2016's polemical Peace Trail and encompasses many a groundbreaking work, among them After The Gold Rush (1970), On The Beach (1974), Tonight's The Night (1975) and Live Rust (1979). Most of his albums have gone either gold or platinum, and his status is such that he's been inducted into the Rock And Roll Hall Of Fame twice, as a solo artist and with Buffalo Springfield, while he also holds the Orders of Canada and Manitoba.
Neil Young's self-titled debut was full of good songs – 'The Loner', 'I've Been Waiting For You', 'The Last Trip To Tulsa' – but suffered from a muddy mix. However, the hastily assembled follow-up, Everybody Knows This Is Nowhere, credited to Neil Young And Crazy Horse (Danny Whitten, Billy Talbot, Ralph Molina), was an unqualified triumph thanks to favourites the likes of 'Cinnamon Girl', 'Down By The River' and 'Cowgirl In The Sand'. Young's trademark high tenor – a haunting instrument in its own right – and his searing guitar work made him stand out, but it was After The Gold Rush, released a few weeks before Stephen Stills' solo debut, that convinced us we were in the presence of genius. Among the highlights, the apocalyptic title track, the fire and brimstone 'Southern Man', the thrilling 'When You Dance I Can Really Love' and the elegiac 'Birds' continue to exert their hold.
Its follow-up, Harvest (1972), was even more successful thanks to the inclusion of 'A Man Needs A Maid', 'Heart Of Gold' (a US No.1 single) and a soft folk-rock sound that also reflected his rootsier material, notably on 'Are You Ready for the Country?'. On that song, recorded with the backing group The Stray Gators, Young coined a post-Area Code 615 variation on the Nashville sound.
Released the same year, the soundtrack album Journey Through The Past, with its chilling Ku Klux Klan cover, contains archive music and one new song, 'Soldier', which later found wider release on the 1977 compilation Decade. The following year saw the live release Time Fades Away. Like Journey…, the album has been long out of print and was completely different to Harvest. Having tasted fame and fortune, Young then claimed he'd "headed for the ditch" rather than remain "in the middle of the road".  That was also the case with 1974's On The Beach and the following year's Tonight's The Night, albums which gained him a reputation for a visceral pessimism (or, depending on your view: realism). 'Ambulance Blues' wasn't for the faint-hearted, while the tour that accompanied Tonight's The Night was a surreal experience, scorched on the retinas of those who saw it as Young performed a bitter suite inspired by the recent fatal heroin overdoses of Crazy House guitarist Whitten and old pal and roadie Bruce Berry.
Also issued in 1975, the Crazy Horse-bolstered Zuma – and, in particular, its standout song 'Cortez The Killer' – coincided with a period of ferocious roadwork. After a detour into a collaboration with Stephen Stills, Long May You Run (1976), American Stars'n'Bars (1977) showed that Young hadn't been without inspiration on the highway: 'Like A Hurricane' and 'Will To Love' ushered in a sonic upgrade.
Released eight months apart, in October 1978 and June '79, respectively, Comes A Time and Rust Never Sleeps were chalk and cheese: the former is down-home and features JJ Cale, the latter addresses the changing musical landscape in a post-punk world. The track 'My My, Hey Hey (Out Of The Blue)' was the bumper-sticker moment, and the attendant Live Rust album hammered home the Crazy Horse credo.
1980 ushered in a more experimental – and, to some, problematic – period. Hawks & Doves dipped into the already formidable archives to include some previously unreleased material, while the new wave (ish) Re-ac-tor and the occasionally baffling Trans found Young on recharge.
Now on a new label, Geffen, the rockabilly pastiche of Everybody's Rockin' proved that Young would continue to do whatever he wanted. Naturally, it was followed by a country album, Old Ways, with Waylon Jennings and Willie Nelson on board, which was itself followed by another recession-era heavyweight, Landing On Water.
This Note's For You and Freedom saw Young's commercial fortunes return by the end of the decade. Heading back to the garage, he opened the 90s with Ragged Glory and the ear-splitting live double-album Weld, during which time Crazy Horse were louder than most heavy metal acts. Arc was a feedback-drenched companion release pieced together from the same shows, and then, 20 years after Harvest, Young revisited the country template for Harvest Moon, whose key cut, the autobiographical 'Dreamin' Man', rolled back the years to 1970. 1994's Sleeps With Angels also referenced earlier work (in this case, the downbeat Tonight's The Night) along with the Kurt Cobain, who had quoted 'Hey Hey, My My (Into The Black' in his suicide note. Now firmly hailed as the Godfather Of Grunge himself, Young teamed up with Seattle heroes Pearl Jam for Mirror Ball, which included 'Peace And Love', co-written with the group's singer, Eddie Vedder.
Saddling back up with Crazy Horse, yet another new phase in Young's career came with the jam-based Broken Arrow (1996) before the underrated Silver & Gold (2000) His soul side emerged on Are You Passionate?, on which Young teamed up with Stax icons Booker T & The MG's, with whom he had toured, to create his most R&B work.
The conceptual Greendale, a kind of audio musical novel and movie, was a further surprise, but Prairie Wind nodded to Young's Canadian roots. And yet he remained creatively restless. Key albums thereafter include Living With War, his reaction to the Iraq crisis, and the dense textures of Chrome Dreams II, which Young himself likened to After the Gold Rush.
With his live archive now spouting an album a year, Young returned to the studio for Fork In The Road and the highly regarded Le Noise, produced by Brian Eno collaborator Daniel Lanois. Heading for 70, young delved even further back into the past for Americana, a collection of standards the likes of 'Clementine' and 'This Land Is Your Land', along with an arrangement of 'God Save The Queen', a song that Young had sung in grade school back in the day.
Released in 2012, the sprawling double-album, Psychedelic Pill, had brilliant moments, with the nuggets 'Ramada Inn' and 'Walk Like A Giant' evoking the lysergic era, but it was once again followed by a covers album. A singer-songwriter homage, 2014's A Letter Home featured songs by Bruce Springsteen, Gordon Lightfoot, Willie Nelson, Bob Dylan, Tim Hardin and others.
The same year's Storytone emerged during a turbulent personal period, as Young split from long-time wife Pegi and lamented his luck with a sweep of symphonic folk. The conceptual The Monsanto Years quickly followed and included the barbed 'A Rock Star Bucks A Coffee Shop', revealing anger that still burned on 2016's Peace Trail: another in a long line of latter-day state-of-the-nation addresses..
Whatever Neil Young does, he does whole-heartedly: even his mistakes are larger than life. That's what you want from a proper artist. Long may he run.
Max Bell