Pearl Jam
Pearl Jam are one of the biggest rock bands in the world, with a decades-spanning career that shaped the sound of rock as we know it.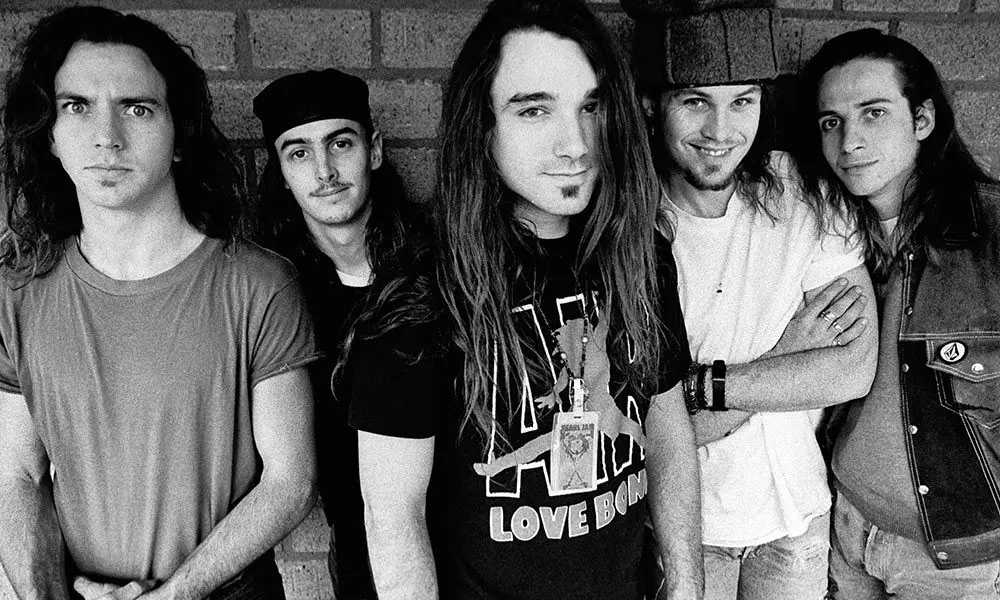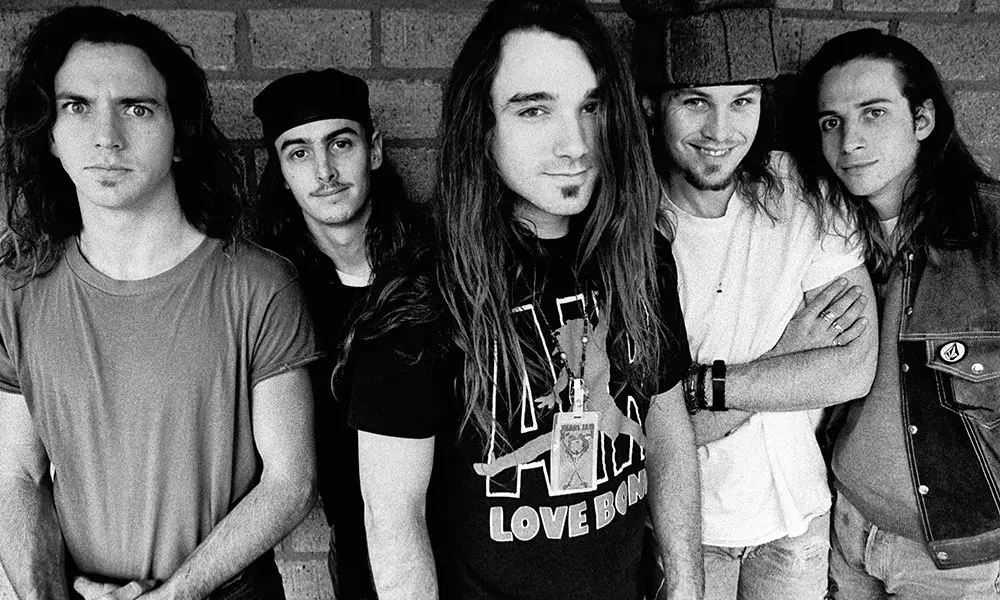 Along with fellow Seattleites Nirvana and Soundgarden, Pearl Jam will forever be synonymous with grunge, the heavy, revolutionary rock'n'roll sound from the Pacific north-west which thrust alt.rock onto the world stage on the cusp of the 90s. Their initial rise to prominence was truly astronomical, with the 15 million sales from the band's first two albums rapidly catapulting them from obscurity to superstardom.
Lesser bands could easily have folded under the pressure, but Eddie Vedder and company hung on in there, outstripping their plaid-clad contemporaries and carving out their own highly individualistic niche. Revered for their integrity and passionate live performances, Pearl Jam remain one of rock's most successful modern rock acts and their ten studio albums have collectively moved around 60 million copies worldwide.
The band's roots can be traced deep into the Seattle underground of the 80s. Bassist Jeff Ament and guitarist Stone Gossard originally played alongside future Mudhoney stars Mark Arm and Steve Turner in legendary Seattle noiseniks Green River, whose aggressive 1984 mini-LP, Come On Down, is often cited as the blueprint for grunge. However, Green River called it quits when Arm and Turner formed Mudhoney in '87, leaving Ament and Gossard to form Mother Love Bone with flamboyant vocalist Andrew Wood.
Having inked a deal with PolyGram, Mother Love Bone promised great things, but Wood tragically died prematurely from a drug overdose and the band folded before their lone, critically acclaims album, Apple, was released in 1990. Devastated by Wood's loss, Gossard began jamming with fellow Seattle guitarist Mike McCready, who encouraged Ament back into the fold. A mutual friend and ex-Red Hot Chili Peppers drummer Jack Irons declined an invitation to join their new band, but he passed the fledgeling trio's first demo to vocalist and basketball buddy Eddie Vedder (birth name Edward Louis Severson III) who was then working in a gas station in San Diego, California.
Digging what he heard, Vedder composed early versions of key Pearl Jam tunes 'Alive', 'Once' and 'Footsteps'. Suitably impressed, Ament, Gossard and McCready flew Vedder to Seattle for an audition, after which the new band's line-up was completed with the addition of drummer Dave Krusen. The quintet initially played live as Mookie Blaylock (the real name of a favourite New Jersey Nets basketball player), but by the time they signed to Epic, they'd become Pearl Jam: the name reputedly (but actually erroneously) attributed to a peyote-based hallucinogenic preserve supposedly prepared by Vedder's great-grandmother, Pearl.
Minus Krusen, Pearl Jam's first proper studio session was with Soundgarden duo Chris Cornell and Matt Cameron, where they cut a self-titled album as Temple Of The Dog for A&M in tribute to the late Andrew Wood. Like Pearl Jam, however, the band recorded their fully-fledged debut, Ten, in March 1991, with Alice In Chains/Blind Melon producer Rick Parashar manning the console.
Released in August '91, Ten was a dark, anthemic rock record which introduced the wider world to the unforgettable sound of Vedder's charismatic, honey'n'gravel-soaked growl. Capturing the mood of the times, his lyrics mostly dealt with disaffection and social dysfunction, with 'Even Flow' dealing with homelessness and the dramatic 'Jeremy' reputedly inspired by a true story in which a high school student shot himself in front of his classmates.
Ten initially sold slowly, but when the band's reputation as an unmissable live act kicked in after they supported Red Hot Chili Peppers in the US during the autumn of '91, the album gradually went gold and kept right on selling. It peaked at No.2 on the US Billboard chart in 1992, eventually going on to sell a phenomenal 13 million copies worldwide.
With Dave Abbruzzese replacing Krusen behind the kit, Pearl Jam toured Ten relentlessly across 1992. However, while the Seattle quintet quickly established themselves as one of the rock acts most likely to storm the mainstream, they were uneasy about some of the music industry's standard promotional practices, later refusing to release Ten's emotional centre-piece 'Black' as a single (or make a video for it) and insisting on scaling back their interviews.
The band's anti-establishment stance ensured they again refused to make promotional films for the songs on their second album, Vs, released in October 1993. Commercially, it made little difference: Vs sold over a million copies during its first week of release and topped the Billboard 200 for five weeks. Overseen by producer Brendan O'Brien (Red Hot Chili Peppers, Stone Temple Pilots), Vs significantly broadened Pearl Jam's sonic palette, taking in everything from raw, feral punk ('Go', 'Rats'), motorik funk ('Animal') and even wracked acoustic ballads such as 'Daughter' and 'Elderly Woman Behind The Counter In A Small Town'.
Like its predecessor, Vs sold in droves, eventually moving around seven million copies, but the next couple of years were a rollercoaster ride for Pearl Jam. Always admirably keen to keep concert ticket prices down for their fans, the band locked horns with music ticket colossus Ticketmaster across 1994, yet their attempt to play shows in non-Ticketmaster-controlled outdoor venues failed and they were forced to cancel that summer's proposed US tour. There were personnel problems behind the scenes, too, with drummer Abbruzzese fired and replaced by Jack Irons after recording Pearl Jam's third album, Vitalogy.
Initially released solely on vinyl in November 1994 (it emerged on CD and cassette two weeks later), Vitalogy was abrasive, grunge-y and highly eclectic, embracing everything from raw, frenetic punk (pro-vinyl anthem 'Spin The Black Circle') to Tom Waits-esque blues (the accordion-led 'Bugs') and the peculiar, mantra-esque funk of 'Aye Davanita'. The experimentation was, however, balanced out by the inclusion of several of Pearl Jam's most enduring tracks, such as 'Corduroy', the radio-friendly 'Better Man' and the haunting, anguished 'Immortality' – the latter reputedly a tribute to the then-recently deceased Nirvana frontman Kurt Cobain.
Despite its relatively left-field content, Vitalogy came close to repeating the success of Vs, quickly selling over a million copies in the US and earning multi-platinum certification. Pearl Jam toured Asia, Oceania and the US during 1995 to support the album's release, and also realised a collective dream when they performed as Neil Young's backing group on his gold-selling album Mirror Ball: a loud, aggressive record featuring long, Crazy Horse-esque tunes which was created spontaneously in the studio over just a few days.
Released in August 1996, Pearl Jam's fourth album, No Code, was a transitional affair, mixing pent-up garage-rock ('Hail Hail') with world music influences ('Who You Are', 'In My Tree') and elegant acoustic flourishes such as Vedder's moving 'Off He Goes'. It was, however, largely well received by the critics (Rolling Stone's David Fricke proclaimed, "No Code basically means no rule books, no limits and above all, no fear") and it again topped the Billboard 200.
Welcomed as a return to their original anthemic rock sound, 1998's Yield was trailed by one of Pearl Jam's most enduring, radio-friendly singles, 'Given To Fly', which also provided Vedder and company with a US Top 30 hit and Top 20 success in the UK. The band had permitted several singles to be released from No Code and their stance towards promotional duties continued to soften with the release of Yield, for which they even consented to commission comic book artist Todd McFarlane to produce the Marvel-influenced promo video for the album's fourth single, 'Do The Evolution'.
Yield peaked at No.2 in the US and the album's hugely successful US tour during the summer of 1998 was facilitated by the band's decision to again work directly with the Ticketmaster agency. A celebratory live album, Live On Two Legs, appeared in November 1998, while in 1999 the band's emotive cover of Wayne Cochran's 1961 ballad 'Last Kiss' gave Pearl Jam their biggest single success, peaking at No.2 on the Billboard singles chart. The song also featured on the compilation No Boundaries and the band donated the proceeds to refugees of the Balkan civil war in Kosovo.
With ex-Soundgarden drummer Matt Cameron replacing Jack Irons, Pearl Jam cut their sixth LP, Binaural, in 2000. The record's title referred to new producer Tchad Blake's adoption of the binaural recording technique, wherein two microphones are used simultaneously to try and simulate the experience of being in the room with the band. Lyrically, this dark, brooding album frequently railed against injustice, with tracks such as Vedder's 'Grievance' inspired by the anti-corporate World Trade Organization protests in Seattle in 1999 and Gossard's 'Rival' based on the Columbine High School massacre.
Going gold, Binaural peaked at No.2 on the Billboard 200 and, in support, the band embarked on lengthy tours of Europe and North America. Having long since held a relaxed view of fans bootlegging their shows, Pearl Jam began recording their gigs professionally across 2000-01 and subsequently issued a Grateful Dead-esque series of official live albums available through both record stores and the band's fan club. The group eventually released 72 live albums during this period and set a record for the most albums to debut on the Billboard 200 at the same time.
Both the European and US legs of the tour were well received, though tragedy struck when nine fans suffocated to death during the band's set at Denmark's Roskilde Festival in 2000. Devastated by the experience, Pearl Jam considered splitting up but eventually poured their emotions into the making of their next album, 2002's Riot Act. Perhaps inevitably, ruminations on death loomed large in the record's lyrics, though the album included some of the band's most sublime material, courtesy of the folksy 'I Am Mine', the Beatles-y psychedelia of 'Love Boat Captain' and the looming art-rock of 'Save You'.
Having concluded their Epic contract with the self-explanatory anthology set Rearviewmirror (Greatest Hits 1991-2003), Pearl Jam initially opted to self-release new records, including 'Man Of The Hour', a single issued in partnership with Amazon, and rarities collection Lost Dogs. Eventually, however, they signed a short-term deal with Sony subsidiary J Records for 2006's long-awaited Pearl Jam, an exhilarating hard rock album which Rolling Stone cogently declared was "as big and brash in fuzz and backbone as Led Zeppelin's Presence". With the band's loyal fanbase in wholehearted agreement, Pearl Jam debuted at No.2 on the Billboard 200 and climbed to No.5 in the UK, where the band also headlined the prestigious Leeds and Reading Festivals in 2006.
Pearl Jam's ongoing resurgence continued with the release of 2009's Backspacer, released through the band's own label, Monkeywrench, via Universal Music Group. By some way Vedder and the team's most uplifting and life-affirming set of songs to date, the album found producer Brendan O'Brien returning to the control room for the first time since 1998's Yield, and the record delivered 11 songs in an exhilarating, brevity-fuelled 36 minutes. Ranging from the swaggering 'Gonna See My Friend' to the nervy, Elvis Costello-esque new wave of 'Johnny Guitar' and the heart-melting acoustic love song 'Just Breathe', Backspacer captured Pearl Jam on superlative form and it rewarded them with their first US No.1 since '96's No Code.
Arriving in the wake of director Cameron Crowe's acclaimed Pearl Jam Twenty documentary, hotly-anticipated tenth album, Lightning Bolt, continued the band's renaissance. In many ways the logical extension of Backspacer, it was a tad darker in hue, yet every bit as accessible, with the muscular 'Getaway', soaring 'Yellow Moon' and shape-throwing, Who-esque titular song all up there with the very best in the band's illustrious canon. Confidently becoming Pearl Jam's fifth US No.1 album, the consistent quality of its content suggests that the best may be yet to come from this most formidable of rock'n'roll institutions.
Tim Peacock
Format:
UK English