Bruce Springsteen
The blue-collar bard from Long Branch, New Jersey, has enjoyed a storied career since he emerged on the scene, in 1973, that he now enjoys legendary status.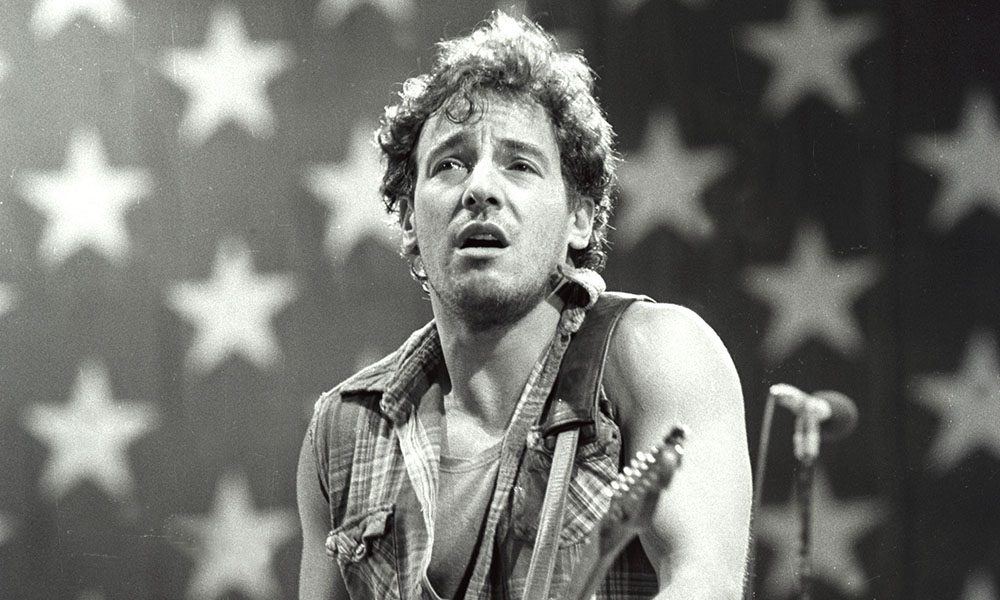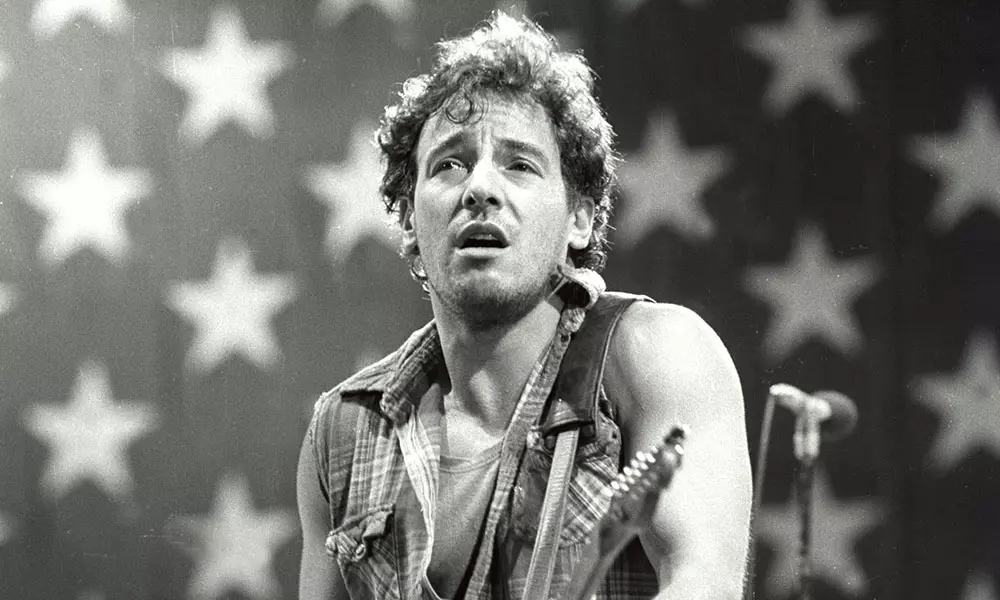 The blue-collar bard from Long Branch, New Jersey, has enjoyed a storied career since he emerged on the scene, in 1973, with the assured Greetings From Asbury Park, NJ and The Wild, The Innocent & The E Street Shuffle, that he now enjoys legendary status, on a par even with Bob Dylan and David Bowie, two acts to have sung his praises.
Using the dictum "write about what you know", Springsteen's persuasive voice brings the ordinary to life and makes it thrilling. He intersperses his more commercial solid rock albums, recorded with the fabled E Street Band, with darker, gothic folk material that keeps him fresh and honest. Not quite a voice in the wilderness, Springsteen is still a spokesman for the downtrodden and overlooked – dignity and integrity are his watchwords. If it's invidious to single out specific albums, it's foolish to overlook landmark recordings such as Born To Run, The River, Born In The USA and The Rising, though his fanbase would also make the case for The Ghost of Tom Joad or the equally acoustic Devils & Dust.
Never easy with corporate marketing, Springsteen has still achieved superstardom in his own way. Long nicknamed The Boss (a very early sobriquet that he is said to endure through gritted teeth), Springsteen is also a gentleman of the road, as the ten archival live releases that he's released since 2012 make clear. Also, his Live 1975-85 box set is the second-best-selling live anthology of all time. Springsteen's most recent studio disc, High Hopes, became his 11th No.1 US album (tenth in the UK) and saw him join company with the likes of The Beatles, The Rolling Stones, U2 and Jay Z for similar achievements. His multiple Grammy Awards (five for the soundtrack album to Philadelphia alone) evidence the esteem he's held in, but it's likely that Springsteen is far more concerned with connecting to his audience than dusting his baubles.
After early teenage forays with local bands The Castiles, Earth and the groundbreaking Steel Mill, Springsteen hit on the sound and style of The E Street Band in 1971, drawing on the travelling troupe ethic of Joe Cocker's Mad Dogs And Englishmen, Dylan and Van Morrison with side orders of church gospel and soul, R&B and the rock'n'roll roots he absorbed watching Elvis Presley and The Beatles. It was a classic combination and Springsteen's debut disc, Greetings From Asbury Park, NJ, nailed his young-man persona with 'Blinded By The Light' (a No.1 for Manfred Mann's Earth Band), 'Spirits In The Night', 'Mary Queen Of Arkansas', 'Does This Bus Stop At 82nd Street?' and 'It's Hard To Be A Saint In The City', conjuring a cinematic scope whose musicality is an equivalent to the early films of Martin Scorsese.
The Wild, The Innocent & The E Street Shuffle affirmed his early E Street Band credentials with players Clarence Clemons, David Sancious, Danny Federici, Garry Tallent and Vinny "Mad Dog" Lopez (who was also in Steel Mill) establishing s glorious rock and rhythm with the blue-collar soul and lyrical acuity of '4th Of July', 'Asbury Park (Sandy)', 'Incident On 57th Street' and the pivotal 'Rosalita (Come Out Tonight)' standing as instant classics.
By 1975, the world was catching up with Springsteen, and his mainstream breakthrough came with the peerless Born To Run. This was full-tilt Bruce, all reserve dissipated by the certainty of his calling on the many key numbers within: 'Thunder Road', 'Backstreets', 'Meeting Across the River' and 'Jungleland'. The title track thrilled with its visceral pent-up energy – and still does today.
Having survived co-producer Jon Landau's hyperbolic assertions about seeing "rock'n'roll future", Springsteen was about to step up and prove it. An accompanying tour, including his London debut at the Hammersmith Odeon, floored those lucky enough to have witnessed it. After that, he squashed any hype with the deft and considered Darkness On The Edge Of Town, allowing himself some fresh air as he pursued the working-class heroes of 'Badlands', 'Adam Raised A Cain' and the harmonica- and sax-driven 'The Promised Land'.
Springsteen was baptised in the American heartland for The River, a sprawling double-disc travelogue that many consider framing his best song poetry. Listen to 'Independence Day' for evidence of that, and then immerse in the sheer rock drive of 'The Ties That Bind': epic stuff.
The raw and haunting solo album Nebraska – essentially a souped-up demo set – indicated that Springsteen was driven by the power of the song. Recorded in his bedroom in Colts Neck, New Jersey, the songwriter turned his gaze back to the folk and country tropes of dark hinterlands. Sparse and spare as all this was, there were still monumental pieces, such as 'State Trooper' and 'Highway Patrolman', that turned bleakness into a virtue.
There was no such lo-fi for Born In The USA, an undeniable commercial powerhouse blessed with massive sales, seven Top 10 hit singles and a worldwide tour that established Springsteen as the king of the heartland. The title cut, 'I'm On Fire', the chugging 'Glory Days' (a nod back to Born To Run) and the irresistible 'Dancing In The Dark' were all anthems that silenced the cynics.
Given his reputation and a pretty vast catalogue of goodies, the accompanying Live 1975-85 box set soared to No.1 on pre-orders alone and spawned further hits in 'War', 'Fire' and 'Born To Run', while versions of Tom Waits' 'Jersey Girl', Woody Guthrie's 'This Land Is Your Land' and 'Because The Night' (a collaboration with Patti Smith) fleshed out a spectacular set of hits and lesser-known gems.
For Tunnel Of Love, Bruce worked mostly on his own, using drum machines and synths, as well as the mandolin, various keyboards and vintage guitars. Tenuously described as a "pop album", if only because The E Street band only made fleeting appearances, there were still plenty of considered ballads such as 'Brilliant Disguise' and the house-of-mirrors romance of the title track to elevate the album beyond the norm.
The solo albums Human Touch and Lucky Town were both released on 31 March 1992 as solo ventures and divided critical opinion, despite the excellence of some material, notably 'Better Days' and 'Living Proof'. Still, it was true that Springsteen's prolific nature got the better of him this time around. It was time to take stock on Greatest Hits, which was augmented with four new songs, including the excellent 'Murder Incorporated' and the unusual 'Secret Garden' (which appeared in the movie Jerry Maguire). Another all-encompassing commercial blockbuster, this hits set topped charts worldwide, though it's not necessarily the most logical starting point for newcomers.
Taking an entirely different course, The Ghost Of Tom Joad featured deep folk ruminations that lived up to its title. The album appeased those fans that wanted to hear the "real" Bruce again, and, in a sign of things to come, also won the 1997 Grammy Award for Best Contemporary Folk Album.
The demos and outtakes that appeared on Tracks were manna from heaven for the fanatics, though the formative recordings didn't quite usurp the better-known versions. Many fans preferred the Bruce Springsteen & The E Street Band: Live in New York City film and accompanying album for raw power, as it documented the group's 1999-2000 reunion tour – their first in 11 years.
Suitably fired up and raring to go again in the 21st Century, Springsteen delivered The Rising, a humane and political affair with a universal message and specific laments concerning the events of 9/11. Devils & Dust followed: Springsteen's 13th studio album and a faultless combination of folk-rock and protest, with the title track winning another Grammy, this time for Best Solo Rock Vocal Performance.
Then a look backwards – at his own past, and the history of folks music. The long-awaited Hammersmith Odeon London '75, recorded on 18 November 1975, is an oddity since most fans agree that his second show at that venue, held on 24 November, was the superior performance (with an extended nine-song encore). Making much more sense was We Shall Overcome: The Seeger Sessions. Inspired by activist and folk legend Pete Seeger, the collection gave a rock twist to the Americana icon's protest hallmarks, while a follow-up, Bruce Springsteen With The Sessions Band: Live In Dublin, tapped into folk music's Celtic roots.
Those who were more enamoured with full-tilt Bruce were probably more taken by Magic, for which he reunited with The E Street Band and gave us his most overtly pop song ever in the glorious 'Girls In Their Summer Clothes', one of Springsteen's warmest small-town vignettes. 2009's Working On A Dream benefitted from what's become a long-term collaboration with producer Brendan O'Brien, who added a 60s pop flourish to the material, with the title cut echoing The Beatles' 1966 song 'And Your Bird Can Sing'.
Wrecking Ball went back to the heartland in 2012: another home recording of considerable panache, with a grim undercurrent in 'Death To My Hometown' and 'We Take Care Of Our Own', showing that Springsteen hadn't lost his darker touch. The non-linear collection High Hopes included archival material featuring the now-deceased Clarence Clemons and Danny Federici, with Rage Against The Machine (and now Prophets Of Rage) guitarist Tom Morello to the fore on choice songs such as 'Hunter Of Invisible Game' and a cover of Suicide's 'Dream Baby Dream'.
Since 2014, and starting with Apollo Theatre 03/09/12, the BruceSpringsteen.net outlet has issued a sequence of live discs designed to combat the many bootlegs surrounding this extraordinary artist. Of these, The Agora, Cleveland, 1978 and Tower Theatre, Philadelphia, 1975 recordings are particularly recommended. As time goes by, Springsteen continues to revisit his back catalogue on stage, knowing full well that his audience will adore hearing the wild and innocent material from the old days, as well as takes on Bob Dylan's 'Highway 61 Revisited' or Bob Marley's 'I Shot The Sheriff'. He is also quite prepared to revisit albums such as his debut and to perform them in their entirety, while further dips into his past include the career-spanning Chapter And Verse collection, which stretches from The Castiles to Wrecking Ball.
Springsteen also delighted everyone with his 2016 autobiography, Born To Run, which brought to the page the same honesty, humour, and originality found in his songs. The man is now his own legacy. He has described Dylan, à la Johnny Cash by Kris Kristofferson, as "the father of our country" – in which case Springsteen may well be the first-born son.
Format:
UK English