Elvis Presley
Often imitated but never bettered when at his peak, Elvis Presley's blue suede shoes are impossible to fill.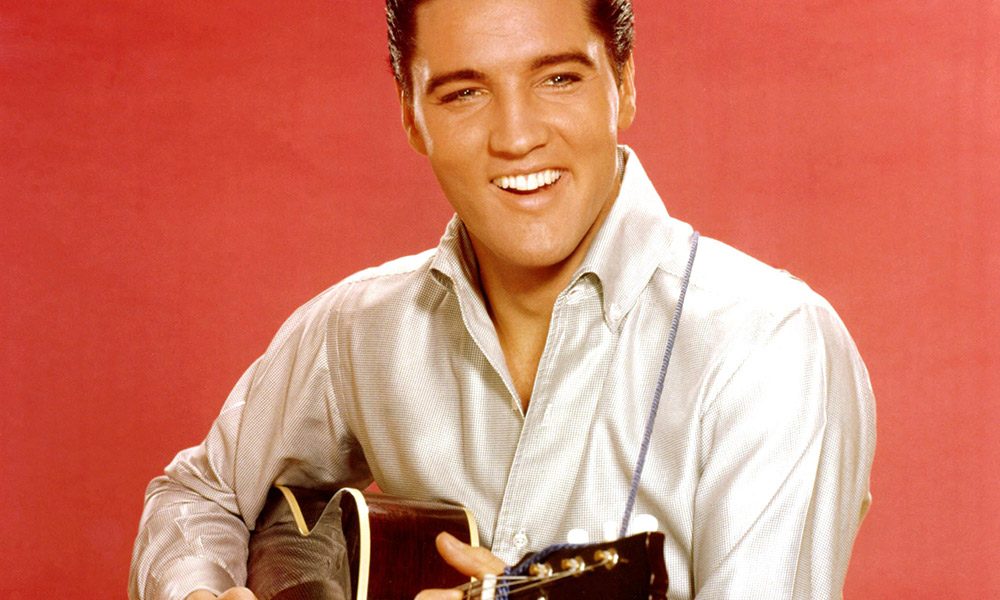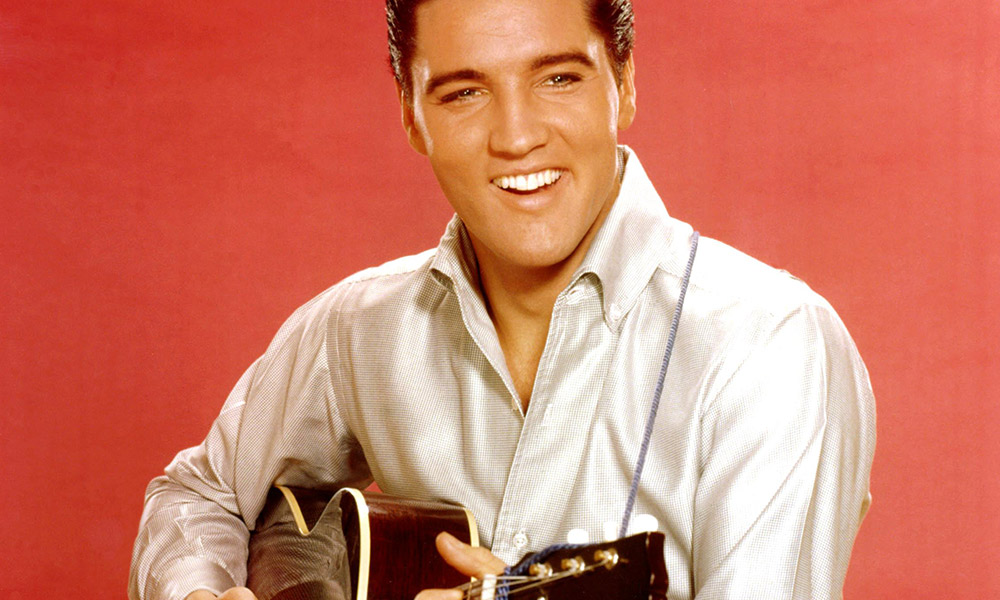 Baring the mantle of The King Of Rock'n'Roll would be a huge burden for anyone but Elvis Presley. Born in Tupelo, Mississippi, the one-time truck driver, who got into singing almost by accident after making a record for his mother, learned to live with a career that made him the most recognisable face on the planet in the late 50s.
Presley popularised so-called "race music" and give it a twist for teenage rock'n'rollers. His status placed him between the era of Frank Sinatra and The Beatles, whose John Lennon famously advised Elvis to "make more records like your old ones". As a pop star, and then a film star, Presley provided a blueprint for every career to follow.
Despite being hellishly overworked by unscrupulous manager Colonel Tom Parker, Presley produced a string of classic No.1 albums and singles for RCA, including his self-titled 1956 debut, that same year's follow-up, Elvis, the live album Aloha From Hawaii Via Satellite, and many soundtrack albums, such as GI Blues and Blue Hawaii, that were as popular as his regular albums. Yet Presley is best known for his singles, 18 of which hit the No.1 spot. 'Heartbreak Hotel', 'Don't Be Cruel', 'Hound Dog', 'Love Me tender', 'All Shook Up', 'Jailhouse Rock', et al, coincided with a purple patch that spanned the years 1956 to 1960. And if his influence has become less palpable as years go by, Presley was a huge source of wonderment for everyone from The Beatles and David Bowie to The Doors' Jim Morrison and The Clash (who echoed the iconic design of his debut album's artwork for their own London Calling). Often imitated but never bettered when at his peak, Presley's blue suede shoes are impossible to fill.
Elvis Aron Presley's early musical inspiration was the Pentecostal church, the sound of gospel and the hillbilly music that percolated through Tupelo, Mississippi. When the Presley family moved to Memphis, the teenager hung out on Beale Street and absorbed the rhythm'n'blues, the African-American artists Arthur "Big Boy" Crudup and the country jukebox stars of the time, as well as the black gospel singer Sister Rosetta Tharpe (aka The Original Soul Sister). It was that blend of influences that he took into the studio for his debut at Sun Records in 1953, telling the receptionist, "I sing all kinds… I don't sound like nobody."
Sun founder Sam Phillips was both impressed but unconvinced until Presley ripped into Crudup's 'That's All Right', which was quickly committed to acetate along with bluegrass hit 'Blue Moon Of Kentucky'. The King Of Rock'n'Roll had, in a sense, arrived.
His eponymous debut (known in the UK as Elvis Presley Rock'n'Roll) combined Sun and RCA sessions with backing from Scotty Moore, Chet Atkins, Floyd Cramer, Bill Black, Shorty Long, DJ Kramer and three auxiliary singers. The material may have been old but it was dynamite: 'Blue Suede Shoes', 'I Got A Woman, 'Tutti Frutti', 'Blue Moon' and Jesse Stone's seminal 'Money Honey'.
With The Jordanaires on board, Elvis (1956) hit the top slot and gave us 'Love Me', 'When My Blue Moon Turns To Gold', 'Paralyzed' and 'Old Shep', a maudlin ballad the ten-year-old Elvis sang at his first public performance, in 1945, at the Mississippi-Alabama Fair And Dairy Show.
1957's Loving You was more mainstream, and since Presley was now a household name, the inevitable Elvis' Christmas Album followed; his first Diamond-selling album, and the best-selling festive album of all time, fans queued overnight to buy it in October 1957.
While it was certain that Presley's fans already owned all his records, that didn't stop the Elvis' Golden Records compilation from storming the charts in 1958. Then the bombshell: Elvis was drafted into the army. Before he left he starred in King Creole, his fourth (and best) movie, and released the soundtrack, which included the outstanding 'Hard Headed Woman'.
While their precious treasure was stationed abroad, RCA kept Presley's name current with a sequence of dusted-off material culminating in the stylishly packaged Elvis' Gold Records Volume 2 (aka the fiendishly ad-friendly 50,000,000 Elvis Fans Can't Be Wrong).
Once discharged from service, Presley released the more experimental Elvis Is Back!, on which the stand-out cuts are 'Fever' and 'Dirty, Dirty Feeling'. This marked the start of second-phase Presley, with the clean-cut 'GI Blues' and the devotional 'His Hand In Mine' fixing the King on a mainstream course. But if the initial excitement had died down, the trajectory of Presley's fame continued upwards. Something For Everybody and the Blue Hawaii soundtrack were massive sellers, and his light entertainment years beckoned thanks to soundtrack sales outstripping his standard studio work – though Elvis' Golden Records Volume 3 was a reminder that he hadn't lost it: '(Marie's The Name) His Latest Flame', 'Surrender' and 'Little Sister' were fabulous and smooth, though the singer was starting to tire of his public image and would later spend time during shows sending up the sentimental banality of  'Are You Lonesome Tonight?' – though without missing a beat.
The 1963 soundtrack Fun In Acapulco is worth hearing for 'Bossa Nova Baby', but fans were growing more selective, preferring EPs such as Kid Galahad to the diluted stuff on Roustabout or Girl Happy. Elvis For Everyone! was far better, with versions of 'Your Cheatin' Heart' and 'Memphis Tennessee' to remind us where he'd come in. But by 1966, the increasing dominance of Bob Dylan had usurped The King. Recognising a change in mood, Presley took control of the Clambake soundtrack by adding covers of Jerry Reed's 'Guitar Man' and Luther Dixon's stomping 'Big Boss Man'.
More forgettable movies followed before Elvis (aka the '68 Comeback) landed with a thud in Christmas 1968, signalling Presley's "comeback" period. The following year's From Elvis In Memphis was another strong release with a genuine hit, 'In The Ghetto', and more contemporary hippie-era Nashville backing. Elvis' crack team of TCB (Taking Care Of Business) cats arrived swinging through Elvis In Person At The International Hotel, Las Vegas, Nevada, with The King back in black leather and owning 'Suspicious Minds', 'Johnny B Goode' and 'Mystery Train'.
The follow-up, On Stage, was another knowing spin on songs that carried weight: 'Polk Salad Annie', 'Walk A Mile In My Shoes' and 'Proud Mary'. It paved the way for his last really big hit, a cover of Dennis Linde's 'Burning Love': a bona fide modern rock'n'roll classic that sits next to Presley's fantastic version of Mickey Newbury's 'An American Trilogy', and offers a tantalising glimpse of the cosmic country he should have explored further.
Ever prolific and constantly available on compilation, Presley had another upturn with 1972's Elvis Now, where Felton Jarvis brought in excellent material for the singer, including Gordon Lightfoot's 'Early Morning Rain', Kris Kristofferson's 'Help Me Make It Through The Night' and Dylan's 'Don't Think Twice, It's All Right'.
Elvis: As Recorded At Madison Square Garden (a June 1972 concert attended by David Bowie, John Lennon, Led Zeppelin and Andy Warhol) is a great document of his live 70s shows, but even that is surpassed by 1973's Aloha From Hawaii Via Satellite, an over-the-top extravaganza including 'My Way' and 'Steamroller Blues'.
The MOR styling of Good Times and the gems on Promised Land (including a great take on the Waylon Jennings/Billy Joe Shaver-penned 'You Asked Me To') showed that Presley could still deliver if the songs were right. On Today he got his groove on with Billy Swan's 'I Can Help' (gifting the songwriter a pair of white socks for his trouble), but the fans probably found more pleasure to be had in the retro compilation The Sun Sessions. Even so, the patchy From Elvis Presley Boulevard, Memphis, Tennessee had at least one great song, Fred Rose's 'Blue Eyes Crying In The Rain', but the end was in sight, and Moody Blue, Presley's final studio album, was most notable for a great cover of George Jones' 'She Thinks I Still Care'. His last live shows were captured on Elvis In Concert, recorded two months before his death from cardiovascular disease, in August 1977, aged just 42. Found at his home in Graceland, Memphis, Presley's condition had been exacerbated by an addiction to prescription painkillers, but the worldwide outpouring of grief that followed confirmed that the boy from Tupelo had truly become a global icon.
Max Bell
Format:
UK English