Chuck Berry
Chuck Berry is one of the most important figures in the history of popular music and the development of rock. You all know the hits, start exploring some of his deeper catalogue to appreciate the man who is undoubtedly a genius.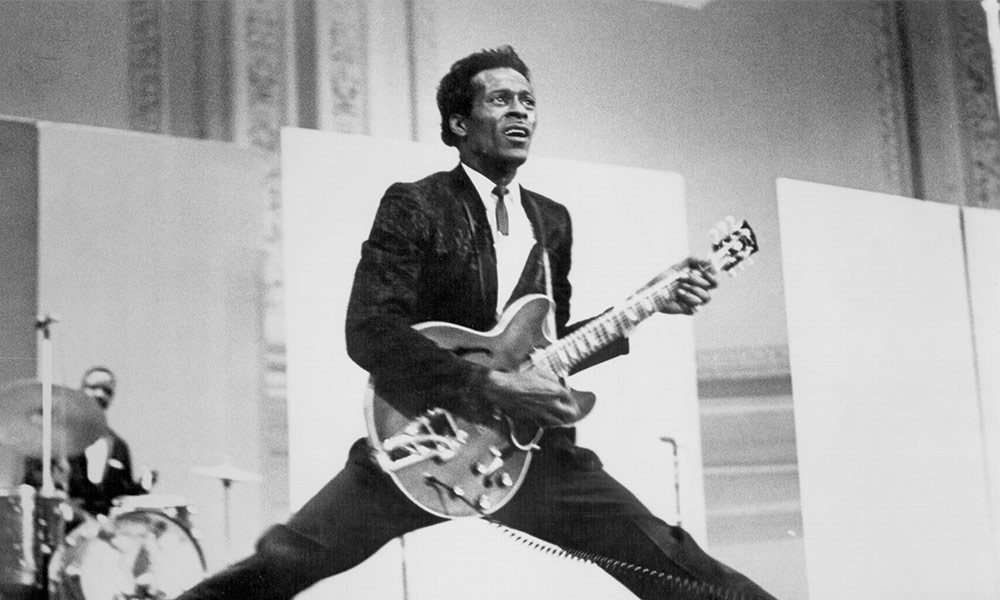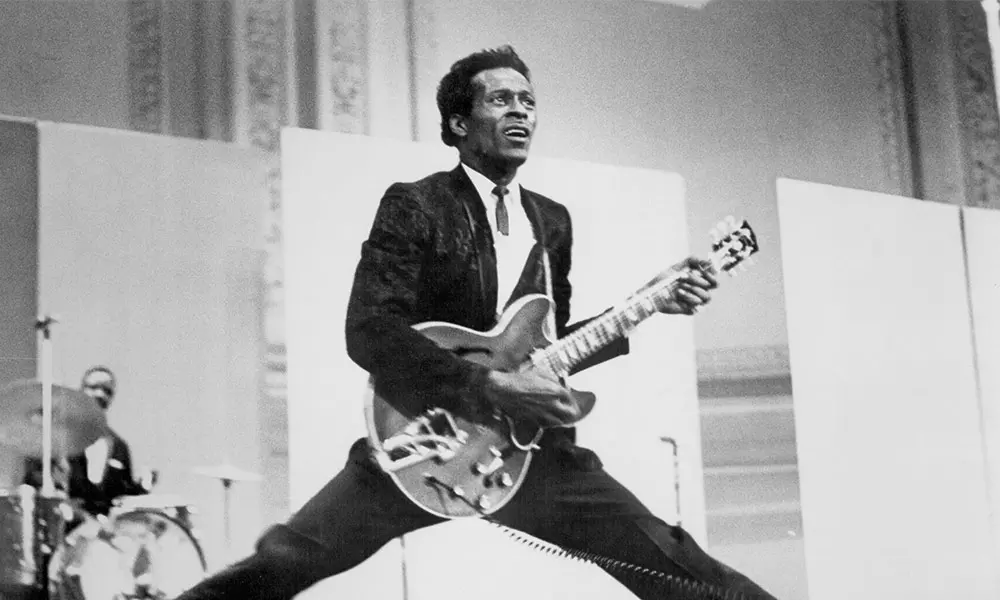 "Hail Hail Rock 'n' Roll"… all hail Chuck Berry. Half a year before America realised that a white man could sound like a black man, Charles Edward Anderson Berry distilled the blues, country music, western swing and a whole lot more into the irresistible, Maybellene. It was the beginning of a career that has lasted over half a century, influenced everyone, including The Rolling Stones, The Beatles and The Beach Boys and just about every band in pop and rock. There is hardly a guitar player alive who has not at one time played Chuck Berry's licks and tunes.
"Even his leads are rhythm. It's all two-string stuff, it's beautiful. To me, there's no such thing as rhythm guitarists and lead guitarists. The musician does that to himself by doing too much on one end and letting the rhythm section carry the rhythm. A guitar player is somebody that can play rhythm and lead. Chuck Berry's solos take off as an extension of his rhythm work without losing the drive or point of the song."  Keith Richards
It's hard to imagine what modern rock music would have been without Chuck Berry. His genius lay in his ability to "present" a song. The man that most people have seen on stage in the last 40 years has little or nothing to do with the duck-walking guitar-slinger that was a revelation in his hey-day.
"If you tried to give rock and roll another name, you might call it Chuck Berry."  John Lennon
Like many of his contemporaries that recorded for Chess, Chuck Berry's records were geared towards the selling of singles. Many of these are included here on albums like The Anthology and The Best of Chuck Berry. However there are also classic album recordings which include St Louis to Liverpool – it sounds corny but the playing and the songwriting prove that Chuck Berry did his best work in the 1950s and prior to 1963.
Chuck Berry is one of the most important figures in the history of popular music and the development of rock. You all know the hits, start exploring some of his deeper catalogue to appreciate the man who is undoubtedly a genius.
In his autobiography, Chuck says he was born in St. Louis, while others say he was not, insisting he had been born in San Jose California and moved East with his parents when he was a very small child. Berry learned the guitar in the late 1930s and was soon playing at parties and school dances. He worked with the Ray Band's Orchestra in St Louis; his musical apprenticeship was cut short in 1944 when he was sentenced to three years in a reform centre after car-jacking a man at gunpoint. After his release, he formed the Chuck Berry Combo and started working around the St. Louis area.
He later moved to Chicago where he met Muddy Waters who had been a musical influence on Berry, along with, Nat King Cole. While some may find this surprising, Cole and Louis Jordan were the preeminent black performers and both played their part in the development of any younger black performers during the 1950s. In Nat's case, it was not least because of his ability to crossover and appeal to white audiences. Chuck was beginning to attract white fans that loved his outrageous stage performances.
Muddy Waters introduced Berry to Leonard Chess who immediately signed him to a recording contract. Within a few weeks, on May 21st 1955, he cut his first record; it was heavily influenced by 'Ida Red', a country blues tune that Berry renamed 'Maybellene'.
Maybelline has Willie Dixon on bass, Jerome Green from Bo Diddley's band on maracas and Johnny Johnson, on piano and it went to No.1 on the R&B charts for 11 weeks and No.5 on the Hot 100 in 1955; it was not the birth of Rock 'n' Roll but it was a defining moment. It went on to sell a million copies. The B-side was a classic blues song entitled 'Wee Wee Hours', which showed off Chuck's traditional roots.
It was another year before Chuck made the Billboard charts but he was a firm hit with black audiences who propelled his next two singles, 'Thirty Days (To Come Back Home)' and 'No Money Down' into the R&B top 10. In May 1956 'Roll Over Beethoven' made a modest breakthrough into the national charts while also making No.2 on the R&B charts. Perhaps somewhat surprisingly given its place in the rock canon Chucks homage to classical composers and their music and the need for all the old cats to move over was not as big a hit on the Billboard Hot 100 as some may imagine. It made No.29 on the chart in the summer of 1956 and did not chart at all in Britain. In November 1963 it became the opening track of side 2 of The Beatles' second British album, With The Beatles and introduced some people who may have missed it the first time around.
'Too Much Monkey Business' and 'Brown Eyed Handsome Man' followed and both sides of the single went top 5 on the R&B charts but failed to do anything on the Hot 100. 'School Day' became Chuck's next Billboard hit when it climbed to No.3 on the charts in the spring of 1957, while simultaneously topping the R&B charts. Elvis Presley's 'All Shook Up' was at the top and The Diamonds' 'Little Darlin' at No.2 so perhaps it is hardly surprising that Chuck didn't climb higher.
Chuck's success on the national chart attracted promoters to the potential for Chuck to be included on 'The Biggest Show of Stars for 1957', a mixed-race tour, in which he appeared with the Everly Brothers, The Crickets, The Drifters, Frankie Lymon and The Teenagers, Fats Domino, Paul Anka, and Sam "The Man" Taylor. It opened in Brooklyn's Paramount Theater on I September and played in almost every state, coast to coast. Berry also appeared on national television as a guest on Guy Mitchell's show in December 1957 where he performed 'Rock & Roll Music', his follow-up to 'School Day.
Off the back of 'The Biggest Show of Stars for 1957', tour 'Rock & Roll Music', a classic rock and roll record that tells it just like it is, made No.8 on the Hot 100 and went two places better on the R&B charts. It features the wonderfully named Lafayette Leake on piano, Big Willie Dixon on bass and Fred Below on drums; all stalwarts of the Chess studio sound. Countless bands including The Beach Boys, who took it to No.5 on the Hot 100 in 1976, have covered it. It was also a staple song in the Beatles live repertoire in their Hamburg days and during many of their live radio broadcasts in 1963.
"I really liked the way Chuck Berry he wrote his words, he described little vignettes that were going on in his life, in his environment and that's what we did when I started writing lyrics – 'Surfin' Safari', 'Surfin' USA', 'Fun, Fun, Fun' and 'I Get Around'. They were little stories of what was going on in Southern California at the time we were growing up."  Mike Love
'The Biggest Show of Stars for 1957' ended its near three-month perambulation across America in Richmond Virginia on 24 November 1957 as 'Rock & Roll Music' was climbing the charts. Chuck Berry headed home to Chicago and after Christmas, he went back into Chess studios on 29 December to record with the same group of musicians that made 'Rock & Roll Music'. They cut 7 different titles that day including 'Sweet Little Sixteen' which was Chuck's next single and another classic of the genre – 'Johnny B. Goode'.
In the days before political correctness, never something that has sat well with rock 'n' roll and in a world very different from today many girls in America were married at sixteen (and younger). It was a common theme among rock 'n' rollers and bluesmen alike. 'Sweet Little Sixteen' was Chick's second highest-charting single on the Hot 100 when it stalled at No.2 in early 1958, kept from the top spot by the Champs' 'Tequila'. Nothing could keep it from the No.1 on the R&B charts and with 'Reelin and Rockin' on the B-side it's the perfect rock and roll record. 'Sweet Little Sixteen' was Chuck's second British hit, reaching No.16 in the spring of 1958. Musically Brian Wilson 'lifted' the melody and arrangement of this song for The Beach Boys' 'Surfin' USA'; Berry has in latter years, after a court case, been given a co-writing credit.
'Johnny B. Goode'  opened with an intro that has become something of a signature piece; not just for Berry but also a whole host of bands, including The Beatles. It is a great rocking intro that has been copied thousands of times, but the truth is Chuck was playing under the influence. Twelve years earlier, in 1946 Louis Jordan was a man that every aspiring black musician looked up to. Along with his Tympany Five, he recorded 'Ain't That Just Like A Woman'. The guitarist with the Tympany Five was Carl Hogan and his guitar intro to the song was almost note for note the same as Chuck Berry's later recording. As the old adage goes; there ain't no such things like new ideas, there are just old ones thought of again. In fact, Jordan's recording is yet another that can qualify to be entered into the contest for, what was the first rock 'n' roll record?
Following 'Sweet Little Sixteen' was an almost impossible task and if any record could it is 'Johnny B. Goode'. From it's brilliant, if not totally original opening riff, to the lyrics that conjure up the country which Berry realised appealed to many of his fans, 'Johnny B. Goode' is a quintessential rock 'n' roll record. It made No.8 on the Hot 100 and spent close to four months on the chart and just failed to become Berry's third chart-topper on the R&B charts.
'Johnny B. Goode' ended three years of almost faultless rock 'n' roll records, although there were some other great singles, there was nothing that matched the creative output of these early years. It would be 6 years before Berry again entered the Hot 100's Top 10, although a year earlier in 1963 'Memphis Tennessee' made No.6 in the UK. In between times, he released some great records including 'Let It Rock', 'Run Rudolph Run', 'Little Queenie' and 'Carol'. The latter two recordings were both covered by the Rolling Stones, particularly well on their 1969 tour of America and can be heard on Get Yer Ya-Ya's Out…
Berry's lack of serious chart success was hampered by a period in jail after being convicted of transporting a minor (she was 14 years old) across a state line. Berry served 3 years in jail and while there's little doubt that racial and press prejudice hampered his cause the effect on his career could have been catastrophic; arguably it was the British invasion that helped relaunch him.
It was 'No Particular Place To Go' that made the Billboard Top 10 in high summer 1964. Above Chuck were a number of British Invasion bands and at No.1 was The Beach Boys and 'I Get Around', with Mike Love's lyrics that had been inspired by Old Flat Top himself. 'No Particular Place To Go' should have been the end of any meaningful chart placing on both sides of the Atlantic (it reached no.3 in Britain). However, six years later Chuck topped the charts in Britain and America, and in many other countries, with 'My Ding-A-Ling', a record that's the only connection with rock 'n' roll is its subject matter.
Throughout the 1960s, and even the 1970s, Berry continued to influence both American and British bands, they were derivative of Berry in the same way as he was derivative of the late 40's proto-rock 'n' roll of Louis Jordan, Joe Turner and Wynonie Harris. Despite a third jail term in 1979 for tax evasion – in itself not something likely to detrimentally affect his career, Berry has continued to perform, mostly with pick-up bands; which is hardly a problem given his influence on every rock and pop wannabe of the last six decades (both Bruce Springsteen and Steve Miller played in Berry pick-up bands).
Berry, at 90, released a brand new album in 2017, his first in 38 years. Dedicated to his wife, Thelmetta, and called simply Chuck, it would be the final release from the impeccable genius. According to the main man, "My darlin' I'm growing old! I've worked on this record for a long time. Now I can hang up my shoes!" On March 18 2017, Berry hung up his shoes forever – he passed away at his home in Missouri. 
Max Bell
Format:
UK English