Bo Diddley
The man who was billed later in his career as 'The 500% Man' had a guitar sound like no other and one that influenced The Rolling Stones early in their career.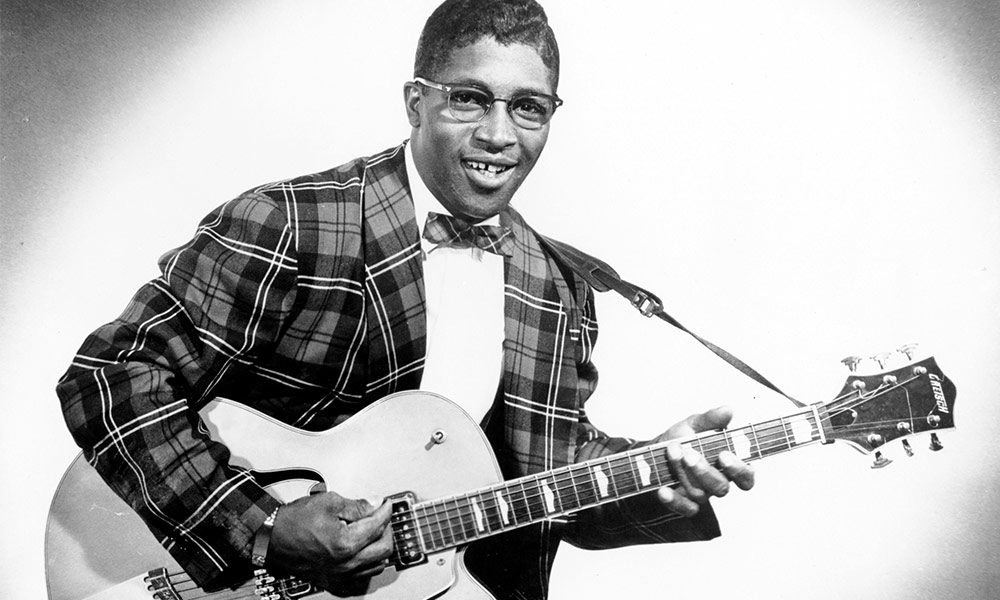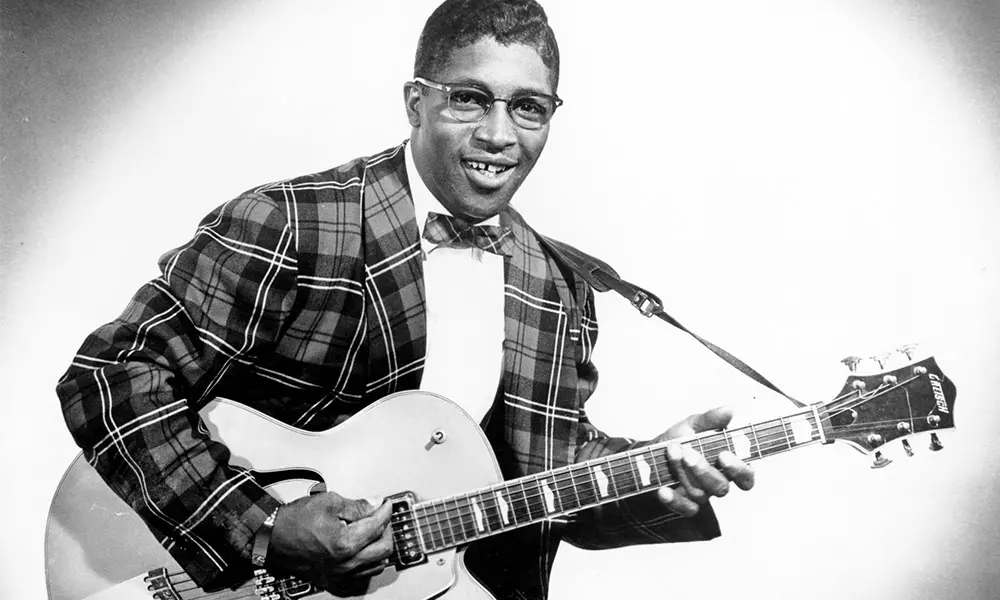 Of all the founding figures of rock and roll – a group that includes Little Richard, Jerry Lee Lewis, Chuck Berry, and Fats Domino – Bo Diddley was the outlier. He was a maverick – a tinkerer and sonic innovator who was as focused on the sound of his guitar, and how it could intensify the rhythmic pulse of his music. His trademark "Bo Diddley beat" would be revived time and again by musicians as diverse as Buddy Holly ("Not Fade Away"), the Strangeloves ("I Want Candy"), and George Michael ("Faith").
Born Otha Ellas Bates in McComb, Mississippi in 1928, he took the name Ellas McDaniel after his mother remarried. There are several stories about how he acquired his professional moniker. Diddley claimed it was a nickname given to him by his classmates, while harmonica player Billy Boy Arnold felt it might have been appropriated from a Chicago comedian. Either way, it was likely derived from "diddley bow," a one-string guitar that is made by nailing a length of wire to the side of a house or barn over a bottle that serves as a bridge – an invention that many blues players have cited as their first instrument. Like the blues slide guitar, it is played with a bottle or piece of pipe.
When he was a boy his family moved to Chicago, where he studied violin (on which he would later record) and trombone. By the mid-1940s, he was performing as a guitarist and vocalist at the Maxwell Street outdoor market, with musicians who included his longtime associate, the maraca player Jerome Green. By all accounts, he was a versatile musician who capably played the rhythm and blues hits of the day. Yet, it was not until 1955 that he finally recorded for Checker Records, when he cut one of the most iconic singles in rock and roll history: "Bo Diddley"/"I'm a Man."
"Bo Diddley" reached number one on the rhythm and blues chart, and if its lyrics were more or less lifted from Mother Goose's "Hush Little Baby, Don't Say a Word" (he had initially presented a more risqué version), the song introduced his trademark beat. His tremolo-soaked guitar rides over Green's on-the-beat maracas and Frank Kirkland's syncopated drums, which play a "hambone" rhythm ("shave-and-a-haircut, two bits"). Diddley claimed to have learned the rhythm in church, but it has deep origins, possibly introduced to the Americas as the Cuban clavé, which itself is a variation of a Yoruba drum pattern. Or perhaps the rhythm had been directly carried forward in New Orleans, where enslaved Africans were able to maintain a tenuous hold on musical and cultural traditions. In the American South, the hambone was also a dance that involved slapping body parts to create a rhythm.
"I'm a Man" is more conventional, based on the musical motif from Muddy Waters' 1954 recording of the Willie Dixon composition "Hoochie Coochie Man." Later in 1955, Waters himself answered "I'm a Man" with "Mannish Boy," and the two songs are so intertwined that both musicians are now credited as writers.
While other early rockers built on blues-based tradition by ramping up the energy or by writing songs that appealed to teenagers, Bo Diddley created a brash sound that opened new frontiers for the electric guitar, as he experimented with reverb, echo, vibrato, tremolo, distortion, and flange effects. He designed his own guitars, including his signature rectangular Gibson; a hexagon-shaped guitar with a built-in effects processor; and a fur-covered model that appears on the album cover of Bo Diddley Is a Lover.
His run of hits continued with records such as "Pretty Thing," "Road Runner," and the Willie Dixon-penned "You Can't Judge a Book by the Cover." It is clear that Bo Diddley had a comic sensibility, casting himself in a variety of tongue-in-cheek and sometimes absurd settings on songs such as "Bo Diddley is a Lumberjack" and "Bo Diddley is a Gunslinger." His boastful "Who Do You Love?," later a major hit for George Thorogood, could be seen as a proto-rap song, with its string of exaggerated claims ("I use a cobra snake for a necktie"). Songs such as "Cadillac" display a self-deprecating sense of humor, while an instrumental such as "Diddling" is a showcase for his pulsating, distorted sound. He was often playful and always surprising.
Regrettably, Bo Diddley's business acumen was not on the same level as his musical prowess. In the 1960s, just as British Invasion groups began to cover his songs, he hit a rough financial patch and sold his song publishing rights. Thus, when the Rolling Stones cut "Mona" or the Yardbirds covered "I'm a Man," he received nothing. This is especially tragic because the publishing affiliate of Chess/Checker Records had been reputedly forthright in paying songwriting royalties. Further, it was not until decades later that Bo Diddley began receiving artist royalties for the actual sale of his records, following lobbying efforts by the Rhythm and Blues Foundation that resulted in a 10% royalty paid by almost all major labels to their legacy rhythm and blues artists.
Bo Diddley never stopped performing and recording. In the 1980s he enjoyed a minor comeback as a celebrity, appearing in George Thorogood's video of "Bad to the Bone," and in commercials for Nike's "Bo Knows" campaign. During his lifetime, he was acknowledged for his legacy by the Rock and Roll Hall of Fame (1987), the Recording Academy (a Grammy Lifetime Achievement Award in 1998), and the Blues Hall of Fame (2003). After his death in 2008, he was inducted into the Rhythm and Blues Music Hall of Fame. Bo Diddley is remembered today as a visionary whose songs have become part of the bedrock of American music, and whose musical ideas continue to resonate around the world.
Format:
UK English