Muddy Waters
The blues singer-songwriter is often referred to as 'The Father of Chicago Blues,' known for songs like 'Hoochie Coochie Man' and 'I'm Ready.'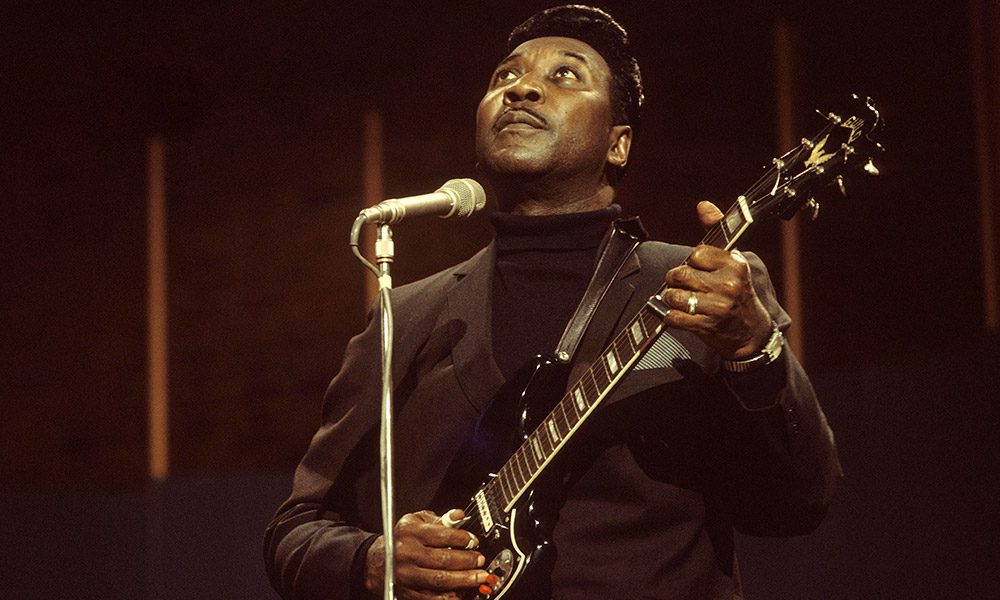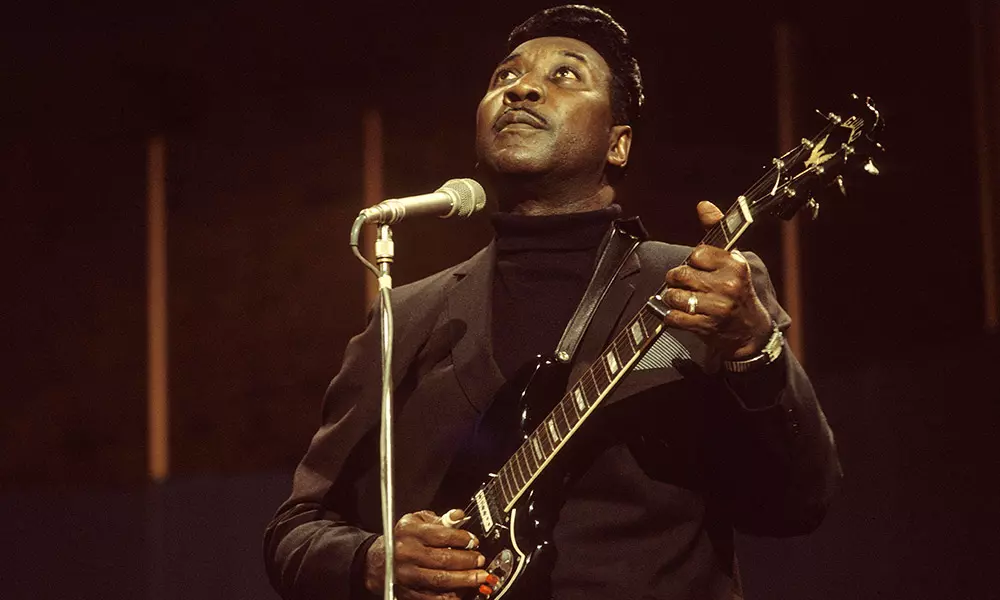 Bandleader, songwriter, guitarist, singer, song interpreter and the prime mover of the Chicago electric Blues scene, Muddy hailed from the Mississippi Delta, like almost all the great electric bluesman of the post-war era. He was also a good man, who helped much younger or struggling musicians as they later bore witness. But whatever else he was, he will forever be the once and future King of the Chicago Blues.
"No I ain't no millionaire, but I had a lot of managers that became millionaires."  Muddy Waters
Muddy Waters got his nickname from his grandmother because he was always playing in a nearby creek as a child. It is a name that resonates way beyond the confines of the Blues. As the man who claimed that "The Blues had a baby and they named it rock 'n' roll," he certainly had a point and his reputation among young white boy wannabe blues musicians was second to none. It was from a track on his 1958 album, The Best of Muddy Waters from which a young British band took their name in 1962… and they went on to become, "The Greatest Rock and Roll Band in the World".
Muddy Waters Folk Singer shows the depth of Muddy's talent, his understanding of the Blues and his brilliance in playing them in whatever form he wanted. It is fair to say that without the album Muddy Waters Live at Newport 1960, no self-respecting white Blues band would dare not play at least half the numbers Muddy performed.
The success of rock bands helped many a Bluesman's careers, both in the USA and as international acts; Muddy was no exception and in fact, his recording career benefitted more than most. Albums including The Muddy Waters Woodstock Album and Unk In Funk offer a real insight into the thirty-year recording career of the real legends of the Blues.
"He was such a sweet man, people like that shouldn't ever have to die." Buddy Guy
When he was about three years old McKinley Morganfield's Mother died so he was sent to the Stovall farm to stay with his grandmother. After he grew up he began working on the plantation, while at the same time teaching himself the harmonica and later the guitar. He began playing in juke joints, at parties and dances in and around the Clarksdale area from about 1935 onwards.
In mid-summer 1941 Alan Lomax recorded Muddy at Stovall's for the Library of Congress; Muddy sang Country Blues and Burr Clover Country Blues. According to Howard Stovall whose family still own the farm. "He was the burr clover man, which was a cover crop to put nitrogen back in the soil. It's drudge work, you hand rake it up and put it in bags and then spread the burrs around to improve next year's crop. I had the honour of that job one summer, apparently Muddy felt about it the same way I did, only he was able to express it more eloquently."
In 1943 Muddy moved north and like many before him, took the train to Chicago's Illinois Central Station; initially finding work in a paper factory. Muddy began playing for tips on Maxwell Street soon after arriving in the city; Big Bill Broonzy helped the country boy break into the urban scene. He started working in clubs, playing with Eddie Boyd, as well as backing Sonny Boy Williamson No.1 at the Plantation Club. A switch from acoustic to electric guitar in 1944 galvanised Muddy's career. He continued to play traditional Delta bottleneck, but the electric guitar transformed his sound and helped to "invent" post-war Chicago Blues. His 1946 recordings for Columbia with the doyen of Chicago Blues, Lester Melrose, went unreleased. It was not until the following year that Muddy would be heard playing on record, in the role of backing guitarist to Sunnyland Slim.
Waters and bass player Big Crawford recorded two other songs on the day he worked with Slim, but Leonard Chess was unimpressed and so they went unreleased. However, the following year Muddy and Crawford were back and cut 'I Can't Be Satisfied' and 'Feel Like Going Home', which Leonard Chess released on the Checker label. The former was a reworking of  'I Be's Troubled', a song Muddy recorded for Lomax in 1941 and often played live. 'Feel Like Going Home' was a reworking of Son House's 'Walking Blues'. Muddy had huge respect for House and this is another song Muddy must have sung many times before this recording. The record sold out in less than a day, going on to make No.11 on the R&B charts in September 1948; years later Muddy recalled that he even had trouble buying a copy. Chess was anxious not to upset a winning formula and despite the fact that Muddy had his own band he continued to record Muddy as a duo or with Leroy Foster on guitar.
By the late 1940s, his band included Leroy Foster on guitar or drums, Big Crawford on bass, Jimmy Rogers on guitar and harmonica and not long afterwards Little Walter Jacobs was added as the featured harmonica player. Muddy was only in his early 30s but he became the patriarch of the Chicago blues scene. With the pick of the city's musicians in the 1950s, it was more a question of who didn't play in Muddy Waters Band than who did. The Muddy Waters Blues Band was recording as an entity by 1951, the epitome of the hard-edged, driving electric Blues band of Chicago, a cornerstone of what we call rock music today.
In 1951 'Louisiana Blues' became the second in his run of sixteen chart hits, which included classics like, 'I'm Your Hoochie Coochie Man', 'Just Make Love to Me', 'Mannish Boy' and 'Forty Days and Nights'. The man born in Rolling Fork, Mississippi also cut 'Rollin' and Tumblin", 'Rollin' Stone' and 'They Call Me Muddy Waters', in which he sings "I'm the most bluest man in this whole Chicago town"… few would disagree. Any and every one of these recordings capture the very essence of 1950s Chicago Blues.
In 1959 Muddy released Muddy Sings Big Bill, a tribute album to his former mentor who had died a year earlier. Muddy considered Big Bill to be "the Daddy of the Country Blues singers", so when he first moved to the city it must have been amazing for the younger man to find such a star taking an interest in him. It also shows the similarity in style between the two singers. On the album Muddy is accompanied by his band of the moment, James Cotton on harp, Pat Hare on guitar and the brilliant Otis Spann on the piano they perform 'Just a Dream', a perfect testimony to both men, while Muddy makes the song his own, Big Bill comes shining through.
'I Feel So Good' from the album exemplifies Muddy's approach, brilliant interpretation and vocal delivery that is underpinned by tight ensemble playing. Otis Spann on piano, James Cotton's harmonica and Pat Hare's guitar are nothing but perfect. The following year at the Newport Festival Muddy performed the song, predominantly to a white audience, and it was captured for his album Muddy Waters At Newport; one of the great live albums and a favourite of many blues' fans. As the band powers through the song, the crowd can be heard responding to their brilliance with spontaneous shouts. Not that this one song was any different from many that Muddy performed, he affected everything he did with style and class.
Throughout the 1950s and early 1960s, Muddy's band was the city's premier recording outfit, a veritable academy of the Blues. Among those who played with Muddy were guitarists Jimmy Rogers, Luther Tucker, and Earl Hooker; harmonica players Junior Wells, Big Walter Horton and James Cotton, Willie Dixon on bass; pianists Memphis Slim, Otis Spann, and Pinetop Perkins along with drummer Fred Below. Another was Buddy Guy who played on Muddy's essential 1964  album, Muddy Waters Folk Singer. He was another musician who had a lot to thank Muddy for…
"My mother had a stroke and I left Baton Rouge, Louisiana September 25th 1957 and I went to Chicago. I actually was looking for just a regular job to help my mum, but I ran into a bad situation. I couldn't get work, nobody would hire me. I played on the street first, one day this man grabbed me by the hand and walked me in this club. It was Otis playing, the guy told Otis to call me up and I played 'Things I Used to Do', and someone called Muddy on the phone. I was pretty hungry 'cos it was the third day without food. Muddy came in and just smacked me and said wait a minute, I heard about you, they done call me and got me out the bed. He said you hungry, I said you Muddy Waters, I'm not hungry, I'm full, I met you."
Muddy like many of his contemporaries toured Britain in the 1960s as part of the American Folk Blues Festivals; his reception was better than when he had previously visited Britain at the invitation of Chris Barber in 1958, the jazz trombonist. Many people in the jazz fraternity, who were the keepers of the blues flame in 50s Britain decided it was a travesty for Muddy to play with amplification. Somehow these blues zealots decided that the only pure blues was acoustic thank goodness ideas changed. In May 1964 Otis Spann cut a single at Decca Studios in London with producer Mike Vernon. On 'Pretty Girls Everywhere' and 'Stirs Me Up' Otis was accompanied by Muddy Waters on rhythm guitar and Eric Clapton on lead. Some years later Eric recalled, "they were both very friendly, and they had beautiful shiny silk suits, with big trousers!"
As the Blues languished somewhat in the late 60s, then so did Muddy's career. In the 1970s he toured constantly and by 1977 he had signed with CBS Records. Collaborating with Johnny Winter, Muddy's career took an upturn with the release of the album Hard Again in 1977, winning him a Grammy. A second album, I'm Ready, was followed by a tour of the U.S. including a performance at the White House for Pres­ident Jimmy Carter.
Muddy worked live with Johnny Winter in the early 80s before succumbing to a heart attack in his sleep aged sixty-eight in 1983. Muddy's influence as well as the respect that he commanded among the Rock community was acknowledged when he was inducted into the Rock & Roll Hall of Fame in 1987.