Sonny Boy Williamson
Sonny Boy Williamson II was a blues harmonica player from Helena, Arkansas whose catalogue of songs are still covered as blues standards today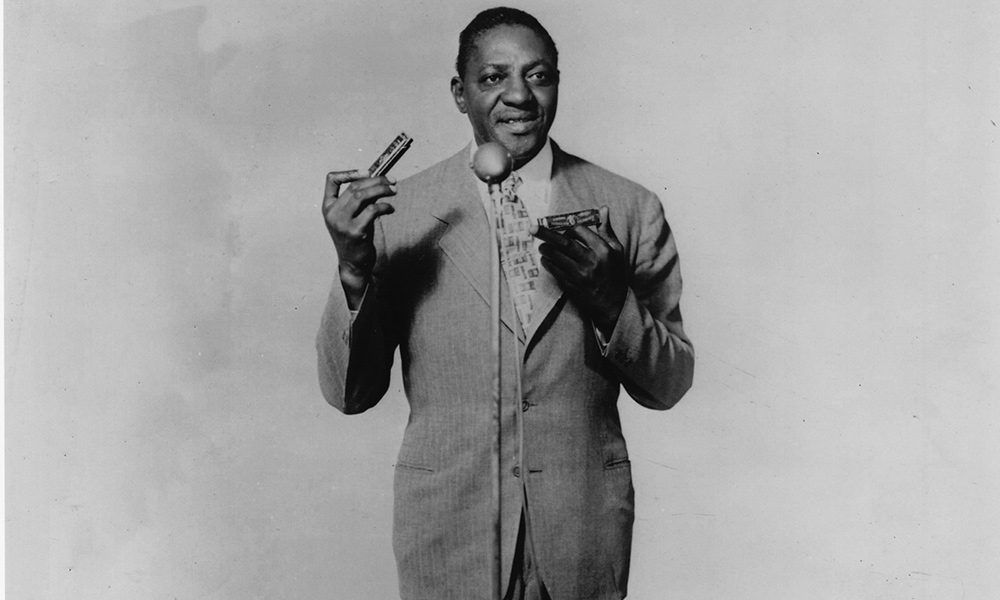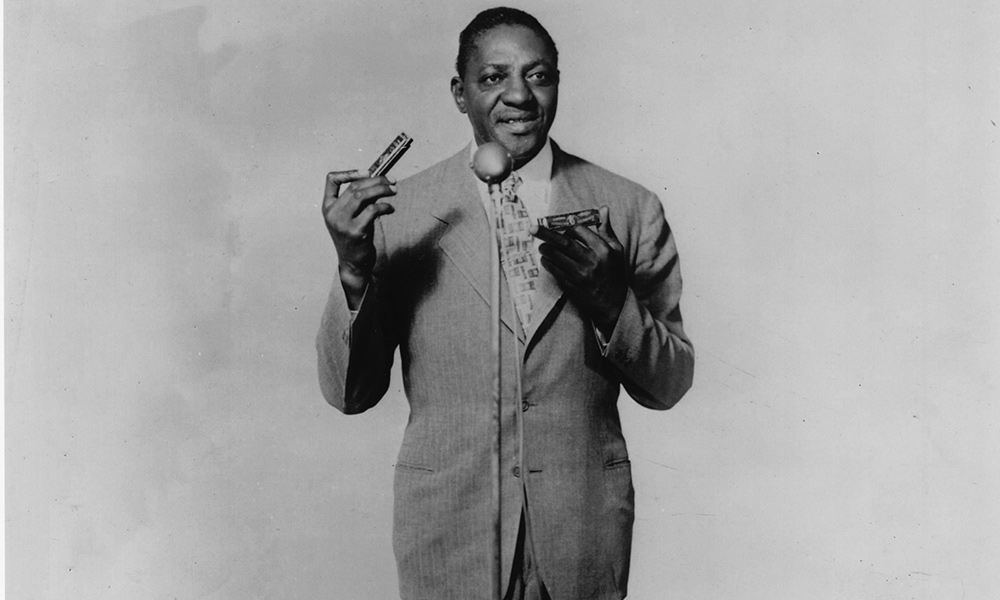 Singer, harmonica player, and songwriter Sonny Boy Williamson II was one of the most compelling and iconoclastic bluesmen of the 1950s and 1960s. His songs, including the well-known "Eyesight to the Blind," "Don't Start Me Talkin'," and "Help Me," employ poetic imagery that was altogether his own. He played harmonica as an extension of his body, shaping sounds with his hands and riffing like a horn player, creating a seamless interplay with his wry and sometimes ominous vocals. He had a wonderful sense of timing, coupled with intricately woven phrases and superb use of vibrato.
He was also an imposter, and, by all accounts, an inveterate trickster who seems never to have told a story the same way twice. Born Aleck Ford in Glendora, Mississippi, possibly in 1899, to Millie Ford, he later took the name Aleck Miller, after his stepfather. Such is the confusion about Sonny Boy's early life that his gravestone gives his birthday as March 11, 1897, while some have argued that he was born in 1910. Whatever the truth, he began playing when he was just five years old and quickly became an accomplished harmonica player, and from a young age he earned tips playing on street corners, at dances, and at house rent parties.
Miller began hoboing around the Deep South and performing as Little Boy Blue (inspiring Mick Jagger and Keith Richards to name their first band Little Boy Blue and the Blue Boys in 1961). He eventually began calling himself Sonny Boy Williamson, after the popular Bluebird Records artist John Lee "Sonny Boy" Williamson, who was one of the most influential blues singers and harmonica players of the time. (John Lee Williamson is now referred to as Sonny Boy I, even though he was younger than Miller. He was tragically murdered in 1948 at the age of 34). Miller –referred to today as Sonny Boy II – began claiming that he was the original, while emerging as a talent who was perhaps the more formidable of the two.
"We used to call him Little Boy Blue. He had a belt with all his harmonicas in and used to wear it around his waist. That was around 1932." – Homesick James
In the 1930s, Sonny Boy married Mary Burnett, Howlin' Wolf's half-sister, taking the opportunity to teach his younger half-brother-in-law to play the harmonica. Working throughout the Delta, he honed his craft, and by the time he and guitarist Robert Jr. Lockwood began appearing on KFFA radio in Helena, Arkansas in 1941, he was already a local star. His performances on the fifteen-minute King Biscuit Time, sponsored by the King Biscuit Four Company and syndicated on WROX in Clarksdale, Mississippi and KXJK in Forrest City, Arkansas, were a seductive display of his skills as a musician, raconteur, and showman.
Sonny Boy used the show to promote his evening performances, leading to more and better gigs, and his likeness was printed on bags of Sonny Boy Cornmeal. He and Robert Jr. Lockwood began calling themselves the King Biscuit Entertainers, evolving into a full-blown band that included, at various times, pianists Dudlow Taylor, Pinetop Perkins and Willie Love; drummer Peck Curtis; and guitarist Houston Stackhouse. The immensely popular show even spawned its own blues song, "The King Biscuit Stomp," recorded by Big Joe Williams in 1947.
When he left the show for the first time that same year, Sonny Boy was one of the most well-known entertainers in the Delta region, with more work than he could handle. B.B. King remembered auditioning for Sonny Boy, for whom he played Ivory Joe Hunter's "Blues at Sunrise." Sonny Boy was seeking a substitute for his job at the 16th Street Grill in West Memphis. At the club, the crowd loved B.B., and the proprietor, Miss Annie, told him that if he could get a radio show like Sonny Boy's, he could have the gig permanently.
Among other artists that Sonny Boy appeared with during this time were Howlin' Wolf on the Hadacol Show on KWEM (broadcast from West Memphis), and Elmore James on the Talaho Syrup show on WAZF (broadcast from Yazoo City in Mississippi). (Hadacol was a patented vitamin supplement that was popular throughout the South, probably because it contained 12 per cent alcohol.)
Despite being well-known in Black households across the region, Sonny Boy did not record until January 5, 1951, when he cut a number of sides for Lillian McMurry's Trumpet label in Jackson, Mississippi (the recordings remained unreleased at the time). His debut on disc, recorded on March 12, 1951, was the classic "Eyesight For The Blind," which featured pianist Love, bassist Henry Reed, and drummer Joe Dison. (This song would later feature on The Who's Tommy album.) In addition to further Trumpet sides, he played harmonica on the first recording of Elmore James's iconic "Dust My Broom." While Sonny Boy would later re-record many of his early songs, the Trumpet sides capture the feel of his raw juke joint blues to perfection.
In 1955 his contract was "sold on" to Chess Records. Sonny Boy moved to Chicago, where he began performing as well as taking gigs in Detroit with guitarist Baby Boy Warren, although he would periodically to return to Arkansas and take up residency again on King Biscuit Time.
His first release for Chess's Checker subsidiary, "Don't Start Me Talkin'," reached number 3 on the R&B charts. The record featured a Chicago blues dream team: guitarist Muddy Waters, pianist Otis Spann, guitarist Jimmy Rogers, bassist Willie Dixon, and drummer Fred Below. Subsequent Checker sides sessions him reunited Sonny Boy with Robert Jr. Lockwood, a happy state of affairs as Robert's playing perfectly complemented Sonny Boy's rhythmic sense.
The recordings he made for Checker constitute one of the most remarkable bodies of work by any American musical artist. Songs such as "Nine Below Zero," "Fattening Frogs for Snakes," "All My Love in Vain," "Your Funeral and My Trial," and the surreal "Unseen Eye" reveal a remarkable lyrical wit, although he could also be misogynistic and dark, revealing a sense of paranoia. His accompaniment is uniformly superb, with nary a wasted note, most often featuring Lockwood, but also including pianist Otis Spann; guitarists Luther Tucker and Buddy Guy; drummer Fred Below; and bassist Willie Dixon, who also wrote several songs for Sonny Boy. You can hear many of the best of them on The Essential Sonny Boy Williamson.
In 1963, he was invited to join the American Folk Blues Festival, which toured Europe. He stayed on in Britain after the tour to play club dates and to record with The Yardbirds featuring Eric Clapton (Live at the Crawdaddy Club, 1963), with The Animals, and with American guitarist Matt "Guitar" Murphy. Sonny Boy loved Europe and Europe loved him, and he even talked about taking up permanent residence. He joined the American Folk Blues Festival again in 1964, along with Howlin' Wolf, once again delighting audiences with his humorous stories, casual asides, and all-around showmanship. Shortly before he returned to America he recorded with organist Brian Auger and Jimmy Page.
By 1965 Sonny Boy had returned to Helena, wearing a custom-tailored, two-tone suit and bowler hat, and again taking up residence on King Biscuit Time. Artistically, he was still in top form, and his final recordings for Checker, including "Help Me" and "Bring It On Home," were as powerful as anything he had ever recorded. While he talked of returning to Europe, it was not to be, as he died in his sleep in May 1965.
Format:
UK English