Eric Clapton
Eric Clapton has been in the spotlight for close on fifty years and the portrait of his artistry is a complex one – from his early days as a guitar god, to a songwriter of great sensitivity, as well as an interpreter of everything from blues and jazz to rock and country music.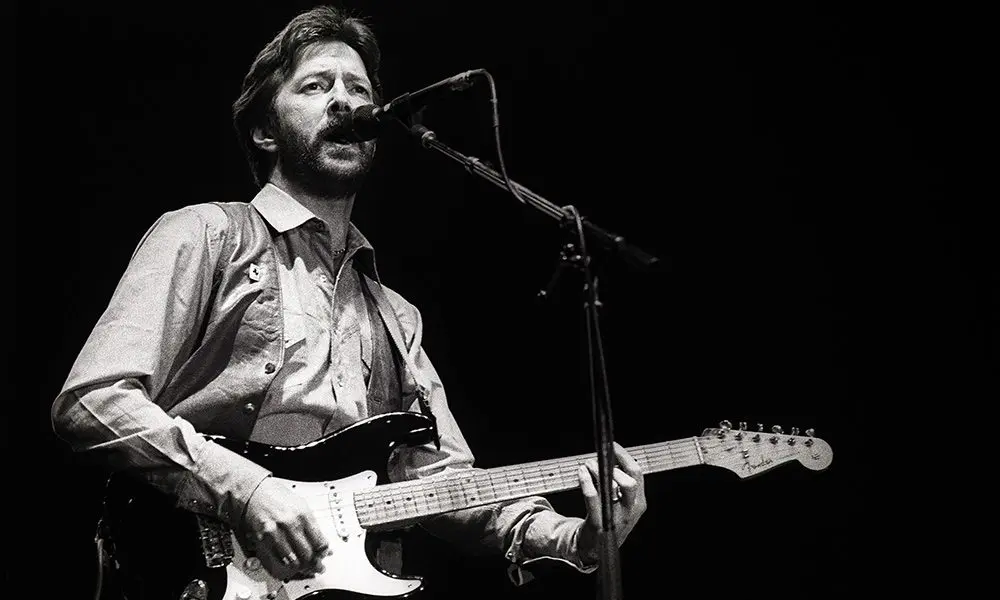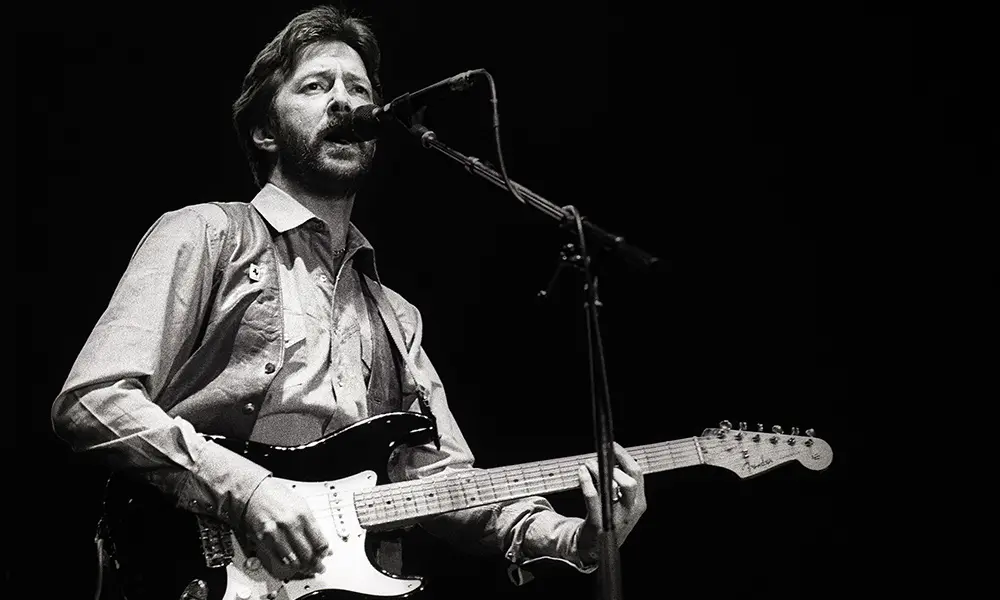 In the mid-60s graffiti began appearing around London proclaiming: 'Clapton is God'. A staggering rise to fame, given that his grandparents only bought him his first guitar in 1959. Eric Clapton has been in the spotlight for close on fifty years and the portrait of his artistry is a complex one – from his early days as a guitar god, to a songwriter of great sensitivity, as well as an interpreter of everything from blues and jazz to rock and country music. His music has run the emotional gambit and on many occasions, his art has reflected his life.
"He's been a tremendous friend to me, I love the man; he's a great man. There's Eric Clapton, then you talk about the rest of the guys." – B.B. King
Eric Clapton was one of the earliest British musicians to become a disciple of the Blues. Young Clapton's interest was sparked after hearing a Sonny Terry and Brownie McGhee record on a children's radio programme. After playing with the Yardbirds, he got his big break when he joined John Mayall's Bluesbreakers. In 1966 they recorded the brilliant Blues Breakers, which proved to be a breakthrough for both men.
Next Clapton formed Cream with Ginger Baker and Jack Bruce. On Cream's debut, Fresh Cream, they covered Spoonful, written by Willie Dixon and made famous by Howlin' Wolf, it features some typical early Clapton guitar work. There are also covers of Robert Johnson, Muddy Waters and Skip James. Cream and Clapton had nailed their colours to the blues mast.  The band's follow-up, Disraeli Gears, is less of a blues album, yet they are never far away – witness 'Strange Brew', the album's opening cut that has Clapton playing in the style of Albert King. Wheels of Fire is half studio and half live; it's very much a return to the blues, with the opening number of the live album being Robert Johnson's 'Crossroads' – for many it is the definitive version of this classic, for others, it was their introduction to the Blues.
After Cream, Clapton formed the short-lived Blind Faith in 1969, with Stevie Winwood from Traffic, Ric Grech from Family and Ginger Baker. Clapton then sought relative anonymity by joining Delaney and Bonnie & Friends, along with his friend George Harrison, on whose song, 'While My Guitar Gently Weeps', he had so memorably soloed. After this experience, Clapton was inspired to form Derek & The Dominoes, recording Layla and Other Assorted Love Songs – it is another of those landmark rock albums.
He then embarked on a solo career, which actually started with the eponymous album released in August 1970 but was resurrected with his Rainbow Concert in 1973 and was then quickly followed by 461 Ocean Boulevard the following year, There's One in Every Crowd and the live album E.C. Was Here in 1975 and then Slowhand in 1977. Eric Clapton is a rock icon, a guitar god, yet he has never lost his passion for the music that inspired him as a teenager. It was music from the mystical land of America that was played by men who he would later get to know, but back in the early 1960s they just seemed liked mystical gods.
"The first blues I ever heard was on that programme. It was a song by Sonny Terry and Brownie McGhee, with Sonny Terry howling and playing the harmonica. It blew me away. I was ten or eleven."  – Eric Clapton
Eric's first band was the Roosters, along with Tom McGuinness, who later played with Manfred Mann. Both of them briefly joined Casey Jones and The Engineers before Eric then joined The Yardbirds in October 1963.
The Yardbirds followed the Rolling Stones as the resident band at the Crawdaddy Club, during which time Eric acquired the nickname 'Slowhand'. To begin with, Clapton was very happy, with a reasonably paying gig, in a band that mostly played the Blues. After touring and recording with Sonny Boy Williamson, the band drifted towards more chart orientated pop and Clapton became disillusioned and left (to be replaced by Jeff Beck, after Jimmy Page – who Clapton recommended, turned them down).
After a spell working on a building site, John Mayalloffered Eric Clapton a slot alongside John McVie and Hughie Flint in April 1965.  He briefly left the band in the summer of 1965 to live in Greece, before returning to Mayall's band in April 1966 to record Blues Breakers with Eric Clapton. Produced by Mike Vernon, it featured Mayall originals alongside 'All Your Love' by Otis Rush, Mose Allison's 'Parchman Farm' and Little Walter's 'It Ain't Right'; Eric the God-like deity had arrived.
In early 1966, Jack Bruce played some gigs with Mayall, and then a little later drummer Ginger Baker sat in. Somehow the idea of forming a band came up between Ginger and Eric, Eric suggested Jack should be included and in July 1966 Cream was formed, "sort of like Buddy Guy with a rhythm section" Eric later recalled.
For two years and three albums, Cream were it. The band's internal strife (Bruce and Baker found it hard to get along, but loved each other's playing) produced dynamics that have never been bettered by a powerhouse trio. Cream sold massive amounts of albums; featuring clever band originals like 'Sunshine of Your Love', 'I Feel Free' and 'White Room', alongside classic pre-war Blues songs given a makeover. 'Spoonful', 'I'm So Glad', 'Rollin' and Tumblin', 'Crossroads' and 'Outside Woman Blues'.
'Crossroads' in particular gave Clapton the opportunity to demonstrate what a brilliant guitar player he was, especially at live gigs. It wasn't just thirty-year-old Blues songs that Eric and Cream loved; Albert King's 'Born Under A Bad Sign' was given the treatment too.
By November 1968, Eric had grown tired of Cream and he was especially stung by criticism from Rolling Stone magazine who called him "the master of the Cliché". At Cream's farewell concert at London's Royal Albert Hall, the support band was Yes, Prog Rock was making a bid to be the new genre on the block.
A final album Goodbye was released in 1969 and is a mix of live and newly recorded studio tracks, with further live releases Live Cream and Live Cream II released after the group had disbanded.
Clapton had already befriended George Harrison, playing the solo on the Beatles 'While My Guitar Gently Weeps', shortly before forming Blind Faith in February 1969. Having met Delaney and Bonnie Bramlett while touring in America, Clapton decided a more organic approach to music was the way forward and he went on the road as part of Delaney and Bonnie & Friends, which also included Harrison and Dave Mason.
Throughout Eric's time with Blind Faith, he continued working sessions with, among others, Leon Russell (one of the Delaney and Bonnie circle). Amongst the songs he cut with Russell were 'Sweet Home Chicago' and Russell's 'Blues Power'. He also recorded with John Lennon as part of the Plastic Ono Band and with Dr John, The Crickets, George Harrison and Jesse Ed Davis.
Somehow in all of this activity, Eric managed to release his first solo album, Eric Clapton, which was released in August 1970 and was essentially Eric fronting the Delaney and Bonnie band, with songs co-written by Delaney Bramlett and Clapton. The single, however, was a J.J.Cale cover 'After Midnight'.
Almost as soon as his first solo album was released, Eric would be back in the studio. Writing sessions with Bobby Whitlock from the Delaney and Bonnie band, became a touring band called 'Derek And The Dominos', fitting Eric's desire to avoid the limelight. In August and September 1970, Eric went into the studio in Miami with Carl Radle (Bass), Bobby Whitlock (drums & keyboards) and Jim Gordon (Drums) to record. Producer Tom Dowd was at the time mixing the second Allman Brothers album, which would lead to Duane Allman's involvement on most of the record, most memorably the slide playing on the outro to what would become the title track 'Layla'. The album Layla and Other Assorted Love Songs is an absolute classic but was a slow starter. It failed to chart in the UK and took two years to reach its top 20 peak in the U.S. as 'Layla' enjoyed a slow growth at radio; released as a single in 1971, it didn't peak until in 1972.
Originally a double vinyl release, the album was a mixture of covers and originals, continuing Eric's love of blues standards such as Big Bill Broonzy's 'Key To The Highway' and 'Have You Ever Loved A Woman' written by Billy Myles. A version of Jimi Hendrix's 'Little Wing' was recorded as a tribute and committed to tape just days before Jimi's death. With drug addiction taking its toil, Eric's next studio release would not be for 4 years, but his return to the stage in 1973, at the encouragement of Pete Townsend, would be captured for the Rainbow Concert live album and featured an all-star band including Steve Winwood, Rick Grech, Jim Capaldi, Ronnie Wood and Townsend.
The 1974 album 461 Ocean Boulevard is essentially the first proper solo album and was a move away from the Blues, delivering Clapton his first U.S. #1 single and a U.K. top 10 with his cover of Bob Marley's 'I Shot The Sheriff'. Echoing the single, the album would hit #1 in the U.S. and number 3 in the U.K. As would be the formula for many of the releases to follow, despite heading towards a more commercial sound, Eric included Blues covers such as 'Motherless Children' & Robert Johnson's 'Steady Rolling Man'. In the 1974 concert, included as a second disc in the deluxe version of the album, is a three-track blues medley featuring Elmore James' 'The Sky In Crying' which Eric would capture in the studio on his next album There's One In Every Crowd. The album was recorded in Jamaica and led by a version of the traditional song 'Swing Low Sweet Chariot' as a single.
The fourth solo studio album No Reason To Cry was recorded at The Band's studio in 1976 and featured contributions from not only all five members but also Bob Dylan, who duets with Eric on 'Sign Language', a track he also wrote. Later that year, both Clapton and Dylan would appear at The Last Waltz concert, The Band's farewell show, famously filmed by Martin Scorsese.
After a couple of commercially disappointing albums, everything would seemingly fall into place for 1977's Slowhand. The album may have just missed out on the number 1 spot in the U.S. but it was the first of his albums to go multi-platinum and produced three hit singles in 'Lay Down Sally', 'Wonderful Tonight' & another J.J. Cale song 'Cocaine'.
Clapton would record two more studio albums for Polydor before moving labels; Backless followed Slowhand and would include another contribution from J.J. Cale and 2 tracks written for him by Dylan whilst Another Ticket, released in 1981 would represent more of a sea change, with a new backing band (including Albert Lee on guitar and Procol Harum's Gary Brooker) and the majority of songs written by Clapton. There was of course still space for the Blues tracks; Muddy Waters' 'Blow Wind Blow' and 'Floating Bridge' by Sleepy John Estes.
In 2013 Eric Clapton's 20th studio album came out and just goes to prove that some things just get better with age.  Clapton has been treading his own musical road for some time now and this album is proof positive. Just two of the twelve tracks on Old Sock are new songs, the rest are tunes that he obviously loves, songs to which he brings his unique guitar-toting troubadour perspective.
A 2 disc live album Just One Night was released in 1980 and recorded in Japan after the Backless album. It is different in almost every way to the E.C. Was Here live release in 1975, demonstrating just how much had happened in the intervening 5 years. The common factor is, of course, the Blues, a Clapton show just is not complete without an extended blues instrumental where Eric gets to show where it all came from. Listen and enjoy.
There are some excellent compilations covering Eric Clapton's lengthy career at Polydor; the 4 disc Crossroads set starts with Bluesbreakers, through Cream and Blind faith through to the solo albums, whilst Crossroads 2 is a 4 disc live set spanning the 70's recordings. Timepieces feature all of the solo hit singles, whilst the Cream Of Clapton is expanded to include the best know Cream songs. The two-disc Complete Clapton is exactly that and includes the hits that he had after moving to Warners.
Recently, Clapton contributed to The Breeze: An Appreciation Of JJ Cale, a project he produced and oversaw, bringing in key interpreters such as Willie Nelson, Tom Petty and Mark Knopfler. On home turf, Slowhand At 70: Live At The Royal Albert Hall was seemingly released on every format from a gramophone record to Blu-ray, and functions as a virtual greatest hits package.
2016 gave us I Still Do produced with Glyn Johns, and another cracking set of tunes by Cale, Bob Dylan, Skip James and Leroy Carr, among others; the following Live in San Diego set goes back to 2007 and features Cale guesting on several of his own songs written by him. A spring tour sees Clapton return to his beloved RAH – and, yep, he's still an avid supporter of West Bromwich Albion.
Max Bell
Format:
UK English