Jack Bruce
Jack Bruce was a Scottish bassist & singer-songwriter with a decades-spanning solo career that included albums like Songs for a Tailor.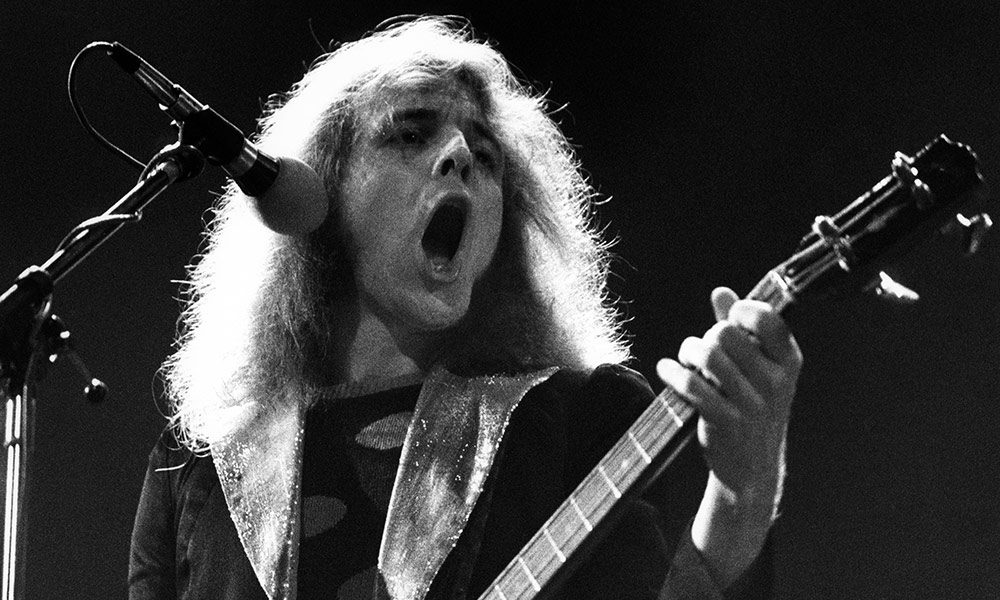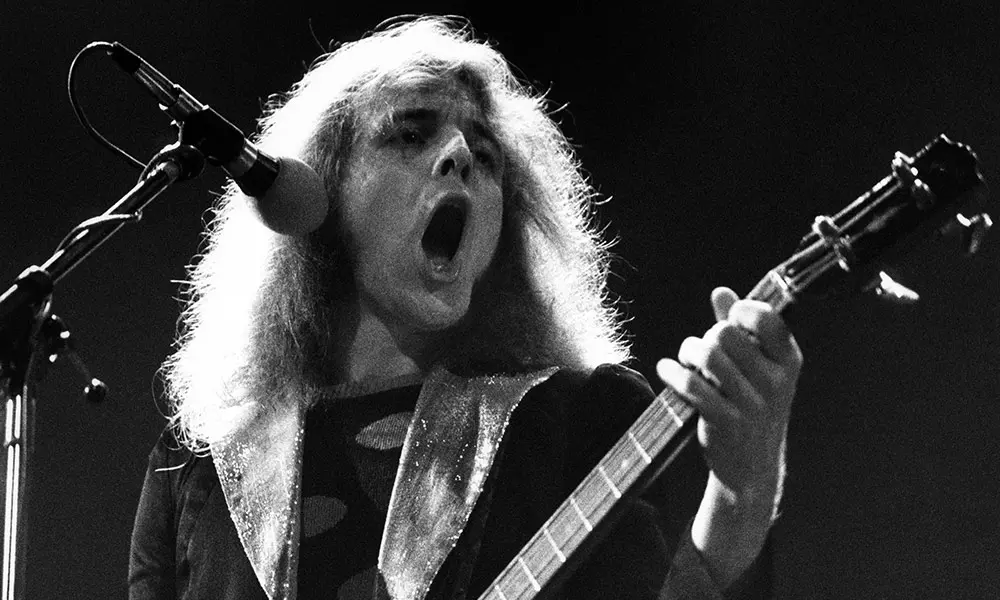 Jack Bruce (1943-2014) was a visionary who created music to express his own unique, passionate worldview. The importance, the depth, the very spice of life can be heard in his singing and playing. Music was everything to the man and he lived and breathed to play the next gig. He was a musicians' musician who inspired and astounded his fellow players. He was educated in music, certainly, but he was also naturally gifted.
Jazz and the blues were, of course, the backbone of Jack Bruce, but the classical tradition is essential too. Early tuition on the cello informed his understanding and appreciation of the bass guitar, and his mastery of breath control magnified his singing voice. Where others mumbled and moaned, Jack could soar like a blues Caruso. He wasn't a particularly big man physically, but on the inside he was huge. His vocal technique wrote the rule book for progressive and heavy rock vocalists, his bass playing pushed a supporting instrument centre stage, and his innate sense of both rhythm and melody ensured audiences the size of which mere mortal jazz and blues artists could only play to in their dreams.
It was Cream, his Sixties supergroup so aptly named, that thrust him, alongside Eric Clapton and Ginger Baker, into the spotlight. Into everything: critics' all-time Top 10 lists, the pop charts, the nation's hearts. His bass intro to 'Sunshine Of Your Love' remains probably the best riff in all of rock. It says everything about the integrity of the man that he disbanded Cream because he felt the band's direction was straying too far away from his vision. And throughout his solo career that followed, he did nothing but distinguish himself with that same integrity as he pursued his wonderfully diverse, thrilling musical adventure.
Jack Bruce was born in Lanarkshire, Scotland in 1942. A child prodigy, he won a scholarship to the Royal Scottish Academy of Music where he studied cello and, aged 11, composed a string quartet. Much to his tutors' ire, he also slummed it, joining Jim McHarg's Scotsville Jazzband as their upright bassist and, when given an ultimatum to quit the group and return to serious music, he quit the college instead.
He took his bass to London, aged 19, and joined the UK's pre-eminent R&B band Blues Incorporated. Alexis Korner led the fluid line-up, the early mainstays of which included organist Graham Bond, saxophonist Dick Heckstall-Smith and drummer Ginger Baker. A year later Jack went electric when he joined Bond, Baker and guitarist John McLaughlin to form the Graham Bond Quartet. As the Graham Bond Organization, they issued The Sound Of '65 and There's A Bond Between Us, featuring Jack on vocals, bass and harmonica.
His next move was to John Mayall's Blues Breakers, whose star guitarist was Eric Clapton. A surprise short excursion into pop saw Jack play on two No. 1 hits, Manfred Mann's 'Pretty Flamingo' and The Scaffold's 'Lily the Pink'. He was a guest musician on the latter in 1968, but was briefly a member of Manfred Mann in 1966, and appears on their EP Instrumental Asylum; he's also featured on its cover.
Together with Eric Clapton and Ginger Baker he formed the legendary Cream in 1966 for three studio albums, Fresh Cream (1966), Disraeli Gears (1967) and Goodbye (1969), and the monumental double live collection Wheels Of Fire (1968). Thirty-seven years after they split, the trio reformed for a triumphant series of concerts at the Royal Albert Hall in London and at New York's Madison Square Garden. The UK shows are documented on the album Royal Albert Hall, London, May 2-3-4-5, 2005.
Beyond Cream, Jack Bruce was also the founder of, or the bass linchpin in, many other groups. In 1970, he joined US jazz rockers The Tony Williams Lifetime, led by Miles Davis' pioneering drummer, boosting them to a quartet for their album Turn It Over. He had a deep respect for Williams and following his death in 1997, Jack joined the Lifetime Tribute Band which, renamed Spectrum Road, recorded a self-titled album in 2012.
Perhaps not surprisingly, Jack Bruce had a penchant for the power trio, and he formed three other line-ups within this dynamic format. The most commercially successful was BBM with Ginger Baker and Gary Moore, whose Around The Next Dream album, made UK No.9 in 1994. Decades before, in 1972 he formed West, Bruce and Laing — dubbed by some 'the American Cream' — with guitarist Leslie West and drummer Corky Laing from the US heavy rock band Mountain. They issued three albums, Why Dontcha (1972), Whatever Turns You On (1973), and Live 'n' Kickin' (1974). And as one-third of BLT, with guitarist Robin Trower from Procol Harum and drummer Bill Lordan from Sly & the Family Stone, he recorded BLT in 1981. He also cut two other albums with Trower, Truce (1982) and Silver Moons (2009).
Working on a project-by-project basis, Jack formed a number of more expanded line-ups named after himself. In 1975 he recruited former Rolling Stones guitarist Mick Taylor and jazz keyboard virtuoso Carla Bley into the Jack Bruce Band, which toured in support Out Of The Storm, his solo album issued the previous year. One of the shows, at the Manchester Free Trade Hall, was documented as Live In '75, issued retrospectively in 2003. The 1977 studio LP, How's Tricks was also credited to the Jack Bruce Band but featured different personnel — guitarist Hughie Burns, keyboardist Tony Hymas and drummer Simon Phillips. Jack's following release, 1980's I've Always Wanted To Do This was issued under the name Jack Bruce & Friends, namely guitarist Clem Clempson, keyboardist/guitarist David Sancious and drummer Billy Cobham.
Given his involvement with so many different artists and collaborative projects, when considering Jack Bruce's legacy it's useful to focus upon his core catalogue of the 14 core solo albums issued under his own name (including those Band albums just mentioned).
His 1969 debut, Songs For A Tailor, was his most commercially successful, reaching UK No.6, the same position as Fresh Cream. These days, however, it stands as one of the great overlooked albums of the Sixties, if not of any decade. While immediately identifiable as the voice and composer from Cream, on …Tailor Jack presented himself as an entirely different proposition altogether. Whereas Cream had been rock music channelled through blues and jazz, the solo Bruce was now a jazz artist merely hinting at rock, and more or less eschewing the blues.
Continuity with Cream came via lyricist Pete Brown, who wrote the lyrics for …Tailor, and Felix Pappalardi who produced the album. The key musicians were Chris Spedding on guitar, Dick Heckstall-Smith from the Blues Incorporated days on sax, and drummer Jon Hiseman, who'd replaced Ginger Baker in the Graham Bond band and latterly formed his own jazz/progressive outfit, Colosseum. Oh, and George Harrison guested on one track, credited for contractual reasons as L'Angelo Misterioso.
Highlights? The whole album is a highlight of Jack's career, and at a mere 30 minutes playing time, it seems churlish to favour one track over another. But if you must… the opening 'Never Tell Your Mother She's Out Of Tune' is evocative progressive pop (and features that Beatle), 'Theme From An Imaginary Western' might have been a chart single by Procol Harum, 'Ministry Of Bag' is Cream without the other two, 'Weird Of Hermiston', 'Rope Ladder To The Moon'… Just check out the whole record.
Jack considered himself, as did his lifelong friend / bête noir Ginger Baker, a jazz musician first and foremost, even if the bulk of his recorded output fell within the blues/rock arena. Shortly before Cream's farewell concert in 1968, he assembled a quartet featuring John McLaughlin from John Mayall's Blues Breakers, Dick Heckstall-Smith, and Jon Hiseman to record an album of acoustic instrumental free jazz. The seven compositions dated back to his childhood days at the Royal Scottish Academy of Music — a remarkable fact in itself — culminating in the seven-and-a-half minute workout 'Statues'. The album remained unreleased until 1970 when it appeared as the follow-up to Songs For A Tailor, which must have surprised a good many Cream fans.
Jet Set Jewel was another album with an extended hiatus before release. Recorded in 1978 but not issued until 2003, it's all smooth fusion and contains several songs Jack remade for later albums, such as 'Childsong' (Somethin Else, 1993) and 'Best Is Still To Come' from Automatic (1983).
Jack Bruce's last album, Silver Rails (2014), was his first for over a decade and was issued just months before his death. This final statement is often reflective, inevitably mature and yet still sparkling with invention. With Cream lyricist Pete Brown back on board it provided a neat bookend to a most illustrious and rewarding career.
Just a fraction of Jack's 50 years of recording can be sampled on his first posthumous compilation, Sunshine Of Your Love — A Life In Music, issued in October 2015.
Words: Andy Davis
Format:
UK English