Remembering Jack Bruce, A True Giant Of Music
Jack Bruce was a genuine legend who died at 71. His brilliant bass playing, distinctive voice and sense of musical adventure live on.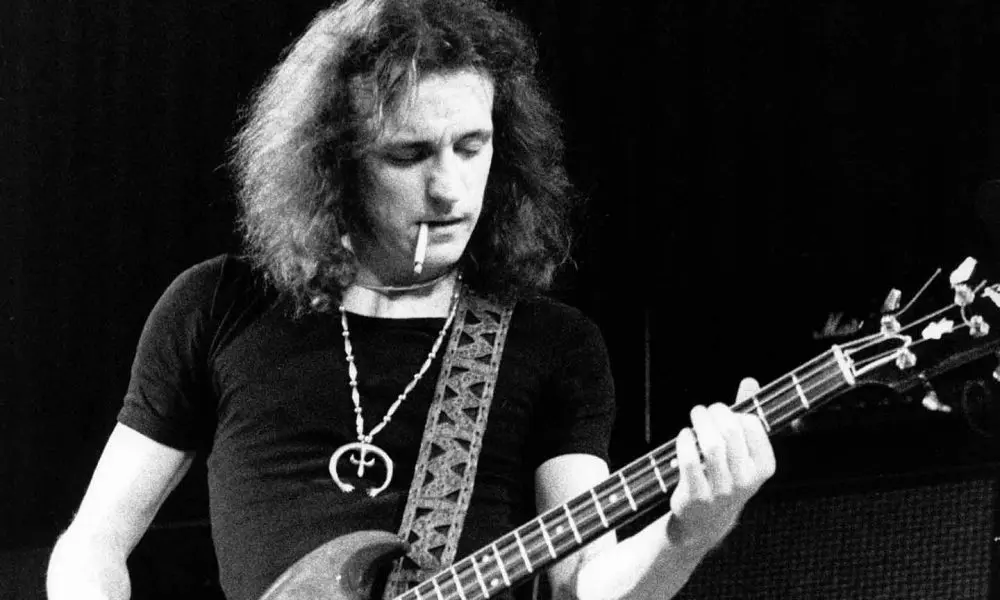 Legend is an overused term in music, and the world in general, but Jack Bruce was a genuine legend.
Jack, christened John, was born on May 14, 1943, in Scotland. He took to music early and won a scholarship to study at the Royal Scottish Academy of Music and Drama. While attending the college he played in Jim McHarg's Scotsville Jazzband and, when the disapproving college found out, they said, "You either stop, or leave college. So I left college," remembered Jack many years later.
Listen to the best of Jack Bruce on Spotify.
Bruce moved to London and in 1962, he joined Blues Incorporated, led by Alexis Korner, playing the upright bass. The band also included organist Graham Bond, saxophonist Dick Heckstall-Smith and drummer Ginger Baker. In 1963 Bruce, Baker, and Bond formed the Graham Bond Quartet with guitarist John McLaughlin.
Moving from the upright bass to the electric bass, he continued in the Bond band when Heckstall-Smith joined after McLaughlin left. After two unsuccessful albums, Bruce left to join John Mayall and the Bluesbreakers, which featured guitarist Eric Clapton. After this brief stint with Mayall, he joined Manfred Mann in 1966, and played on their No.1 hit, "Pretty Flamingo" as well as playing on The Scaffold's "Lily the Pink."
In July 1966 Bruce, Clapton, and Baker formed Cream, with the band going on to become the template for just about every hard rock group that followed in their wake. Their debut album Fresh Cream included "NSU," written by Bruce and also the B-side of the single with "I Feel Free," which made No. 11 on the UK charts; it was co-written by Jack and Pete Brown.
I Feel Free (Mono Version)
Cream's second album, Disraeli Gears released in 1967 includes "Sunshine of Your Love," which Bruce co-wrote, while Wheels of Fire opened with the fabulous "White Room," written and sung by Jack. He did the same on four other tracks on the album. Jack Bruce's singing gave Cream a distinctive vocal sound, and his undoubted musicality also elevated them from the potential trap of a more strictly blues-based format that would have made them so much less interesting, even with their undoubted individual brilliance as musicians.
When Cream split up in August 1968, Jack secured a solo contract with Polydor Records and his first release was the epic Songs for a Tailor, in September 1969. It featured Heckstall-Smith, George Harrison, and drummer Jon Hiseman and reached No. 6 on the UK album chart. Bruce then joined the jazz fusion group Lifetime, with drummer Tony Williams, guitarist John McLaughlin and organist Larry Young, and recorded Turn It Over.
Cream - White Room (Royal Albert Hall 2005) (17 of 22)
Before Cream split, Bruce recorded an acoustic free jazz album with McLaughlin, Heckstall-Smith, and Hiseman that was issued in 1970 as Jack's second solo album, Things We Like; it has been sampled by hip-hop artists in more recent years. Jack's third solo album Harmony Row, which he said was his favorite, was not as commercially successful as Songs for a Tailor, but is full of great music.
In 1972, Jack formed, West, Bruce & Laing, who featured guitarist Leslie West and drummer Corky Laing, who had previously been in the band Mountain. West, Bruce & Laing produced two studio albums, Why Dontcha and Whatever Turns You On, and one live set, Live 'n' Kickin'. During this time he played bass on Lou Reed's Berlin, featuring on all but two tracks.
In 1974, WB&L broke up and Jack released his fourth solo album, Out of the Storm. A 1975 tour featured former Rolling Stones guitarist Mick Taylor and jazz keyboard player Carla Bley. In 1977, Bruce formed a new band with drummer Simon Phillips and keyboardist Tony Hymas. Then in 1979, he toured with members of the Mahavishnu Orchestra, reuniting him with John McLaughlin in a line-up that also included drummer Billy Cobham.
As the 1970s came to an end Jack played sessions for, among others, Cozy Powell and Jon Anderson, before forming Jack Bruce & Friends in 1980; the band included Billy Cobham, guitarist 'Clem' Clempson and keyboardist/guitarist David Sancious. They released the album I've Always Wanted to Do This and Jack also played with Rolling Stones sideman Ian Stewart's band, Rocket 88. He also recorded with Soft Machine on their Land of Cockayne in 1981, and collaborated with guitarist Robin Trower, releasing two power trio albums, BLT and Truce.
Various other projects through the remainder of the 1980s saw Jack play everything from jazz, rock, and world music, to re-recording "I Feel Free" for a car commercial; it is Jack's voice that makes the song so distinctive and enduring.
In 1989, he began working with Ginger Baker again and released another solo album, A Question of Time. A few years later Bruce, Baker, and Gary Moore formed the power trio BBM, and released the impressive album, Around the Next Dream, which made No.9 on the UK chart. In 1995, Jack released another solo album, Monkjack, on which he featured on piano and vocals, accompanied by Funkadelic organist Bernie Worrell.
In 1997 Jack toured as a member of Ringo Starr's All-Starr Band, which also featured Peter Frampton on guitar. At the gig in Denver, Colorado the band was joined on stage by Baker, and he, Bruce, and Frampton played a short set of Cream classics. Jack stayed with Ringo's band until 2000 and, the following year, had success with a new band featuring Worrell, Vernon Reid of Living Colour on guitar, and Kip Hanrahan's three-piece Latin rhythm section. Their album Shadows in the Air included a reunion with Eric Clapton on a version of "Sunshine of Your Love."
In the summer of 2003, Jack was diagnosed with liver cancer and in September that year, he had a liver transplant that almost proved fatal. In May 2005, he reunited with Clapton and Baker for a series of Cream concerts at London's Royal Albert Hall and New York's Madison Square Garden.
Jack's love of jazz and all forms of music also saw him play live with Gary Moore and drummer Gary Husband at the Dick Heckstall-Smith tribute concert in London. In 2007, he made a brief concert appearance, opening a new rehearsal hall named in his honor at the Royal Scottish Academy of Music and Drama.
In July 2008 as part of the Hippiefest Tour, Jack was supported by members of the late Who bassist's John Entwistle Band and he later headlined a tribute concert to "The Ox." Later that year, he recorded a concert in England with the BBC Big Band, at which they played big band arrangements of his classic songs. Along with guitarist Vernon Reid, drummer Cindy Blackman and organist John Medeski, Jack played a series of Blue Note Club tribute concerts to the Tony Williams Lifetime in Japan.
In 2009, Bruce performed at the 50th anniversary of Ronnie Scott's Club and the following year published an autobiography. In 2011, Jack became only the third recipient of the International Bassist Award, a lifetime achievement award for bassists, after Jaco Pastorius and Nathan Watts. Larry Hartke, co-founder of Hartke Systems, manufacturers of bass guitar amplifiers and speaker cabinets, presented the award. "Simply put, Jack Bruce is the reason I became interested in the bass," he said. "Jack changed the role of bass in music and made playing the instrument look like fun."
In 2011 the Lifetime Tribute Band, featuring Jack, Vernon Reid, Cindy Blackman, and John Medeski reformed to play ten shows in North America. They renamed themselves Spectrum Road, after a track on 1969's first Lifetime album Emergency, and recorded a new album.
2012 saw Bruce playing in Cuba, with guitarist Phil Manzanera, supporting the mambo band of Augusto Enriquez. In March 2014 Bruce released a new studio album Silver Rails, his first solo studio album in over a decade. It features contributions from Jack's longtime lyricist collaborator Pete Brown, Kip Hanrahan, and Jack's wife Margrit Seyffer, as well as Robin Trower, Cindy Blackman, Phil Manzanera, Uli Jon Roth, John Medeski, and Bernie Marsden. Bruce's son Malcolm Bruce pre-produced the album and played guitar on several tracks and Bruce's daughter Aruba Red was featured on "Hidden Cities," singing backing vocals. Jack's final studio album, the impressive Silver Rails, was released in 2014.
Jack Bruce's life was one of ups as well as downs, of fame beyond most of our wildest imagination. But his life was essentially one of playing music that he loved. He cannot be pigeonholed or typecast: such were his musical abilities that he could play just about any style of music he chose, and he chose to play many different styles.
He will be remembered for much, but for many, it will be that haunting voice that sings on the classic Cream recording.
In the white room with black curtains near the station
Blackroof country, no gold pavements, tired starlings
Silver horses ran down moonbeams in your dark eyes
Dawnlight smiles on you leaving, my contentment
I'll wait in this place where the sun never shines
Play it now, and remember Jack Bruce for the joy that he gave us.