Peter Frampton
The British singer-songwriter from Beckenham, Kent is known for his estimable solo career as well as performing with the talk box instrument.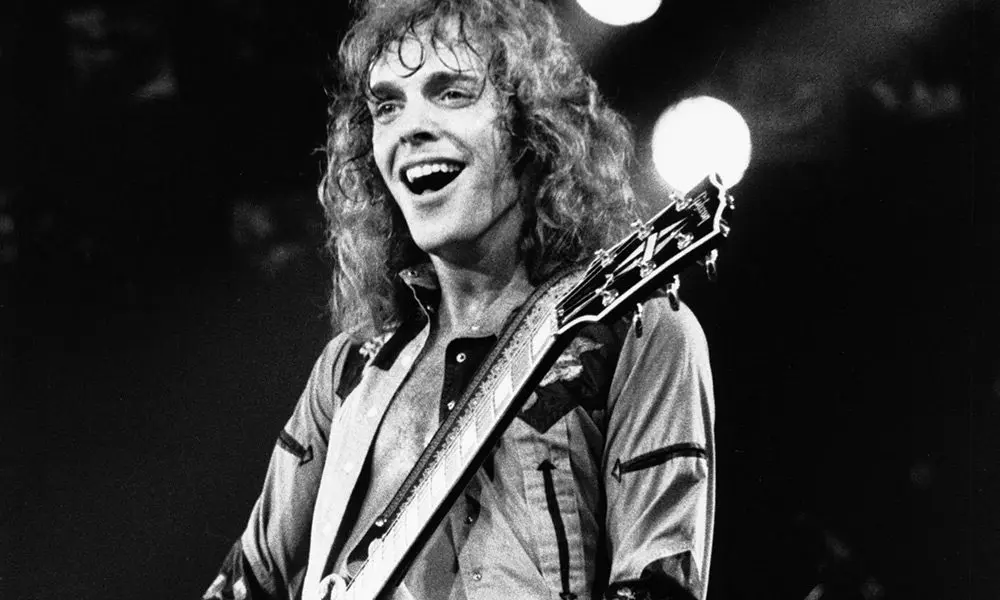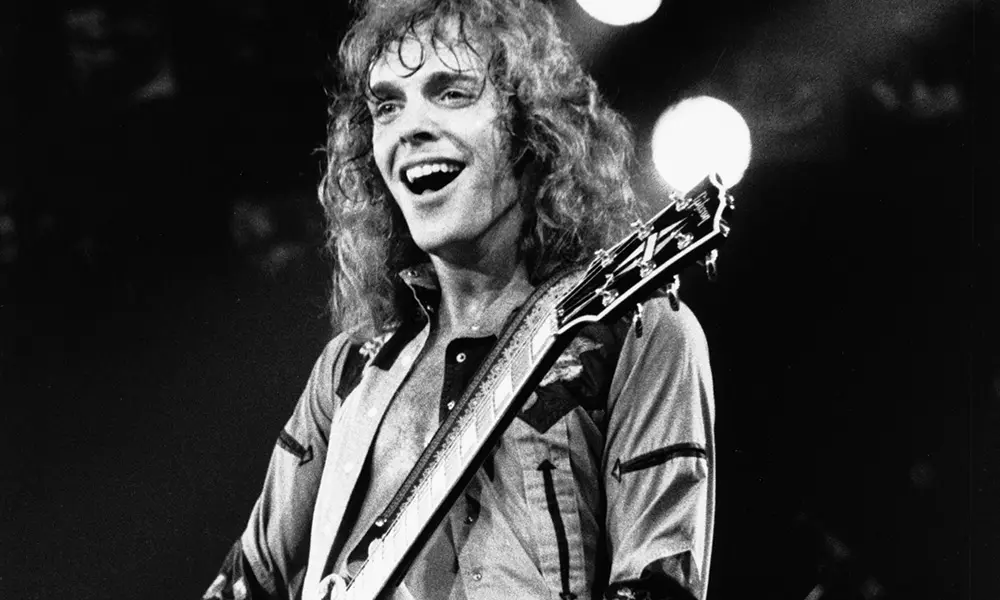 From the 'Face of '68'  to one of the biggest selling album artists of the 1970s via Humble Pie and his own solo albums, it was a journey that few would have predicted when Peter Frampton broke big as a member of the Herd, essentially a pop singles band. If he was 'just a pretty face' Peter would never have made it, but he was also a clever, skilful guitarist and a song-writer who knew his way around a good hook. Then there was the small matter of the 'Talk Box'. . .
Frampton is an accomplished songwriter, an innovative and distinctive guitarist, and a highly successful solo artist who has made 15 albums throughout the last five decades and is still playing live and recording today.
He was born in April 1950 in Beckenham, Kent and discovered music, in the shape of his grandmother's banjolele, at an early age. Thankfully he moved on to learn the piano and guitar and to take classical music lessons at age eight. By the time he was 12, he was in a band called The Little Ravens and attending Bromley Technical School alongside David Bowie with whom he apparently used to while away the lunch hours playing Buddy Holly songs. As was the norm in those days bands appeared and disappeared at a rapid rate and at various times Frampton was also a member of The Trubeats and a band called The Preachers. "We were sort of a jazz band, we played a sort of Mose Allison stuff. We had a sax, trumpet, drums, organ, bass, guitar. That was very exciting. Andy Bown saw me with The Preachers and asked me whether I'd like to join The Herd. I said 'Yeah', so I quit school and we sort of had a teenybopper success for a while."
With Andy Bown (keyboards), Gary Taylor (bass) and Andrew Steele (drums), and aided by Frampton's teen appeal – he was saddled with the tag "the face of '68" by Rave magazine – The Herd were indeed a successful 1960s pop group with three Top 20 singles – 'From The Underworld', 'Paradise Lost' and 'I Don't Want Our Loving To Die' – and an album also called Paradise Lost. The creative limitations that pop stardom imposed on him though made Frampton restless, and in October 1968, after sitting in on a Small Faces gig and striking up an immediate rapport with Steve Marriott, the two of them began hatching plans for a more interesting future.
Frampton left The Herd in April 1969 and that same month formed the 'supergroup' Humble Pie with Marriott on guitar and vocals, Jerry Shirley on drums and Greg Ridley on bass. This line-up made four acclaimed albums As Safe As Yesterday, Town And Country, Humble Pie and Rock On, none of which charted though and the band were beset by management and record company problems that hampered any lasting success despite having a No. 4 hit single early on with 'Natural Born Bugie'. There were also stylistic changes in the music. Marriott: "All through the first year I was really subduing all my instincts to play dirty rock'n'roll after all it was really Pete's band and I didn't want to tread on his toes. Then Dee Anthony (manager) gave us a good boot up the arse told us to cut out the acoustic stuff and play our balls off instead … all solid, loud and crunchy." A directive that eventually caused Frampton to quit in October 1971 and go it alone.
The following year Frampton emerged with a solo album, Wind Of Change, and formed a new band, Frampton's Camel, to tour it in the US -their first public appearance was at The Academy of Music, New York in September 1972 supporting The J Geils Band. With a fluctuating line-up, Frampton's Camel released their eponymous album in May 1973. Recorded at Electric Lady Studios in New York and definitely sounding more like a band album than a Peter Frampton solo record, Frampton's Camel failed to make an impression on the UK chart at the time and only managed No. 110 in the US. The two singles were taken from it – 'All Night Long' and 'Which Way The Wind Blows' were similarly fated. In retrospect, though it obviously deserved better and with the benefit of hindsight can be seen to be the solid, grounded stepping-off point for Frampton's subsequent success. His songwriting and guitar playing had matured giving him the confidence perhaps to step into the spotlight alone and assume star status. And this he did when Frampton's Camel was disbanded in November 1974 by which time he'd recorded and released the first of two moderately successful albums – Something's Happening (March 1974) and Frampton (March 1975).
But it was in April 1976, with the release of the very appropriately named double-live set Frampton Comes Alive!, that his career path took a decidedly upward trajectory. This album was a monster. With no appreciable chart profile to launch it, it was down to the five or more years of endless touring, building up a fanatical fan base, that paid off and made this album a huge hit. It was recorded mostly at The Winterland Ballroom in San Francisco and his elevation to superstardom was especially acute in the US where he was both rock idol and guitar god, and there Frampton Comes Alive! was a No. 1 album, stayed on the Billboard album chart for a total of 97 weeks and before too long had sold six million copies. In the UK it was a No. 6 chart album and its sales were further enhanced by the Top 10 single and future rock anthem 'Show Me The Way', which featured the famous and distinctive talk-box effect. Frampton was understandably elated, as he told Chris Charlesworth from Melody Maker: "It's the realisation that people do like my concerts and do like my songs that gets me. In one month things just seemed to go crazy … the album went up the charts at a hundred miles an hour. It's what I've been working for all this time but it amazes me that the people seem as glad as I am that it has happened this way. I get a genuine feeling that the people are pleased with my success because they know I've worked so hard."
As far as chart success was concerned Frampton Comes Alive! was the pinnacle of Frampton's career, although he has made many fine albums since and has continued to tour regularly. The remainder of his album output through the 1970s and 1980s included I'm In You, which was a Top 20 album here, Where I Should Be, Breaking All the Rules, The Art Of Control, Premonition and When All The Pieces Fit. In 1978 he was involved in a serious car crash in the Bahamas that laid him low for a while and interrupted his recording and touring schedule, and in 1980 further calamity ensued when all of his guitars were lost in a plane crash. Despite these setbacks and lack of high-profile commercial success however, he has remained a top concert draw. He has also recorded and appeared with other artists such as his old school friend David Bowie, and for a while, at the beginning of the 1990s, it looked as if he might team up again with Steve Marriott. The two played a gig together in London and recorded some songs in LA before Marriott returned to England and tragically died in a house fire.
Frampton Comes Alive II, with live versions of some of his more well-known 1980s and 1990s tracks, made an appearance in 1995 and another live album, Live in Detroit, was released in 2000. Fingerprints in 2006 was an instrumental departure that won him a Grammy and in 2010 he released his most recent album Thank You, Mr Churchill, and toured the US on the same bill as Yes.
Format:
UK English