Yes
The British progressive rock band founded by Jon Anderson, Chris Squire, Peter Banks, Tony Kaye, and Bill Bruford are beloved worldwide.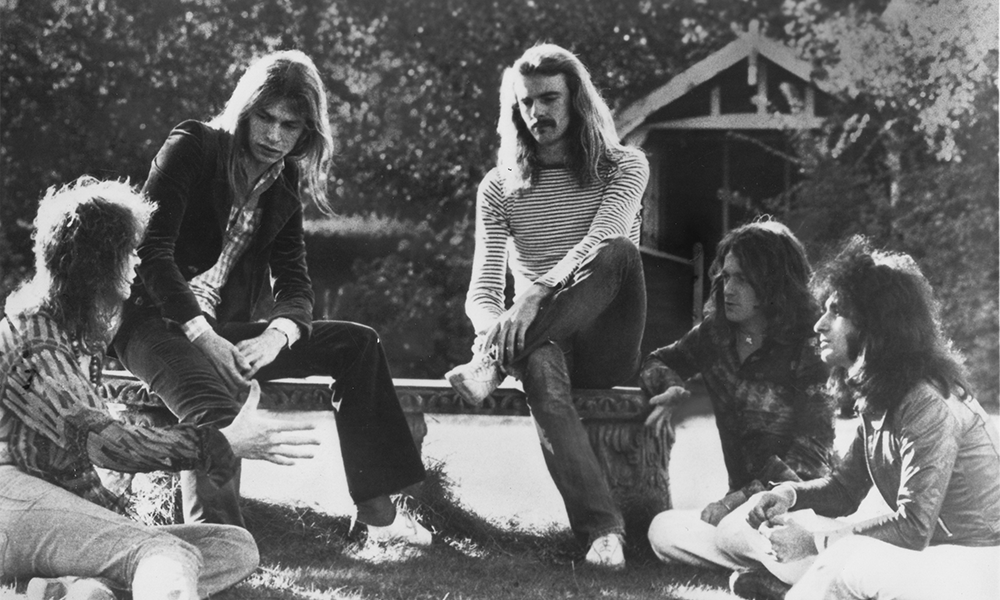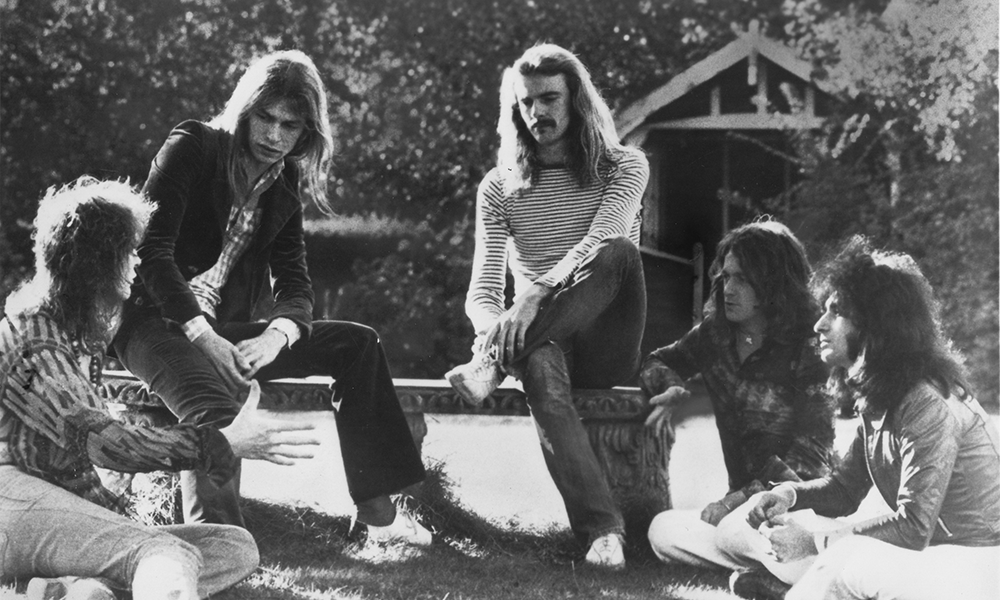 Still very much a going concern, the London-formed Yes are foremost architects of progressive and art rock, often with a symphonic twist. Renowned for their increasingly elaborate albums – the ambitious double, Tales From Topographic Oceans, being the icing on the cake – their music delighted fans and polarised critical opinion, with some feeling the group helped usher in the antidote styling of punk rock.
But for musical accomplishments, Yes albums are hard to fault. The virtuosity of vocalist Jon Anderson, guitarists Peter Baker and then Steve Howe, and the classically-trained keyboardists in their ranks – Rick Wakeman being the most famous – enabled the group to realise many flights of fancy, while their early albums provided great songwriting that translated into charismatic stagecraft. Key 70s outings such as The Yes Album and Fragile gave us the classics 'Yours Is No Disgrace', 'I've Seen All Good People' and 'Roundabout', while their version of Simon & Garfunkel's 'America', included on the intriguing 1972 sampler The New Age Of Atlantic, further widened the group's appeal.
Though fans can discuss the merits of subsequent line-ups, personnel changes didn't always dilute the Yes sound. The arrival of Buggles' Trevor Horn and Geoff Downes on Drama gave them a new wave cachet that culminated in the hit single 'Owner Of A Lonely Heart' – their only No.1 on the Billboard Hot 100. And in acknowledgement of the group's varied career, in 2017 they were belatedly inducted into the Rock And Roll Hall of Fame by Geddy Lee and Alex Lifeson of Rush.
Formed in London in 1968 by singer Jon Anderson and the late bassist Chris Squire, the original Yes stuck to a fairly traditional blues, rock and pop template, with attention to close harmony. The arrival of drummer Bill Bruford and ace guitarist Peter Banks meant they soon built a word-of-mouth following in London's clubs, and they grabbed the support slot at Cream's Farewell concert at the Royal Albert Hall.
That experience, and the arrival of game-changers King Crimson, prompted a change of tack as Yes realised the progressive rock scene was about to explode. Signed to Atlantic, the group released their self-titled debut album in summer 1969, mixing covers of The Beatles' 'Every Little Thing', The Byrds' 'I See You' and Stephen Stills' 'Everydays' (which belatedly appeared on the 2003 US remaster bonus disc) with strong in-house writing. At that time their sound was somewhat dominated by Tony Kaye's Hammond organ, and their follow-up, Time And A Word, retained that sonic approach with a new stage favourite, a cover of Richie Havens' 'No Opportunity Necessary, No Experience Needed', and the addition of orchestration – which led to Banks' departure.
The group's promise was fulfilled on The Yes Album, a huge commercial success produced by Eddie Offord, who became their go-to man. Now boasting a widely expanded repertoire – with guitarist Steve Howe to the fore – Yes reached a state of nirvana comparable to Crosby, Stills And Nash when they unveiled  'Yours Is No Disgrace', the 'Starship Trooper' suite and the John Lennon-inspired 'I've Seen All Good People'. From that moment on, Yes can be said to have arrived, and a concert performed at the London's Lyceum Theatre, during which Howe grabbed the chance to shine on 'Clap' went down in folklore.
The 1971 arrival of Rick Wakeman, following his groundbreaking sessions for David Bowie and Cat Stevens, and as part of Strawbs, enabled Yes to make a further quantum leap with Fragile, the album that broke the band in the US. The integration of Mellotron and Moog became part of their overall stamp, and Yes' technical virtuosity was admirable on 'Roundabout', 'South Side Of The Sky' and Anderson's mini-epic, 'Long Distance Runaround'. Also note the artwork by one Roger Dean, whose designs and logos soon became synonymous with the group's look.
Close To The Edge marked the end of this chapter, as Yes' tracks grew in length and scope. The title piece suite and the four-movement 'And You And I' had major girth but also plenty of melodic interest, while the spikier 'Siberian Khatru' became an influence on alt.rockers down the ages. The reviews were mostly hugely positive, enabling the live triple-album Yessongs to make further inroads into global markets.
At the height of their powers, Yes put out Tales From Topographic Oceans, whose concept alienated Wakeman, who thought it overblown. This set was all about excess, big and blowsy: pomp prog, in essence. Wakeman became so bored with playing it live in its entirety that he infamously ate curry on stage in Manchester while his bandmates played on. Even so, Tales… has been widely reappraised in prog circles and is available in a variety of formats today, so you can make up your own mind. Patrick Moraz replaced Wakeman for Relayer, an album with a sci-fi/comic book feel evidenced by the lengthy 'The Gates of Delirium'. You didn't hear this kind of thing on the pub-rock circuit.
Sensing a change in the air, Yes regrouped with Wakeman for the more accessible Going For The One, which contained the sweet ballad 'Turn Of The Century' and the hit 'Wonderous Stories', taking Yes to Top Of The Pops when it reached No.7 on the UK singles chart – their highest entry to date.
Tormato was another album that divided opinion, but the Yes fanbase were still on board and the accompanying tour was the group's biggest to date, including five shows at London's Wembley Arena. But just as the die-hard fans were coming to accept recent drummer Alan White, the group delivered the bombshell news that both Wakeman and Anderson were leaving.
The new Horn/Downes axis changed the band's approach from pure prog to artful new wave – albeit within an overblown, tongue-in-cheek setting. This made-over sound also saw Yes appearing in the teen pop press, which they sent up mercilessly while displaying an admirable sense of the absurd – something unlikely in the Anderson era.
Following the 1980 live album Yesshows, compiled from shows performed across 1976-78, the Horn-produced 90125 (1983) brought in a raft of new fans tempted by the synth-pop classic 'Owner Of A Lonely Heart"' The instrumental 'Cinema' was another gem and won the group their only Grammy, for Best Rock Instrumental Performance.
Anderson returned back for 1987's Big Generator, while multi-instrumentalist Trevor Rabin joined the ranks and Tony Kaye, puzzlingly, also returned with his Hammond. The resulting album was an eclectic mix, but it worked, since 'Love Will Find A Way', 'Rhythm Of Love', 'Shoot High Aim Low' and 'Final Eyes' were ideally suited to FM radio circa 1987.
Following a hiatus, the Anderson Bruford Wakeman Howe band (ABWH) and the other Yes members delivered Union, a project widely reviled by those who took part. More successful was Talk. Supertramp's Roger Hodgson, a committed Yes fan, contributed to the chart single 'Walls', while 'The Calling' was another mainstream radio smash.
Howe and Wakeman continued their on-off relationship by returning for the live Keys To Ascension, but Yes fanatics were more taken by the archival trawl through the BBC's tape library for Something's Coming: The BBC Recordings 1969-1970, on which the original band could be heard showing off their prowess for John Peel et al. It was a great nostalgia trip for early prog fanciers.
Keys To Ascension 2 offered more material featuring the last classic quintet before the arrival of keyboardist Billy Sherwood for Open Your Eyes, a return to purely song-driven concerns. They kept to that mandate for The Ladder, on which the line-up was boosted by Russian pianist Igor Khoroshev.
Symphonic progression marked 2001's Magnification, Anderson's final studio outing with the band. Thereafter, Yes releases have tended to be bespoke single concert or full tour live sets, though Fly From Here (2011) and Heaven & Earth (2014), produced by Trevor Horn and Roy Thomas Baker, respectively, garnered positive reviews that shook off the shackles imposed by those who thought Yes were a relic. Of those live releases, however, the monumental 14CD collection Progeny: Seven Shows from Seventy-Two (2015) stands out for documenting the Close To The Edge tour of 1972-73. (A highlights version was also available for those with shorter attention spans – and shallower pockets.)
Demand for Yes music doesn't abate. Often snubbed or derided by snobbery, Yes are an acquired taste, but one that's been acquired by millions. Theirs is no disgrace.
Format:
UK English