Van der Graaf Generator
The British progressive rock band from Manchester were founded by Peter Hammill and Chris Judge Smith.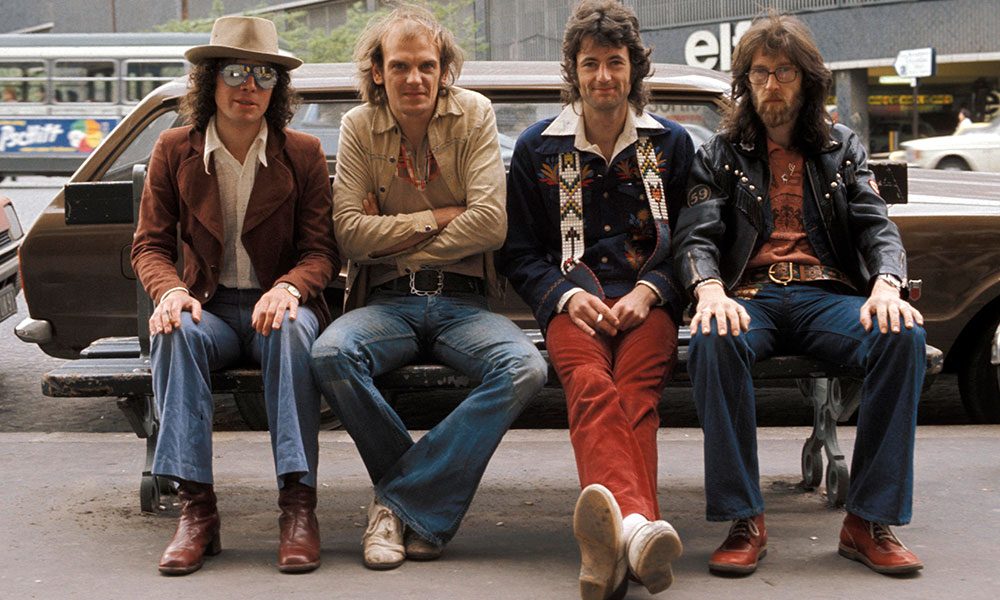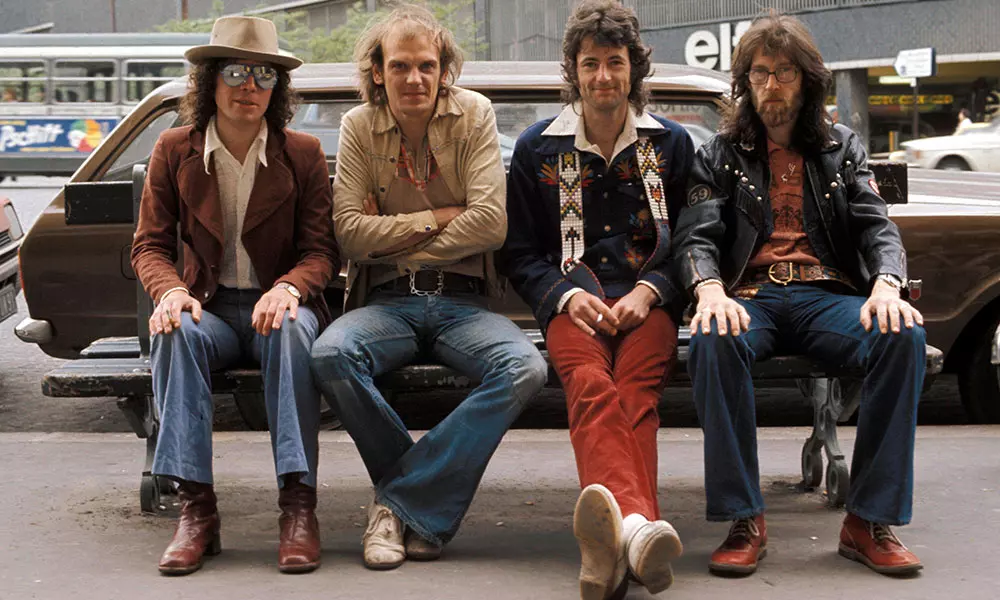 If you were a student in the latter part of the 60s there is every chance you might have been seen trotting around with your mates in a greatcoat or an Afghan, with hair down to your bum, proudly clutching a copy of the first Van Aer Graaf Generator album, The Aerosol Grey Machine. If you weren't just a weekend hippie, you'd have maintained the cult by snaffling up The Least We Can Do Is Wave To Each Other and the acknowledged classic H To He, Who Am The Only One. In short: you were "in".
Esoteric and arcane as these LPs sounded, they also thrilled with their musical virtuosity, Peter Hammill's lyrical idiosyncrasies, the dual horn attack of David Jackson, and the otherworldly grooves provided by the rhythmic dexterity of Guy Evans and Hugh Banton. Because of their links to the Charisma label, Van Der Graaf Generator appealed to the folk-meets-prog world of Genesis, Yes and King Crimson. But pigeonholing them there won't do any good. As committed fan Julian Cope has said, "Their music was like some Brechtian bar band – the opposite of prog rock, really."
Other notable fans include John Lydon, Graham Coxon, Marc Almond, Mark E. Smith and Bruce Dickinson. Perhaps VDGG's most celebrated devotee was David Bowie, who was not only fully aware of their output in the 60s and early 70s (both artists were Mercury labelmates for a brief moment) but most likely would have seen them play live during the height of the head and patchouli era, circa '68 to '71.
And yet the band never really got their dues in the UK, though they were always phenomenally popular in Italy and other European territories. Though they sound little like any of the so-called "krautrock" bands, VDGG does share the ethos of a Can or Kraftwerk, and it's worth pointing out that their epic 1971 outing, Pawn Hearts, contains a suite called 'A Plague Of Lighthouse Keepers' that predates Genesis' far more commercially successful The Lamb Lies Down On Broadway by three years. To that extent, Van Der Graaf are part of a scene, but always just apart from it.
So, unlikely to be inducted into halls of fame – or infamy – the group company have ploughed many furrows. Hammill has also been releasing solo albums at a terrific rate since 1971. Banton has often collaborated on those and also issued his own classical discs. Ditto Guy Evans, who also worked with legendary Californian exiles The Misunderstood in 1969, as did the late bassist/guitarist Nic Potter. Many weird strands spin-off a Van Ser Graaf Generator. Electric shocks await…
Generally considered to be the product of a chance meeting between Chris Judge Smith, fresh from a summer trip to San Francisco, and fellow Manchester University student Peter Hammill, Van Der Graaf Generator were lucky enough to catch the likes of Cream, Jimi Hendrix Experience, Pink Floyd and The Crazy World Of Arthur Brown – their closest forebears – when they passed through town. Impressed by Brown's outrageous theatricality, the group often performed as a duo with two female go-go dancers and a typewriter for percussion. Organist Nick Pearne would then join to strive for the desired Crazy World effect.
On a whim, the group sent an R&B- and jazz-influenced demo to Lou Reizner, the US head of Mercury Records, who offered them a contract (he would later fix David Bowie's Mercury deal). A visit to London linked the group to trainee BBC engineer and gifted organist Hugh Banton; one Tony Stratton-Smith would then add them to his roster.
A rapid crash course in the professional music business convinced the band members that they needed to up their game. They added guitarist Keith Ellis and drummer Guy Evans to their line-up before releasing their debut single, 'People You Were Going To'/'Firebrand', on Polydor in the New Year of 1969. A sarcastic put-down of doped contemporaries going off to find themselves, it was an auspicious event followed by disaster. Discrepancies in the group's Mercury/Polydor deal scuppered further recordings for the label and, despite supporting Hendrix at the Royal Albert Hall and making the acquaintance of John Peel, the group disbanded.
Hammill persevered, however, and hired his old friends as session musicians. Van Der Graaf's debut album, 1969's The Aerosol Grey Machine, was produced by John Anthony and was somewhat atypical of later releases, with a distinctly psychedelic edge underpinning Hammill's raw and energetic vocals on 'Giant Squid'.
While British buyers had to make do with import copies of Aerosol, Stratton-Smith ironed out contract difficulties in time for 1970s The Least We Can Do Is Wave To Each Other, on which new member David Jackson brought his Roland Kirk-inspired double horns (alto and tenor) to the forefront. The album coincided with the nascent prog-rock movement – spearheaded it, some might say – and sales figures were positive. It's still the only VDGG album to crack the Top 50 in the UK, though tracks such as 'Refugees', 'White Hammer' and 'Out Of My Book' became firm live favourites.
The strangely titled H To He, Who Am the Only One followed that same year and was promoted via the famous Six Bob Tour, which saw Van Der Graaf Generator headline over Lindisfarne and Genesis. Eschewing electric lead guitars for oscillators, various devices and pedals, and a strident avant-garde format, the band had established their future sound. With lyrics drawn from Hammill's science-fiction obsessions, political dystopia and general weirdness, the group tended to polarise opinion, though the stand-out song, 'Killer' (which owed a debt to The Move's juggernaut 'Brontosaurus') was an all-out classic.
Pawn Hearts (1971) was the group's final collaboration with producer John Anthony and is now seen as an early pinnacle. Long tracks and extreme musical experimentation were the order of the day: 'A Plague Of Lighthouse Keepers' was an extraordinary suite with guitarist Robert Fripp's cameo, multi-tracked collages, Mellotron, ARP synth and a bright production and engineering veneer that stands up well today and screams for rediscovery.
After a hiatus, the band reconvened for 1975's Godbluff, whose four cuts are considered to be among their best. Recorded, like the singer's 1975 solo album Nadir's Big Chance, at Rockfield Studios in Monmouthshire, Wales, Godbluff was the real signpost to the future, courtesy of Hammill's use of Hohner Clavinet D6 keyboard. More out there than ever on 'The Sleepwalkers' and 'Scorched Earth', it was apparent that VDGG weren't interested in any prevailing trend. The follow-up, 1976's Still Life, was equally challenging but can be renegotiated via the approachable melodies of 'My Room (Waiting For Wonderland)' and 'Childlike Faith In Childhood's End' – very British almost pastoral affairs.
Straddling 1976 and '77, World Record and The Quiet Zone/The Pleasure Dome changed the overall sonics of the band. Both had the potential to be more commercial than anything they'd done to date, but, even though the group had anticipated the new wave of the late 70s, the albums struggled to make headway. Released in 1978, live recording Vital, compiled by Guy Evans, was a sprawling double-album that closed out the group's Charisma deal. By now, the band were struggling financially and their much-vaunted democracy imploded.
With no new album in sight, 1982 saw the release of Time Vaults, a compilation of outtakes and rehearsals, before an even lengthier gap gave way to 1994 live collection Maida Vale, which focused on BBC sessions from the 70s.
It wasn't until 2005 that fans could get their teeth into new studio material when the classic quarter reunited – and were found on top form – for Present, which was followed by a successful, if fraught, reunion tour. Riding the wings of inspiration, Real Time (2007) and Trisector (2008) were both excellent, though the latter found the group recording as a trio (minus Jackson), while Hammill was as likely as ever to chuck in grunge rock spin and time-signature chicanery.
As so often happens if you stick to your guns, belated acclaim will follow. By the time of 2011's A Grounding In Numbers and the following year's ALT they were as obtuse as ever, but also rightfully recognised as pioneers. Repaying close examination, this latter-day period confirms VDGG's status as unlikely national treasures – the kind you might find buried at the back of the shop.
2015 live outing Merlin Atmos contains favourites such as 'A Plague Of Lighthouse Keepers' and 'Gog', and was swiftly followed by After The Flood: Van Der Graaf Generator At The BBC 1968-1977, covering their classic Charisma years. Both will be as cherished as No Not Disturb, which emerged in September 2016, alongside Hammill's declaration that it would be the band's final album.
One of the world's truly revolutionary groups, VDGG are an acquired taste that becomes an addiction. In some ways, they are the kind of band one can discover by sticking a pin anywhere in their discography, but you might try either of the 2000 collections, The Box or An Introduction: From The Least To The Quiet Zone, for an overview. And then go back to the beginning. Eventually, it all makes sense.
Words: Max Bell
Format:
UK English