'Here Comes The Sun': The Story Behind The Beatles' 'Abbey Road' Song
With George Harrison's songwriting blossoming during the 'Abbey Road' sessions, 'Here Comes The Sun' emerged as a standout song from the album.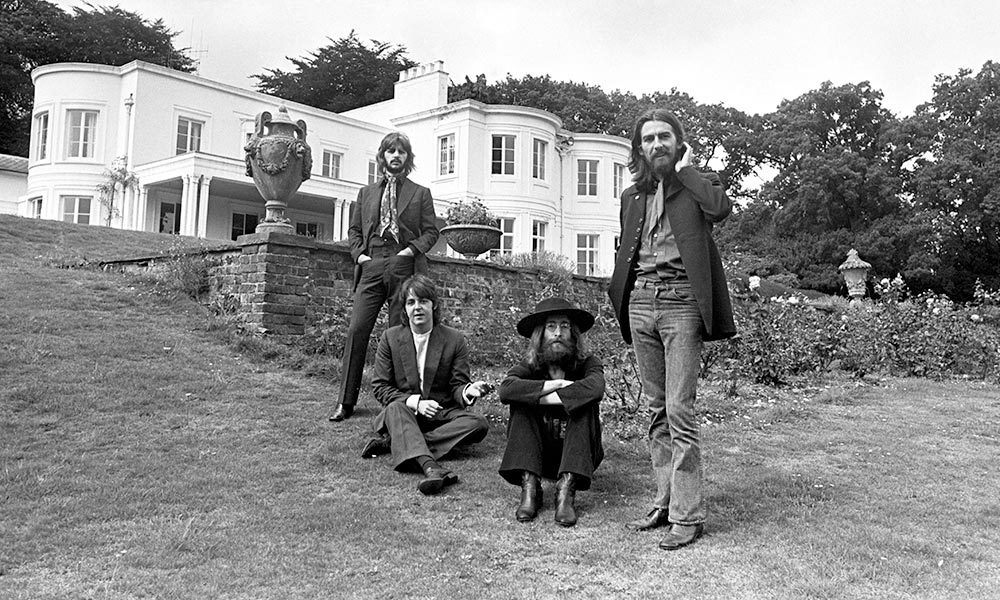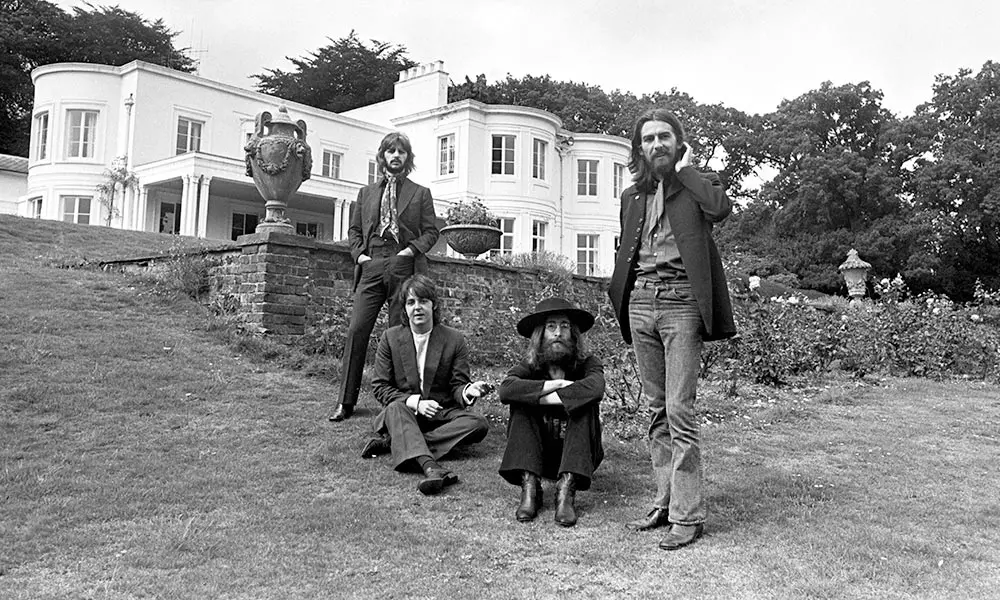 While George Harrison had been contributing songs to Beatles albums since 1963, he had long been in the shadow of Lennon and McCartney. By 1969, however, his compositions had reached such a standard that his two songs on Abbey Road ("Something'" and "Here Comes The Sun") were among the standout songs on that album. As George said in 1969, "I wasn't Lennon, or I wasn't McCartney. I was me. And the only reason I started to write songs was because I thought, 'Well, if they can write them, I can write them.'" But, given John and Paul's prolific output, it wasn't easy for George to find space for his songs on Beatles records.
The Beatles - Here Comes The Sun (2019 Mix)
A backlog of songs
As the finishing touches were being made to "The White Album" in October 1968, George was on his way to Los Angeles to continue work producing Jackie Lomax's album Is This What You Want? These sessions would see George heading up a crew that featured the cream of America's session musicians, and he appears to have relished the chance to take the lead in front of such a fine crop of talent. After the sessions were complete, George headed to Woodstock, in upstate New York, where he spent Thanksgiving with Bob Dylan and hung out with The Band, before returning to England in time to take up his duties as a Beatle once more.
By the time The Beatles regrouped at Twickenham film studios on January 2, 1969, George had a backlog of songs, including "All Things Must Pass" and "Isn't It A Pity," the latter dating back as far as the Revolver sessions in 1966. On that first morning at Twickenham, John and George played each other their latest songs. But while George enthusiastically pitched in to help on John's "Don't Let Me Down," when George tried to engage John on his song "Let It Down," John struggled with its chord structure, choosing instead to play some old Chuck Berry tunes. This was a theme that would recur throughout the "Get Back" sessions.
George's frustration
George's inability to get the group engaged on his new compositions would prove a source of frustration for the youngest Beatle. At one stage, George told John that he was thinking of making a solo record, by way of using up the songs he had accumulated – a venture John actively encouraged.
By the following Friday, January 10, George had had enough and declared that he was leaving the band. After such a positive experience in the US, George found the Twickenham sessions a step too far. As he recalled in Anthology, "I had spent the last few months of 1968 producing an album by Jackie Lomax and hanging out with Bob Dylan and The Band in Woodstock, having a great time. For me, to come back into the winter of discontent with The Beatles in Twickenham was very unhealthy and unhappy. But I can remember feeling quite optimistic about it. I thought, OK, it's the New Year and we have a new approach to recording. I think the first couple of days were OK, but it was soon quite apparent that it was just the same as it had been when we were last in the studio, and it was going to be painful again."
Though George returned to the fold when sessions moved to Apple Studios on January 21, he no longer pushed for any of his songs to be included in the eventual live show the group would perform on the roof of their building (the legendary "rooftop concert").
The origin of 'Here Comes The Sun'
In April, George absented himself from an Apple meeting, choosing instead to head 20 miles south to his friend Eric Clapton's house in Ewhurst, Surrey. And it was while relaxing with Eric in the garden that the seeds of "Here Comes The Sun" were planted. As George recalled in his autobiography, I Me Mine: "'Here Comes The Sun' was written at the time when Apple was getting like school, where we had to go and be businessmen: 'sign this' and 'sign that.' Anyway, it seems as if winter in England goes on forever, by the time spring comes you really deserve it. So one day I decided I was going to sag off Apple and I went over to Eric Clapton's house. The relief of not having to go see all those dopey accountants was wonderful, and I walked around the garden with one of Eric's acoustic guitars and wrote 'Here Comes The Sun.'" George completed the song while holidaying in Sardinia, returning just two weeks before work began on the song at EMI's studios on Abbey Road on July 7 – Ringo's 29th birthday.
"Here Comes The Sun" was the last song that George would present to the group, though John was absent for its recording, having been hospitalized by a car crash in Scotland. The song bore a number of influences. George explained: "It was a bit like 'If I Needed Someone,' you know, the basic riff going through it, you know all those 'Bells Of Rhymney' Byrds type things. So, that's how I see it, anyway. It's quite vintage."
John saw a much older influence, commenting in 1969: "It reminds me of Buddy Holly, in a way. This song is just the way he's progressing, you know. He's writing all kinds of songs and once the door opens, the floodgates open." George's love of Indian music was another influence – particularly with the complex timing of the instrumental passage at the end of each chorus. "He said, 'Oh, I've got this song. It's like seven-and-a-half time.'" Ringo recalled in Martin Scorsese's Living In The Material World. "'Yeah, so?' You know, he might as well have talked to me in Arabic, you know what I mean? I had to find some way that I could physically do it and do it every time so it came off on time. That's one of those Indian tricks."
Here Comes The Sun (Take 9)
Final touches
With George on acoustic guitar – a capo on the seventh fret – Paul on bass, and Ringo on drums, the 13th take (or take 12 and a half, as it was superstitiously declared) on that July 7 session was the keeper, onto which a number of overdubs would be added over the next six weeks or so: extra drum fills from Ringo and more guitar parts from George, plus an intricate handclaps rhythm were added over the next few days, along with George's lead vocal and backing vocals from George and Paul. A harmonium was added, before being recorded over by a nine-piece string section, while the work of eight woodwind players was largely erased by an unwieldy new instrument that George had brought into the studio.
Robert Moog's synthesizer had been increasing in popularity among those in the know in the pop world since its demonstration at the 1967 Monterey International Pop Festival, and George had ordered one after coming across the instrument while recording Jackie Lomax in LA back in late 1968. "I had to have mine made specially, because Mr. Moog had only just invented it. It was enormous, with hundreds of jack plugs and two keyboards," he recalled. "But it was one thing having one, and another trying to make it work. There wasn't an instruction manual, and even if there had been it would probably have been a couple of thousand pages long. I don't think even Mr. Moog knew how to get music out of it; it was more of a technical thing. When you listen to the sounds on songs like 'Here Comes The Sun,' it does do some good things, but they're all very kind of infant sounds."
All that was left now was to mix the song, and the final touch was added at this stage, with the tape being played slightly fast to increase the pitch of the song by roughly a quarter of a tone – as anybody who has ever tried to play along with the record will have discovered.
The 50th-anniversary editions of Abbey Road can be bought here.