'Bloodletting': How Concrete Blonde's Breakout Brought Darkness To The Mainstream
Released in May 1990, Concrete Blonde's 'Bloodletting' was an oasis to those dying for a drop of something deep, dark, and rich.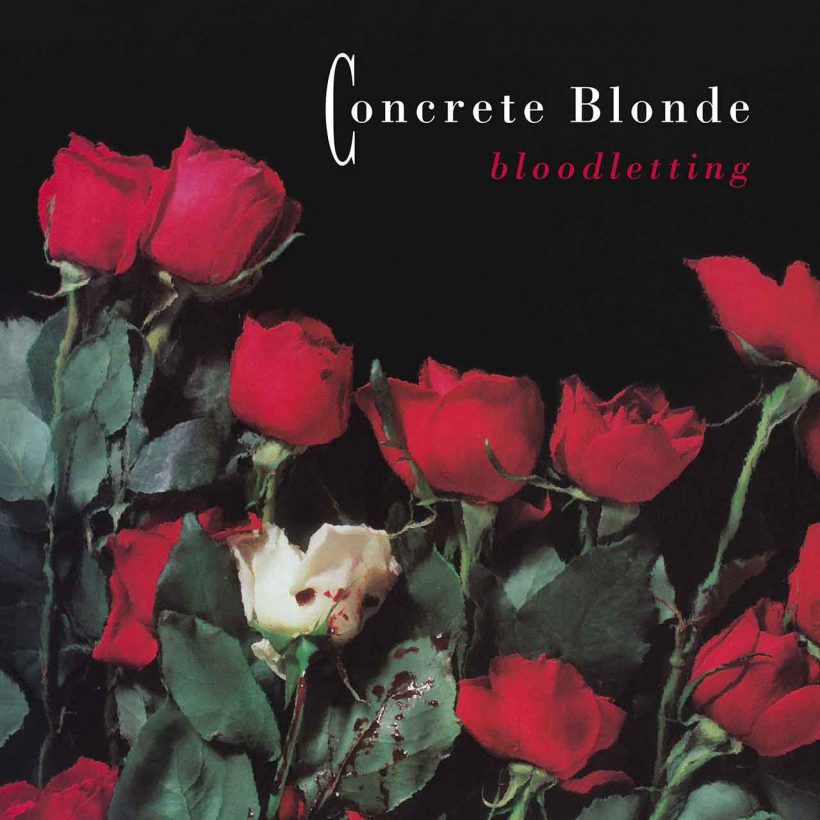 The time between the end of the 80s alt-rock boom and the ascendance of Nirvana was damn near Dickensian in its bleakness. Sure, there were plenty of underground delights to dig up, but the majority of the mainstream airwaves was hardly inspiring. Every once in a while, though, a surprisingly succulent tune would break through the arid wasteland and momentarily make things seem alright. Concrete Blonde's "Joey" was one of those songs.
Listen to Bloodletting on Apple Music and Spotify.
Concrete Blonde had already been kicking around for a good while by the time Bloodletting was released on May 15, 1990. They put out their first single in 1982, their self-titled debut LP in 1986, and the follow-up, Free, three years later. They already had a basic template in place by the time they set to work on their third album. With Johnette Napolitano on vocals and bass and former Sparks bassist James Mankey on guitar, plus a succession of drummers, Concrete Blonde cooked up a sweetly sulfurous blend of goth, punk, and alternative rock, shot through with Napolitano's knack for indelible hooks.
A mystery to the mainstream
The LA-based band's first two albums made a little noise in the alt.rock realm but Concrete Blonde was still a mystery to the mainstream. That all changed when "Joey" was released as a single. It's almost tempting to call the tune a power ballad, but the haunting track is miles away from the stadium-rock that label sometimes implies. It's a tattered-but-tough torch song with a timeless melody that could have come from 1960 as easily as 1990, with Napolitano slipping seamlessly from a bittersweet murmur to a mournful wail in all her full-throated, heart-on-sleeve glory.
Concrete Blonde - Joey (Official Video)
The song became a bona fide pop hit, lodging itself in the Top 20 and hurtling Concrete Blonde into the national spotlight. Some credit for this accomplishment should go to producer Chris Tsangarides, who gave the band just enough sheen to stand out without sacrificing any of their edginess. Tsangarides is best known as a metal producer, but he'd become conversant with the alternative world through work with the likes of Killing Joke and Lords of the New Church.
There's a lot more to Bloodletting than the big single. The album-opening title track (subtitled "The Vampire Song") for instance. Its foreboding goth-blues riffing, necromantic lyrics, and gang-vocal chorus make it as memorable as its hit-bound sibling, albeit in a completely different way. Meanwhile, R.E.M.'s Peter Buck lends his mandolin to the wonderfully witchy, "Darkening of the Light.
The alt-goth answer to Stevie Nicks
A predator darting across the Serengeti might recognize a kindred spirit in "The Sky Is a Poisonous Garden," in terms of both pace and incision. It's Bloodletting's strongest link to the band's earlier punky sound, but it also sets up the album's opening hat trick by leading into the moody mists of "Caroline." The latter is a dreamy ghost story with a film noir feel, positioning Napolitano as the alt-goth answer to Stevie Nicks.
Napolitano digs in on a more visceral level too. In the imaginary museum of alt.rock history, her riff on "Days and Days" ranks right up alongside "Blood and Roses" by The Smithereens and "Cannonball" by The Breeders as an indelible opening bass lick.
Concrete Blonde - Caroline
Those who had never heard Concrete Blonde's breakthrough track will have to retrieve their jaws from the floor upon encountering it here for the first time, tucked discreetly away in the penultimate slot on Bloodletting.
But at least it might have prepped you for the tragic beauty of the closer, "Tomorrow, Wendy." Written by Wall of Voodoo's Andy Prieboy, it's a bit of tragic beauty from the height of the AIDS crisis, lamenting a victim's imminent passing.
Just three months after Bloodletting's release, Concrete Blonde covered a song from Leonard Cohen's landmark I'm Your Man album, scoring a hit with "Everybody Knows" from the soundtrack of Pump Up the Volume. But by that point, Bloodletting had already proven the band's ability to shine up the darkness a little and make people love it.