R.E.M.
R.E.M. were one of the most influential and beloved rock bands of the last 40 years, comprised of Michael Stipe, Bill Berry, Peter Buck, and Mike Mills.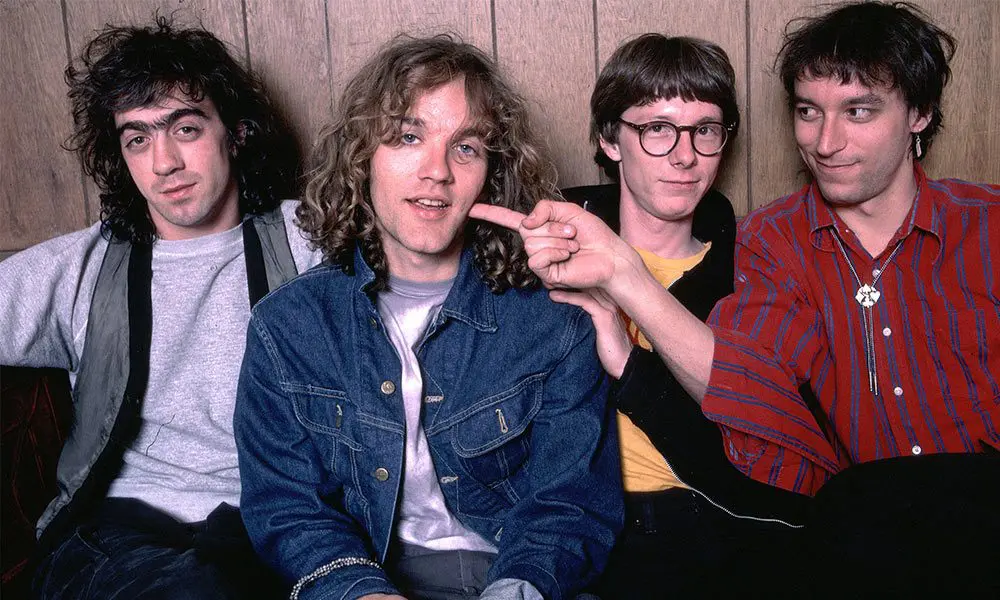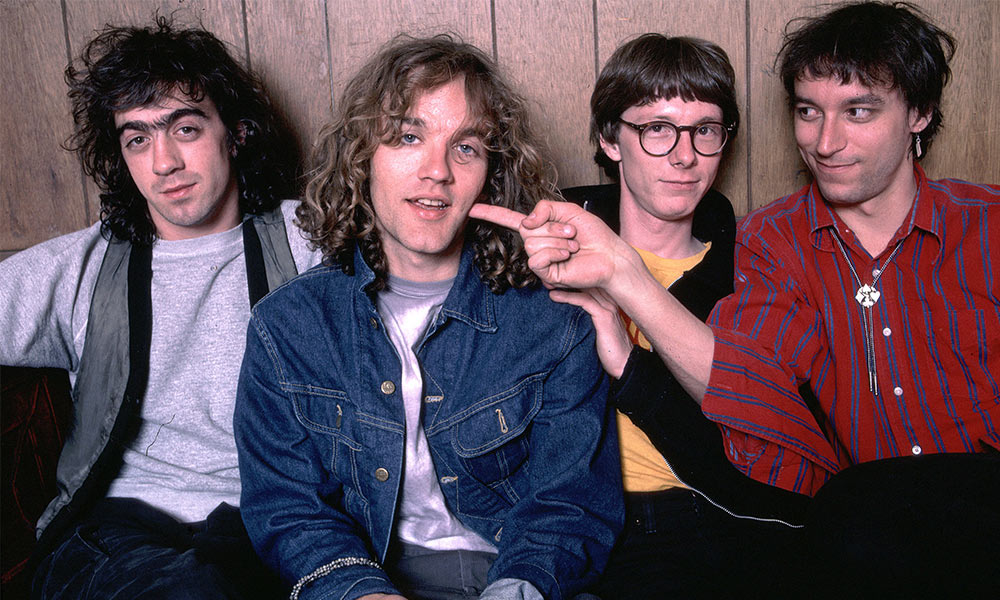 The story of how a band of young hopefuls with independent aspirations and a shared love for American – specifically New York City – new wave/punk ended up putting up the college town of Athens, Georgia, on the musical map is pretty much the definitive tale of third-phase rock music enthusiasts. To begin with, R.E.M. locked into place as a quartet and grew up in the studio and on stage with such passion and élan that they swept their generation along with them. Like kindred spirits U2 in Dublin, they succeeded in elevating the alternative into a credible strain of mainstream without compromising too many ideals or alienating their fan base.
Since their formation in 1980, the band has sold in excess of 85 million albums, enjoyed countless Top 10 singles and thrilled crowds on stage. From small-town origins they would end up inducted into the Rock And Roll Hall Of Fame in 1987 and then announced an amicable split in 2011, though each member has – and always did – pursue other activities beyond the integral band of brothers. Along the way they have developed various strains of music, incorporating jangly Byrdsian melodies into more contemporary sounds. They've never shied from technology, or avoided prevailing trends if it suited their modus operandi; but nor have they slavishly followed fashion. R.E.M. set out quietly to begin with and then dragged the music business round to their way of thinking. Political activism has always been within their compass too, and Michael Stipe has insisted on a liberal and politically correct outlook. A supporter of PETA (not all the band fall into line all the time), Stipe has also pushed for democratic causes, while the entire group worked on behalf of the Freedom Campaign in Burma. Since they have acquired wealth and fame along the way, these causes have sometimes drawn flak from the press, but their power to raise awareness on certain issues seems genuine, and they have done more than most to preserve local landmarks in the historic parts of Athens, GA.
From humble enough beginnings a band is born. Michael Stipe and guitarist Peter Buck met in a local record store where they found they shared a love for the 70s pioneers such as Television and Patti Smith, and The Velvet Underground before them: a natural lineage that necessarily embraces strands of classic rock music while seeking to adapt to the times.
Mike Mills and Bill Berry, who would form the rhythm section, were enlisted from the local University Of Georgia. They rapidly became celebrities in the locale (not always to the pleasure of other bands) and cut their teeth with solid touring throughout the southern states. The group's debut single, 'Radio Free Europe', cut at producer Mitch Easter's Drive-In Studios in Winston-Salem, North Carolina, was a classic beginning that was voted one of the 10 best singles of the year in the New York Times.
R.E.M. threw another curveball with the Chronic Town EP, in late 1981, and were picked up by IRS Records, who acquired the band's demos and gave them a professional setting for the forthcoming years. We are delighted to say that their classic early albums are available here.
Avoiding too many of the tropes and clichés of classic rock bands, they convened to record Murmur in 1983 with Easter and partner Don Dixon perfecting the jangly pop sound of the era on a classic set that included a cover of the Velvets' 'There She Goes Again' (on the IRS Vintage Series edition of the album), as well as out-and-out landmark R.E.M.. tracks such as 'Talk About The Passion'. Exploring avant-pop and art-rock with a flair unmatched by many outside of, say, Talking Heads, R.E.M. wowed the scene. Stipe's semi-mumbled and deeply mixed, often incoherent lyrics, only added to their mystique, while Buck's guitar prowess was evident even as the group fought against giving their audience the bleeding obvious. Murmur was a five-star beginning and sold well enough to make the No.36 slot in the US while becoming a cult artefact elsewhere. The re-recorded 'Radio Free Europe' single arrived with a slightly cleaner sound and did well in the UK, but what followed set R.E.M. on the path to stardom.
1984's Reckoning found the band writing and recording with prodigious energy. With Stipe, Mills and Berry hitting on a tasty harmonised central core, and Buck leaping off on tangents on occasion, this album contains such essential pieces as 'Harbourcoat', the enigmatic 'So. Central Rain (I'm Sorry)' and the much-loved 'Don't Go Back to Rockville'. Look out for the IRS Vintage Years edition of the album for a cracking live-in-the-studio 'Pretty Persuasion', and check out the 2009 Deluxe Edition bonus disc (Live At The Aragon Ballroom, Chicago, July 7, 1984) to hear the band in their early pomp.
Fables of the Reconstruction, a conceptual album concerned with the exploration of the US South's rich mythology and gothic landscape, was recorded with Joe Boyd in London. Moving their sound away from the full-on jangle of before, R.E.M. began to utilise strings, brass and a wider range of guitar sounds. Even so, the layered, acoustic bedrock of 'Driver 8', 'Can't Get There From Here' and 'Wendell Gee' mark this out as vintage R.E.M. The Athens Demos bonus, available on the 25th-anniversary edition, contains three different songs and some subtle variations. Inroads were being made, as the album went gold soon after its release – yet there's still a feeling that the band's first three albums have been missed by many who picked up on the commercial breakthrough years post-1987, and we'd direct you towards them without demur. They each deserve rediscovery because they're remarkable works.
1986's Lifes Rich Pageant was produced by Don Gehman, an old-school control man; it's undoubtedly another essential disc and still one that has slipped through many a net. Once again, the IRS Vintage Years and the 25th-anniversary editions are recommended, but even without those, the core brilliance of 'The Flowers Of Guatemala' and the dense 'Begin The Begin' are durable and lovely. Gehman succeeded in liberating Stipe and company from the dense sonic undergrowth of their previous albums. and while the new-in-your-face production was a shock. it hasn't diminished the album over time.
On the following year's Document, the band finally made major headway. Now established as a critically favoured entity, the reviews for the album were so ecstatic that something had to give – and it did, as R.E.M. cracked the US Top 10 and beat a path towards commercial supremacy with a slew of ever more classic songs, from 'Finest Worksong' and 'The One I Love' to the sure-fire festival singalong 'It's the End of the World as We Know It (And I Feel Fine)'. This latter functioned as a clever update of a Bob Dylan protest song such as 'Subterranean Homesick Blues' – though a younger fan wouldn't need to get the reference in order to feel the thrill and power of the track.
Despite leaving IRS after their contract expired, R.E.M.'s move to Warner Bros didn't see them change their principles. Their next album, Green, recorded in Nashville, teamed them with producer Scott Litt, a noted power-pop expert who had worked with Chris Stamey's The dB's, Matthew Sweet and Beat Rodeo. Litt had already worked closely with the R.E.M. on pre-production for Document, resulting in an atypical disc. For Green, it was decided to, if not throw the rulebook away completely, give it a kick up the rear. The results were eclectic – some said "experimental". Certainly, Green was lyrically challenging, with stand-out tracks such as 'Orange Crush' referring to the chemical defoliant used in the Vietnam War, while 'Stand' was an attempt to create a modern bubblegum pop song – ie, something both inane and absurdly catchy. The band continued to slip out fine covers on the single B-sides: Suicide's 'Ghost Rider' and Syd Barrett's 'Dark Globe' were typically audacious flips for 'Orange Crush', while 'Get Up' was backed with a quirky take on the David Bowie/Iggy Pop song 'Funtime'.
Just as Green eventually hit global platinum status so Out Of Time continued to up the ante, promoting R.E.M. from world's biggest cult act into global superstars, though it still managed to land three Grammy Awards in 1992, including one for Best Alternative Music Album. However, "alternative" was stretching it by now: Out Of Time topped the UK and US charts, and began a period of uninterrupted chart domination across Europe to boot. It almost seems like a greatest hits collection: consider the inclusion of 'Radio Song', the epic 'Losing My Religion' (which Stipe compared to The Police's 'Every Breath You Take', if only for the obsessive-compulsive nature of the lyric). The lovely 'Near Wild Heaven' could have appeared on any of the earlier albums, but it was the anthemic 'Shiny Happy People' that proved to be the charm. The band's increased clout was evidenced by the number of studios used (with mixing accomplished at Prince's Paisley Park) and the cast of guests – among them, Kate Person of The B-52's duetting on 'Shiny Happy People', KRS-One adding some hip-hop thrust in 'Radio Song', and friends such as John Keane and Peter Holsapple helping keep the sound on a cool pop tip.
Now firmly established as US rock royalty, in Autumn 1992 R.E.M. would unleash the album many count as their defining moment. The legendary Automatic For The People stood alone at a time when many of the other great alternative acts had packed up, filling any void with the likes of 'Drive' (referencing both David Essex's 'Rock On' and any of Queen's stop-start stadium fillers), the Andy Kaufman homage 'Man On The Moon', the oblique 'The Sidewinder Sleeps Tonight' and the deliberately heavy angst of 'Everybody Hurts', a song that managed to appeal to woebegone adolescents and wannabe-young-again oldsters, with John Paul Jones' orchestral arrangement increasing the emotional overload.
Whatever the formulae, they were all working: sales off the scale, constant airplay, non-stop five-star reviews, bigger and bigger live shows (once the group resumed road work). Not too shabby when one considers the album was conceived during a dark time and dealt with genuinely traumatic reflections on suicide, mortality and the harsh fact that everyone is going to reach the finishing line at some point. Yet more perplexing than Automatic… was 1994's aptly named Monster, which had plenty of density, though it returned to a more formal band structure. Introduced via the single 'What's The Frequency, Kenneth?' (a song that may have the oddest title in rock history – at least insofar as commercial success goes), its best bits arguably lie in the margins: 'King Of Comedy' and 'I Don't Sleep, I Dream', on which Stipe appears to be addressing the nature of galloping celebrity and that tricky relationship between stars and fans.
1996's New Adventures In Hi-Fi was partly recorded during the Monster tour, and has an air of travelogue about the edges, with at least 10 different studio set-ups. This deliberately disruptive process didn't hinder the album's chart action, though. The poignant letter-never-sent song, 'E-Bow The Letter' (with Patti Smith adding a vocal), is distinctly offbeat, while 'Bittersweet Me' sounds like work in progress – though the single release contained a sterling version of Jimmy Webb's 'Wichita Lineman' as a B-side. In fact, the idiosyncrasy of New Adventures… adds to its longevity as a fan favourite: an album to be played on special occasions, or perhaps to bamboozle those only familiar with R.E.M.'s top-line hits.
Bill Berry had quit the year before 1998's Up was released (Joey Waronker now sat behind the kit), and Dublin-born producer Pat McCarthy was at the controls. In their continued attempt to maintain a level of difference, R.E.M. loaded Up with a few disorientating pieces, such as 'Daysleeper', one of many songs in the group's canon that reflects their name in some way or other, and the brilliantly gloomy 'Suspicion'. The Beach Boys-styled 'At My Most Beautiful' is the perfect antidote and is many fans' all-time favourite Stipe love song.
If Up sometimes felt like more of a downer, 2001's Reveal maintained the Beach Boys feel, nodded at Jimmy Webb again in 'All The Way To Reno (You're Gonna Be a Star)', and harked back their old sound in 'Imitation Of Life'. Possibly aware of shifting patterns in the outside rock world, R.E.M. bided their time before releasing 2004's Around the Sun, an album that reflects what happens when 40-something rock stars start to drift apart. There are plenty of virtues to be found ('Aftermath' and 'Leaving New York' are excellent), but the songwriting tides are starting to conflict.
To that end, the band made a concerted effort with 2008's Accelerate, taking a step back to examine their sonic core. A good job was accomplished with return-to-form numbers 'Man-Sized Wreath' and 'Supernatural Superserious', both of which have an element of send-up about them. Produced by Jacknife Lee, the sound was crisp and straightforward, and the group maintained a similar approach on 2011's Collapse Into Now, where they examine the peaks and troughs of a magnificent career in the knowledge that they are about to bow out – which they did while recording in Berlin's Meister Halle.
After nigh-on 30 years, R.E.M. left us with a fine goodbye; a lovely disc that sounds like a proper album at a time when, as Stipe himself asked in Interview magazine: "What does an album mean in the year 2011, especially to generations of people for whom the word 'album' is an archaic term?… This is what we do," he continued. "We put together and sequenced the strongest body of work that we could possibly come up within this moment in time and put it onto this record."
Among the many R.E.M. compilations on offer, Eponymous is a true gem that doesn't simply cash in on the familiar. Different mixes, the original Hib-Tone version of 'Radio Free Europe' and an alternate 'Gardening At Night', for instance, make it a must-have for completists. Meanwhile, The Best Of R.E.M. is a very handy précis containing 16 sparkling tracks, while R.E.M.: Singles Collected compiles all the A- and B-sides from 1983 to 1987. Their biggest-selling collection is, however, In Time: The Best Of R.E.M. 1988-2003 (check this for the bonus disc, Rarities And B-Sides), while lovers of the 7" single could hunt down the 7IN-83-88 box set. Then again, Complete Rarities: Warner Bros 1988-2011 offers a vast listen, and there are also Unplugged and live discs to pursue.
The group's early albums, with all their extra adornments, epitomise the charm and freshness of R.E.M. as they grew up in public, and before they became a radical sort of household name; the second phase, where stardom ensues, is equally gratifying.
But those early albums are where it all began, and constitute a terrific body of work. Talk about the passion…
Words: Max Bell
Format:
UK English