Don't Drink The Water: How The Environmental Movement Shaped Music
From protest songs to Greenpeace concerts, musicians have long helped push the environmental movement's cause, rallying for Mother Earth.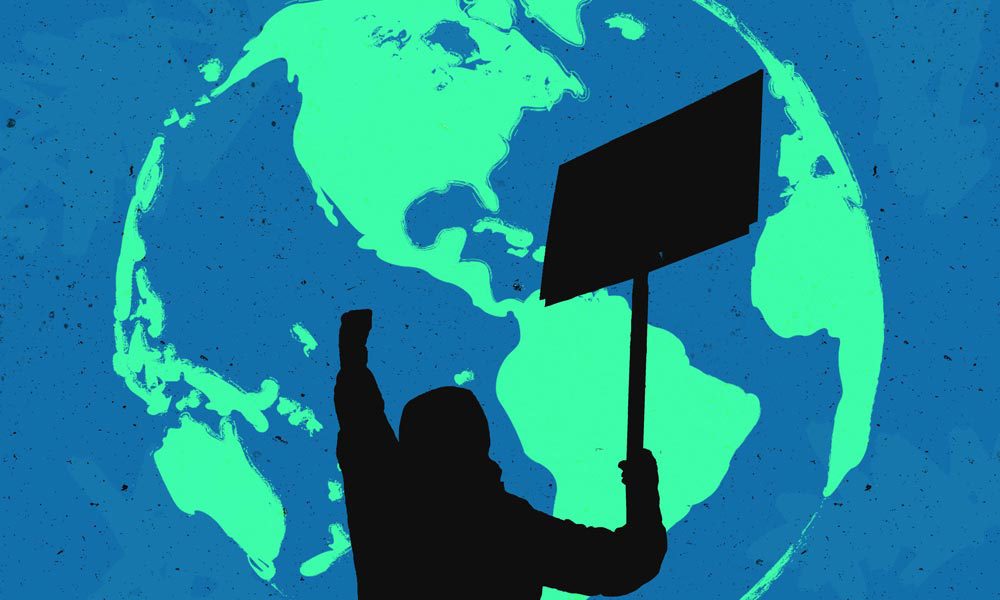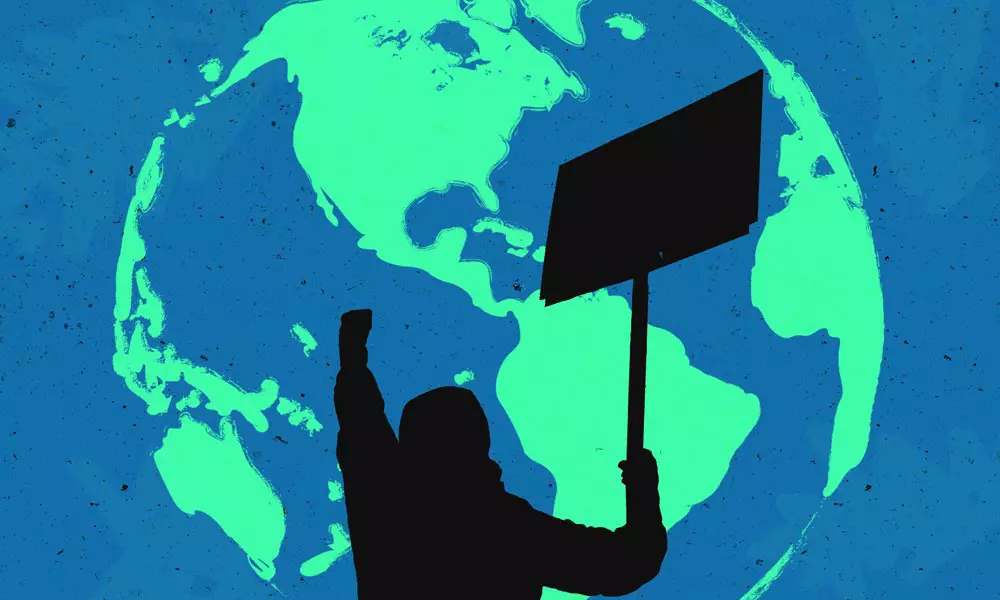 For as long as there's been concern about the environment, there have been notable songs about it, often tied to efforts by musicians to spearhead environmental activism. You could say that environmentalism even outweighs anti-war causes as the topical concern that popular music has been quickest to embrace.
Listen to the best Earth Day songs on Apple Music and Spotify.
The earliest environmental song predates Vietnam-era songs on the charts: "What Have They Done To The Rain," written by folk singer Malvina Reynolds in 1962 and a Top 40 hit by The Searchers two years later (Joan Baez recorded it in between; Marianne Faithfull included it on her 1965 debut album). As the first "no nukes" song, it was a somber track about nuclear fallout and its consequences – hardly an obvious chart entry in late 1964, when the first wave of Beatlemania was still underway, and folk-rock wasn't even a thing yet (The Byrds and electric Dylan were still a year away). But The Searchers' record was so lovely and haunting that it earned a place on the charts. Besides, anything from Liverpool had an advantage that year.
What Have They Done To The Rain
Timely words like "pollution" didn't figure in its lyrics, but the great satirist Tom Lehrer would get to that in 1965. Lehrer was all about busting taboos, and the song "Pollution" (from his landmark album That Was The Year That Was) was a calypso send-up offering words of advice to anyone visiting the US: "Don't drink the water and don't breathe the air."
The first Earth Day
The one event that brought environmental concerns most into focus was an oil spill in the Santa Barbara Channel in 1969, an environmental disaster that killed more than 10,000 sea creatures. What followed was a wave of campus activism that led to the first Earth Day, in 1970, bringing the movement to the mainstream. By now millions of Americans had become aware of environmental concerns, and it's worth remembering that the US government was friendlier to the cause than it is now. President Nixon was fairly committed, creating America's first Environmental Policy Act and symbolically planting a tree on the White House lawn. Before Watergate and Vietnam proved his undoing (and corporate connections undid some of his efforts), Nixon was on track to riding environmentalism as his cause.
As a result, there's an urgency to most environmental songs of the era and a sense that disaster can be averted if we act now. Marvin Gaye's "Mercy Mercy Me (The Ecology)" is probably the strongest song of the era. One of the key tracks from his classic What's Going On album, it's both a lament and a prayer, with the underlying sense that we might not have much time to get things right.
Joni Mitchell's first hit single, "Big Yellow Taxi," was a little more whimsical, but its warning that trees might wind up in museums didn't seem too far-fetched in 1970 (and still doesn't). At the time, the politically-minded Chicago came up with one of the angriest contributions to the cause, on the Chicago III track "Mother," about the fate of Mother Earth: "Our mother has been raped and left to die in disgrace." Even The Archies – yes, the bubblegum kids from the comic book and TV cartoon – had an album track called "Mr Factory," with a cartoon clip that featured surprisingly strong images of children wearing gas masks and fish jumping out of rivers – all right there on a Saturday morning kid's show.
Don't go near the water
By now, more names were taking up the cause. The Kinks' "Apeman" found an accented Ray Davies complaining that "the air pollution is a-fogging up my eyes" (at least, he officially said "fogging," but knowing Davies you can never be sure), while Tower Of Power brought funk to the table with "Only So Much Oil In The Ground" ("sooner or later, there won't be none around").
Spirit's psychedelic classic "Nature's Way" was written around the time of the first Earth Day, when the group were playing San Francisco and saw a wall of smog headed toward their hotel. Singer-guitarist Randy California meant the song partly as a warning and partly a retort to the San Franciscans who were pointing a finger at Spirit's native Los Angeles without cleaning up their own backyard.
One of the most environmentally aware bands spent a lot of time by the ocean. The Beach Boys wanted to see clean beaches and led several charitable drives over the years. Al Jardine was especially keen to make 1972's Surf's Up, an environmental concept album. It didn't get that far, but Mike Love and Jardine's "Don't Go Near the Water" and Brian Wilson's "A Day In The Life Of A Tree" both made strong statements. As recently as 1992, The Beach Boys were still crusading with the title track of the album Summer In Paradise – tellingly, the one non-vintage song that the latter-day Beach Boys still play at most shows.
Don't Go Near The Water (Remastered 2009)
A rising awareness
1970 was a banner year in one other way. It marked the founding of Greenpeace, which was born when a handful of protesters set sail off the Alaskan island of Amchitka, aiming to sabotage a nuclear test that was set to occur. The voyage was funded by a benefit concert organized in Vancouver by Joni Mitchell and Phil Ochs, the only time these two legends ever collaborated with Joan Baez (who couldn't make the show) and surprise guest James Taylor. Greenpeace became the name of the boat that was launched. Though the first voyage wasn't a success – they were turned back by the coast guard and the test went on – the resulting outcry caused a shutdown of the facility soon after, and a movement was born.
The Earth Day movement was coupled with a rising awareness in related issues, among them the fact that whales were becoming endangered. Musicians took that cause on as well, with Judy Collins leading the way. Her 1970 album, Whales & Nightingales, included a traditional whaling song, "Farewell To Tarwathie," on which the plaintive songs of humpback whales were the only accompaniment. The whales were sourced from a full album, Songs Of The Humpback Whale, which became a surprise bestseller that same year, and were even sampled by a few parties in the punk era later on.
Inveterate do-gooders David Crosby and Graham Nash wrote the most moving whale protest song, "To The Last Whale…," but credit should also go to Mountain's hard-rock classic "Nantucket Sleighride," which references an island legend of a harpooned whale dragging the ship out to sea.
What do punks and hippies have in common?
Saving the whales became a favorite cause among musicians in the late 70s, including Grateful Dead's Jerry Garcia, who raised $20,000 during a 1977 benefit show for Greenpeace efforts in San Francisco. Though there haven't been a lot of whale songs in recent years, musicians haven't lost their concern. In 2019, Bryan Adams made headlines by personally paddling out to the water off a Caribbean resort island, keeping hunters away from the whale they were after.
As the years went on and music got more polarised, environmentalism became one of the only things that punks and hippies had in common. There might not have been much musical similarity between Graham Nash's "Barrel Of Pain" and Dead Kennedys' "Cesspools In Eden," but the two songs were about the same thing. The tracklists of Greenpeace's two mid-80s compilation albums read like a roll call of socially conscious superstars of the time: Peter Gabriel, U2, Queen, George Harrison, R.E.M., and Midnight Oil, among others.
The last two bands also took things a step further – R.E.M. by titling their breakthrough hit album Green (which had a few intended meanings, environmentalism being one of them) and Midnight Oil for writing numerous hard-hitting songs about the planet, including the majority of their best album, Red Sails In The Sunset. A couple of years following that album's release, the band played a guerrilla concert outside Exxon's corporate headquarters in New York City to protest the Exxon Valdex oil spill and the company's tepid response to the disaster. A banner reading "Midnight Oil Makes You Dance, Exxon Oil Makes Us Sick" was unveiled around the time they closed the show with their one-off cover of John Lennon's "Instant Karma". Some at Exxon no doubt shuddered when Midnight Oil returned to active duty two years ago.
Putting ideas into action
Writing songs was one thing, but the 80s were a prime time for putting ideas into action. It wasn't just about splashy benefit shows, but about many smaller, grassroots efforts that added up. Remember when CDs came in longboxes that you immediately threw away? Those pieces of environmental waste got phased out fast, thanks to a number of big-name artists, like Prince, Sting, and R.E.M., who pressured their labels into using alternative packaging.
The indie label Rykodisc was the first to phase these boxes out altogether, convincing other important indies (like Rounder, Rhino, and SST) to follow suit. Finally, the big-selling children's artist Raffi put a no-longbox clause into his contract when he resigned with MCA, creating a domino effect and saving too many trees to count.
Other concerned artists have initiated their own environmental efforts. Good Vermonters that they are, Phish have done everything to keep their tours green, from sourcing food from local farms to using recycled cotton for T-shirts. Willie Nelson went so far as to launch his own brand of biodiesel fuel (who wouldn't use something called BioWillie?) while remaining one of the prime supporters of Live Aid. Coldplay and Dave Matthews have both insisted that their tours be carbon-neutral, while U2 remain one of Greenpeace's staunchest supporters. In 1992, the entire band put on radiation suits and waded into the freezing Irish Sea to protest the opening of a nuclear reactor, echoing the event that had started Greenpeace two decades earlier.
Heavy metal protest
Heavy metal was perfect for environmental protest music, since few metal bands ever met an apocalyptic vision they couldn't use. The list of environmental metal classics would include Black Sabbath's "Hole In The Sky" (one of the first songs to reference the depletion of the ozone layer), Metallica's furious "Blackened" and virtually everything by the French death metal band Gojira. Scottish band Godeater is leading a new drive to bring environmental issues into metal, not least because all four band members are vegan.
Given the mounting concern, it's surprising that it wasn't until 2007 that anyone staged a worldwide benefit concert to address climate change. That year's Live Earth show was nonetheless a landmark – if an imperfect one. The line-up was suitably star-heavy, the audience was massive and, for one weekend at least, global warming was on everybody's mind. The question of how much actually changed once Genesis, The Police, Madonna, and the rest had all played is a trickier aspect.
Festivals go green
A few cynical types, including Live Aid mastermind Bob Geldof, went on record saying that Live Earth was too little too late. One thing Live Earth did achieve, however, was throwing down a gauntlet. From then on, major festivals had no excuse but to up the environmental ante. Not that the folks at Bonnaroo ever needed any nudging, given the festival's roots in the hippie-friendly jam-band movement.
Bonnaroo may have branched out musically, but it can still claim to be the greenest of large-scale festivals. They were the first to go solar, the first to source water from local wells and one of the first to recycle a small city's worth of trash. Other festivals are now following suit. It was recently announced that Coachella will start selling recycled merch and reusable water bottles. With 250,000 people drinking any number of beverages over a weekend, that's a whole lot of phased-out plastic.
Fighting the good fight
Many of the 60s' rock activists are still fighting the good fight. Pink Floyd's David Gilmour made headlines in 2019 when he auctioned off his guitars – including the black 1969 Stratocaster that he played on all of the classic Floyd albums – and gave proceeds of $21 million to Europe's largest environmental law charity, ClientEarth. It's probably no coincidence that The Final Cut, the last Floyd album that Gilmour and Roger Waters made together, ended with "Two Suns In The Sunset."
Neil Young is also a one-man environmental crusade nowadays, beginning with the somber song "Mother Earth" on his otherwise upbeat 1990 album, Ragged Glory. Since then he's written a catalogue of environmental songs, from the concept album Greendale (whose heroine is a teenage climate protester) to "Green Is Blue" on his 2019 album, Colorado. His strongest shot, however, was the 2015 album The Monsanto Years, which released all the anger he'd stored up during his decades of Farm Aid involvement.
People Want To Hear About Love
The album points a finger at one specific corporation for its destructive effect on American farmers. Not surprisingly, it earned Young a good deal of blowback, much of it from Monsanto itself, and from Starbucks, who were also singled out in one tune. But Young stuck to his guns, following that with the live double-album Earth, one of the most unusual live albums ever, on which animal noises and other nature sounds replaced the audience in between and during the songs.
Today's crusaders
But environmentalism isn't reserved for Young's generation. Today's artists are apparently trying to outdo each other with eco-friendly tours, and both Tame Impala and The 1975 are looking to set a new standard for responsibility. Tame Impala is not only taking personal steps – from donating unused catering food and hotel toiletries to local shelters and using reusable water bottles – but also donating profits to organizations that fight greenhouse gases.
The 1975 have sourced a European fuel that will (along with the use of solar power) reduce the carbon footprint for their entire tour, and are planting one tree somewhere in the world for every ticket they sell. They also collaborated with environmental activist Greta Thunberg on their 2019 track "The 1975," which features a rallying monologue by the young activist.
There's no doubt that Thunberg will inspire, if not appear on, many more songs. As a fearless teenage woman who seems entirely capable of changing the world, she represents a lot of what both the hippies and the punks were dreaming of. Another artist who's dropped Thunberg's name wherever possible is fellow fearless teenager Billie Eilish, who endorsed Thunberg's climate strike last September and praised her in interviews for "leading the way" and "kicking people's asses." She was clearly an influence on Eilish's video for "All Good Girls Go To Hell," which proved that a clear point on climate change can be made in a surreal, artful manner. If you're wondering where all those decades of activism went, it provides one promising answer.
Billie Eilish - all the good girls go to hell (Official Music Video)