James Taylor
James Taylor is a singer-songwriter known for classic songs like Fire and Rain, and is one of the best-selling recording artists of all time.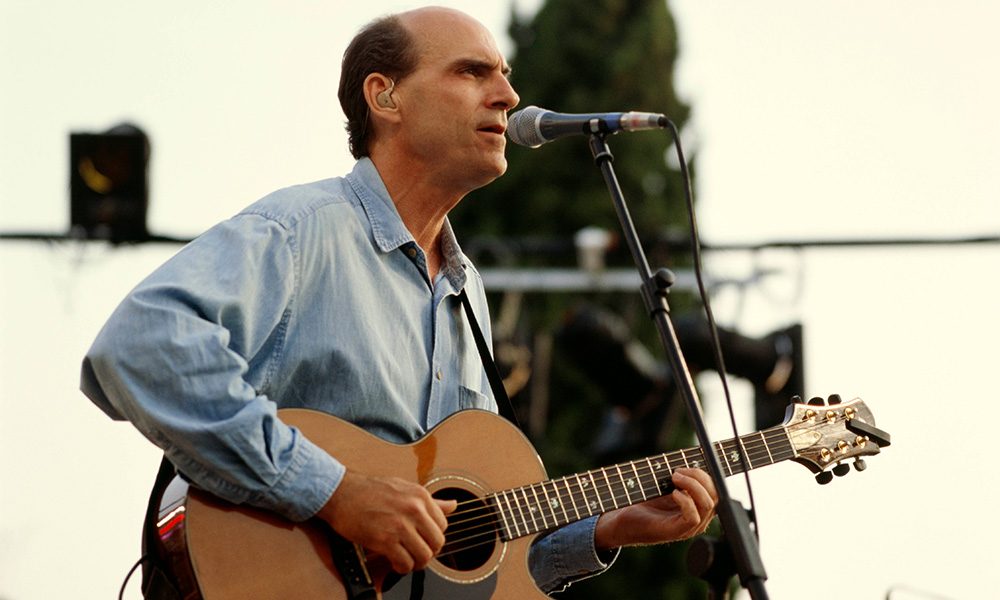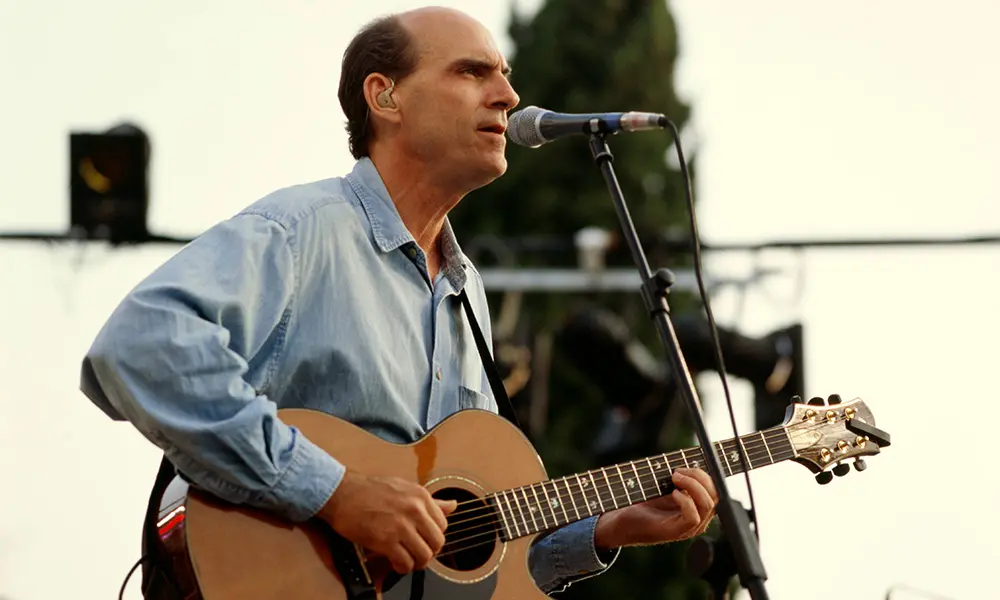 The American singer-songwriter James Taylor has been making beautiful music across six decades. Along with his great friend Carole King – his cover of her song "You've Got a Friend" is iconic – and one-time wife Carly Simon, Taylor established the bed-sit folk-blues. At the start of his career, when Apple A&R man cum talent scout Peter Asher – brother of Paul McCartney's then-girlfriend Jane Asher – pulled out the young American's demonstration tape and signed him to the label, that concept was an anachronism.
Apple thought sufficiently highly of their just turned 20-year old that they allowed him to become the first non-British artist to record for them and he was given studio time at Trident in Soho during off-peak moments when the big boys were also around, notably finalising "Hey Jude", "Dear Prudence", "Honey Pie", "Savoy Truffle" and "Martha My Dear" for The Beatles double (aka 'The White Album') that was released precisely two weeks before the self-titled James Taylor came out in a stunning gatefold sleeve depicting JT in a rough wool suit, sporting braces and a paisley tie and a pair of totally shot work boots. One advert for the album featured a smiling hippy chick under the slogan 'I'm looking forward to November 15th when I get James Taylor's new LP' (she must have got it a week before everyone else). The leadoff single, 'Carolina In My Mind' (Apple 32) was trailed on a Fresh From Apple leaflet: 'By special demand A Rush release on Apple'. All three bear the stamp of publicist and hype-master extraordinaire Derek Taylor (no relation) the esteemed press officer at Apple Corps' Baker Street HQ.
Despite the big build-up, his debut album was a critical favourite, but a commercial flop. Ironically, moving back to America Taylor hit a purple streak and five of his six albums for Warner Bros. Records were either Gold or Platinum, confirming him as one of the key players in the 1970s thanks to Sweet Baby James and Mud Slide Slim and the Blue Horizon. Always a huge live draw Taylor's reputation as a quality singer and writer enabled him to work with the very best West Coast players, members of Little Feat and The Eagles, as well as top jazz and funk specialists like Steve Gadd, Branford Marsalis and Michael Brecker: meanwhile fellow superstars such as Crosby, Stills and Nash, Joni Mitchell, Sting and friend Stevie Wonder appear on a regular basis.
He has won six Grammy Awards, is a Rock and Roll Hall of Fame and Songwriters Hall of Fame inductee, holds an Honorary Doctorate from the prestigious Berklee College of Music in Boston, and in 2012 he was named Chevalier de l'Ordre des Arts et des Lettres by the Ministry of Culture & Communication of France. He may be more tickled that in 2003 his home town recognised him twice: The Chapel Hill Museum in Chapel Hill, North Carolina opened a permanent exhibit dedicated to Taylor. At the same occasion the US-15-501 highway bridge over Morgan Creek, near the site of the Taylor family home and mentioned in Taylor's song "Copperline", was named in honour of Taylor.
James Vernon Taylor was born in Boston, Mass. In March 1948. The second of five children, Taylor's parents, his father a doctor and mother an operatic singer, brought them up in the rural Chapel Hill area of North Carolina where they enjoyed an idyllic childhood with holidays taken on Martha's Vineyard. Young James was an eager musical student who learnt cello and then guitar, practising his art on Woody Guthrie folk songs and joining sister Kate at the piano.
A formative friendship with guitarist Danny Kortchmar led to the two teenagers jamming on blues and folk together during which time it became clear that James owned a natural singing voice that stood the pair in good stead when as Jamie & Kootch they enthralled the coffee house circuit around the Vineyard.
Trouble was that Taylor suffered from acute depression and yet managed to cope with his struggles by realising his mood swings were an innate part of his personality. Following a successful period of hospitalisation, he moved to New York City and formed The Flying Machine with Danny but also fell into a spell of addiction. Still, he wrote to fair effect and perfected his acoustic technique in the Night Owl club in Greenwich Village before moving to London, living in Chelsea, Notting Hill and Belgravia during the latter part of 1967.
Kortchmar's relationship with Peter Asher, who he knew from time spent touring his own band The King Bees with Peter and Gordon, provided an invaluable entrée into the world of Apple. Paul McCartney heard Taylor's demos and invited him to the office to play his songs. Said Paul "I just heard his voice and his guitar and I thought he was great … and he came and played live, so it was just like, 'Wow, he's great.'"
"I had to come to London in 1968 to be recorded," Taylor told writer Paul Sexton recently. "For some reason, I couldn't get arrested in the States. My band had collapsed, and all of my prospects had dried up. When I came over to England, it was always somehow the cutting edge, and the music came. For them to actually say 'Sure, we'll record you,' and then to go onto Trident Studios [in St. Anne's Court, Soho] where they were making the White Album and be a fly on the wall listening back to all of those…it was just an amazing thing."
He recorded his self-titled debut July-October, 1968 with Peter Asher producing. McCartney suggested that the British arranger Richard Hewson be enlisted to provide orchestration and musical segues, unusual for the time. Although these were a stumbling block for certain US critics, who found the whole affair too English, though today it sounds ahead of the game. The sophistication of the Trident set-up made it the pre-eminent studio of the day, though perhaps without Abbey Road's unique character. The album was packed with Taylor classics. "Something in the Way She Moves" inspired George Harrison to write his own "Something" about Patti Boyd, but Taylor didn't mind that since he'd copped the ending of his song from The Beatles' "I Feel Fine" with a repeated fade out riff.
Given that he could sing the phone directory and make it sound amazing, was blessed with drop-dead gorgeous good looks and a wicked sense of humour, how could Taylor fail to impress? The Evan Dando of his day James was the kind of wistful troubadour who had women falling at his feet and once there they found a minstrel with genuine poetic qualities. His epic ode to homesickness, "Carolina in My Mind" (not "…on My Mind", as an Apple US advert called it in 1969!) was written in Asher's flat on Marylebone High Street and finished on the hippy trail between Formentera and Ibiza where he was shacked up with a Swedish girl called Karin, though she is not the sole subject of the song since his mind was elsewhere.
McCartney plays masterful bass on this classic and Harrison sings backing but for all the solace in the lyric and the brush with fame from "the holy host of others standing around me" there is also a darkness that accentuates the fact Taylor was about to return to rehab in New York. The rhythm guitar part is from Mick Wayne, leader of the Hull ensemble Junior's Eyes. Hewson conducts the strings. Joel 'Bishop' O'Brien is on drums
The deeply wry "Knocking 'Round the Zoo" may be the best song ever written about staying in a psychiatric facility and the naturalistic nature of the nervy arrangement makes this a highlight. McCartney, who'd heard it earlier in demo form, suggested it be released as a single, and it was in France, but it would have been a most unlikely hit.
"Night Owl" was obviously born from experiences at the club in the Village with a brass arrangement adding a suggestion of Broadway to the affair. The album is nothing if not esoteric. Bop musician Freddie Redd pops up on Hammond organ, psych-rock luminary Don Shinn on harpsichord and there are cameos from the venerable Aeolian String Quartet and the Amici Quartet. As more information came to light it transpired that the Indian harpist Skaila Kanga plays on "Sunshine Sunshine". Ace bassist Louis Cennamo holds the groove down before going off to join Renaissance. All sheer class: in fact, if this album were to be released today it would be hailed as a masterpiece.
By early 1970 Taylor bade farewell to Apple and signed a lucrative deal with Warner Bros, while keeping Asher on his side for his next three albums – Sweet Baby James, Mud Slide Slim and the Blue Horizon and One Man Dog, all recorded in Los Angeles between late '69 and mid-'72. This trio of discs from a man in his early twenties are certified classics; essential for Taylor fans and worthy of discovery for everyone else.
The great songs are all here: the autobiographical and somewhat disturbing "Fire and Rain" (featuring Carole King on piano) with its cello part in place of bass and Russ Kunkel on brushes. "Sweet Baby James" with a lilting cowboy lullaby groove. The mild send-up of white rock star wannabes that is "Steamroller" off-set by the wanderlust of "Country Roads" and the sweet Western "Oh! Susanna", from Stephen Foster's magnificent songbook, indicates the breadth of Taylor's work.
"You've Got a Friend", where Carole King and James cement their artistic love affair (they both picked up a Grammy apiece for this enduring classic) is a highlight on Mud Slide Slim… and there is a change of direction to the music now with soulful, female vocal friends – Linda Ronstadt, Carly Simon, sister Kate and King. John McLaughlin's "Someone" takes off into jazzier ground and lyrically there is a more spiritual depth with a dash of Mark Twain in the fringes and the rushes of the songs.
Lowell George, David Crosby, Graham Nash and a few Steely Dan sessioneers help make Gorilla a mid-seventies archetype with the hits "Mexico" and "How Sweet It Is (To Be Loved by You)", featuring wife Carly, to indicate a new and settled man.
His Greatest Hits, a Diamond certified and eleven million plus behemoth from 1976 that continues to delight, confirmed Taylor's status. Even as the scene shifted towards big album acts like The Eagles and Fleetwood Mac, the simple attraction of a JT song held true.
And James continues to delight. He is a marvellous performer with a wealth of tales. His more recent discs for Concord Records, featuring his road band regulars Steve Gadd on drums and Jimmy Johnson on bass, are communications of merit with the accent on considered Americana and his own brand of country and folk.
In 2004 he released a Christmas album, the Covers collection of 2008 and live projects such as the One Man Band recording of 2007 and Live At The Troubadour with Carole King in 2010. Meanwhile, he and his wife Kim have also been raising their sons, who are 14 this year.
Taylor's latest album, Before This World he co-produced with Dave O'Donnell, and it features ten songs, nine of which are brand new Taylor compositions. Longtime collaborators including guitarist Michael Landau, keyboardist Larry Goldings, percussionist Luis Conte, drummer Steve Gadd and bassist Jimmy Johnson are on the record. There are also contributions from James' friends Yo-Yo Ma and Sting, with Ma's cello on 'You And I Again' and 'Before This World,' and Sting's harmony vocal also featuring on that title track. Taylor's wife Kim and son Henry also sing harmony on 'Angels Of Fenway' and his version of the vintage folk tune that ends the album, 'Wild Mountain Thyme.'
In June Before This World became his first-ever No. 1 on the Billboard 200 US album chart and his joint-highest UK peak for a studio release at No. 4.
Sometimes the quiet ones make the most noise. James Taylor is such a fellow. Whisper it quietly – the man is a legend.
Words: Max Bell