Ben Harper
Ben Harper is a two time Grammy Award winner who has managed to crossover sundry divides and sits as easily in rock and pop circles as he does immersing an audience in gospel and soul glory.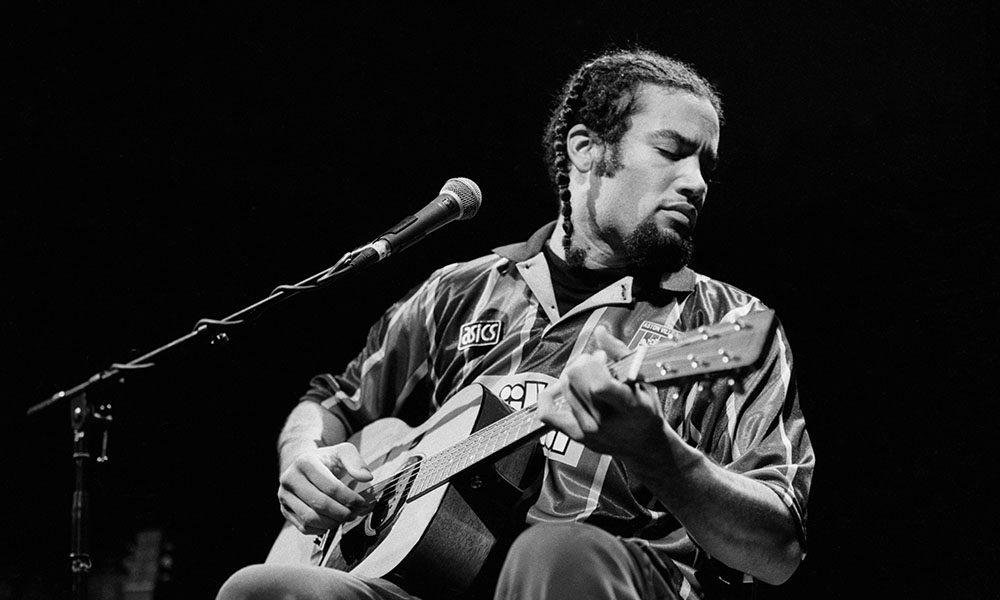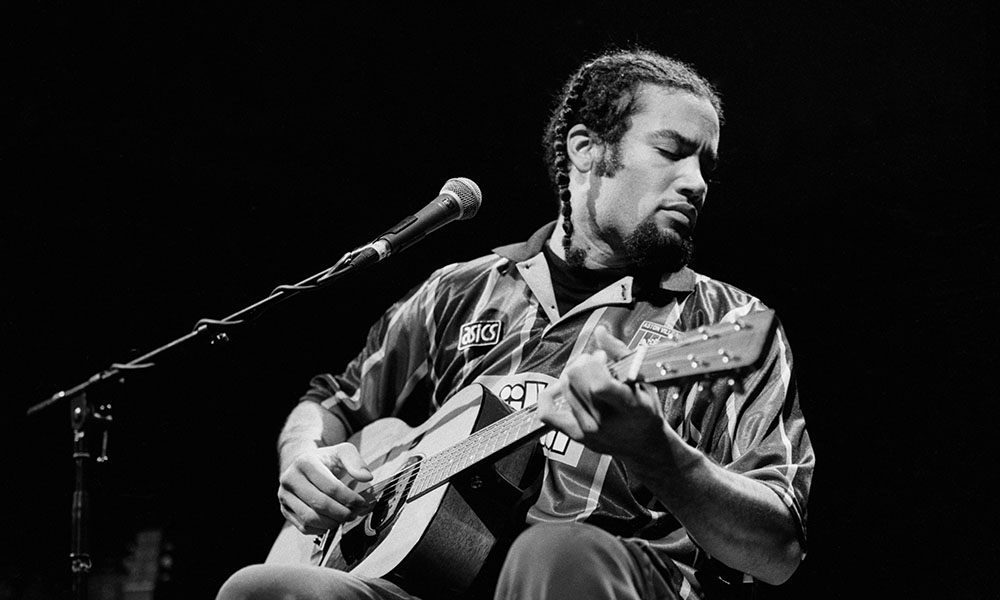 Still only in his mid-40s, though he seems to have been creating wonderful music forever, Ben Harper from Pomona, California is a singer of rare passion and a multi-instrumental whiz with a catalogue of superlative albums under his belt. Known for his guitar playing as much as his vocal expertise and revered for his live performances (of which there are many available here) as well as his political activism, Harper is a two time Grammy Award winner who has managed to crossover sundry divides and sits as easily in rock and pop circles as he does immersing an audience in gospel and soul glory.
Given his melting pot origins – African-American, Cherokee and Jewish – it's no wonder that Benjamin Chase Harper refuses to be tied down by style or fashion. Hugely influenced as a child by seeing Bob Marley perform in Burbank, CA, Harper's family were always around musicians and he learnt important lessons first hand at the knees of greats like Taj Mahal, Leonard Cohen and David Lindley. Enthused, the young Harper became adept at folk-rock, jamming and soul-funk while rapidly learning to play a bewildering number of instruments such as lap steel guitar, keyboards, vibes and percussion.
Ben followed his major-label debut for Virgin, Welcome To The Cruel World, with the accomplished Fight for Your Mind, a solo effort that took in folk-rock, metallic riffing and social commentary with a Jamaican backbeat. Matching his charged songs like 'Oppression' and 'Burn One Down' to specific African and Caribbean references Harper thrilled early fans with rhythmic expertise that enhanced his subject matter. The Will To Live (1997) now teamed him with his group Innocent Criminals and resulted in the British hit 'Faded'. Constant roadwork helped the disc make inroads in America too and again a heady combination of roots rock ('Jah Work') and crashing through the gears rock ('Mama's Trippin') ensured his word of mouth status began to roll large.

Burn To Shine maintained a relationship with producer J.P. Plunier but this time there was a greater emphasis on rowdy blues and rollicking neofolk. David Lindley appears on the album on banjo, fiddle and mandolin and there is a country blues rush to cuts like 'Forgiven' and 'In The Lord's Arms', which makes Harper so appealing to devotees of great seventies music who also want to hear something fresh and of the moment.
Live From Mars (2001) is a sublime double-disc set of electric and acoustic rock and beyond culled from the previous year's world tour. Featured here are three of his regular and best-loved covers: Marvin Gaye's 'Sexual Healing', Led Zeppelin's 'Whole Lotta Love' and The Verve's 'The Drugs Don't Work'. Needless to say Ben makes these own and they slide into the set like old friends, rapturously received
It was back to the studio again for 2003's Diamonds On the Inside with new-featured guitarist Nicky Panicci. Other guests here are Ladysmith Black Mambazo, the pedal steel virtuoso Greg Leisz and keyboards genius Greg Kurstin. Bringing the funk up several notches Diamonds On the Inside is heartily recommended and gives us the chance to point out that in the title track Harper references Shakespeare's The Merchant of Venice; fans of the man also have great fun deciphering other references to the Bard in Ben's own lyrics. There are plenty of 'em.
There Will Be A Light (a collaboration with The Blind Boys of Alabama) is notable for resulting in two Grammies: one for Best Gospel album and one for Best Track, '11th Commandment'. With Marc Ford now replacing Panicci there is no let-up in intensity and fans of bluesy church music return to this classic disc for sustenance. If you haven't heard it, you should. The title track 'There Will Be A Light' and 'Church House Steps' are marvellously evocative pieces and the cover of Bob Dylan and Danny O'Keefe's 'Well, Well, Well' slides in beautifully.
Live at the Apollo is a companion disc really since it concentrates on bringing Harper and The Blind Boys back to their spiritual roots in the iconic Harlem theatre where every soul and funk and rare groove legend performed at one time or other. Lifeline (2007) is available in standard format and as a special tour edition that documents a Paris show by Harper & the Innocent Criminals. Sharply booted and suited for this date, Ben really cut loose on a set that was written on the hoof, recorded at breakneck speed and rewarded with an instant rise to the US top ten. A hard rock album at heart this demonstrates the depth of Harper's concert commitment. He gives you everything.
White Lies for Dark Times is as good as its title. Recorded with the Texan band Relentless7 as an adjunct to his other outlets this album is particularly popular in Europe where its restless, challenging spirit seems to have made a connection. Again, if you aren't aware of this Texas blues rocker then grab yourself some action. This is a fantastic electric album.
Same goes for Give Till It's Gone, which features Ringo Starr's drums and a cameo from Jackson Browne. The Relentless7 band are on blistering form on the opening 'Don't Give Up On Me Now' and there are elements of this disc that recall Prince in his pomp. Another one to check out.
Given his determination to keep it live whenever possible there's a Live from the Montreal International Jazz Festival which captures Harper in pristine concert surroundings and two career-spanning beauties in the shape of By My Side and the immaculate Boxed Set Collection, truly prestigious release that collates Harper's extraordinary impact on his first three albums – everything from Jimi to Dylan – and enhances his reputation no end.
Bringing us bang up to date is 2013's Get Up! recorded by Harper with the veteran electric blues harmonica player Charlie Musselwhite (aka Memphis Charlie) who just happens to be the inspiration for Dan Aykroyd's character in the Blues Brothers. This is a roots delight that will thrill lovers of folk and country and stripped-down Delta swamp. 'I Ride at Dawn' is a splendidly dark western noir song while 'She Got Kick' is a sensual blood rush. The title track is epic too: here Harper switches into all-out funk mode with a statement of intent in the Sly Stone styled credo. New/old music doesn't get any better than this.
And Harper isn't stopping off a breather either. His restless spirit drives him on to create different challenges on every album. By keeping himself on the move he makes sure his fans are educated and entertained and fed a brand of spiritual nourishment that is rarely heard these days. Ben Harper – he was good when he started and he's even better now. One of the most talented cats on the planet. Where will he go next?
Words: Max Bell
Format:
UK English