Watch Carole King And James Taylor Perform In New 'Just Call Out My Name' Trailer
The film is set to premiere on January 2.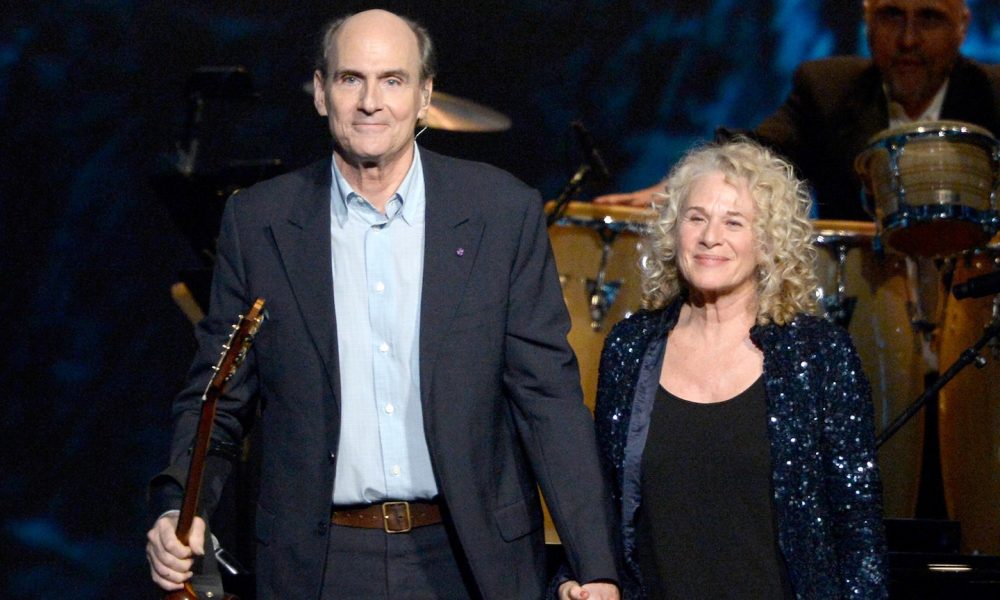 In the new trailer for concert documentary Carole King & James Taylor: Just Call Out My Name, the two subjects perform their collaborative smashes in addition to singing on each other's songs.
The film premieres on January 2 at 9:00 p.m. ET via CNN and will livestream via CNNgo. It will be available on demand from January 3 through January 9 via cable and satellite providers, CNNgo, and CNN mobile apps.
The trailer, which premiered via Rolling Stone, includes archival photos from the first time they performed together in 1970 at the world-famous Troubadour, alongside King and Taylor being interviewed in July 2021 at the Southern New Hampshire University Arena in Manchester. The clip features setlist highlights from their 2010 Troubadour reunion tour, where they duet "It's Too Late," "Sweet Baby James," and "You've Got a Friend." King also delivers "So Far Away" and Taylor performs "Fire and Rain."
Frank Marshall announced that James Taylor and Carole King would be his new subjects, after directing the follow-up to his acclaimed documentary on the Bee Gees.
Marshall, who recently produced Hulu's McCartney 3,2,1, directs and produces via The Kennedy / Marshall Company with Jay-Z: Legacy producer Aly Parker also producing.
"I've been listening to and playing their music my whole life, so it's especially meaningful to me and such an honor to be able to put together this special reunion concert by these two extraordinarily gifted friends," said Marshall.
"We are thrilled to collaborate with Frank Marshall and The Kennedy / Marshall Company for this brilliant look into one of the most prolific music partnerships of a generation," said Amy Entelis, executive vice president for talent and content development at CNN. "Frank's discerning vision shows fans the stories behind the legendary creative teamwork of Carole King and James Taylor."
Speaking of that historic 2007 Troubadour show, Carole King and James Taylor's bestselling 2010 album recently made its debut on vinyl. Craft Recordings released an 180 gram vinyl edition as a 2LP set on October 22.