The Police
The London rock band comprised of Sting, Andy Summers, and Stewart Copeland were one of the most successful bands of their time.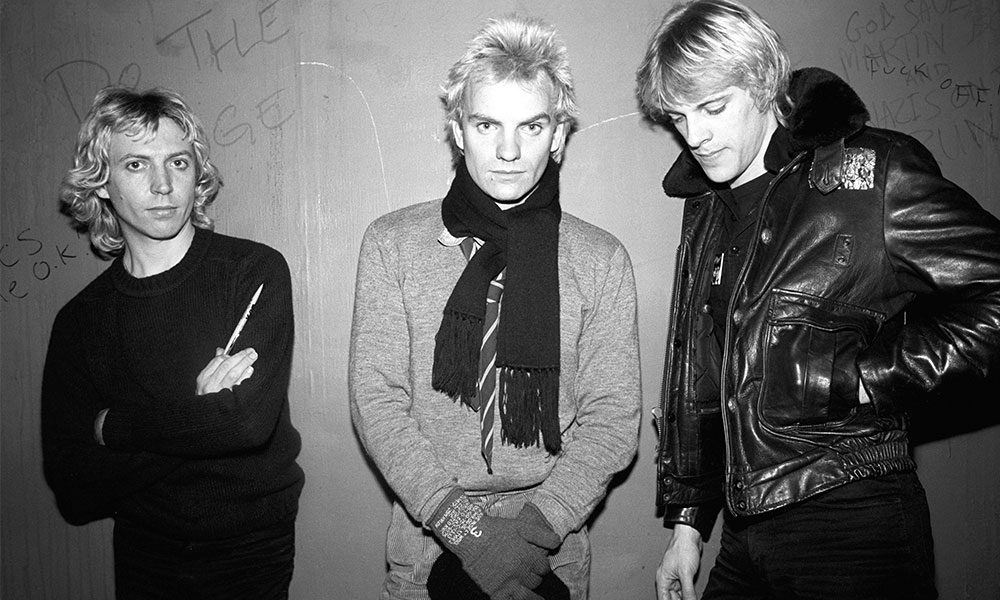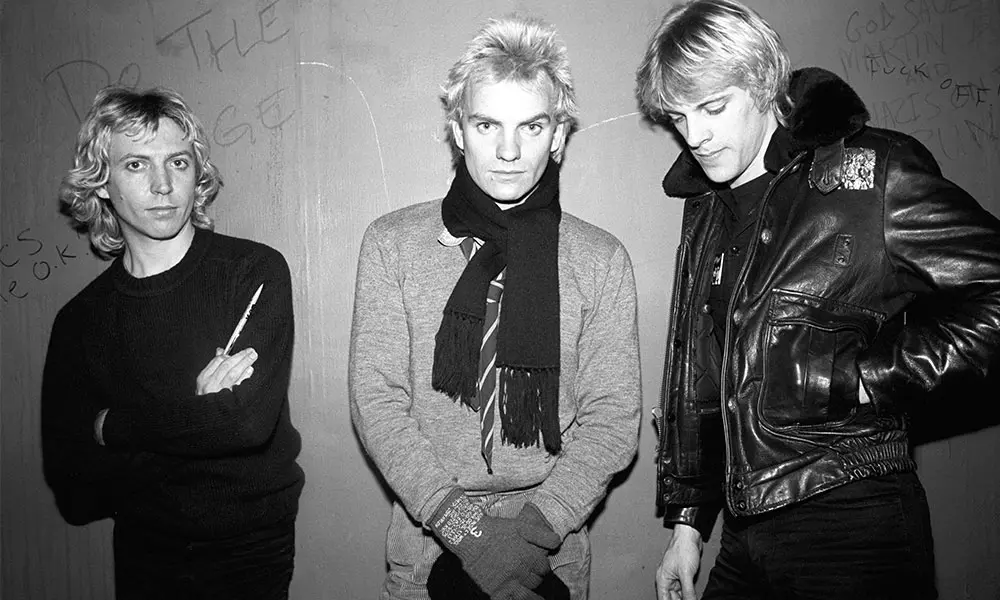 One of the true phenomenal acts of their era, The Police bossed the pop charts for most of their career, achieving fame not long after they formed in London in 1977, dressed in combat fatigues and playing a brand of literate, funky pop with jagged, razor wore rhythms that meant they were never going to be part of the punk movement but would be the standard-bearers of the new wave. They've won six Grammy Awards, two Brit Awards, various MTV video gongs and been inducted into the Rock and Roll Hall of Fame in 2003. Truly a global act, their album Synchronicity sold eight million copies in America alone and their fame spread around the planet, winning fans from France to Russia and New Zealand to Argentina. Thanks to the 2008 reunion tour they were officially recognised as the highest-earning musicians in the world.
Although they were briefly a quartet until original guitarist Henry Padovani's fairly amicable departure, it's as a trio that Sting, Stewart Copeland and Andy Summers turned The Police into a household name. Each one a gifted musician – on bass, drums and guitar respectively – and with all three men having strong opinions, robust personalities and oodles of under the belt dues playing experience they were an unusual proposition by any standards since they straddled what might be termed old school values associated with the early 1970s, combining those with the kind of technical savvy that kept them abreast of a rapidly changing industry.
With their bleached blond 'look' adding a pin-up scream appeal, The Police were also at the forefront of celebrity culture with Sting a particularly ingenious manipulator of the media in all its forms. The Police were a smart bunch for sure and they didn't outstay their welcome either. They released five albums in as many years, sold 50 million of them and then went their own ways on solo projects that suited them. They left a timeless body of high-class work. There is no denying the sheer melodic exuberance of their singles and their live shows were always special events.
Stewart Copeland was looking for a new project after quitting Curved Air when the American expatriate bumped into Wallsend-born Gordon Sumner, aka Sting on account of a jumper he wore that made him look like a bee. With Padovani they performed in all the usual seedy clubs, building a devoted following that allowed them to release the indie single 'Fall Out' in 1977. When Henry quit (he'd set up the well regarded IRS label) Andy Summers was a strange choice for the guitar seat but an inspired one nevertheless. A 'proper' musician whose CV glittered with time spent playing with Zoot Money, Dantalion's Chariot, Eric Burdon and the Animals, Kevin Ayers, Kevin Coyne, Neil Sedaka and Jon Lord, Summers was obviously somewhat older than his new bandmates but the three-hit upon a style that allowed each one to shine, achieving a level of harmony that was given extra punch and colour by Sting's unusual vocal range and distinctive high notes.
Stewart's brother Miles Copeland who would become the band's legendary manager financed the debut album Outlandos d'Amour. The album was recorded on a shoestring budget and featured the outstanding track 'Roxanne', that didn't sell well initially but would soon fly when it was re-released in 1979. 'Can't Stand Losing You' amazingly ruffled BBC feathers at the time on account of its picture sleeve but The Police really hit the ground running after they returned from a character-shaping US tour and made the outstanding Reggata de Blanc, a reference to their own in-house white reggae styling which was derided in some quarters of the press but adored by increasing legions of fans. In fact, they became so popular it's worth recalling there was a kind of Police-mania afoot in 1979 and the singles 'Message in a Bottle' and 'Walking on the Moon' were ubiquitous. Cleverly the Police's first world tour paid special attention to areas of the globe ignored by most rock groups, such as Mexico, Taiwan, Greece and Egypt. Copeland and the band knew that they were mining gold with their music and their appeal became universal. It was a master coup.
Zenyatta Mondatta (1980) includes 'Don't Stand So Close to Me' (the biggest selling UK single of the year) and despite the frantic pace of their lives on the rapidly spinning merry-go-round of mega-stardom even the harshest critics now fell into line. While they don't yet deviate from their tried and tested sound here you can catch them widening the lyrical net on Sting's 'Driven to Tears' and Copeland's 'Bombs Away'.
Ghost in the Machine pushed the band further out as they replaced producer Nigel Gray with High Padgham and embarked on one of the first digitally influenced albums, creating a sound that defined the decade for many. Probably most people are familiar with the hits off Ghost – after all 'Every Little Thing She Does Is Magic', 'Invisible Sun' and 'Spirits in the Material World' are virtually pop standards.
Now adding horns and synths and through heavy use of keyboards, this album marks a significant change in the Police although they retained elements of their adopted Caribbean roots and Summers' enduring love for reggae riffs. This album, inspired by Arthur Koestler and Carl Jung's theory of synchronicity, saw Sting assume greater control over their direction as he insisted they concentrate on a far more thoughtful approach to arrangement and lyric – meaning the raw trio charm of the original was now a sophisticated beast prepared for the new age.
Talking of Synchronicity, that is the Police's fifth and final first phase release. Recorded again in Montserrat and Canada this is their most popular disc. It includes the classic singles 'Wrapped Around Your Finger', 'Synchronicity 11', 'King of Pain' and the immortal 'Every Breath You Take'. So great was its appeal that this was the album which ended Michael Jackson's chart dominance with Thriller in the US and it's frequently cited in respected Great Albums lists, from Pitchfork to Rolling Stone where you won't be surprised to see five stars by the title. It is a masterpiece for sure and went eight times Platinum in America.
As befits a band of this stature there are a select number of recommended live discs and well-presented compilations. Live! is interesting because it showcases band concerts from 1979 and 1983, in Boston and Atlanta respectively.
The collections such as Every Breath You Take: The Singles, Greatest Hits, The Very Best of Sting & The Police and The 50 Greatest Songs all provide hours of listening pleasure. The box set Message in a Box: The Complete Recordings has been hailed as final proof that the Police were a stellar act, the digital remastering of all 78 songs providing a fitting testimony to a group who truly left an indelible mark on rock and pop music with every breath they took.
Format:
UK English