Ronnie Wood
The British rock musician has an impressive solo career as well as membership in bands like the Rolling Stones and Faces.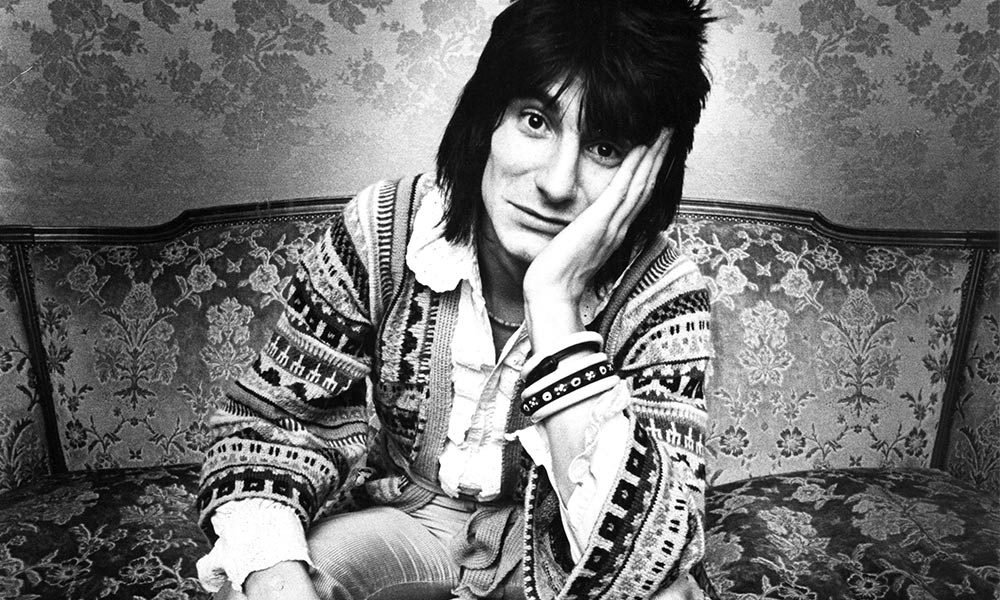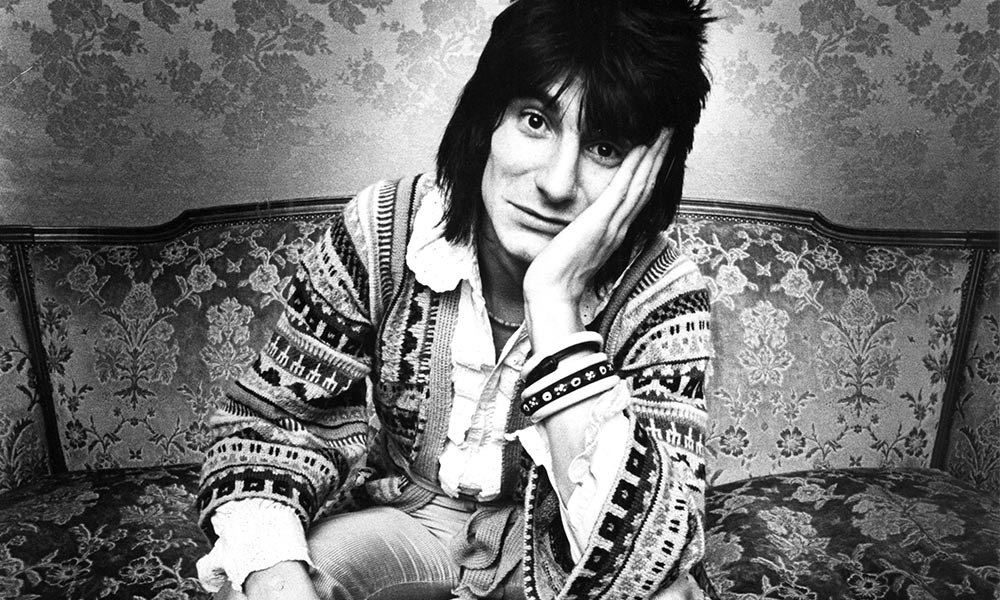 One of those classic, black-coiffed, skinny-jeaned British rock'n'rollers whose face is a road map of his career, the great Ronnie Wood comes from a long line of Middlesex water gipsies and his itinerant roots show through in a rich career that encompasses 60s groups The Birds, The Creation, Faces – of course – and a stint with Jeff Beck.
Latterly, his ongoing place in The Rolling Stones' history, where he is far more than foil to Keith Richards, has made Ronnie a national treasure. His place at the forefront of British blues riff gods is assured via Faces epics such as 'Stay With Me', 'Miss Judy's Farm' and 'Too Bad', but he is an accomplished folk guitarist as well, whose playing graces the best Rod Stewart albums. He has conjured many other minor miracles too, such as when his delicate acoustic meshes alongside fellow Face Ronnie Lane's fretless bass on the gorgeous cockney lament 'Debris', or the wonderfully obscure 'Just For The Moment', from the 1972 (but released in '76) soundtrack album for the Canadian movie Mahoney's Last Stand.
And yet Ronnie also had his own albums to do, providing us with several real gems from the studio that, though packed with stellar mates and guests, still maintain their integrity.
Born in a council house in Yiewsley, Hillingdon, as a kid Ronnie Wood was known as Young Timber (his dad was Timber) and the pair toured the racetracks of south England in a 24-piece harmonica band that gave Ronnie the taste for the high life. He began playing the guitar in The Birds in 1964, moved on to the psych-rock outfit The Creation, and participated in Jeff Beck's late 60s blues and metal mash-ups Truth and Beck-Ola. He joined Small Faces after Steve Marriott's departure and lasted the course when they became Faces, also decorating Rod Stewart's fine albums An Old Raincoat, Will Never Let You Down, Gasoline Alley and Every Picture Tells A Story. He joined the Stones when Mick Taylor left in 1975 and has played with them ever since. Ronnie's solo albums start with 1974's I've Got My Own Album To Do. It's only rock'n'roll, but we like that one.
Richards, Mick Jagger, an uncredited David Bowie and George Harrison all appeared on it. So do most of Rod's studio pals, including Martin Quittenton, Pete Sears and Stewart himself, as well as the stellar rhythm section of Willie Weeks and Andy Newmark, Face Ian McLagan and Mick Taylor. Key tracks include the opener, 'I Can Feel The Fire', with Mick adding some of his finest backing vocals, and Harrison's 'Far East Man', which also appears on Harrison's Dark Horse album.
1975's Now Look is remarkable for co-production from Bobby Womack and Ian McLagan, Jean Roussel's masterful keyboards and a cracking version of the Ann Peebles soul classic 'I Can't Stand The Rain', which give Woody a chance to show off his underrated pipes.
Mahoney's Last Stand, credited to Wood and Lane, and produced in 1972 at Olympic Sound Studios by Glyn Johns, slipped through the net though it featured Lane's then-accomplices Pete Townshend, Mickey Waller and Benny Gallacher, with the Stones' horn men Jim Price and Bobby Keys adding extra atmosphere.
Gimme Some Neck did the business in the States and introduced us to his own original artwork, painting having been an obsession since he'd attended Ealing College Of Art. The obscure Bob Dylan song 'Seven Days' is the calling card here, but once again the back-ups read like a Who's Who, with Mick Fleetwood, The Crusaders Robert Popwell, Traffic's Dave Mason and Swamp Dogg inhabiting a most eclectic mix helmed by the equally iconoclastic London-born producer Roy Thomas Baker.
Soul-funk brothers and cream-of-the-crop sessioneers joined Ronnie for 1234, a real party-hard album enlivened by the Jagger-inspired 'Redeyes' and the Womack collaboration 'Priceless'.
A stint with Bo Diddley resulted in The Gunslingers' Live At The Ritz, packed full of great blues such as 'Road Runner', a new take on the Wood/Stewart track 'Plynth (Water Down The Drain)' and a breezy attempt at the Stones' 'Honky Tonk Women'. But the closer, Bo's 'Who Do You Love', is the charm.
Slide On This was recorded in Wood's Irish home, with Bernard Fowler keeping the songs on a Southern soul tip, abetted by Allman Brother Chuck Leavell, neighbour Joe Elliott, from Def Leppard ,and U2's The Edge. The drummers are Charlie Watts and Simon Kirke, and Michael Kamen provides string arrangements on another high-class outing. Try the version of George Clinton's 1967 ditty 'Testify' which goes back to the Detroit soul days of The Parliaments. The live companion, Slide On Live: Plugged In And Standing (caught in the States and Japan), shows off the Wood ensemble on favourites such as 'Stay With Me', 'Silicone Grown' and Jagger/Richards/Wood's 'Pretty Beat Up'.
We waited until 2001 for what is probably Ron's favourite album, Not For Beginners. He revisits a track cut by The Birds, 'Leaving Here', cheekily jumps to The Byrds' 'Rock'n'Roll Star', enlists Dylan for 'Interfere' and 'King Of Kings', and makes sense of a cast list numbering Stereophonic frontman Kelly Jones, Elvis Presley's Scotty Moore and DJ Fontana, as well as his own kids, Jesse and Leah. Definitely one of Woody's best.
For a considered overview, the compilation Ronnie Wood Anthology: The Essential Collection crisscrosses his career. It's a great place to get to know more about someone who's a lot more complex than you may have ever expected, with visits to The Birds and everything thereafter up to the Stones.
The belated issue of The First Barbarians: Live From Kilburn is taken from a Gaumont State show going back to July 1974, with Ronnie and Keef in their raven-haired pomp bossing a sextet that buzzes and crackles with excitement.
Coming up do date we have I Feel Like Playing, on which a completely rehabilitated Ronnie mixes old- and new-school characters: Slash, Billy Gibbons, Beach Boy Blondie Chaplin, Darryl Jones, Flea, Jim Keltner, Ivan Neville, and an appearance or from Bobby Womack on four numbers, enjoying a swansong before his death, in 2014. Sure, this is typical all-star jam party fare, but that's no bad thing. When Ronnie Wood throws a shindig you know you're in for a real good time. There's a little bit of everything on order at his buffet – rockers, reggae, blues and boogie.
Essentially a modest man, Wood has collaborated with all the above, as well as sharing the stage with Bowie and Prince. Oh, and don't forget his laughing-his-head off appearance with Keith when they backed Dylan on 'Blowin' In The Wind' at Live Aid in 1985, introduced by Jack Nicholson. He's never pretended to reinvent the wheel, but still Ronnie Wood will take you rolling down the road. Enter his caravan of delights.
Format:
UK English