Def Leppard
Def Leppard arranged a marriage of metal and melody to create a sound which ruled the rock world in the 1980s.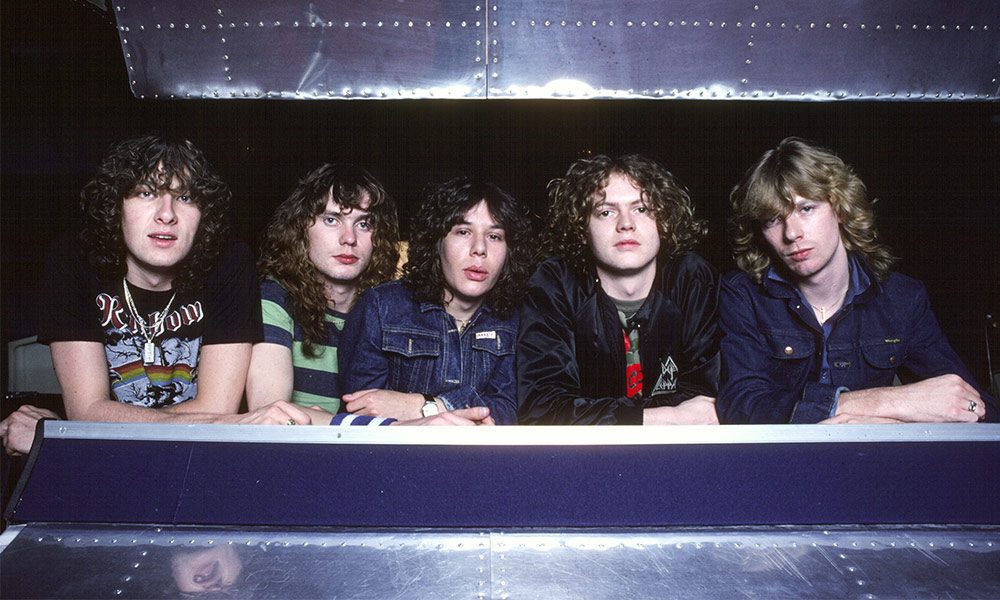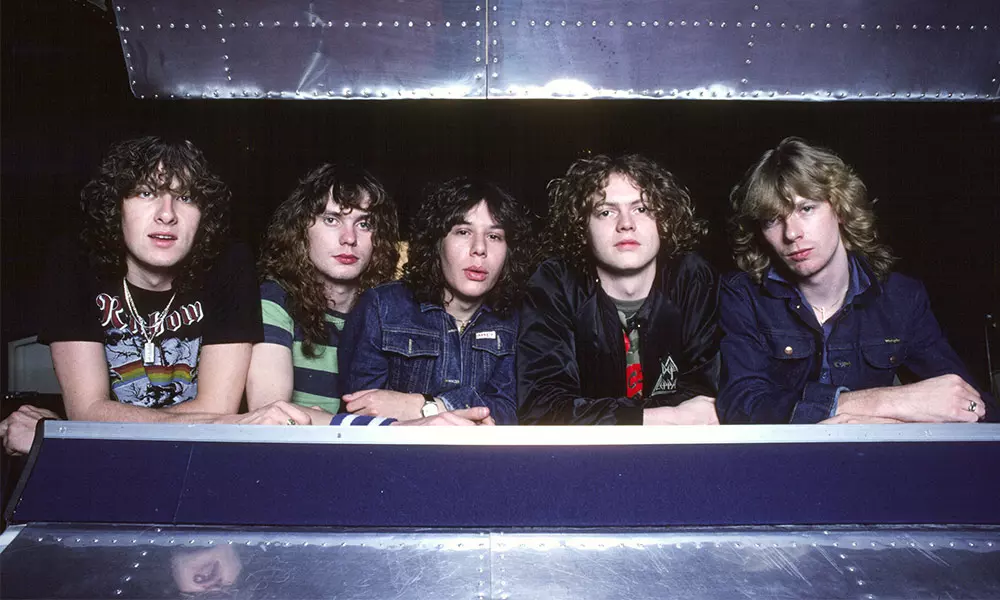 Def Leppard arranged a marriage of metal and melody to create a sound which ruled the rock world in the 1980s. Their third album Pyromania, released in 1983, paved the way for a takeover of the American mainstream by populist heavy rock groups such as Bon Jovi, Skid Row and Guns N' Roses. Both Pyromania and its follow-up Hysteria (1987) were awarded the rare diamond certification for sales in excess of 10 million copies each in America. The irony was that, for all their influence and pre-eminence in the States, Def Leppard came from the north of England. In an epic selling-coals-to-Newcastle manoeuvre, they not only conquered America but redrew its musical map before returning to clean up in Britain.
Joe Elliott (vocals), Steve Clark (guitar), Pete Willis (guitar) and Rick Savage (bass) started Def Leppard in 1977 when they were still schoolboys in Sheffield, South Yorkshire. They were joined the following year by 15-year-old Rick Allen (drums). Their name was an offbeat homage to Led Zeppelin and, to begin with, they were influenced by the melodic rock of classic UK bands including Thin Lizzy and Mott The Hoople. The group hit the ground fast with the self-released 'The Def Leppard EP' (1979) and a live show which established them as front runners in the awkwardly-tagged New Wave Of British Heavy Metal, along with Iron Maiden, Saxon and others.
Having supported AC/DC, Def Leppard attracted the attention of the band's manager Peter Mensch, who duly put them on his books. Released in 1980, Def Leppard's debut album, On Through The Night, established a firm musical foundation that combined new wave attitude with respect for rock tradition. The album also flagged up an early interest in the USA market with the single 'Hello America', which became a minor hit in Britain (but not in America).
The band joined forces with producer Mutt Lange for the follow-up album, High 'N' Dry, released in 1981. Lange, who had just produced AC/DC's magnum opus Back In Black, was a canny choice. He fine-tuned the Leppard sound and encouraged the band to pursue their melodic goals with greater clarity and consistency. Although the album enjoyed only middling chart success, the stage was now set for The Big One.
Pete Willis was fired for being drunk on the job during the recording sessions for Pyromania – which was to prove a costly bender for him, even though his rhythm guitar parts remained on the album. He was replaced by Phil Collen, a Londoner with an agile guitar technique and a lifelong aversion to shirts. As the sessions for Pyromania continued, with Lange again producing, Collen and Steve Clark – who became known as the Terror Twins – forged a distinctive, double-guitar bond which was integral to the all-conquering, global appeal of the album.
Corresponding with the rise of MTV, Pyromania harnessed stadium-sized instrumental clout to radio-friendly melodies, punched home by Elliott's distinctive, high-range vocals on songs including 'Photograph', 'Rock Of Ages' and 'Foolin''. Jon Bon Jovi was a fan of the album and there is no doubt that the muscular chord sequences and windswept choruses of Pyromania had a big influence on Bon Jovi's 1986 blockbuster Slippery When Wet.
While Leppard were now on top of the world professionally, the band had to weather severe personal misfortunes. On New Year's Eve 1984/5, Rick Allen lost control of his Corvette Stingray on a stretch of the A57 in Yorkshire. His left arm was severed at the shoulder in the resulting collision, an injury that would have finished most musical careers. However, Allen was courageous and ingenious enough to utilise electronic drum technology to design a kit which enabled him to use a foot-pedal with his left leg to play the part of his missing limb. Less than two years after the accident, he performed his first live gig with Leppard at the Monsters Of Rock festival, Castle Donington. Having survived such a crippling setback, nothing could stop them now.
The band's winning musical formula was rigorously refined and dextrously applied to devastating effect on Hysteria which sailed to the top of the charts in both Britain and America in 1987. The album housed no less than seven hit singles, including 'Hysteria', 'Pour Some Sugar On Me', 'Armaggeddon It' and the band's only US No.1 'Love Bites'.
Personal disaster struck again when, in 1991, Steve Clark, already on a leave of absence from the group because of an escalating drink problem, died suddenly from an overdose of prescription drugs and alcohol. His sorry demise, at the age of 30, brought an abrupt end to the reign of the Terror Twins, although Clark's contributions to the band's next album Adrenalize, released in 1992, helped propel it to the top of the charts in Britain and America and to achieve sales in excess of seven million copies worldwide. The album produced another string of hits including 'Let's Get Rocked', which reached No.2 in the UK, the group's highest placing in the singles chart of its home nation.
Clark was replaced by former Dio and Whitesnake guitarist Vivian Campbell and Leppard soldiered on. But although Adrenalize had kept the flag proudly flying, the tectonic plates of rock were shifting. The grunge revolution had arrived, taking guitar music and its audience in an altogether darker direction. A rarities album Retro Active, released in 1993, and a Greatest Hits set Vault: Def Leppard Greatest Hits (1980-1995) plugged the gap before the completion of Leppard's sixth new studio album, Slang, released in 1996.
Slang was the first Def Leppard album to tamper with a formula that had been tried, tested and never bested during the course of the band's already long and chequered career. Made without Mutt Lange, the album was produced by Pete Woodroffe and recorded in a townhouse in Spain. The aim was to strip away slick production devices and expose the bare bones of the band's musical vision. Even the artwork had a more subtle, slithery look. They were rewarded with some of the best reviews of their career, and although sales of the album were, by their standards, disappointing, it remains one of the overlooked gems in the band's back catalogue. Indeed, such was Leppard's faith in Slang that they focussed renewed attention on it with the release in 2014 of a deluxe remastered version of the album featuring demos, B-sides and unreleased material from the sessions – an eye-opening 30 tracks in all.
The band returned to a more familiar, classic rock sound for Euphoria (1999), and then spun off in an unlikely pop direction for X (2002), but without scaling the multi-platinum pinnacles of their prime. A covers album Yeah! (2006) gave an intriguing insight into the band's musical preferences and influences with songs by Ray Davies, Ian Hunter, David Bowie and Phil Lynott prominent among the tracks chosen. All but two of the songs were originally recorded by British (or Irish) acts, the exceptions being the Blondie hit 'Hanging On The Telephone' and the John Kongos dancefloor rumble 'He's Gonna Step on You Again'.
Songs From The Sparkle Lounge, their first album of new material for six years, was released with much fanfare and a substantial promotional push in 2008 as the band maintained its arena status, touring with stellar co-headlining and support acts such as Journey and Styx in America and Whitesnake and Thunder in Britain.
As they headed inexorably towards heritage act status, Def Leppard never lost their taste for playing on the biggest stages or their appetite for the long haul. They mounted a Rock Of Ages tour of the USA in 2012 with Poison and Lita Ford, and at a Las Vegas residency in 2013 they put on a show in which they mixed obscure early songs with a performance of Hysteria in full. As 2015 began with the band still on the trail, guitars blazing after all these years, a summer tour of America with Styx and Tesla beckoned.
From first to last Def Leppard has maintained a vice-like grip on the quality control in all departments. The writing, singing, playing and production of their albums were all honed to perfection and the shows performed with a mixture of heady abandon and masterful precision. Their albums Pyromania and Hysteria shaped the sound and style of guitar music in the 1980s. Monsters of rock don't come any bigger.
Words: David Sinclair
Format:
UK English