Iron Maiden
Iron Maiden are a heavy metal band founded by Steve Harris with a decades-spanning career that includes albums like The Number of the Beast.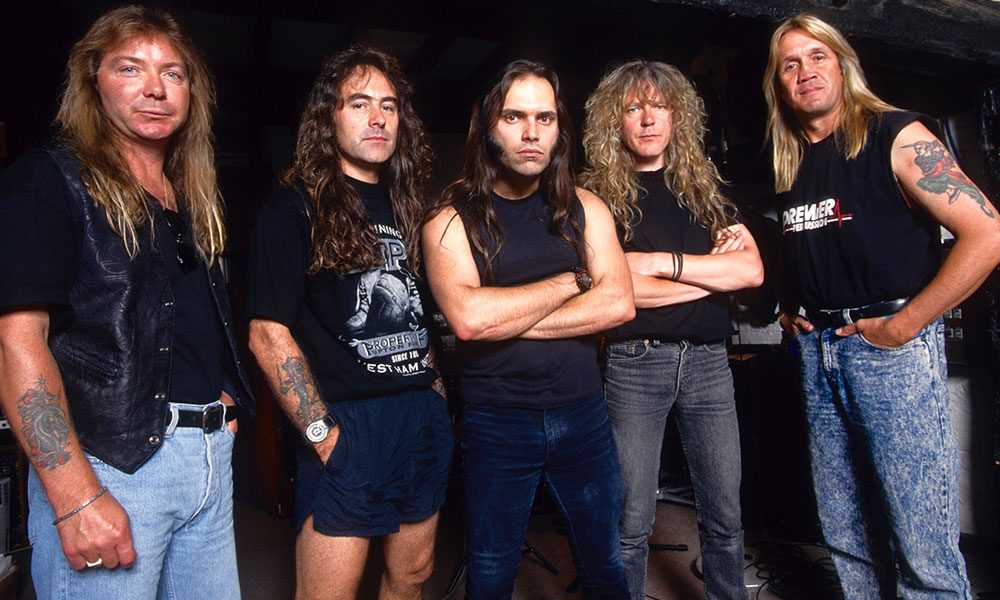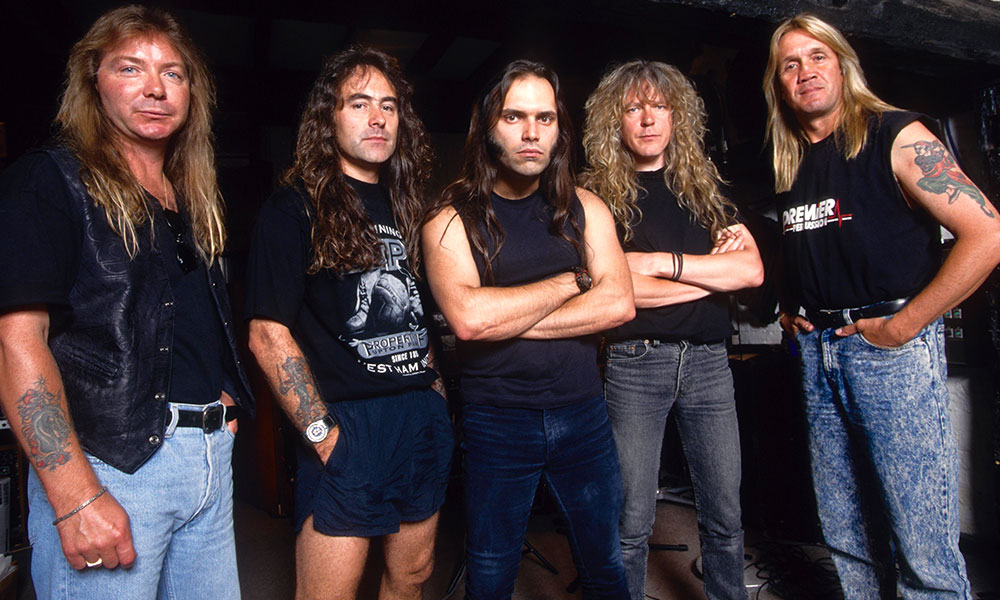 Formed in East London by ever-present member Steve Harris – also their main songwriter – Iron Maiden's dedication to the New Wave Of Heavy Metal is beyond dispute. Odd then that, while they've sold well over 90 million albums and notched up 35 Top 40 singles, including 'Bring Your Daughter… To The Slaughter', 'Be Quick Or Be Dead' and their signature song, 'The Number Of The Beast', not many outside their fanatical following are familiar with the group's sonic achievements.
The original Iron Maiden line-up cut their teeth performing in British pubs and settled as a quartet with guitarist Dave Murray (another long-hauler), drummer Doug Sampson and vocalist Paul Di'Anno, the Chigwell-born metal-punk rocker whose earthy skinhead rasp enriched the first Iron Maiden releases. Despite various changes in personnel, the group have maintained a ferociously high-quality body of work and, in their best-known singer, Bruce Dickinson, they also boast a genuinely charismatic frontman and star.
If those outside the magic circle have yet to catch up, the Iron men boast an impressive array of acolytes, including Metallica, Slayer and Anthrax, as well as the melodic death metal genre. On the alt.pop scene, they've been immortalised by Wheatus in 'Teenage Dirtbag', and by Weezer, Aqua and Sum 41. They can also count Trivium, Slipknot and even Dream Theatre as fans. Thanks to their comic-book graphics and mascot Eddie The Head, Iron Maiden have taken metal down the horror route with often sardonic panache. Maybe you have worn the T-shirt… time to catch up with the music.
Rocking out of Leyton in the mid-70s, Iron Maiden always boasted impressive chops, thanks to the Harris and Murray axis. You'll first hear them on the 1980 compilation Metal For Muthas and the hard-to-find EP The Soundhouse Tapes, but their debut proper is the self-titled album Iron Maiden, produced, intriguingly, by Wil Malone. Containing early anthems 'Sanctuary' and 'Running Free', this disc took metal out on a punky limb, and those cuts are still performed to this day.
The group hit the ground running with follow-up Killers, produced by metal maestro Martin Birch, and giving up the delightful 'Wratchchild', while 'Twilight Zone' was added to the US release.
The Number Of The Beast, featuring the arrival of Bruce Dickinson, gave them an alter ego and a No.1 album. The title cut, 'Run To The Hills' and 'Hallowed Be Thy Name' helped to make the album an essential listen, and rubber-stamped the legend. The same goes for Piece Of Mind, Powerslave and the attendant on-stage blitzkrieg of Live After Death. New key songs now included 'Aces High' and the doomsday chiller '2 Minutes To Midnight'.
Somewhere In Time helped break the group in the US, with second guitarist Adrian Smith contributing the hits 'Wasted Years' and 'Stranger In A Strange Land'. Check out the 1995 reissue for the iconic Urchin cover 'Sheriff Of Huddersfield', recorded by a Maiden/Urchin/FM supergroup going under the name The Entire Population Of Hackney.
Bringing in heavy guitar synths and thundering along on drummer Nicko McBrain's super slick fills and patterns, Maiden's 1988 outing, Seventh Son Of A Seventh Son, is considered to be a masterpiece, welding progressive styles into the mix, with producer Birch making full use of the technological advances at Musicland Studios, Munich. The eerie 'The Clairvoyant' is the charm here, and in live form, it appeared as a single as one of three performances from the band's monumental 1988 Monsters Of Rock show at Donington Park, later released as part of the box set Eddie's Archive, a collector's item from 2002 that came in an embossed metal box.
No Prayer For The Dying contains 'Bring Your Daughter…' and the spooked 'Holy Smoke', whose video was produced by Harris. It also marks the arrival of Janick Gers on the third guitar. Hartlepool-born Gers was formerly in White Spirit and Gillan, and his sumptuous playing had already graced Bruce Dickinson's debut solo album, Tattooed Millionaire, making him an obvious fit.
1992's Fear Of The Dark was the last album featuring Bruce until his return in 1999. It's often overlooked, but shouldn't be. 'Be Quick Or Be Dead' and the Grammy-nominated 'Fear Of The Dark' are fan favourites, though there was trepidation among the faithful when Blaze Bayley (ex-Wolfsbane) replaced Dickinson and Martin Birch stepped aside. Virtual XI subsequently divided opinion, but Bruce's return, on 2000s Brave New World, delighted the hard rock fraternity, who lapped up the album and hit single 'The Wicker Man', hailing both as solid returns to form.
In the 21st Century, Iron Maiden have released a clutch of discs produced by Kevin Shirley (Journey, Hoodoo Gurus, Rush, Led Zeppelin), and seven further live items, though their most revered on-stage effort is still the Platinum-selling Live After Death.
Now a truly worldwide success, the band has rabid support in Finland, Scandinavia, Canada and Germany. Dance Of Death and A Matter Of Life And Death, featuring 'Wildest Dreams' and 'The Reincarnation Of Benjamin Breeg', respectively, are on a par with any of the group's 80s anthems.
Recognising their contribution to molten metal, The Final Frontier won Iron Maiden their first Grammy, for the song 'El Dorado', which they released as a free download in 2010. Just to prove they're getting better with age, 2015's The Book Of Souls made No.1 in the UK and No.4 in the US, matching their previous highest placement Stateside. The Book Of Souls received terrific reviews and prompted Classic Rock to note, "It's hard to think of another band of this vintage that would be capable of sounding this vital and inspired." That really sums them up. Both the magazine and its readership agreed this was the best album of the year, as did Loudwire and Metal Hammer.
Murray, Smith, Gers, Dickinson and McBrain just go from strength to strength. Like Wishbone Ash, Black Sabbath, Deep Purple, Led Zeppelin, Uriah Heep, Genesis and Thin Lizzy (all groups they namecheck), Iron Maiden have become integral to the development of prog-metal. True golden gods, their US Book Of Souls tour was a blockbuster, and they now have their own Premium British Ale, Trooper, which you can sup while sporting one of their classic T-shirts. Ed is a very happy head, indeed.
Max Bell
Format:
UK English