'Countdown To Extinction': Megadeth's Explosive Political Assault
With 'Countdown To Extinction,' Dave Mustaine put politics front and center of Megadeth's work, tackling both the Gulf War and the conflict in his own psyche.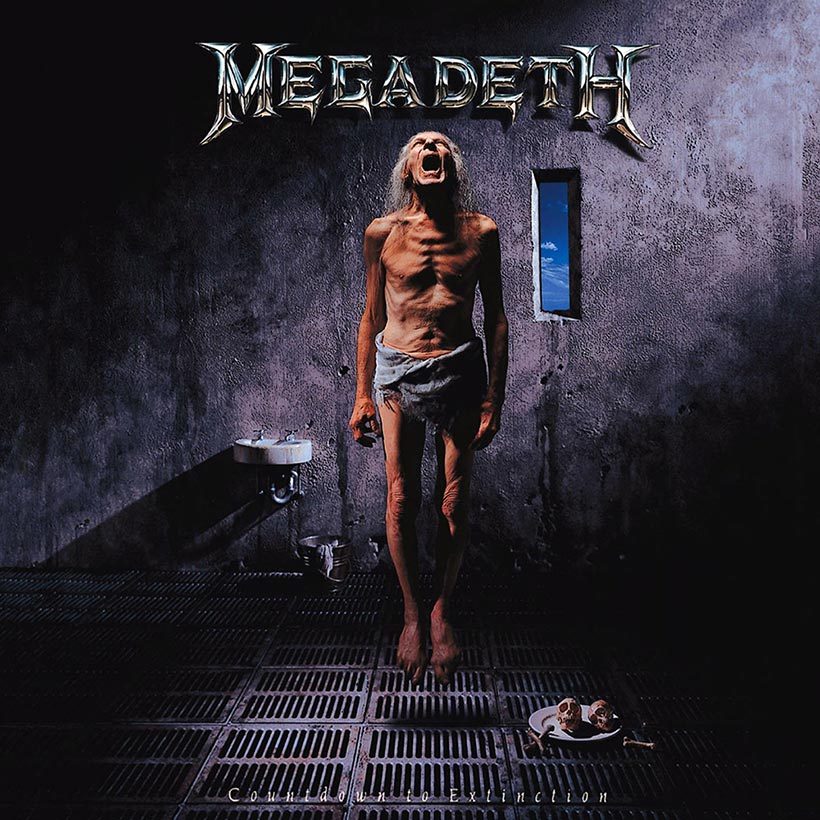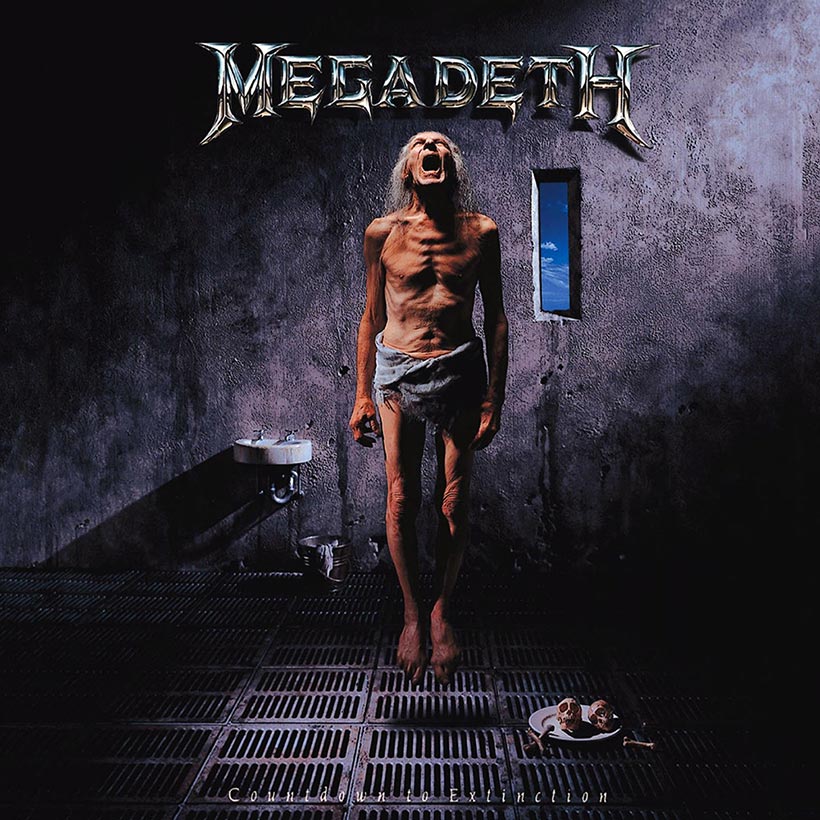 To tell the story of Megadeth's Countdown To Extinction, first it's important to explain where the world was upon its release, on July 14, 1992.
In the music world, the word "heavy" was taking a new form. Alt.rock was big news, with Nirvana's Nevermind sitting pretty at the top of the charts in January that year, paving the way for their Seattle neighbors Alice In Chains and Soundgarden, along with the grunge explosion. In different ways, these bands had taken elements of punk, classic rock and the earliest incarnations of heavy metal, chewed them up, and spat them out as a more appetizing idea of what heavy music could be.
Listen to Countdown To Extinction now.
Thrash metal – the very genre that counted Megadeth as one of its "Big Four" – was undergoing a major transformation itself. Just a year earlier, Metallica had released their self-titled fifth album. It slowed thrash down, gave it a commercial sheen courtesy of its Bob Rock production, and yet retained a heaviness that, while more palatable than anything they had produced before, was unmistakably Metallica.
Meanwhile, the other two of Megadeth's Big Four peers, Slayer and Anthrax, were also shifting gears. The latter had collaborated with hip-hop giants Public Enemy on the hit single "Bring The Noise" and their subsequent tour, and set on a more melodic path with new vocalist John Bush. Even LA speed merchants Slayer had switched to a midtempo pace two years earlier on Seasons In The Abyss. So with their contemporaries slowing down, the irony was that Megadeth were in danger of being left behind.
Featuring what many regard as the classic line-up – vocalist and guitarist Mustaine, bassist Dave Ellefson, lead guitarist Marty Friedman, and drummer Nick Menza – for Countdown To Extinction, Megadeth, like their peers, opted for a stripped-back approach resulting in a more focused and streamlined sound. Realizing that Metallica had opened the door to heavy metal's acceptance in the mainstream, Mustaine wanted a piece of the action.
Megadeth - Sweating Bullets (Official Music Video)
Their thrash roots are still evident on the likes of "Skin O' My Teeth," "Architecture Of Aggression," "High Speed Dirt," and "Ashes In Your Mouth," but this time around it's a more simplistic interpretation of the genre. Instead of each song bouncing between 20 complex riffs at 1,000mph, they are streamlined, underpinned with one basic hook and a more structured delivery. Where the songs differ from Mustaine's former band, Metallica, however, is that Countdown To Extinction feels like a natural progression from its predecessor, Rust In Peace. The leap Metallica made from … And Justice For All to their self-titled album made them sound at times like an entirely different band. For Megadeth, there wasn't such a huge disconnect; it was a groove-based thrash, with memorable hooks.
But Countdown To Extinction fits into a bigger picture. George Bush, Sr, was in The White House; in January 1991, he launched a series of air strikes on Iraq after Saddam Hussein's invasion of the neighboring Kuwait, initiating the Gulf War. Meanwhile, The Cold War, which began after World War II, came to an end in 1991, followed by the collapse of the Soviet Union, while the earlier fall of the Berlin Wall, in 1990, paved the way for a more united Europe and the signing of the unifying Maastricht Treaty. In such a politically charged time, it wasn't just music, but the whole world that seemed to be changing.
For years, Megadeth frontman Dave Mustaine had garnered a reputation as a bit of a motormouth, and politics is a subject on which he's never been shy of making his feelings known. In 1988, he told Sounds magazine that if he were president he'd build a wall along the border with Mexico to curb illegal immigration (sound familiar?). In the same year, he upset fans at a show in Northern Ireland amid the Irish conflict after dedicating a song to "The Cause," not realizing that many concertgoers took it as an endorsement of the IRA.
Megadeth - Foreclosure Of A Dream (Official Music Video)
Though Mustaine's lyrics were considered to convey occult themes on Megadeth's 1985 debut album, Killing Is My Business… And Business Is Good, from second album, Peace Sells… But Who's Buying?, onwards, Mustaine began to take a more social and political stance, covering subjects such as nuclear warfare and government conspiracies, and even going as far as to give Sex Pistols' "Anarchy In The UK" a makeover on 1988's So Far, So Good… So What! By the time of Countdown To Extinction, politics provided the album's backbone.
The underpinning theme is war – whether that be the internal war of Mustaine's psyche or the one that was being fought halfway around the world in the Persian Gulf. (Mustaine has admitted that "Architecture Of Aggression" was written about the then Iraqi president, Saddam Hussein.) Elsewhere, a George Bush, Sr, speech is sampled on "Foreclosure Of A Dream," a track that deals with the economy and social inequality. Appropriately, closing track "Ashes In Your Mouth" is an imagined wasteland in the aftermath of combat.
Upon its release, Countdown To Extinction debuted at No.2 on the Billboard chart and soon reached double-platinum status. The album was nominated for the Best Metal Performance Grammy in 1993.