Nirvana
Nirvana were one of the most successful and influential rock bands of all time, famously comprised of Kurt Cobain, Dave Grohl, and Krist Novoselic.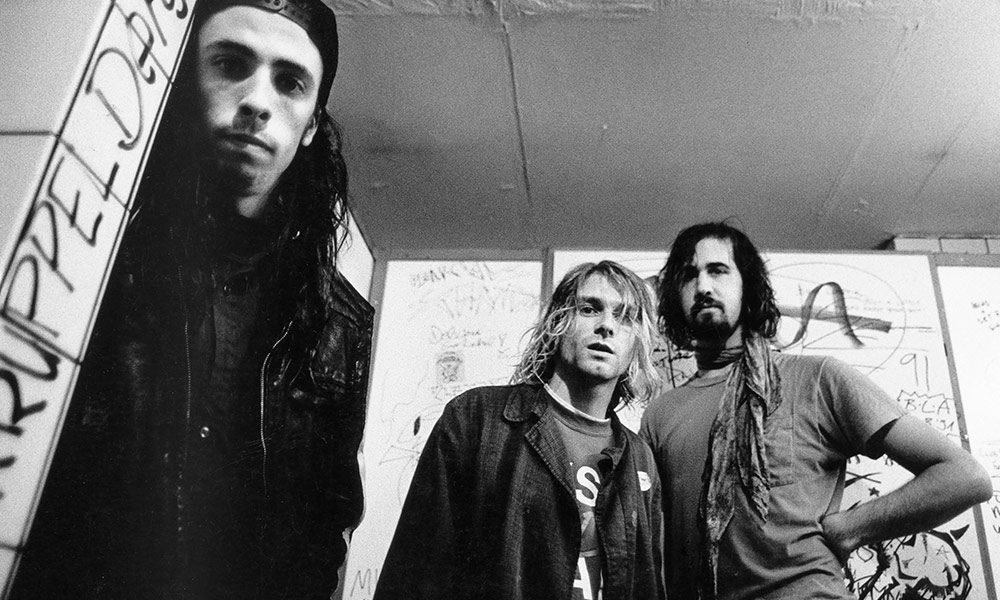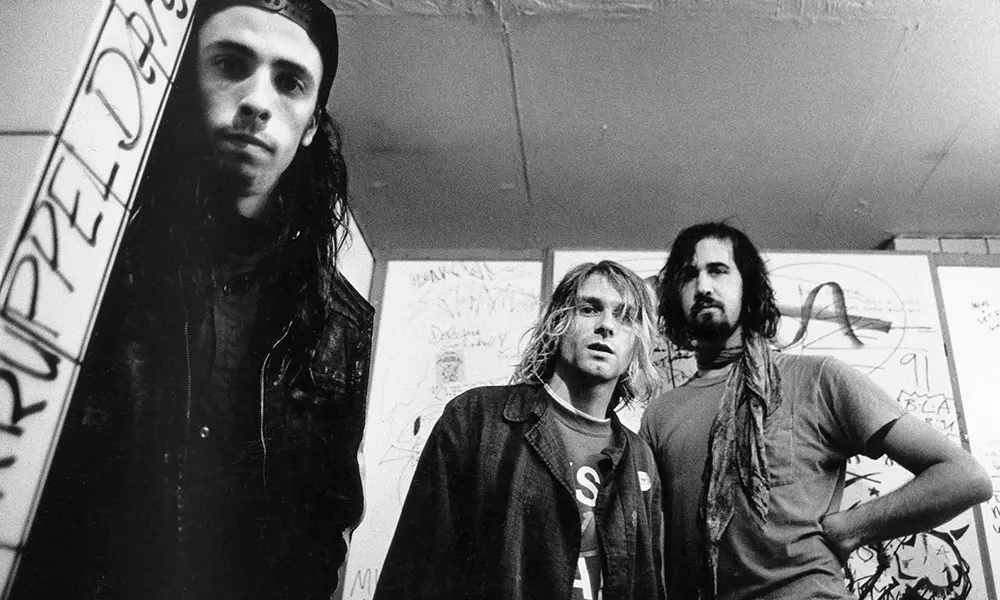 Some bands are born great, some achieve greatness and some have greatness thrust upon them. In Nirvana's case, all three hold true.
One of the most vital musical phenomena ever they are the type of group who define a generation and fix their sonic parameters for them. Chances are that the majority of interested souls will remember exactly where they were when they first heard Nevermind and will still get that same shiver up the nape of the neck frisson when they hear the opening bars of  'Smells Like Teen Spirit' or the cascading rhythmic sturm und drang of the mighty 'Come as You Are.'
The word iconic is used far too often and applied to artefacts that don't merit the hyperbole but in Nirvana's case, the adjective doesn't even come close. They are a jewel in our crown, that is for certain, and they occupy a place in the cultural and spiritual pantheon of rock music that far outstrips the word grunge, a term that Kurt Cobain gave no credence to himself.
Cobain is the guiding and driven force in Nirvana – the voice, the guitar, the lyrical embodiment – but while he is/was a one-off, a tortured kind of genius, he's far from the entirety of the band: Dave Grohl's drum kit and Krist (Chris) Novoselic are the radii on his wheel and it's worth recalling that as far as trios go, this one is more significant than any since the Jimi Hendrix Experience.
Nirvana also pulled off a coup, whereby their fans enjoyed them communally and in solitude. They sold millions and achieved posthumous fame in award terms with the most interesting recognition coming from the Library of Congress, who added Nevermind to their registry of culturally, aesthetically and historically important landmark recordings, but they still made you feel like you were their truest disciple. Given their significance their albums are often available as expanded and deluxe editions and while the originals are absolutely brilliant so are the alternatives.
Kurt Cobain's tragic departure can't be overlooked, he did indeed join what his mother termed 'that stupid club' aged 27, but we come to praise Nirvana and not to bury them. Hindsight is fine but the thrill of their initial impact will never ever be overlooked.
Nirvana established themselves on the alternative Seattle grunge rock scene in the late 1980s. They built a sound upon time changes, switching from dark loud moods to uplifting lighter choruses that gave them anthemic power. They became spokesmen for 'Generation X' with Cobain labelled its spokesman, which was never his intention. Punk only in so far as they encouraged others to create music in their image they were a struggling outfit in Aberdeen, on the fringes of Seattle's mainstream when Cobain and his friend Novoselic flirted with such embryonic garage bands as Fecal Matter and Pen Cap Chew.
Nirvana was the name chosen because it represented something healthier to aspire to than mere negative energy. Their debut disc Bleach (1989) was recorded with local man Jack Endino for the legendary Sub Pop label and for all its naïve amalgamation of Black Sabbath riffs and Mudhoney proto-grunge they retained a classic pop element that found resolution in melody rather than plain attitude. Moreover, at this stage, they couldn't have guessed that three of their albums would figure in Rolling Stone's Greatest of All Time list, with Nevermind itself being chosen as the ultimate tip of the 1990s by that esteemed publication.
It's no surprise that Bleach is Sub Pop's biggest-selling disc though the outfit's first single 'Love Buzz' was actually penned by Shocking Blue's Dutch guitarist Robbie van Leeuwen. The Beatle-esque 'About a Girl' and the semi-autobiographical furore of  'Negative Creep' became the album's live calling cards and set them up well for 1991's landmark event – the ever thrilling Nevermind (1991).
Here the dynamic time shifts come good, partly thanks to producer Butch Vig's ability to translate the band's sometimes ornery mood into effective and coherent dynamite – with new drummer Dave Grohl (ex-Scream, born Ohio) onboard they certainly sounded tougher – and ensure everything fell into place.
For those who dug in it was possible to note Cobain's obsession with Sonic Youth, though his aim was to conjure a fearsome collision between The Knack, Bay City Rollers (!) and Black Flag with a side order of Aerosmith. An iconoclast with a common touch Cobain still wasn't prepared for the sudden acclaim awarded to 'Smells Like Teen Spirit' which ripped through the American underground, ducked for cover in Europe and then blasted in the air like an atomic bomb, dragging alternative rock in its wake and triggering massive sales on the parent album.
By now Cobain was established as a young maverick. Slight in build and generally reticent in nature when he hit the stage he could make pronouncements about detesting homophobia, racism and sexism and speak to an audience in a language they understood. The album itself just gives and gives. 'Polly', 'In Bloom', 'Drain You', 'On A Plain' and the immortal 'Come As You Are' ensure that this is a definitive must-have disc.
We also point you towards the 20th Anniversary edition with bonus tracks; B-sides, BBC sessions and fascinating rehearsal pieces that show us how committed Nirvana were to their work. As the album soared to #3 on the Billboard Top 200 (it eventually went 10 million Diamond in the US and 4xPlatinum in the UK) it was obvious that a phenomenon was born, one where everything is just right, from the swimming baby on the cover to the beautiful acoustic 'Something in the Way.'
Following the compilation, Insecticide (1992), a fine, arcane and often obscure set of demos and darn strange covers, we come to the business of In Utero (1993). Now, following Nevermind would have defeated most people but these three guys swapped Sound City in Van Nuys for some funky cabin in snowbound Minnesota and simply blew us away again with Steve Albini lending a polished, chromatic plate to their riffs and rhythms with R.E.M. accomplice Scott Litt adding his studio magic dust to  'Heart-Shaped Box' and 'All Apologies'. This album has sold over 15 million copies already, remarkable considering they made it in six days (Kurt's vocals were done in six hours) in freezing isolation. 'Milk It' and the anti-rape song 'Rape Me' ushered in a spirit of screaming controversy but there are reflective moments, portals to a deafening and troubling sound that indicated teenage angst had been replaced by rock star angst. It's another classic for sure and has gathered praise in the passing years with the realisation that this contains some of Cobain's most lucid and heartfelt writing while the musical aspects are astonishingly potent. Everyone's got their favourite track in these parts:' how about 'Pennyroyal Tea', issued as a single after Cobain's death, flipped with 'I Hate Myself and I Want to Die' (working title for the album, in fact) offering an insight into some bleak humour that wasn't meant to be taken seriously.
Kurt's death, which had an impact reminiscent of John Lennon's assassination, sent shock waves through the rock-speaking world, especially since his highly public relationship with wife Courtney Love had made the duo anti-celebrities.
In Utero is available in multi-formats, including vinyl and box set as befits a recording event that again topped the US charts and followed suit in the UK and Sweden and is a masterpiece in its own right.
The unbearably poignant Nirvana MTV Unplugged in New York (1994) is certainly one to cherish and rediscover. Covering David Bowie's 'The Man Who Sold The World' is a masterstroke with Curt Kirkwood's 'Plateau' and the traditional blues of 'Where Did You Sleep Last Night' adding to the occasion.
Since his death, Nirvana have been brilliantly served with splendid anthologies like the Singles box and the live From The Muddy Banks of Wishka which is entirely electric and fantastic and captures the guts and fury of rock and roll as well as anything ever heard. Try 'Lithium' from Amsterdam or 'Silver' from Springfield, MA, marvel at the London taped 'Breed' and shed a tear over 'Heart-Shaped Box' cut in Los Angeles. Don't overlook this item.
Nirvana (2002) is another essential compilation of hits with Platinum and chart-topper by its name. Real fans didn't forget.
With The Lights Out (2004) is another box to open and explore as over three hours of stand out music reveals an early version of Led Zeppelin's Heartbreaker', the alternate mix of 'Return of the Rat' and Butch Vig's rough mixes of three cuts from Nevermind. That is just for starters. Sliver: The Best of the Box does a sterling cherry-picking job on the aforementioned rarities and curios.
It doesn't end there either because Live At Reading (recorded in 1992 at the Reading Festival in England) captures the band in their absolute pomp or remains a rite of passage for experience for all those who witnessed Nirvana in full bloom. Let's face it; their encores are better than most bands' entire careers.
Icon from 2010 brings us up to speed with a remixed 'Pennyroyal Tea', plenty of recent nostalgia and a reminder of the times when Cobain enlisted female cellists, giving a tantalising hint of what he might have done next.
We'll never know that and there isn't much point in second-guessing him here – leave that to the biographers and the novelists and the filmmakers. What we do know and that truth, which we hold to be self-evident, is that Nirvana have left a vast legacy considering they only made three original studio albums. Amongst their blatant achievements they dragged the underground kicking and screaming into the open air and turned on older listeners to a quality of music they maybe thought died around 1978.
More importantly, Nirvana educated a new generation and entertained them mentally and physically. They had a libidinous thrust that defined their era. Grohl and Novoselic have gone on to great things, Dave Grohl in creating the Foo Fighters and Krist Novoselic through his work with JAMPAC, and while they have continued to move forward themselves it's to the spirit of Kurt Cobain that one so often returns.