The Libertines
The British rock band co-founded by Pete Doherty and Carl Barat are known for their raucous live performances and garage rock sound.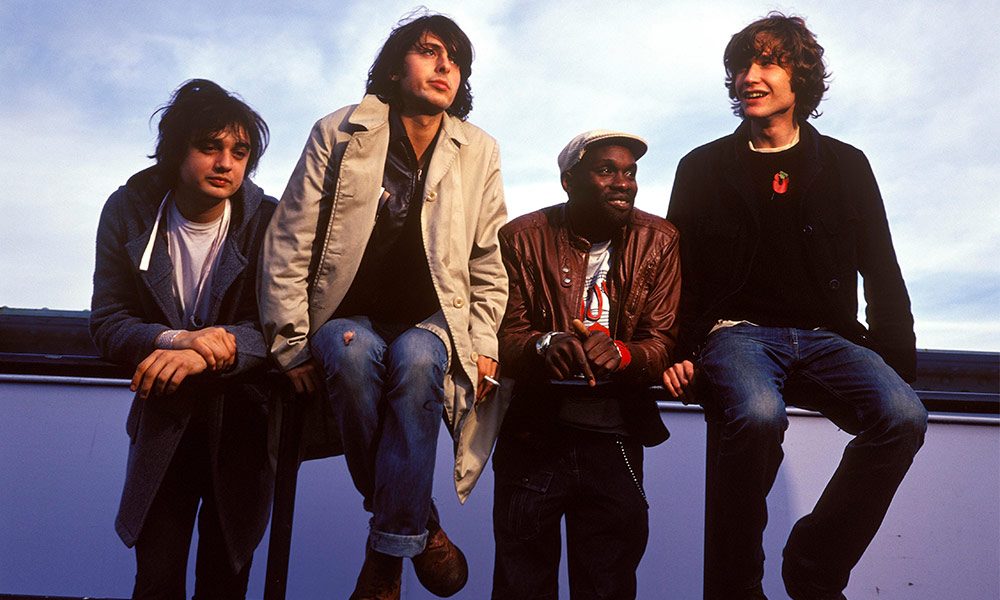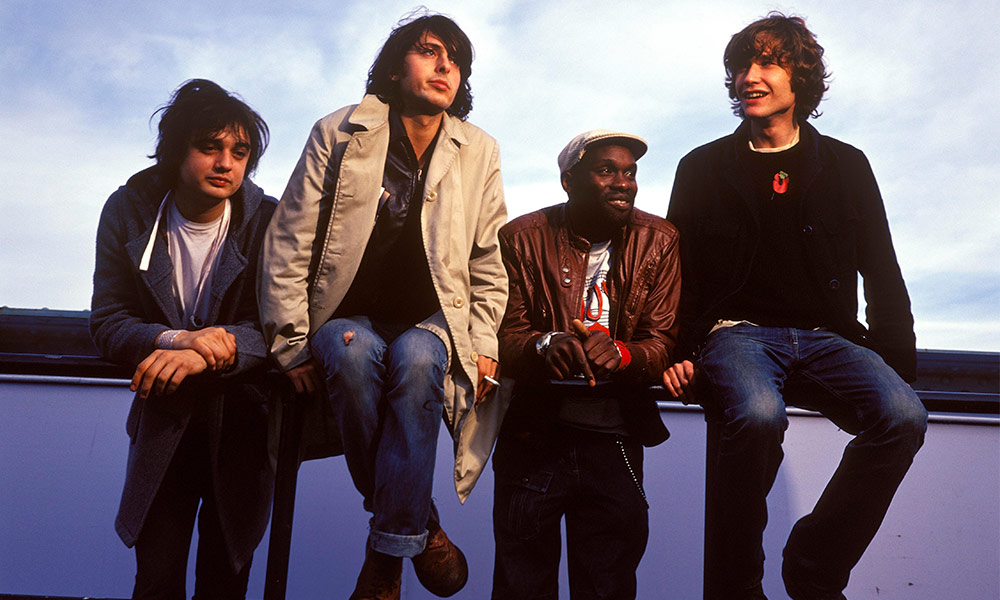 Our dictionary defines a Libertine as a person, especially a man, who freely indulges in sensual pleasures without regard to moral principles. Check the synonyms for yourself. Our musical principles point you towards the rather special English rock group The Libertines, no strangers to controversy for sure, but a mighty force in the post-punk or whatever scene. Formed in London by drama student Carl Barât and one time English literature student Peter Doherty in the late 90s their career – in both senses of that word – has won them acclaim and notoriety on an unparalleled scale. Their debut album Up The Bracket (title purloined from Tony Hancock's usage of the phrase for a jab to the Adam's Apple) is justly considered to be one of the great modern discs. Including the timeless agitprop choons "Time For Heroes" and "What a Waster" (on the latter-day reissue) this album announced the arrival of a band with literary flair and musical acumen. As such they have been hailed as inheritors of a legacy passed down via The Kinks, Small Faces, The Clash, The Smiths and Oasis, all your faves: so, definitively British – English? – but with a Celtic flair to widen the purview and an American drummer to lick them into shape. The self-titled follow up The Libertines (2004) hit the #1 slot in the UK and was voted into the New Musical Express list of the greatest British albums of all time. And it has stood that test. Immediate discovery, s'il vous plait!
At time of writing (2105) their, um, long-awaited third album, but what is eleven years between friends, Anthems For Doomed Youth, might be deemed the work of four men facing up to being thirty-something: whatever happened to The Likely Libertines kind of stuff… or maybe don't think so much.
Given their cultural bouillabaisse (Doherty loves Jean Genet, George Orwell and Oscar Wilde) while Carl is a full-on musician with an insatiable desire to get out there – if not in The Libertines, then with Dirty Pretty Things, The Chavs, Client et cetera) you are always likely to find and then discover something stimulating in their recordings, and their live shows, if you are lucky enough to catch one, are accompanied by an air of demented frenzy and expectation that you only ever get with music designed to raise your nape fuzz – Beatles, Bowie, Brahms. Thanks to their sterling rhythm section, North Londoner John Hassall and ever-steady New Yorker Gary Armstrong Powell, they hit the ground running with plenty of melody and bin bags of attitude. To quote Mr. Doherty: "It's like they say: Oasis is the sound of a council estate singing its heart out, and the Libertines is the sound of someone just put in the rubbish chute at the back of the estate, trying to work out what day it was". While Carl's version of: to the toppermost of the poppermost was alleged to have been "It's either to the top of the world or the bottom of a canal". Perfidious Albion salutes these geezers.
The Libertines bonded over books and beer in the student halls that spawned their desires and the bars that inflamed their ambition. Suede's visionary guitarist and songwriter Bernard Butler produced their debut single "What a Waster" (released 3 June 2002 on Rough Trade) while Clash man Mick Jones chuckled behind the console for the debut album Up The Bracket, that followed three months later and arrived as a quite perfect thing with its panoply of characters and dramatic scenarios inhabited by boozers, "good-time girls" and folks perched precariously between the dole and deliverance. The view from behind the riot shields that is "Time for Heroes" established their political credentials while "Don't Look Back into the Sun" (later featured in The Inbetweeners, series 1 and episode 1), is an anthem that thrills.
The second, eponymous album, spawned their biggest hit, "Can't Stand Me Now", co-written with Richard Hammerton (Mark Keds to Senseless Things fans) and "What Became of The Likely Lads", a slice of rock and roll vérité that anticipated one of the many implosions in the Carl and Pete firmament and yet faced these with fortitude. Given their honesty, it's surprising that The Libertines haven't released more singles but that only sends one in determined fashion to the albums, and age shall not weary them. The Libertines is densely packed with class songs: "Last Post on the Bugle" is a quixotic love song that bucks the notion Carl and Pete are only designed for the hedonist: quite the opposite, mon brave. This nakedly personal affair is packed with allusion. Ditto "What Katie Did" (is that you, Ms' Moss), an ultra-modern take on the long goodbye that brings tears to the eyes. "The Ha Ha Wall" and "The Man Who Would Be King" have the intensity of truly great performance art; don't forget to leave the album playing to catch the hidden track, "France" which Barât brought along to their early demo sessions at Odessa Studios in East Larndan when The Libertines were young, free and single.
In some ways, the sub-textual infamy of The Libertines is only going to get in the way of discovering their music. If you knew little or nothing about their legend that wouldn't detract from enjoying what they do, and so the current disc, Anthems For Doomed Youth details the facts of life without recourse to a primer, though a little knowledge of WW1 poet Wilfred Own wouldn't be a bad thing.
Produced by Jake Gosling (Ed Sheeran, One Direction, Paloma Faith, Wiley etc.) the bulk of the material was recorded in Thailand. According to Barât "What it boiled down to was that we wanted to try something a bit new with someone who is a bit new… we wanted someone who is getting their thing going, rather than someone who is just going to put us through their machine. This isn't a heritage band making a heritage album." Despite the title emotions are high and mostly upbeat, befitting sounds escorted to fruition in Karma Sounds Studios.
Pete and Carl did the John and Paul thing and faced up to each other across a table with acoustics in hand to write the new material, bringing John and Gary in to whack them into structures bound for mastering. In 2104 The Libertines delighted their ever-expanding fan base by playing three sold-out nights at Alexandra Palace where their rehabilitated sound dived into wild nostalgia and hope of things yet to come. One older song, "You're My Waterloo" survived the journey but the rest is brand spanking new and as warm as the waters on Ko Si Chang.
Smiles and self-reference peek in on "Fame and Fortune" (their life in the fast line account of the old rags to riches story) while "The Milkman's Horse" pinches some Motown and sets it to the kind of lyric that evokes British urban culture from the 1950s, and a fine place that is, to be sure. "Glasgow Coma Scale Blues" and "Gunga Din" (hello, Rudyard Kipling) are examples of Doherty's finest singing, also deliciously harmonised by Carl and co. Available in Digital, CD and Vinyl Anthems… also comes as a Deluxe Edition with "Love on the Dole", "Bucket Shop", the fantastic "Lust of The Libertines", "7 Deadly Sins" and "Over It Again (Japan Bonus Track)". Unveiling the album with a "week of shenanigans" at The Dublin Castle (a legendary London rock pub) monies were collected for the Amy Winehouse Foundation and a good time was had by all.
It's grand to have The Libertines back. Will they stay, or will they go? Catch them while you can.
Words: Max Bell