Glass Animals
The band has become one of the most successful rock bands of their era by channeling an eclectic mix of styles into something singular and compelling.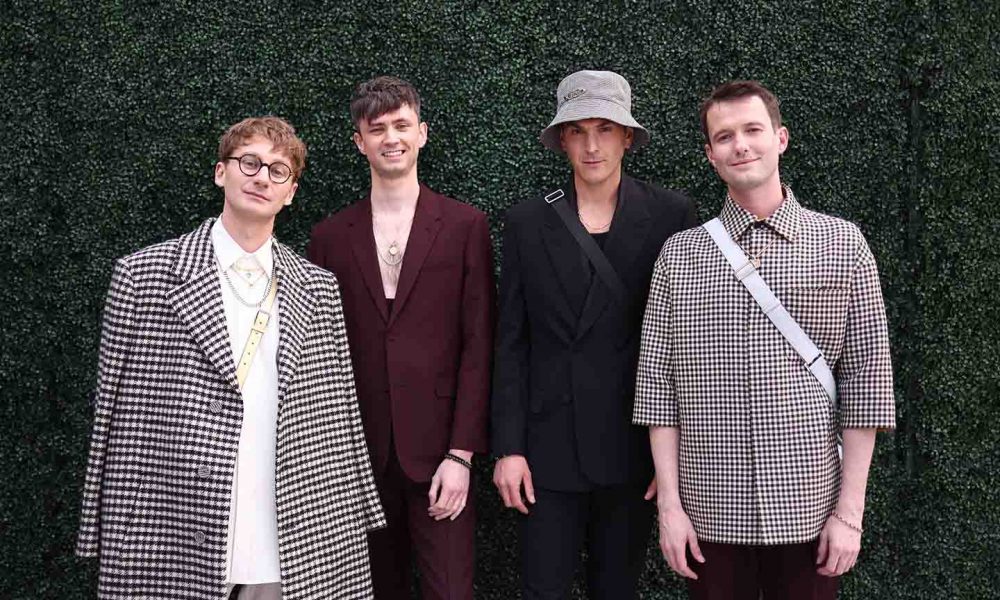 Glass Animals are from England, but Dave Bayley was formed by America. Bayley, the genre-melding band's lead singer, primary songwriter, and producer, was born in Massachusetts in 1989 to Welsh and Israeli parents and moved as a child to Bryan, Texas, just north of Texas A&M University. Although based in a college football hub, Bayley grew up entranced by pop culture, particularly the electric and eccentric hip-hop acts of the Y2K era, from the Neptunes to Dr. Dre to Busta Rhymes. When he was 13, the family again relocated, this time all the way to Oxford, UK. Despite being the new kid in town, Bayley formed friendships that would last him all the way into adulthood at St. Edwards School, including with future Glass Animals bandmates Joe Seaward, Drew MacFarlane, and Edmund Irwin-Singer.
Fast forward to 2010. In the early years of his medical studies at King's College London, Bayley's insomnia begat pre-dawn writing sessions with production software, leading to the formation of Glass Animals. Some of their earliest music attracted enough attention online that the band decided to pull it down until they finished their degrees, but by 2012 they'd signed a recording contract and put out a debut EP, Leaflings. The project's most enduring track was "Cocoa Hooves," a floaty, minimal electronic track that laid Bayley's soft falsetto croon on a bed of jazzy guitar, icy keyboards, finger snaps, and depth-charge synth-bass.
Within the year, they'd come to the attention of super-producer Paul Epworth, who at the time was riding high off his work for Adele and Florence + The Machine. Glass Animals became one of the first signings to Epworth's new imprint, Wolf Tone. More EPs followed in 2013, including a self-titled release that spawned the band's first collaboration with a rapper. "Woozy" paired Glass Animals with Chicago MC Jean Deaux, who delivered sighing, melodic bars over the band's subtly intense psych-funk production. A move from Oxford to London precipitated the recording of the band's debut album, partially inspired by William Stieg's hallucinatory illustrated children's story The Zabajaba Jungle.
Before ZABA arrived in June 2014, crystallizing Glass Animals' soulful, minimal hybrid sound, the band hyped it up with their first visit to North America and a flurry of singles, including "Black Mambo," "Pools" and "Gooey." The latter, a retro-futuristic indie-R&B track that found Bayley breathily singing about "peanut butter vibes" (portending a long history of lyrics pertaining to food), eventually went Platinum in the US. The album itself was a slow-burn success in the States, leading to sold-out tour dates in 2015 and hitting No. 1 on Billboard's Alternative New Artist Chart more than a year after release. Elsewhere, ZABA took off more quickly – particularly in Australia, where it peaked at No. 12 on the ARIA chart, and "Gooey" cracked the top 40 on the singles chart. Capping off the ZABA era, Glass Animals teamed with the young Brooklyn rapper Joey Bada$$ on "Lose Control," a lean but hard-hitting bit of leftfield trap music.
The band compiled stories from people they met on tour supporting their first album, an archive that became the basis for 2016 sophomore effort How To Be A Human Being. The album functioned as sort of a short story anthology, with each song telling the tale of a different character. The vibrant opening track "Life Itself," a cheeky profile of a sci-fi fanatic laced with spooky retro synths and banging Lollywood drums, went into heavy rotation at SiriusXM and became Glass Animals' highest-charting song on American terrestrial radio to that point at No. 14. Subsequent singles like "Youth" and "Season 2 Episode 3" tapped into sounds like new wave and video-game-addled funky R&B, respectively. The album itself made it to No. 20 in the U.S. and No. 23 in the U.K., where it was nominated for the prestigious Mercury Prize.
Glass Animals' momentum seemed unstoppable until Seaward was hit by a truck while cycling in Dublin in July 2018, leading to a broken leg and fractured skull among other injuries. Reeling from Seaward's near-death experience, the band canceled their tour dates and paused their activities as he relearned basic functions like talking and walking, let alone how to play the drums. During the hiatus, Bayley branched out as a writer and producer outside the band, tapping into his own nostalgic memories while conceiving new Glass Animals material. Near the end of 2019, the band returned with "Tokyo Drifting," a collab with Florida rapper Denzel Curry that would become the first taste of their third album.
By the time Dreamland arrived in 2020, Glass Animals had kicked out several more singles, including "Your Love (Déjà Vu)," "Dreamland," "It's All So Incredibly Loud," and the one that would become their biggest hit by far. The funky yet melancholy "Heat Waves" blended rock, hip-hop, synth-pop, and more into a contagious groove. Lyrically it found Bayley processing grief over lost friendships and the effects of codependent romance: "Sometimes, all I think about is you/ Late nights in the middle of June." It was released into a pandemic summer, with a video that mourned the loss of the communal live music experience. In that context, the song resonated – and just kept resonating. One of the great slow-build success stories in music history, "Heat Waves" spent nearly two years climbing charts around the world, buoyed by radio play and TikTok syncs alike. In the US, it hit No. 1 on Billboard's Hot 100 in 2022 after a record-breaking 59 weeks on the chart, ultimately staying on top for five weeks.
Glass Animals became one of the most successful rock bands of their era – an era when rock bands with No. 1 singles are incredibly rare – in part by evolving the sound of rock for a new generation, channeling an eclectic mix of styles into something singular and compelling.
Listen to the best of Glass Animals on Apple Music and Spotify.