Dr Dre
With six Grammy Awards, Dr Dre's respected position at the head of the table as gangsta rap pioneer is rightfully justified.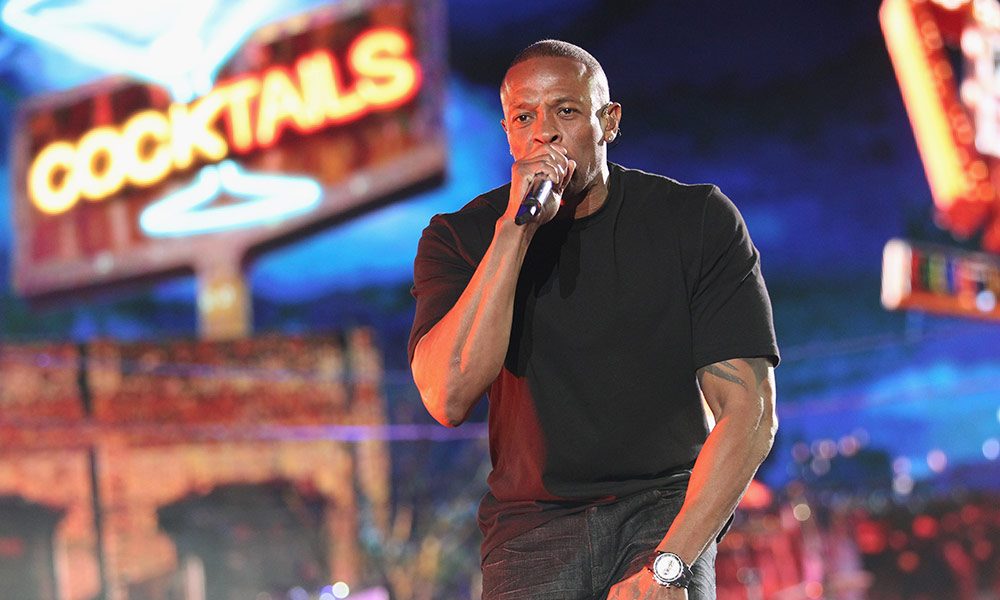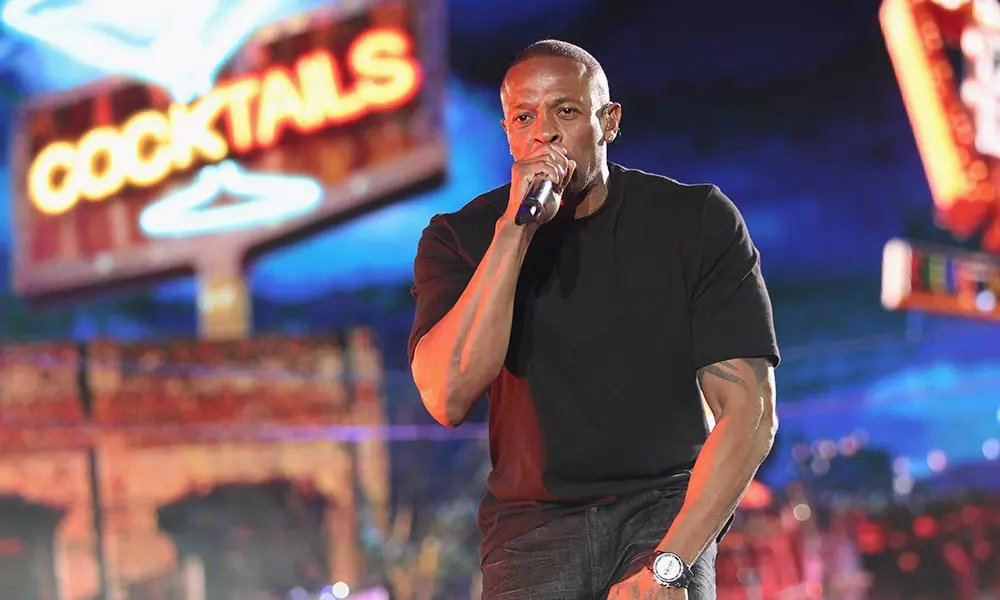 As one of the most recognised names in rap, Dr. Dre has come a long way since his days performing at house parties and clubs with Compton collective the World Class Wreckin' Cru. Not only responsible for overseeing the successful careers of Snoop Dogg, Eminem, 50 Cent, and more recently Kendrick Lamar, Dre's own explosion on to the scene came as part of the genre's most dangerous crew, N.W.A.. Selling millions of records worldwide, and a winner of no less than six Grammy Awards, Dre's respected position at the head of the table as gangsta rap pioneer is rightfully justified.
Born Andre Romelle Young, Dr. Dre is Hip Hop. Originally Dr. J, after basketball legend Julius "Dr. J" Erving, the Compton native eventually settled on Dr. Dre, a combination of both his government and stage names. Beginning as a DJ during the early '80s for the World Class Wreckin' Cru, it wasn't until meeting Ice Cube (real name O'Shea Jackson) in 1986 that his fame would begin its rise from local celebrity to international superstar.
Together with writing songs for Ruthless Records, a label owned by local drug pusher Eric "Eazy E" Wright, Cube and Dre would pen the hit 'Boyz-N-The-Hood'. Inspiring Eazy to form the group N.W.A. (Niggaz With Attitude), the three would go on to change the soundscape of rap forever. After the largely ignored N.W.A. And The Posse album fell flat with listeners, Cube, Dre and Eazy, plus MC Ren and DJ Yella, would in 1988 go on to release the seminal Straight Outta Compton. An album so unapologetically violent, that while it wasn't gangsta rap's first appearance it was without question the first to find a popular audience.
With Dre cooking up hit after hit behind the boards for N.W.A. – think 'Express Yourself' and the highly controversial 'F**k The Police' – his production talent was unquestionable. With success aplenty, it took a member of the team jumping ship to stir things up not only with the group but in Dre's mind also. Lyrically chastising Ice Cube for leaving N.W.A. in 1989 on the track '100 Miles And Runnin", Dre soon realised the error in his ways. "Cube was smart not to sign the contract," he said during an interview discussing the apparent shady business dealings behind the N.W.A. scenes. Citing conflicting egos and an unfair record deal, Dre, with the help of soon-to-be record industry mogul Suge Knight, left N.W.A. and Ruthless Records to start a new chapter in rap.
Forming Death Row Records with Suge Knight in 1992, it was Dre's noise collage of Bomb Squad beats and George Clinton funk that carried the label to the highest heights of rap. However, it wasn't just his beats that were taking flight. Dropping off his haunting first solo single 'Deep Cover' in the spring of 1992, alongside new protege Snoop Doggy Dogg, Dre's lyrical delivery took a step forward and helped usher in G-funk, the new sound of gangsta rap.
Discovering Snoop through his stepbrother, rapper Warren G, Dre immediately formed a bond with the laid back and funk-driven lyricist. Going on to produce his classic debut album Doggystyle (1993), the two were never too far away from one another when it came to the creative process. Contributing to Dr. Dre's own classic debut album, The Chronic (1992), Snoop's stylish wordplay and originality cemented 'Nuthin' But A 'G' Thang' as a certified worldwide smash. Still friends today, Dre and Snoop will forever be regarded as one of the best collaborative partnerships in Hip-Hop history.
Keeping with the amoralistic and hedonistic subject matters heard on his work with N.W.A., Dr. Dre's The Chronic is often referred to as one of the finest moments in rap music. During an exciting time for the genre, Dre's magnum opus had it all. With discussions of gunplay, tales of youngsters embracing the ghetto life, and gratuitous comedic references to fellatio, it plays like the street edition of the lad bible. With samples galore – serving as a diss aimed at Eazy E and N.W.A. manager Jerry Heller, album standout 'Fuck Wit Dre Day (And Everybody's Celebratin')' sampled George Clinton's 'Atomic Dog' – it set the scene for the next generation of rappers.
At this point a dominant force in rap, Death Row Records had a roster of artists unrivalled by any other label at the time. Inmates included: Tha Dogg Pound (Daz & Kurupt), Nate Dogg, D.O.C., DJ Quik, Lady Of Rage, Michel'le – whom Dre had a longstanding romantic relationship with resulting in his third son being born – RBX, and Danny Boy. Acquiring the contract of imprisoned rapper Tupac "2Pac" Shakur, the label was about to hit controversy head-on with 'Pac's turbulent lifestyle taking its toll. While Dre produced a few records for Death Row's new superstar, most notably 'California Love' – on which he also featured – and 'Can't C Me', it was no secret that the two didn't get on – 'Pac later released the slanderous 'Toss It Up' aimed at Dre.
Tired of Suge Knight's strong-arm tactics, and in part because of his uneasy relationship with 2Pac, Dr. Dre left Death Row Records in the summer of 1996. Musically responsible for Death Row's dramatic rise, which saw the label go on to sell nearly 50 million records, Dre said goodbye to all of his hard work, but in all honesty, he couldn't have timed it any better. The Death Row ship was sinking. Snoop Dogg struggled to compose himself after his gruelling murder trial. 2Pac was shot and killed in Las Vegas. Suge Knight was imprisoned for violating his parole. So while his former home lost its spark, he rebounded once again forming yet another label.
With everything this time on his own terms, the birth of Aftermath signalled a new day for Dre. Successfully adding his production talents [and a quick verse] to Blackstreet's 1996 humungous hit 'No Diggity', Dre then went on to become the household name he is today. Dropping off Dr. Dre Presents… The Aftermath in November of 1996, as the first album showcasing his new label talents – even if it didn't perform as well as his previous efforts – Dre's consistency would soon pay off. After contributing to the disappointing flop that was The Firm's (Nas, Nature, AZ and Foxy Brown) 1997 self-titled mafioso rap-themed debut album, it didn't matter that it only went gold, because, with Eminem, Dre himself was about to go "white" gold… several times over.
Over the years mentoring his fair share of artists, Dr. Dre had an ear for talent. While occasionally missing the mark (remember Truth Hurts?), he hit the jackpot when he met the great white hope, Marshall Mathers. Releasing his hilariously disturbing major label debut The Slim Shady LP in 1999, Eminem, co-signed by Dre, executive produced by Dre, and mentored by Dre, became rap's first credible white rhymer – after the Beastie Boys of course. Going on to have the type of success that many rappers could only dream of, Dr. Dre created a monster. Ahead of his time lyrically, Em's subject matters brought in a wider audience and were complimented extensively by Dre's ear and genre-defining beats. Since his debut, Eminem has gone on to sell over 100 million albums worldwide.
With the success of Eminem, Aftermath were fast becoming "the label". Releasing his sophomore solo project in November of 1999, Dre dropped 2001. Updating the G-funk sound that he had birthed, the format – weed, women and ruckus – was similar to that of his 1992 classic debut. This time taking inspiration from the growth in his own personal life tracks like 'Forgot About Dre' was a reminder to the haters that he was still around and still making hits – "Now all I get is hate mail all day saying Dre fell off/ What, cause I been in the lab with a pen and a pad trying to get this damn label off". Selling over seven million albums in the United States alone, this was the nail in the haters' coffin. Continuing the relationship with his small circle of creative partners, Daz, Kurupt, Snoop and Nate Dogg stood front and centre with new additions such as Eminem, Mel-Man, Hittman, and Xzibit. There is no other album that truly defines the close of the '90s and beginning of the 2000s the way 2001 does. Epically gangsta, the addition of ominous strings and soulful vocals make for one hell of an album.
Between then and now, Dre has gone on to be recognised as one of the most important icons in Hip Hop. During the recognition process his rumoured third album, Detox, has gone on to be arguably Hip Hop's most anticipated album of the past decade, and he even found time to make superstars out of both 50 Cent and Kendrick Lamar. Now the music fans number one supplier when it comes to headphones, his worldwide success as co-founder of Beats By Dr. Dre, with longtime friend and Interscope label head Jimmy Iovine, has seen him transfer studio-quality sounds to the ear of the consumer. As a multi-million dollar company, this just further proves Dre might just have the most important ear in music.
Words: Will "ill Will" Lavin
Format:
UK English