Best Tupac Songs: 26 Essential Tracks
The best Tupac songs are a mix of meditations on life and death, party jams, and some of the most thoughtful hip-hop in history.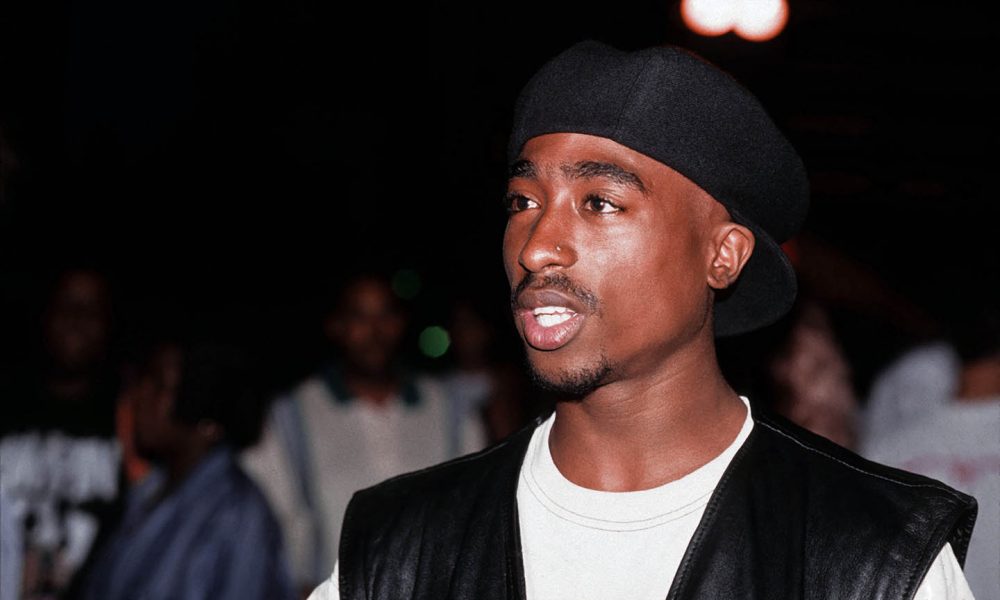 Born on June 16, 1971, Tupac Shakur remains one of the most renowned rappers of all time. Through his lyrical prowess and social awareness, his signature flow, and a magnificent ear for beats, he's crafted some of the greatest songs of all time. And as the first solo rapper in history to enter the Rock And Roll Hall Of Fame, and the first hip-hop artist to release a double album, Tupac always set the course, never followed it. His feud with The Notorious BIG still looms over the world of hip-hop, but his once-in-a-generation talent, career, and legacy transcend all that, and the best Tupac songs make the case for him being the most essential rapper in hip-hop history.
Listen to the best of Tupac Shakur on Apple Music and Spotify.
26: Out on Bail
Hip-hop has always involved a degree of self-mythologizing, so for better or worse, it helped 2pac's credibility that he'd actually been to jail. This was before his longer prison stint – earlier in life when a 15-day stint cost him a role in Menace II Society. Adding to the song's reputation was the fact that Pac performed "Out on Bail" at the first Source Awards before Interscope pulled it from Thug Life's debut album. It wouldn't get a proper release until 2004's Eminem-produced Loyal to the Game.
25: Ghetto Gospel
"Ghetto Gospel" is another cut from Loyal to the Game, and despite being a posthumous release, it's an incredibly of-the-era song and a few factors led to its success. The documentary Tupac: Resurrection had been in theaters just a year earlier; Eminem, a lifelong Tupac devotee, was a global superpower and had defiantly performed "Stan" at the Grammys with Elton John, and thanks to Kanye, sampling was bigger than ever. Somehow, all of this came together on Loyal to the Game's lead single "Ghetto Gospel," making it one of the definite singles of 2004.
24: I Wonder if Heaven Got a Ghetto
Tupac was brash, bombastic, and headstrong, but he was also one of the most introspective rappers of his age. He might be the first rapper people associate with the word "poet," even to this day. He was venomous one moment and disarmingly earnest the next. The titular question is, of course, metaphorical, but the earnestness in 2pac's voice almost makes the question sound literal. "I Wonder if Heaven Got a Ghetto" was initially released as B-side in 1993, but took on a new meaning when it was released on R U Still Down?, the rapper's first posthumous album.
2Pac - I Wonder If Heaven Got A Ghetto (Official Music Video)
23: Thugs Get Lonely Too
Another cut off Loyal to the Game, "Thugs Get Lonely Too" was a success not just because of Eminem's shepherding, but because Eminem (like Tupac) had a working relationship with Nate Dogg. The two had worked on a handful of songs before Pac's death, and collaborated with many of the same producers. Eminem's career would explode shortly after Tupac's death, and his own association with the same artists, coupled with his brashness, really did make it feel like he was almost stepping into Pac's role. He ended up crafting what might be Pac and Nate Dogg's most beloved song.
22: Runnin' (Dying to Live) Feat. Notorious B.I.G
Before he was producing an entire album, Eminem was still ambitious when it came to getting Tupac songs out into the world. He earned his executive position on Loyal to the Game with a 3-song contribution to the Tupac: Resurrection soundtrack. For the project's lead single "Runnin' (Dying to Live," he recreated one of Tupac's scrapped collaborations with the Notorious B.I.G. Obviously these artists ended up having very few songs together despite their simultaneous stardom and "Runnin'" tried to course correct that.
21: I Get Around
The late Shock G produced a handful of Tupac's early songs, but none bigger than "I Get Around." Tupac was still on his way to becoming a sensation, and he wouldn't achieve true superstardom for a couple more years. The single is both a quintessential 90s track and Tupac song. At this point in his career, it was one of his biggest hits, charting at No. 11 on the Billboard Hot 100.
20: So Many Tears
Plenty of Tupac songs contain religious references and motifs, but "So Many Tears," from Me Against The World, directly quotes Psalm 23:4. The album was recorded in 1995 and reflects the somber, introspective mood he was in as he faced an impending jail sentence. He's regretful for some of his actions and the situation, but also knows that these events shape him.
19: Temptations
Thanks to legendary hip-hop producer Easy Mo Bee (and Erick Sermon of EPMD on a sample), this is one of Pac's most old-school-inspired tracks. Hearkening back to a bygone era without feeling like a gimmick, "Temptations" describes struggles with relationships, love, and dating, all of which are in Pac's wheelhouse.
18: Keep Ya Head Up
Tupac would often rap about the struggles specific to womanhood – especially Black womanhood – in America, and "Keep Ya Head Up" is a bittersweet ode in which Pac calls out the way men treat women. Few rappers can make a Marvin Gaye sample their own, but Tupac manages just that in a track that more than earns its place among the best Tupac songs.
17: Trapped
Despite both "Trapped" and "Brenda's Got A Baby" appearing on Tupac's debut album, 2Pacalypse Now, the former sounds like it hails from an earlier era. Pac's delivery hadn't reached the same level of fury he'd later display, but as he raps about being harassed by the police, the pain and anger are there just beneath the funky hook. "Trapped" was an early demo, written by Pac's friend Ray Luv, and, in honor of his friend, the rapper made it the first single from the album.
16: Dear Mama
Tupac is not the only rapper whose career has been shaped by his relationship with his mother. Because he was consistently lyrical about the role of women in his own life and the culture at large, this tribute to his mother, Afeni Shakur, is especially significant. As one of his most beloved tracks, "Dear Mama" details her struggles, both as a parent and a human being. Here Tupac has reached a point of appreciation and understanding for his mother, who raised him singlehandedly.
15: Picture Me Rollin'
This G-funk cut is one of Tupac's "fresh out of prison" songs and is one of the most inviting warning shots Tupac ever fired. Given how defiant and militaristic its lyrics are, the song is especially smooth. "One life to live, it's so hard to be positive/When ni__as shootin' at your crib/Mama, I'm still thuggin'/The world is a war zone," Pac raps. Death Row labelmate and R&B singer Danny Boy showed up on quite a few Pac songs, but this may rival "Ain't Mad At Cha" as one of the best pairings.
14: How Long Will They Mourn Me?
"How Long Will They Mourn Me" is one of the best Tupac songs not only because of his rapping, which is on point as always, but because it's an essential posse cut. Pac only has one verse, and he appears on the hook, while the track boasts a classic appearance by Nate Dogg, along with features from Rated R, Big Skye, and Macadoshis.
13: Hit 'Em Up
Before "Ether" by Nas became shorthand for a devastating diss track, there was Tupac's "Hit 'Em Up." Pac mocks Junior MAFIA's "Player's Anthem" on the hook and verbally assaults basically everyone from the East Coast. Featuring another huge Johnny "J" beat, "Hit 'Em Up" was the definitive diss track in the East Coast-West Coast feud, the shadow of which still hangs over rap.
12: Brenda's Got A Baby
Tupac's career would be defined by his dedication to both storytelling and social awareness, and this, his debut single, has both. "Brenda's Got A Baby" is a wide-ranging song that touches on teen pregnancy, parenthood, sexual assault, government support, and drug use – it's a cautionary tale, but also sympathetic to tragedy. Like many of the best Tupac songs, it's one of the most referenced tracks in hip-hop.
2Pac - Brenda's Got A Baby
11: Me And My Girlfriend
Tupac rapped a lot about love and sex, but as the title indicates, this song is more about riding with a specific woman for longer than one night. It's got one of Tupac's most recognizable flows and set the ever-enduring "ride or die" mantra. It's also one of Tupac's most referenced and quotable songs, most famously on Jay Z and Beyoncé's "'03 Bonnie & Clyde."
10: How Do U Want It
With Jodeci's K-Ci and JoJo on the chorus, "How Do U Want It" is two songs in one. Obviously a sex ballad, it also doubles as an exploration of what it means to attain fame and success, and how we grapple with those things once we get them. Johnny "J", who produced a slew of songs on All Eyez On Me, uses a Quincy Jones sample and makes the whole thing bounce like hell.
9: To Live And Die In LA
Viewed as another prophetic entry from Tupac, "To Live And Die In LA" is a nostalgic love letter to the city that made him a star, and, with a stack of even more LA-specific references, is something of a response track to "California Love." But even while he's repping for his city, Tupac calls out the gang culture that had pervaded it: "We might fight amongst each other/But I promise you this: we'll burn this b__ch down/Get us pissed," he rapped, referencing the notorious LA riots.
8: Can't C Me
"Can't C Me" is a sample-packed anthem with George Clinton's crooning to boot. Tupac's flow is focused but frenetic over one of Dr. Dre's most powerful beats of the era. As far as the best Tupac songs go, "Can't C Me" sees him rapping at top capacity: supercharged and practically exploding out of the recording booth. Not only one of the best Tupac songs ever, but a definitive track of the era.
7: 2 Of Amerikaz Most Wanted
It's been more than 20 years since this song was released, and Tupac and Snoop Dogg are probably still the most famous rappers from the West Coast. For one of the biggest team-ups in hip-hop history, Daz Dillinger created a beat that nearly rivals the one he made for "Ambitionz As A Ridah" – which is saying something. It took a personality as big as Snoop's to rival Pac on a track, and even among Pac's other monster collaborations, this stands apart.
6: I Ain't Mad At Cha
"Bittersweet" was one of the things Tupac did best. Compared to some of the other beats Dillinger did for Pac, this one sounds like it came straight from church. Tupac reminisces about friends he's grown apart from and the ways in which fame has changed his relationships. Not only referencing the lack of bitterness he felt towards former friends and the different directions life has led them, the song captures the realization that it's hard to blame anyone for doing what's necessary to change their life.
5: California Love
Not to overstate the obvious, but this is one of the most recognizable California songs around. It encapsulates a specific sound and era and features one of Dre's funkiest G-funk beats. "California Love" was also Tupac's first single for Death Row Records, and the opportunity to work with Dre is one of the main reasons Pac joined the label that would define his legacy. As he namechecks neighborhoods and 90s style hallmarks, "California Love" is a snapshot in time that still blasts out of every LA car radio. Dre put Compton on the map, while Pac put California on the world stage.
4: Changes
"Changes" is one of the most melodic Tupac songs out there, yet given the radio play it gets today, it's hard to believe the song wasn't released as a single during his lifetime. The bittersweet sound of Talent's hook masks the grim – and still horrifically prevalent – indictment of police violence toward Black men in America.
3: Life Goes On
From his passionate delivery and Stacey Smallie's melodic background vocals, "Life Goes On" is one of Tupac's most moving songs. This immortal anthem speaks to the harsh reality of the hustle and reminds everyone like him that there's a better world. Each verse is more honest and revealing than the last, making the song a heart-wrenching entry in a body of work that thoroughly explored in life and death.
2: Ambitionz Az A Ridah
The intro track to one of the biggest albums in the history of hip-hop had to be great – and it was. From Michael Buffer's "Let's get ready to rumble" to the massive Daz Dillinger beat and maybe the most interpolated hook in hip-hop's pantheon, this cut from All Eyez On Me is arguably Tupac's theme song.
1: Hail Mary
"Hail Mary" doesn't have the same name recognition as some of his more mainstream signals, but, in terms of artistry, it sits atop the best Tupac songs. "Hail Mary" was the third single from Pac's final, posthumous album, The Don Killuminati: The 7 Day Theory, which he recorded under the new moniker, Makaveli. For this track, producer Hurt-M-Badd made one of the most haunting beats of all time, with startling moments that nearly eclipse the rest of the song. Though "Hail Mary" features verses by Kastro, Young Noble, and Yaki Kadafi of The Outlawz, along with Prince Ital Joe, it's Pac's show. On his best flow and chorus ever, Pac is braggadocious, paranoid, religious, and defiant. He is himself.
Looking for more? Discover how hip-hop achieved world domination in the 90s.