Best Post Malone Songs: Essentials From The Pop Superstar
The superstar artist has witty yet emotional bars, but also has an absolutely preternatural ability to pen arena-ready hooks.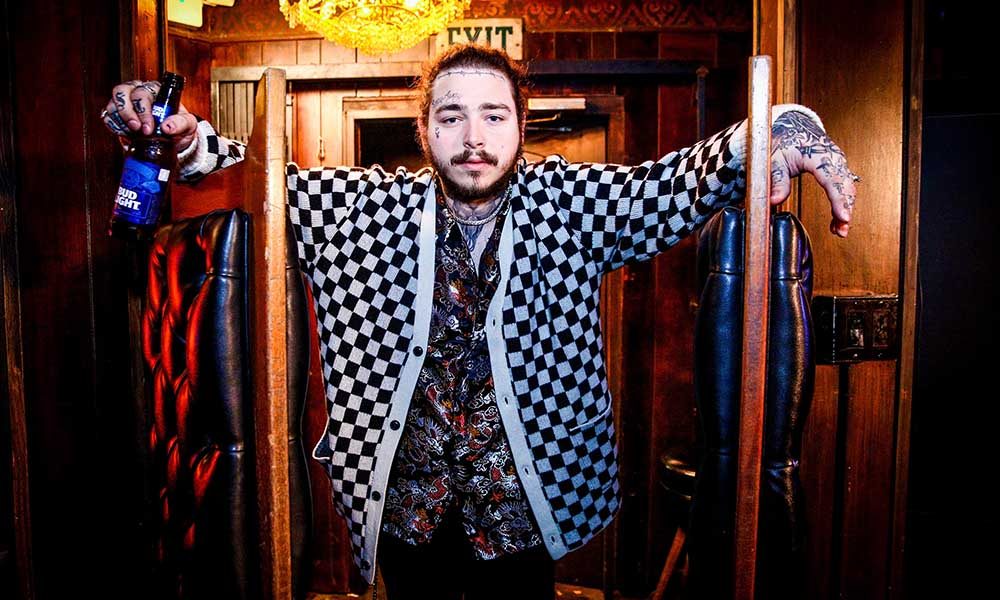 Landing somewhere between rap and pop, the best songs of Post Malone reveal a true polymath in an age in which the line between MCs and singers is obtuse if not entirely blurred. His ability to blend witty yet emotional bars with an absolutely preternatural ability to pen arena-ready hooks has made him one of the most popular musicians on the planet. From his debut single, "White Iverson" and debut mixtape, August 26th, you knew Post Malone was destined for stardom, and yet, his best work is propelled by his underdog status.
Malone's best songs disregard the haters as they skyrocket to the top of the charts. In this way, he's like Michael Jordan, cataloging every slight or negative opinion to be filed away and used at a later date to create yet another hit. The doubters make their way into his biggest songs, like "Congratulations," though they're merely used to illustrate just how far Posty has come in his half-dozen or so years as a legitimate superstar.
His career has progressed in a manner more unpredictable than linear, moving from straight-ahead pop-rap songs to something more malleable and original. He's one of the most consistent musicians currently in the industry, whether you qualify him as a rapper, singer, or something in between.
Listen to the best songs from Post Malone on Spotify and Apple Music. 
21. Zack and Codeine
Posty's second album, beerbongs & bentleys was nominated for Album of The Year at the Grammys, and songs like "Zack and Codeine" were a major reason why. It's a lithe number, featuring an assist from famed record producer Scott Storch.
20. Broken Whiskey Glass
This song from Post Malone's debut album has the immortal opening line: "I done drank codeine from a broken whiskey glass." Delivered in a slurred style that evokes DJ Screw, it sounds exactly like what he's singing about.
19. Enemies feat. DaBaby
The fourth single from Posty's Hollywood's Bleeding, this collaboration with the rapper DaBaby reached No. 16 on the Billboard Hot 100.
18. On The Road feat. Meek Mill & Lil Baby
This song is one of the best hip-hop tunes from Post Malone's third studio album, Hollywood's Bleeding, featuring Meek Mill and Lil Baby on the mic. Post has always been genre-agnostic, but this one proves that he can stand firmly alongside two of the world's finest rappers.
Post Malone - On The Road (Audio) ft. Meek Mill, Lil Baby
17. watt feat. Post Malone – Burning Man
This country-tinged rocker is a bit of a love letter to the free-spirited Nevada festival, with Post Malone detailing a wild trip to the desert where he ends up drops "more acid than a Beatle."
16. Juice WRLD feat. Clever & Post Malone – Life's A Mess II
The delicate "Life's A Mess II" showcases Post Malone's softer side, with a guest verse that pleads for understanding and patience. It ends in an incredibly dark place, but that's the sort of drama that you get throughout Post's discography.
15. Feel feat. Kehlani
"Feel" from 2016's Stoney is a bass-heavy anthem made for late night cruises in cars outfitted with massive subwoofers. On the track, Post Malone showcases his signature flow, which floats somewhere between singing and rapping with ease. Kehlani comes through for a sultry verse, accenting Post's more gruff approach with smooth bars.
14. Takin' Shots
Taken from Post Malone's 2018 epic beerbongs & bentleys, "Takin' Shots" is the party anthem for a new generation of college kids. Millennials had "I Love College," Gen-Zers have "Takin' Shots," a bouncy, dance-ready track set to accompany any number of slurred toasts and keg stands for generations to come.
13. Saint-Tropez
With a subtle autotune effect in his back pocket, Posty effortlessly churns out an earworm chorus on "Saint-Tropez," a song that practically transports you to the glorious island. Malone shows off his signature wit, rapping, "This shit bliss/I'm so rich/Abs like Abercrombie Fitch."
Post Malone - Saint-Tropez (Official Video)
12. I'm Gonna Be
The bevy of hits Post Malone created for Hollywood's Bleeding is simply astounding, and "I'm Gonna Be" is no exception. In short, it's a classic Posty song, defiant in the face of haters, willing to pursue his dreams whether or not they're realistic. "I'm gonna be what I want, what I want, what I want," he sings, and it's impossible not to believe him.
11.  Take What You Want feat. Ozzy Osbourne & Travis Scott
Ozzy Osbourne and Travis Scott appearing on a track is, on paper, an odd pairing, but the way they coalesce around Post Malone makes "Take What You Want" one of the best songs on Hollywood's Bleeding. It showcases the wide range of talent from the three performers, with Post linking between Ozzy's classic rock swagger and Travis' new school cool.
10. Goodbyes feat. Young Thug
Fans across the rap world started getting hyped in 2019 when murmurings of a Post Malone and Young Thug collaboration were confirmed. The results didn't disappoint. The track is a love song gone bad, a broken-hearted lament from two of rap's greatest bards. The track features Thugger at his most otherworldly, mirroring the entirely alien feeling of intense heartbreak.
9. Die for Me feat. Future & Halsey
One of Post Malone's best traits is his ability to act like a chameleon when he invites guests onto his tracks. On "Die For Me," Posty embraces the dark chaos of Future, drowning in pills and ill feelings towards exes, in much the way his mentor on the track does. With excellent contributions from Halsey, the track is a standout on Hollywood is Bleeding.
Post Malone - Die For Me (Audio) ft. Future, Halsey
8. Feeling Whitney
"Feeling Whitney" is the last song from the deluxe edition of Post Malone's 2016 LP, Stoney, and the song showcases an acoustic side of Malone diehard fans are familiar with from his early days covering Bob Dylan. On "Whitney," Posty delivers a cathartic ballad, more Mumford & Sons than Maison Margiela, but Post Malone all the same.
7. Psycho feat. Ty Dolla $ign
Ty Dolla $ign is undeniably one of the best crooners in R&B, and his presence on "Psycho" makes Posty level his game up. His chorus on "Psycho" is memorable and infectious, another beerbongs & bentleys mega-hit. Malone shows off his pipes on the song, proving that Ty isn't the only singer on the song with a velvety voice.
6. Circles
Another hit from Hollywood's Bleeding, Post Malone's "Circles" is a surprisingly upbeat number from Posty. His lyrics are remorseful and touch on a relationship gone sour, showcasing some of his best lyrical work to date. He sings, "Seasons change and our love went cold/Feed the flame 'cause we can't let it go/Run away, but we're running in circles/Run away, run away." The simplicity of the chorus speaks to the universal feelings Malone so effortlessly taps into.
5. White Iverson
We should have known as soon as Post Malone released his debut single, "White Iverson," that he was destined to become a megastar. The conceit of the song, that a white dude with braids was so nice on the mic that he was the Allen Iverson of rap, was silly to some, but immediately captivated rap audiences across the world thanks to Malone's now-signature blend of humor and catharsis.
Post Malone - White Iverson
4. Rockstar feat. 21 Savage
Before Post Malone was a bonafide rockstar, he sang about all the things he did that made him feel like a rockstar. In hindsight, he already was one, but you can't blame the boy for dreaming. With anthemic vocals – warbly, pained, and rich – Post delicately navigates between the pain and triumph of life in the spotlight. 21 Savage rolls through for an excellent verse, proving that Posty works well with just about everyone in the game.
3. Hollywood's Bleeding
Post Malone sounds haunted on "Hollywood's Bleeding." It's an emotional masterpiece, a look into the dark side of celebrity and the crushing weight that can accompany tabloid hawks, desperate fans, and a ruthless industry. On the song, Malone is wearing his heart on his sleeve, and the way he waits for the second verse for the beat to drop allows him to build with maximal suspense.
Post Malone - Hollywood's Bleeding (Audio)
2. Sunflower feat. Swae Lee
Of all the hits in the Post Malone catalog, "Sunflower" from Spider-Man: Into the Spider-Verse is undeniable. Even the biggest Posty skeptic would have a hard time not singing along to this tune. It's simple in style, but instantly memorable, like all the best Post Malone songs are. Thanks to an excellent performance from co-star Swae Lee, the song has become not only one of Post Malone's best songs, but one that has helped define this new generation of hip-hop.
1. Congratulations feat. Quavo
"Congratulations" is an anthem for anyone that's ever been doubted and came through in the clutch to prove the doubters and haters wrong. It's a victory lap for the underdogs, a celebration for the afterthoughts. "Congratulations" might be the biggest songs in Posty's catalog, and amongst dozens of infectious hits, the track is arguably the catchiest. Malone has let the opposition fuel his best moments, and "Congratulations" is no exception. He's not angry, he's just waiting for his flowers from everyone who insisted that they would quickly wither.
Post Malone - Congratulations ft. Quavo
Think we missed one of the best Post Malone songs? Let us know in the comments below.