Nicki Minaj
The Trinidadian rapper and singer is one of the biggest stars in hip-hop, with a career that's shaped rap and pop during the 2010s.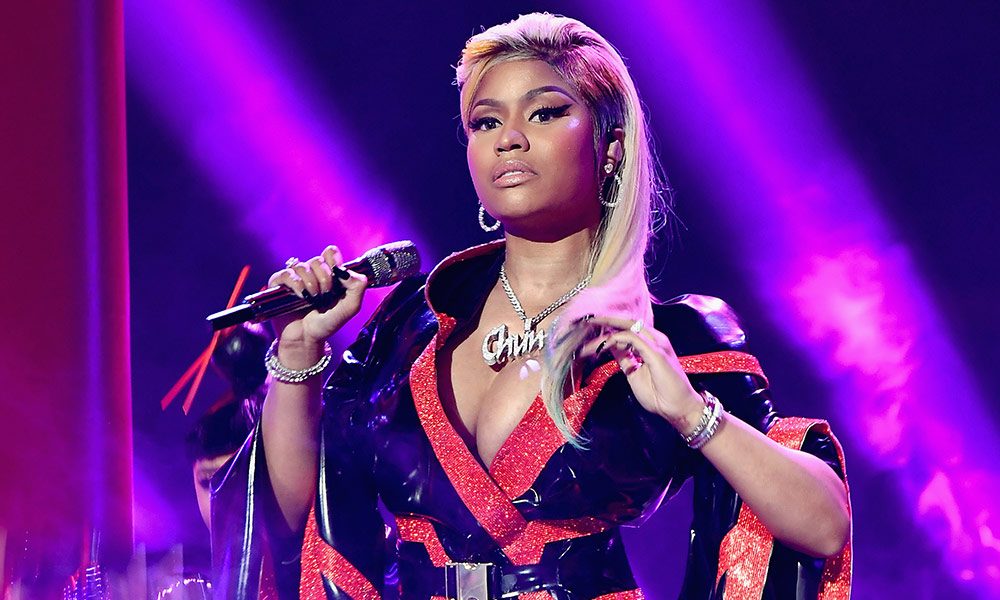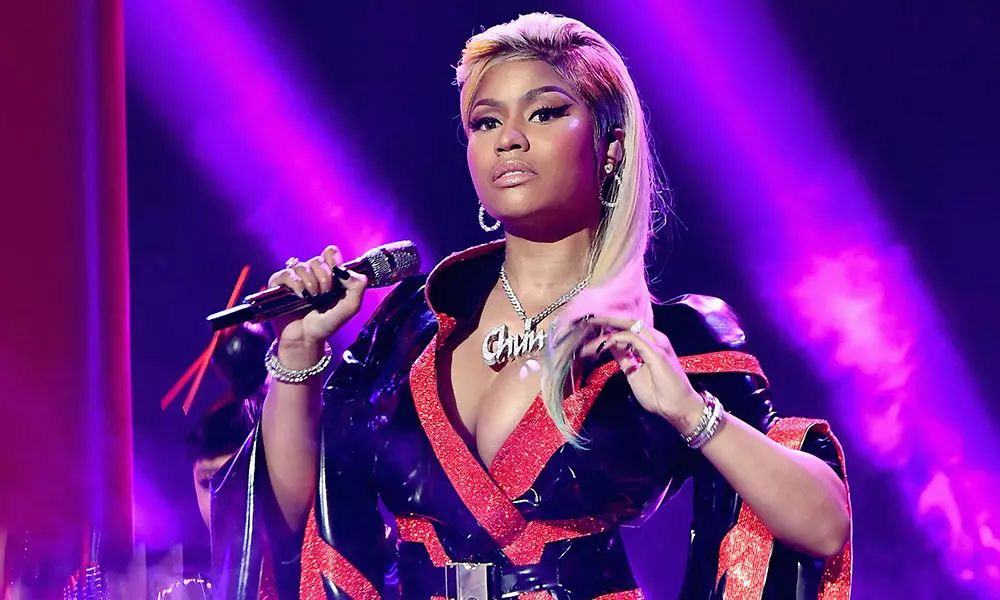 Once typecast as 'the fearless Barbie' Nicki Minaj is no puppet. She is, of course, the wildly successful rapper, singer, songwriter and entrepreneur whose command of hip hop, R&B and funky pop has taken her skywards. Her debut album proper (her mixtape endeavours preceded it) is the huge selling Pink Friday, a number one release that gave us the glorious "Super Bass" and made Nicki Minaj the first female artist to enjoy charting seven singles simultaneously on the Billboard Hot 100. Pink Friday: Roman Reloaded, another global smash, and 2014's The Pinkprint, with the anthemic single "Anaconda" slithering across dance floors, rubber-stamped her household name stature, as did her voice casting for Ice Age: Continental Drift, in which she gave life to the teenage woolly mammoth Steffie, sassy leader of the animated Brat Pack. Nice work.
Minaj's talents as a rapper have seen her fend off all the big boys and she is considered to be as influential as anyone in the popularisation of the genre: the New York Times hit the nail on the head with this assessment: "It was only a matter of time before a hip-hop star would blow through the lines separating pop from rap and appeal to two lucrative audiences at once. And it was as inevitable that hip-hop purists would swiftly cry foul. It is particularly upsetting to the hip-hop boys club that the most successful transgressor, a freshly minted megastar named Nicki Minaj, is a woman."
Nicki's rap pyro attack and complicated rhyme schemes are a match for Kanye West or Jay-Z and her hardcore cred is clear to hear on "Roman's Revenge" where she cusses and cuts it with Eminem, the veritable Bard of Badass. Two peas in a tripod. Not for the faint-hearted, this battle of the sexes face-off is a bitching Brooklyn play on words nonetheless.
We love Minaj even more because she does funny voices and accents, takes off, adopts alter egos, flips up a mean cockney brogue and dresses weird and wiggy. A female superstar no doubt, she has endorsements with top sports, cosmetics and drinks companies and decorates her house with all the bling of a zillion awards. A food bank donator, Minaj is a regular on the Forbes Hip Hop Cash Kings List. She bad, but she good and she's one of a kind.
Born Onika Tanya Maraj in Trinidad and Tobago, 1982, the lady we'll now call Minaj was later raised in Ozone Park, Queen's, New York and received her show biz education at LaGuardia Arts School in Manhattan, the legendary location for the movie Fame's wannabes.
Graduating to become a formidable MC Nicki knew she could compete with old school girls who put sex into the mix but just as soon sussed there was more to her artistry than that. For one she had a painfully acute childhood to draw upon (her drug-addicted alcoholic father burnt down the family house).
Once Lil Wayne took her under his wing though things looked straight up and she immersed herself in the hotbed at Young Money with three cracking mixtapes already circulating. Her opening trio of videos was "Lil Freak", "Shakin' It 4 Daddy" and the breakout "My Chick Bad" with Usher, Robin Thicke and Ludacris respectively.
Another collaboration, with Mariah Carey, resulted in the explosive "Up Out My Face" and major TV exposure. With back-up mentors like West, Diddy and James Cruz and a forged link to the likes of Lil' Kim her ascent was rapid and irresistible.
In late 2010 Pink Friday hit already bolstered by the major singles successes "Your Love", "Check It Out:" and "Right Thru Me" although other tracks like "Super Bass" and "Did It On'em" really pushed the Pink Friday phenomenon into overdrive. Eminem aside the guests include will.i.am, Rihanna, Drake and Kanye West.
All the haters were dashed once Nicki sampled Buggles' "Video Killed the Radio Star" on "Check It Out" and Minaj's fusion of Korean costume and Japanese anime in the video was both disarming and ahead of the curve. The album is particularly recommended in the Deluxe edition and there are several other digital download bonus versions to enjoy.
Pink Friday: Roman Reloaded debuted at number one on the Billboard 200, selling over a quarter of a million copies in its first week. The top slot was attained again in the UK and Canada with the stand-out tracks "Roman in Moscow", "Starships" and "Come on a Cone" – and the madcap production conjuring a perfect blend of contemporary pop and cutting edge rap. The purists love "Champion", featuring Nas, Drake and Young Jeezy, and the genre-busting techno of "Automatic".
The extras on Pink Friday: Roman Reloaded – The Re-Up followed six months later. The lovely "Pound the Alarm" is a return of a different kind since it tributes Trinidad and Tobago, carnival steel pan music and local characters like the voluptuous Dame Lorraine. Heaps of fun.
The third brand new set is The Pinkprint, Nicki's most grown-up and emotional work to date, given the lyrical subject matter ranging from the search for love to the yearning for motherhood.
The notion that Minaj is fully on top of her game is reinforced by the presence of Beyoncé Giselle Knowles on the confident "Feeling Myself" and Ariana Grande on the predatory "Get On Your Knees".
Other notable collaborators include the English soul girl Jessie Ware, Lil Wayne and Skylar Grey on the exceptional "Bed of Lies" – that track's appearance on the Hot 100 ensured Minaj tied with Madonna and Dionne Warwick for the third-most entries amongst women. Next year we reckon she'll own that record.
To keep her fans sweet in 2015 Minaj has seen releases on "The Night Is Still Young", "Truffle Butter" and a feature slot on "Bitch I'm Madonna", the US Top Twitter Tracks #1.
Currently touring, The Pinkprint Minaj received sensational notices for her London O2 Arena show and picked up yet another BET Award in Los Angeles in June 2015.
A modern multi-media, multi-platform superstar, Nicki Minaj is a Caribbean Queen.
Words: Max Bell