Let's Talk About The Female Rappers Who Shaped Hip-Hop
In the early days of hip-hop, female rappers were essential to the genre's biology, unapologetically detailing their experiences of the world they lived in.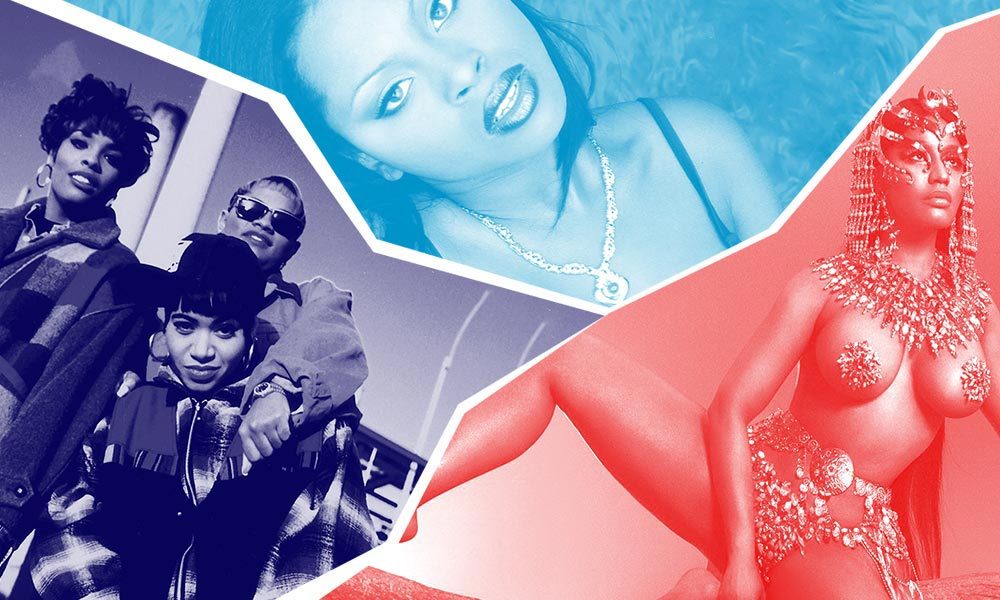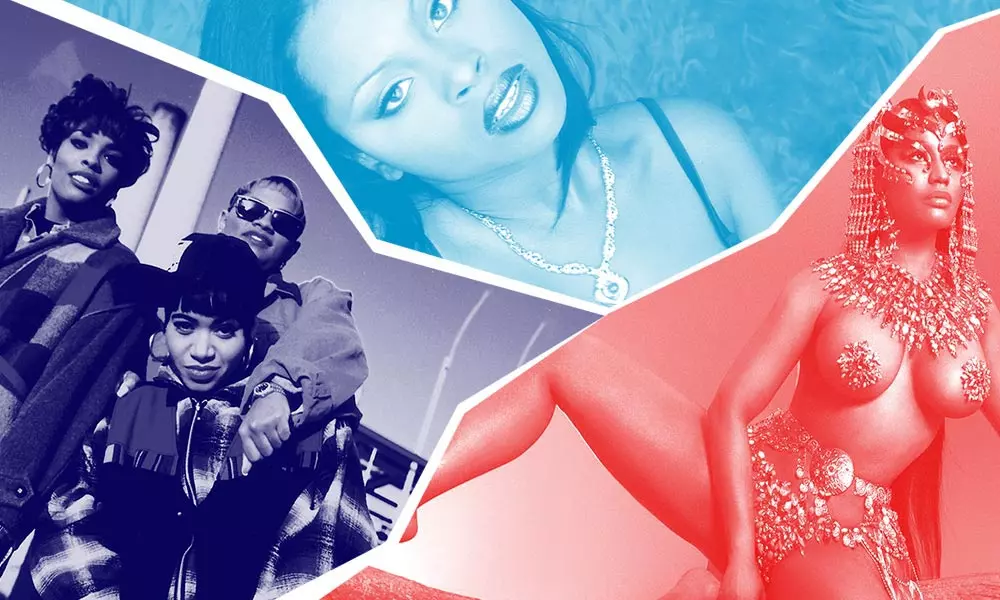 From the start, hip-hop was about storytelling. Just as the sound of the movement was created by the creative repurposing of music that already existed, the success of the genre's MCs was based on their willingness to shatter old forms and wield the shards to create a new style of self-expression. The 80s and 90s saw the best male and female rappers alike used wordplay, repetition, and extended metaphor to relate experiences that were dark, violent, romantic, or hopeful, casting themselves as hero, witness, or seer.
But given the music industry's history of marginalizing the contributions of women, it's easy to see hip-hop as a boys' club. Braggadocious lyrics about violence, sex, swagger, and masculinity reign in a space where women, in most cases, are cast as either conquests or a faceless Greek chorus, their own stories largely ignored. But in the early days of the genre, while critics were still deriding hip-hop as a passing fad, female rappers were beginning to make up a formidable piece of the genre's biology, unapologetically detailing their interpretations and experiences of the world they lived in. They all had distinct variations in style, flow, and lyrical content, but what each woman had in common was a fiercely independent voice and the power to remain consistently and resoundingly herself.
MC Lyte
The first solo rapper to release her own, full-length album, MC Lyte's Lyte As A Rock dropped in 1988. Lyte's flow, lyrical precision, and refusal to self-censor gained her industry attention quickly. She has described the scene in its early days as competitive and skill-based, but not without a gender bias. "There may have been times when promoters didn't want to pay me what I deserved. In a line-up, they didn't want to put me where my songs warranted me going. But none of it affected me to a degree to where it mattered. There may have been setbacks but I never let them get to me."
In 1993, "Ruffneck" was nominated for a Grammy for Best Rap Single, making MC Lyte the first female rapper nominated for a Grammy. In recent years, Lyte herself has called for the Female Rap Solo category to be reinstated, saying "it destroys [hip-hop] culture to not have the perspective of a woman."
Queen Latifah
Part of the New York area's storied Native Tongues crew, along with the likes of Jungle Brothers, De La Soul, and A Tribe Called Quest, Queen Latifah was one of the earliest female rappers in hip-hop. The Native Tongues collective were known for their socially conscious, largely positive lyrical content, but Latifah made a name for herself talking about issues in the lives of black women. Songs like "Ladies First" and "UNITY," which discussed domestic violence, street harassment, and the need for coalition-building between females, made the New Jersey native a powerful voice for change.
Queen Latifah - U.N.I.T.Y.
Monie Love
One of the only other female rappers in Native Tongues, Monie Love and Queen Latifah struck up a fast friendship after Latifah and Native Tongues traveled to the UK, where, at a show, they met the British rapper, who had been making noise in the underground scene there for years. Love eventually joined Native Tongues in New York, where she collaborated with Latifah on "Ladies First," and released her own album, produced by Afrika Baby Bam. Songs such as "Monie In The Middle" and "RU Single" both slyly and cleverly struck back at expectations and assumptions about black women in relationships without sacrificing the flow.
Salt-N-Pepa
When Cheryl James and Sandra Denton joined forces in 1985, much of the record industry still believed hip-hop was a fad. Calling themselves Salt-N-Pepa, the two put out "The Showstopper," a response to Doug E Fresh's hit "The Show." Clad in short shorts and tight midriff-baring shirts, this duo ruled the sex-positive revolution of the 90s. With songs such as "Push It," "Do You Really Want Me," "Let's Talk About Sex," and "Shoop," Salt-N-Pepa were frank and outspoken about their desires and their sexuality, while simultaneously demanding respect, preaching feminist values and speaking out against assault and discrimination.
Salt-N-Pepa - Let's Talk About Sex (Official Music Video)
Bahamadia
One of Philadelphia's first prominent MCs, Bahamadia, a former producer, was moved to join the rap game after being inspired by the likes of female rappers Salt-N-Pepa and Lady B. Lyrically dexterous with a smooth, unflappable flow, Bahamadia's verses serve less bombast than her contemporaries, but are no less verbally crafty. Her debut album, 1996's Kollage was an instant classic, and the very first LP to be co-produced and entirely written by a female rapper. Loaded with deceptively simple beats that reveal their complexity as they weave over, under, around, and through textured melodies, the album is both warm and fresh, full of the jazz and soul influences that have become synonymous with the Philadelphia sound.
Foxy Brown
One of the most distinctive female rappers of the 90s, Foxy Brown entered the scene at a mere 15 years old, and first appeared on LL Cool J's album Mr. Smith , rapping over the remix for "I Shot Ya." She was signed to Def Jam in '96, the same year she appeared with Lil' Kim, Total, and Da Brat on the Bad Boy Remix of "No One Else." It was also the year her debut album, Ill Na Na, dropped. Critical reviews were mixed but Foxy's sales were strong, and "Get Me Home" was that rare radio banger with decades of staying power. Like Lil' Kim, Foxy was frank and outspoken about her sexuality and her desire while still commanding – and demanding – respect.
Foxy Brown - I Can't ft. Total
Lauryn Hill
From the moment critics got their first taste of Lauryn Hill on the 1994 Fugees album, Blunted On Reality, she was hailed as a star. Fellow Fugee Wyclef Jean acknowledged it himself in a verse on 1996's The Score: "The magazine said the girl shoulda went solo/The guys should stop rapping/Vanish like Menudo." Hill did go solo, releasing The Miseducation Of Lauryn Hill in 1998 to public and critical acclaim. Mixing neo-soul sounds with powerful feminist lyrics, Hill delved deep into the complications inherent in womanhood, motherhood, black femininity, and the music business. Hits like "Doo Wop (That Thing)," "Everything Is Everything," "Lost Ones" and "Ex-Factor" still sound as fresh and compelling today as they did at the time of their release. Hill hasn't released an album since a compilation in 2007, but remains an irreplaceable voice in the canon of best female rappers.
Lil' Kim
The woman who rapped "got buffoons eatin' my pu__y while I watch cartoons" needs no introduction. She hasn't released a major studio album since 2005, but Kim remains in the canon as one of the most gifted MCs of either gender. Flipping sexual mores on their head, Lil' Kim twisted the paradigm that said a 90s female rapper had to come with a masculine swagger. Draped in mink and diamonds, lace, and lingerie, Kim embraced the feminine sexual aesthetic that kept many women in the genre locked in the role of "video vixen." "I've always been super sexy and feminine," Kim told Billboard in 2014. "My record company didn't understand a female rapper being sexy. They thought I needed to look like MC Lyte, wear sweatsuits and all that." Instead of changing to fit the mold of female rappers, Lil' Kim doubled down on her sexuality and used it to unapologetically empower herself in a world of men, whom, in many ways, she still needed in order to access power.
Missy Elliott
With a visual and sonic vocabulary that's one of a kind, it's not an exaggeration to say that the southern-born Missy Elliott changed the game. After years of collaboration with the likes of Jodeci, Ginuwine, and Aaliyah, Elliott headed into the studio with childhood friend and longtime collaborator Timbaland to work on her debut album. The result, which took only two weeks, was Supa Dupa Fly, which yielded the radio hit "The Rain." Laced with inventive wordplay ("I sit on hills like Lauryn") that sampled Ann Peebles' 1973 single and with one of the most inventive videos in the history of the medium, "The Rain" was a surprise and a smash.
Elliott's next album, Da Real World, was equally successful, and her third album, Miss E… So Addictive, gave the world "Get Ur Freak On," one of the most enduring hits of the decade. Missy's look – baggy pants, cartoonish silhouettes, and bright colors – added comedy to an often hyper-serious musical genre. She was in stark contrast to many of the newer commercial female rappers who were scantily dressed and hypersexualized, working hard to appeal to a fanbase of young men. Through her unique vision, Missy created a body of work that has cemented her position as one of the legends of modern music.
Missy Elliott - The Rain (Supa Dupa Fly) [Official Music Video]
Roxanne Shante
Roxanne Shanté began rapping at the age of 9, displaying an almost inherent knack for rhyme schemes and flow patterns. This talent earned her acceptance into the widely popular Juice Crew, which included Big Daddy Kane, Biz Markie, and Kool G Rap. The crew was tough-talking and wouldn't take slander from anyone, and over the course of the group's existence, the crew produced many answer records in response to disses and engaged in numerous beefs. They were also a major player in the rise of the posse cut, when each member would handle a verse on an extended song. Shanté was also a frequent collaborator of Marley Marl. Though she practically retired at the age of 25, she remains one of the best female rappers to ever do it.
Sha-Rock
Every artist on this list has a rightful claim as a pioneer, but no one had the impact Sha-Rock had. She was quite literally the first female rapper recorded on vinyl, and she was rapping during a time when female MCs just weren't accepted in any meaningful way. Within the hip-hop community, she has rightfully come to be celebrated as the "Mother of the Mic." As a member of the first hip-hop crew to appear on television, known as the Funky 4 + 1, her style of delivering raps on early mixtapes influenced notable superstars like MC Lyte and DMC (born Darryl McDaniels) of Run-DMC. McDaniels cited Green as a significant influence on the style of rapping associated with the pioneering group.
Trina
Way back in 1998, Trina was studying to get her real estate license, when she caught the attention of Miami rapper Trick Daddy, who serendipitously recruited her to appear on his track "Nann Ni__a." The song was released as the lead single from Trick's second studio album, www.thug.com in 1998, reaching No.3 on the Rap Songs chart. The feature essentially kickstarted Trina's rap career, leading to a record deal with Slip-n-Slide Records with distribution from Atlantic Records. She released her debut LP, Da Baddest Bitch, two years later, and would forge a career celebrated for its consistency and longevity.
Trina - Da Baddest Bitch (Official Video)
Da Brat
Da Brat's first major breakthrough occurred when she won the top prize in a local contest in her hometown of Chicago, Illinois, sponsored by Yo! MTV Raps. Her reward? Meeting the wildly popular rap duo Kris Kross. They introduced her to their producer, Jermaine Dupri, who signed Da Brat to his So So Def label. Dupri initially intended to position Da Brat's image as a "female Snoop Doggy Dogg," and she became one of the first female rappers to spit openly about her life. Da Brat's debut album Funkdafied was released in 1994 and entered the Rap Albums chart at No.11. The album went platinum, making her the first female solo rapper to sell one million copies.
Ladybug Mecca
Ladybug Mecca introduced the world to her slick, impossibly cool rhymes as a member of the seminal jazz-rap group Digable Planets. The group signed to Pendulum Records in 1992, and Ladybug, born and raised in Maryland, relocated to Brooklyn to record their debut. That album, Reachin' (A New Refutation of Time and Space) was released in 1993 and certified gold soon after, thanks to the unimpeachable interplay of the members. Ladybug went on to pursue a solo career after the group disintegrated, releasing the brilliant Trip The Light Fantastic in 2005. She continued to collaborate regularly with other musicians, notably on Legacy/Sony's Billie Holiday Remixed and Reimagined album, Del tha Funkee Homosapien's Eleventh Hour, and with rap supergroup eMC.
Lady of Rage
The entire rap world could be connected in two steps if every segment traced back to Lady of Rage. The Virginia-born and LA-based female rapper was pivotal to a number of essential rap movements. She was an integral part of albums from several Death Row Records artists, including Dr. Dre and Snoop Dogg on their seminal albums, The Chronic and Doggystyle. Before she departed the rap world to take up acting, Lady of Rage also appeared on a project with Gang Starr, and had a production deal with L.A. Posse, who produced several hits for LL Cool J.
Eve
It can be argued that DMX was the most popular rapper alive in the late 90s. Right by his side was Eve, who in 1999 released her debut album, Let There Be Eve…Ruff Ryders' First Lady. The project reached No.1 on the Billboard 200, making her (at the time) the third female rapper to accomplish this feat. She continued to be a magnetic force in the Ruff Ryders universe, though she began her career on Dr. Dre's Aftermath Records. But it wasn't until the release of her 2000 breakthrough album Scorpion, that she would become a household name.
Eve - Who's That Girl? (Official Music Video)
MC Trouble
LaTasha Sheron Rogers, better known as MC Trouble, left a large legacy during her short life. She became the first female rapper signed to Motown and was an early pioneer for blending hip-hop and R&B styles. Her biggest hit, "(I Wanna) Make You Mine," featuring the Good Girls, charted at No.15 on the Billboard Rap Charts, but it was her influence on MCs like Q-Tip and Phife Dawg from A Tribe Called Quest, Boys II Men, and more, that resonated so deeply with the rap community. Though she only released one EP and album during her career, she quickly became your favorite rapper's favorite rapper, a legacy that will live on forever.
Lisa 'Left Eye' Lopes
In 1990, after hearing word of an open casting call for a new girl group through her then-boyfriend, Lisa Lopes moved to Atlanta to audition. Originally starting as a female trio called 2nd Nature, the group was renamed TLC. The members didn't stick, but Lopes did, recruiting new members and re-branding herself as Left Eye. TLC, obviously, went on to enormous fame, one of the biggest hip-hop and R&B groups on Earth, but Lopes' deft lyricism as an MC is celebrated by rap aficionados everywhere. Left Eye was planning to work with Death Row Records after TLC split up, even boasting a song with Tupac they recorded before he died. But Lopes died tragically in 1992, leaving behind one of the most successful legacies in rap history – male or female.
Jean Grae
Jean Grae was a massive part of the New York underground in the 90s, and effortlessly began to become an integral member in the 2010s indie scene in part due to her thrilling collaborations with partner Quelle Chris. Back in her early days, Grae built a large, worldwide fanbase thanks to her clever bars and unique delivery. Her unimpeachable lyrical prowess has earned her recognition as a favorite emcee by many stars in the game like Talib Kweli, Jay-Z, and Black Thought of the Roots. Grae was also an influential figure in the movement of artists going independent, first offering all of her guest verses for a fixed fee via Craiglist, and later becoming an early adopter of the artist-friendly platform Bandcamp.
Remy Ma
A Big Pun endorsement goes a long way in rap circles. Remy Ma was one of Pun's favorite MCs, and after he discovered her talent, she came to prominence for her work as a member of Fat Joe's group, Terror Squad. She appeared on their second and final album, True Story, released in 2004. Their single "Lean Back" topped the Billboard Hot 100 for three weeks and garnered Ma her first Grammy nomination. Her work as a solo artist was equally impactful. There's Something About Remy: Based on a True Story remains a classic in rap circles.
Gangsta Boo
All hail the queen of Memphis! Long before artists like NLE Choppa and Moneybagg Yo were dominating the scene, Three 6 Mafia were the pioneers of horrorcore in town, and Gangsta Boo was the lone female rapper stealing the show alongside Project Pat and Juicy J. Outside of her work as a member of Three 6 – which is as impactful as any rap group from the 90s – Boo's first solo album, Enquiring Minds, was released in 1998 and reached No.15 on the Billboard Top R&B/Hip-Hop Albums chart and No.46 on the Billboard 200. The album featured the surprise massive hit "Where Dem Dollas At!?"
Amil
Amil came to prominence in the late 90s as a Jay-Z protege and recorded the single "Can I Get A…" with him from the Rush Hour soundtrack. She got her start after Hova was looking for female vocalists on his album Vol. 2… Hard Knock Life, but when Jay heard Amil freestyle, he decided he didn't need to look elsewhere for vocalists. It fast-tracked her career, and her solo debut album, A.M.I.L – All Money Is Legal, was released in 2000. The album featured the single "I Got That", a duet with Beyoncé, and All-Star Roc-A-Fella single "4 Da Fam."
Rah Digga
Rah Digga came up as a longtime member of the Flipmode Squad, a hip-hop group led by Busta Rhymes. Her debut solo album, Dirty Harriet, was released in 2000 and featured Busta Rhymes and Eve. She also worked with Bahamadia on the track "Be Ok" from Lyricist Lounge, Vol. 1. At that time they were the two leading women of the Lyricist Lounge movement, which also served as the home base for artists such as Mos Def, Talib Kweli, Pharaohe Monch, Common, Lord Have Mercy, Foxy Brown, and Shabaam Sahdeeq.
Mia X
If you like Southern rap, you better know about Mia X. She was the first female rappers to get a contract with Master P's No Limit Records, and subsequently, started being called the Mother of Southern Gangsta Rap. Aside from her solo output, she has a number of collaborations with several No Limit Records artists under her belt, including Master P and Silkk the Shocker on the seminal Louisiana albums, Ice Cream Man, Ghetto D, and Charge It 2 Da Game.
Diamond And Princess
Diamond and Princess were members of the Atlanta-based crew Crime Mob. Casual rap fans will likely recognize their groundbreaking hit, "Knuck If You Buck," though the group's impact on Atlanta's sound goes much deeper than just one hit. Rumors have since grown quiet, but the duo was reportedly making music together as recently as 2019.
Yo-Yo
Yo-Yo is one of the first female rappers to openly advocate and be a staunch advocate for the feminism movement in the industry. Much of her music touches on a need for female empowerment and denouncing the frequent sexism and misogyny in rap. Yo-Yo is the protégé of Ice Cube, who helped inspire her political bent. True to form, she dubbed her crew the IBWC, for the Intelligent Black Woman's Coalition.
Yo-Yo - You Can't Play With My Yo Yo
Charli Baltimore
Anyone that names themselves after Geena Davis is good in our book. Luckily, Charli Baltimore raps her ass off, too. Her stage name is taken from Geena Davis's character in the film The Long Kiss Goodnight, which by our estimation, is a total power move. Baltimore began her musical career when she met The Notorious B.I.G. and they became involved in a romantic relationship. Rumor has it that several months into their relationship, she left him a voicemail of a rap verse that she had written and he immediately recognized her natural lyrical abilities. From there, Baltimore became a fixture in the rap scene, releasing her stellar lone studio album, Cold As Ice, in 1999.
Erykah Badu
Erykah Badu glided so smoothly onto the scene with 1997's Baduizm that you could be forgiven for failing to realize she was about to change the game. Cleverly barbed and artfully built lyrical structures and a jazzy funk-tinged bluesy sound got her branded as the first lady of "neo soul," a label that makes feeble attempts to describe her sound. It's exceptionally difficult to describe Badu's music without resorting to 70s-sounding expressions like "tapestry" or "potpourri," but it's even tougher to recall another artist from any era who infused a distinct, modern sensibility with the level of historical richness and references that Badu brings to every project.
Elements of soul, funk, and R&B are brilliantly deployed through rap rhymes and references to hip-hop culture. There's rarely a genre that can't find a home on one of her tracks. The music is as layered and polychromatic as the woman herself. If she's sly and knowing ("You Loving Me"), she's also vulnerable and seeking ("Out My Mind," "Just in Time"). She's the lady who wrote "Tyrone," perhaps the most poignant song about being done with a dude's bulls__t ever sung, while "Green Eyes" remains a timorous ballad about the danger of an open heart.
Nicki Minaj
If you want to know what the soil's like, look at what's grown on it: Nicki Minaj, Queens native. She's what happens when 90s predecessors feed your already-sharp tongue, drawling delivery, and the kind of syllable-stacking honed-blade verbal dexterity that forces Kanye to let you show him up on his own track. Her domination of the verse is absolute, and her aesthetic sensibilities are one of a kind. If her talent weren't enough, her insight makes her additionally formidable. Her off-the-cuff remarks on the now-viral video known as "the pickle juice clip" were an astute and poignant distillation of the absurdity of double standards in the music industry – but really in any workplace – and her comments about a culture that chastised women for the same behavior it encourages in men feels eerily prescient. Her early works have been a proving ground and, with a new batch of singles under her belt ("Changed It," "No Frauds," "Regret In Your Tears"), Minaj seems in every way to be poised for long-term success.
New school artists: Azelia Banks, Megan Thee Stallion, Cardi B, Doja Cat, and more
As the hip-hop scene continues to star more female rappers, we thought it would only be right to list a few of our favorites, like the groundbreaking Azelia Banks, whose anthem "212" became the official song of New York shortly after it was released. Then there's Megan Thee Stallion, who has not only become the most exciting female rapper out of Houston, but arguably the best rapper in the city, period. Her "WAP" collab with Cardi B became an instant classic upon its release in 2020. Doja Cat has topped the Billboard chart and racked up Grammy Award nominations. We're also partial to Miami's City Girls (Yung Miami and JT), who create dancefloor anthems at every opportunity, and Tierra Whack who has melded the avant-garde and mainstream in a thrilling and fascinating way. Some of our other favorites include Rico Nasty, Latto (FKA Mulatto), Lakeyah, Buffalo rapper Armani Caesar, Flo Milli, and more.
Explore the best female rappers from around the world on our global cypher playlist.