Let's Talk About The Female MCs Who Shaped Hip-Hop
In the early days of hip-hop, female rappers were essential to the genre's biology, unapologetically detailing their experiences of the world they lived in.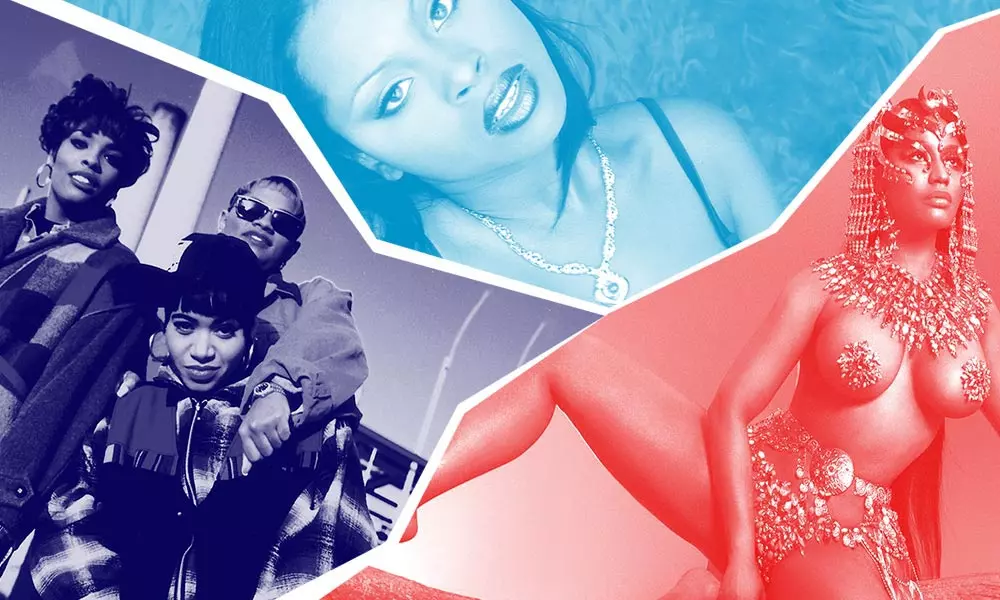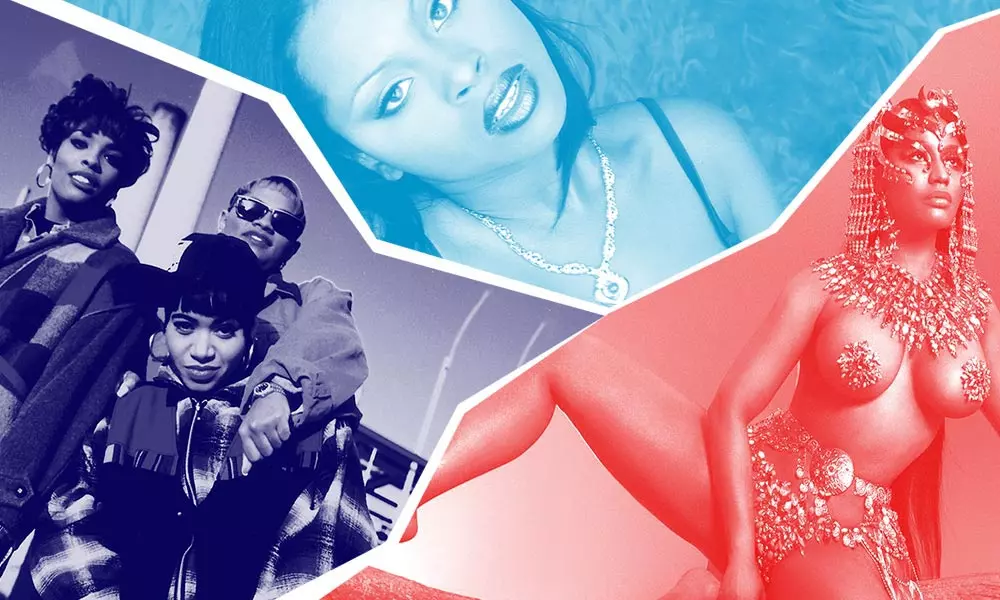 From the start, hip-hop was about storytelling. Just as the sound of the movement was created by the creative repurposing of music that already existed, the success of the genre's MCs was based on their willingness to shatter old forms and wield the shards to create a new style of self-expression. Male and female rappers alike used wordplay, repetition, and extended metaphor to relate experiences that were dark, violent, romantic, or hopeful, casting themselves as hero, witness, or seer.
But given the music industry's history of marginalizing the contributions of women, it's easy to see hip-hop as a boys' club. Braggadocious lyrics about violence, sex, swagger, and masculinity reign in a space where women, in most cases, are cast as either conquests or a faceless Greek chorus, their own stories largely ignored. But in the early days of the genre, while critics were still deriding hip-hop as a passing fad, female rappers were beginning to make up a formidable piece of the genre's biology, unapologetically detailing their interpretations and experiences of the world they lived in. They all had distinct variations in style, flow, and lyrical content, but what each woman had in common was a fiercely independent voice and the power to remain consistently and resoundingly herself.
MC Lyte
The first solo rapper to release her own, full-length album, MC Lyte's Lyte As A Rock dropped in 1988. Lyte's flow, lyrical precision and refusal to self-censor gained her industry attention quickly. She has described the scene in its early days as competitive and skill-based, but not without a gender bias. "There may have been times when promoters didn't want to pay me what I deserved. In a line-up they didn't want to put me where my songs warranted me going. But none of it affected me to a degree to where it mattered. There may have been setbacks but I never let them get to me."
In 1993, "Ruffneck" was nominated for a Grammy for Best Rap Single, making MC Lyte the first female MC nominated for a Grammy. In recent years, Lyte herself has called for the Female Rap Solo category to be reinstated, saying "it destroys [hip-hop] culture to not have the perspective of a woman."
Queen Latifah
Part of the New York area's storied Native Tongues crew, along with the likes of Jungle Brothers, De La Soul, and A Tribe Called Quest, Queen Latifah was one of the earliest female rappers in hip-hop. The Native Tongues collective were known for their socially-conscious, largely positive lyrical content, but Latifah made a name for herself talking about issues in the lives of black women. Songs like "Ladies First" and "UNITY," which discussed domestic violence, street harassment, and the need for coalition-building between females, made the New Jersey native a powerful voice for change.
Monie Love
One of the only other female rappers in Native Tongues, Monie Love and Queen Latifah struck up a fast friendship after Latifah and Native Tongues traveled to the UK, where, at a show, they met the British rapper, who had been making noise in the underground scene there for years. Love eventually joined Native Tongues in New York, where she collaborated with Latifah on "Ladies First," and released her own album, produced by Afrika Baby Bam. Songs such as "Monie In The Middle" and "RU Single" both slyly and cleverly struck back at expectations and assumptions about black women in relationships without sacrificing the flow.
Salt-N-Pepa
When Cheryl James and Sandra Denton joined forces in 1985, much of the record industry still believed hip-hop was a fad. Calling themselves Salt-N-Pepa, the two put out "The Showstopper," a response to Doug E Fresh's hit "The Show." Clad in short shorts and tight midriff-baring shirts, this duo ruled the sex-positive revolution of the 90s. With songs such as "Push It," "Do You Really Want Me," "Let's Talk About Sex," and "Shoop," Salt-N-Pepa were frank and outspoken about their desires and their sexuality, while simultaneously demanding respect, preaching feminist values and speaking out against assault and discrimination.
Bahamadia
One of Philadelphia's first prominent MCs, Bahamadia, a former producer, was moved to join the rap game after being inspired by the likes of female rappers Salt-N-Pepa and Lady B. Lyrically dexterous with a smooth, unflappable flow, Bahamadia's verses serve less bombast than her contemporaries, but are no less verbally crafty. Her debut album, 1996's Kollage was an instant classic, and the very first LP to be co-produced and entirely written by a female MC. Loaded with deceptively simple beats that reveal their complexity as they weave over, under, around, and through textured melodies, the album is both warm and fresh, full of the jazz and soul influences that have become synonymous with the Philadelphia sound.
Foxy Brown
One of the most distinctive voices in rap, Foxy Brown entered the scene at a mere 15 years old, and first appeared on LL Cool J's album Mr. Smith , rapping over the remix for "I Shot Ya." She was signed to Def Jam in '96, the same year she appeared with Lil' Kim, Total, and Da Brat on the Bad Boy Remix of "No One Else." It was also the year her debut album, Ill Na Na, dropped. Critical reviews were mixed but Foxy's sales were strong, and "Get Me Home" was that rare radio banger with decades of staying power. Like Lil' Kim, Foxy was frank and outspoken about her sexuality and her desire while still commanding – and demanding – respect.
Lauryn Hill
From the moment critics got their first taste of Lauryn Hill on the 1994 Fugees album, Blunted On Reality, she was hailed as a star. Fellow Fugee Wyclef Jean acknowledged it himself in a verse on 1996's The Score: "The magazine said the girl shoulda went solo/The guys should stop rapping/Vanish like Menudo." Hill did go solo, releasing The Miseducation Of Lauryn Hill in 1998 to public and critical acclaim. Mixing neo-soul sounds with powerful feminist lyrics, Hill delved deep into the complications inherent in womanhood, motherhood, black femininity, and the music business. Hits like "Doo Wop (That Thing)," "Everything Is Everything," "Lost Ones" and "Ex-Factor" still sound as fresh and compelling today as they did at the time of their release. Hill hasn't released an album since a compilation in 2007, but remains an irreplaceable voice in the canon of female rappers.
Lil' Kim
The woman who rapped "got buffoons eatin' my pu__y while I watch cartoons" needs no introduction. She hasn't released a major studio album since 2005, but Kim remains in the canon as one of the most gifted MCs of either gender. Flipping sexual mores on their head, Lil' Kim twisted the paradigm that said a female MC had to come with masculine swagger. Draped in mink and diamonds, lace, and lingerie, Kim embraced the feminine sexual aesthetic that kept many women in the genre locked in the role of "video vixen." "I've always been super sexy and feminine," Kim told Billboard in 2014. "My record company didn't understand a female rapper being sexy. They thought I needed to look like MC Lyte, wear sweatsuits and all that." Instead of changing to fit the mold of female rappers, Lil' Kim doubled down on her sexuality and used it to unapologetically empower herself in a world of men, whom, in many ways, she still needed in order to access power.
Missy Elliot
With a visual and sonic vocabulary that's one of a kind, it's not an exaggeration to say that the southern-born Missy Elliot changed the game. After years of collaboration with the likes of Jodeci, Ginuwine, and Aaliyah, Elliott headed into the studio with childhood friend and longtime collaborator Timbaland to work on her debut album. The result, which took only two weeks, was Supa Dupa Fly, which yielded the radio hit "The Rain." Laced with inventive wordplay ("I sit on hills like Lauryn") that sampled Ann Peebles' 1973 single and with one of the most inventive videos in the history of the medium, "The Rain" was a surprise and a smash.
Elliott's next album, Da Real World, was equally successful, and her third album, Miss E… So Addictive, gave the world "Get Ur Freak On," one of the most enduring hits of the decade. Missy's look – baggy pants, cartoonish silhouettes, and bright colors – added comedy to an often hyper-serious musical genre. She was in stark contrast to many of the newer commercial female rappers who were scantily dressed and hypersexualized, working hard to appeal to a fanbase of young men. Through her unique vision, Missy created a body of work that has cemented her position as one of the legends of modern music.
Erykah Badu
Erykah Badu glided so smoothly onto the scene with 1997's Baduizm that you could be forgiven for failing to realize she was about to change the game. Cleverly barbed and artfully built lyrical structures and a jazzy funk-tinged bluesy sound got her branded as the first lady of "neo soul," a label that makes feeble attempts to describe her sound. It's exceptionally difficult to describe Badu's music without resorting to 70s-sounding expressions like "tapestry" or "potpourri," but it's even tougher to recall another artist from any era who infused a distinct, modern sensibility with the level of historical richness and references that Badu brings to every project.
Elements of soul, funk, and R&B are brilliantly deployed through rap rhymes and references to hip-hop culture. There's rarely a genre that can't find a home on one of her tracks. The music is as layered and polychromatic as the woman herself. If she's sly and knowing ("You Loving Me"), she's also vulnerable and seeking ("Out My Mind," "Just in Time"). She's the lady who wrote "Tyrone," perhaps the most poignant song about being done with a dude's bulls__t ever sung, while "Green Eyes" remains a timorous ballad about the danger of an open heart.
Nicki Minaj
If you want to know what the soil's like, look at what's grown on it: Nicki Minaj, Queens native. She's what happens when 90s predecessors feed your already-sharp tongue, drawling delivery, and the kind of syllable-stacking honed-blade verbal dexterity that forces Kanye to let you show him up on his own track. Her domination of the verse is absolute, and her aesthetic sensibilities are one of a kind. If her talent weren't enough, her insight makes her additionally formidable. Her off-the-cuff remarks on the now-viral video known as "the pickle juice clip" were an astute and poignant distillation of the absurdity of double standards in the music industry – but really in any workplace – and her comments about a culture that chastised women for the same behavior it encourages in men feels eerily prescient. Her early works have been a proving ground and, with a new batch of singles under her belt ("Changed It," "No Frauds," "Regret In Your Tears"), Minaj seems in every way to be poised for long-term success.
Looking for more? Discover the politics of hip-hop.