Top 10 Show-Stealing Nicki Minaj Guest Spots
From Kanye West to Drake, Usher to Big Sean, uDiscover salutes the ten best Nicki Minaj guest spots of the last few years.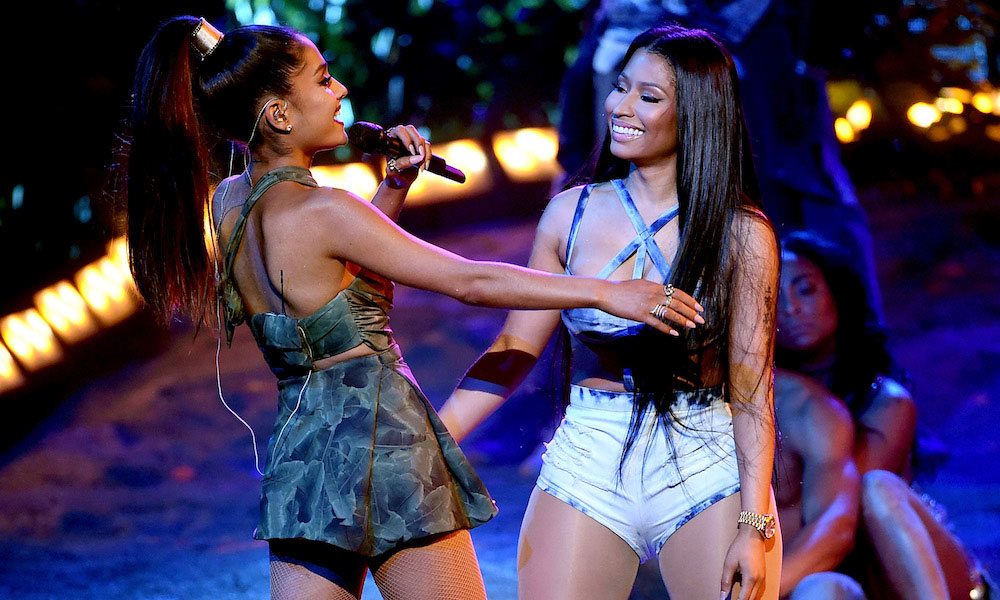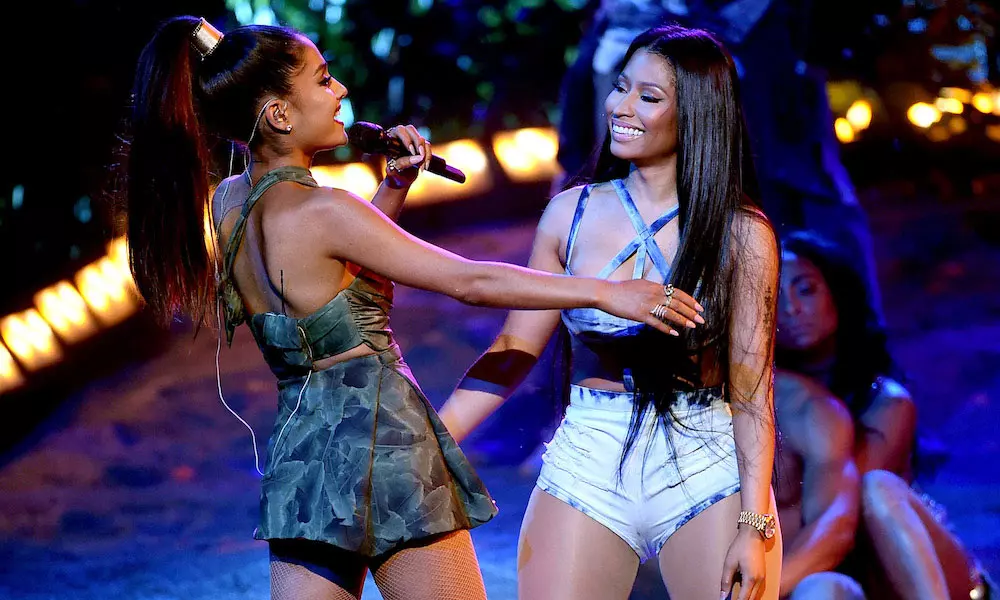 With a sardonic sense of humor, mind-boggling flow, and a dizzying range of characters, Nicki Minaj has long been in demand for guest spots, even before releasing her own debut album. Here are just a few of the best Nicki Minaj guest spots.
Listen to the best of Nicki Minaj on Apple Music and Spotify, and scroll down to read the best Nicki Minaj guest spots.
10: Jessie J, Ariana Grande, and Nicki Minaj: Bang Bang
As comfortable with unadulterated pop music as she is with street-tough hip-hop, Minaj knocks it out of the park on this irresistibly fun collaboration, with Jessie J and Ariana Grande, unleashing a barrage of rapid-fire rhymes.
Jessie J - Bang Bang ft. Ariana Grande, Nicki Minaj
9: Usher: Lil Freak
Accompanied by a neatly reworked Stevie Wonder keyboard riff, Usher's super-smooth hip-hop-inflected soul banger is already going great guns before Minaj ups the ante with a madcap, sexually ambivalent rap that manages to reference Santa's reindeers, sesame seed buns and comedy sitcom Everybody Loves Raymond.
8: Young Money: Senile
Compared to other Nicki Minaj guest spots, she is in more reserved form here, her slightly menacing, laidback flow matching the pitch-black production of this Young Money posse cut. She also demonstrates her ability to shamelessly brag with the best, saying of her Swiss watch: "Yeah, I got an Audemar/I ain't set the time once."
Young Money - Senile ft. Tyga, Nicki Minaj, Lil Wayne
7: Drake: Up All Night
As fellow affiliates of Lil Wayne's Young Money empire, Drake and Nicki Minaj have shared a long (and sometimes fractious) relationship. This track on the Canadian rapper's debut is arguably the best of their collaborations, finding the pair swapping a selection of verses that celebrate new-found fame.
6: David Guetta: Where Them Girls At
Guetta's EDM fire-starter features Minaj at her most off-the wall-brilliant, namechecking Peabo Bryson and Hannah Montana sidekicks as she rattles through a number of her best-known characters, including the London-accented Martha Zolanski.
5: Ciara: I'm Out
Minaj proves the perfect partner to underrated R&B siren Ciara in this smoking-hot soul number that combines a break-up song with an empowering ode to female sexuality. She also sneaks in a cheeky reference to Myx Fusions, her own brand of wine.
4: Trey Songz: Bottoms Up
Minaj lights up Trey Songz's club jam with a succession of intricately rhythmic bars that celebrate wild living, ending with a dedication to deceased Minaj heroine Anna Nicole Smith.
3: B.o.B.: Out Of My Mind
One of the delights of a Minaj cameo is spotting the sly put-downs. Opening with the line, "What's your name? B.o.B.? So, they calling you Bob?" she later paraphrases the rapper's hit song "Airplane." "Can we pretend that airplanes in the night skies/Are like shooting stars?/Well, you gon' really need a wish right now/When my goons come through and start shooting stars."
2: Kanye West: Monster
On the horror-themed "Monster," West wrung fine performances from Jay Z, Rick Ross, and Bon Iver's Justin Vernon, but it was a spectacularly off-the-wall turn by then-newcomer Nicki Minaj that really caught the ear. Switching through a variety of personae, accents, and tempos, she delivers a succession of tongue-twisting lines with namechecks to everyone from Jamaican dancehall DJs to Italian fashion designers and Willy Wonka.
1: Big Sean: Dance (A$$) (Remix)
Hardly a shrinking violet herself, the rapper proves the perfect partner to Big Sean on his raunchy ode to the female posterior. As shamelessly bawdy as she is ingeniously witty, Minaj wrestles the butt song away from its typically male preserve to create one of the most unlikely feminist anthems ever.
Big Sean - Dance (A$$) Remix ft. Nicki Minaj
Looking for more? Discover how Nicki Minaj made her mark with The Pinkprint.