Virtual Insanity: 20 Music Videos That Defined The 90s
From art house shorts to visionary stylings and tongue-in-cheek parodies, here are the Top 20 decade-defining 90s music videos.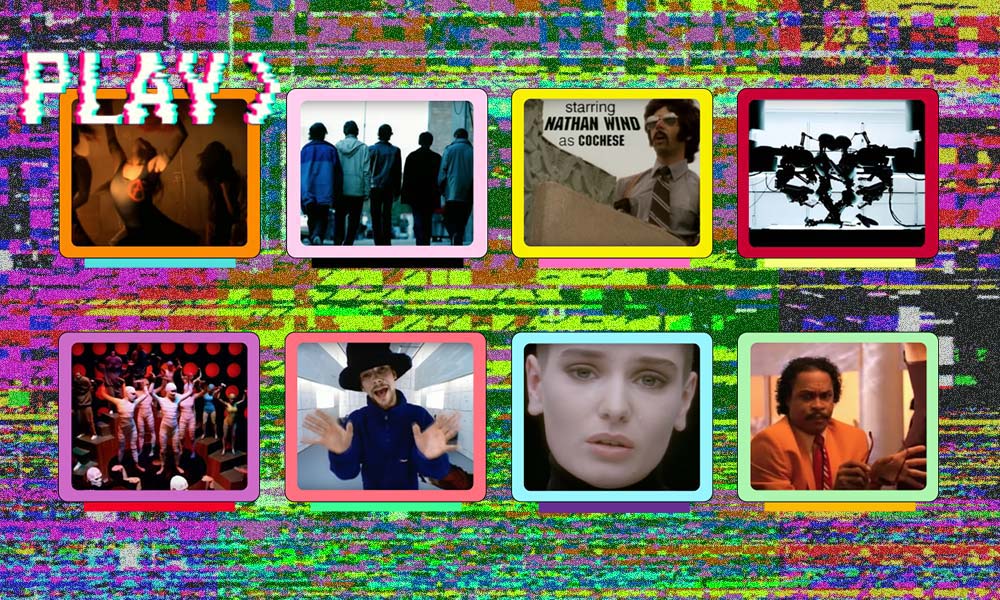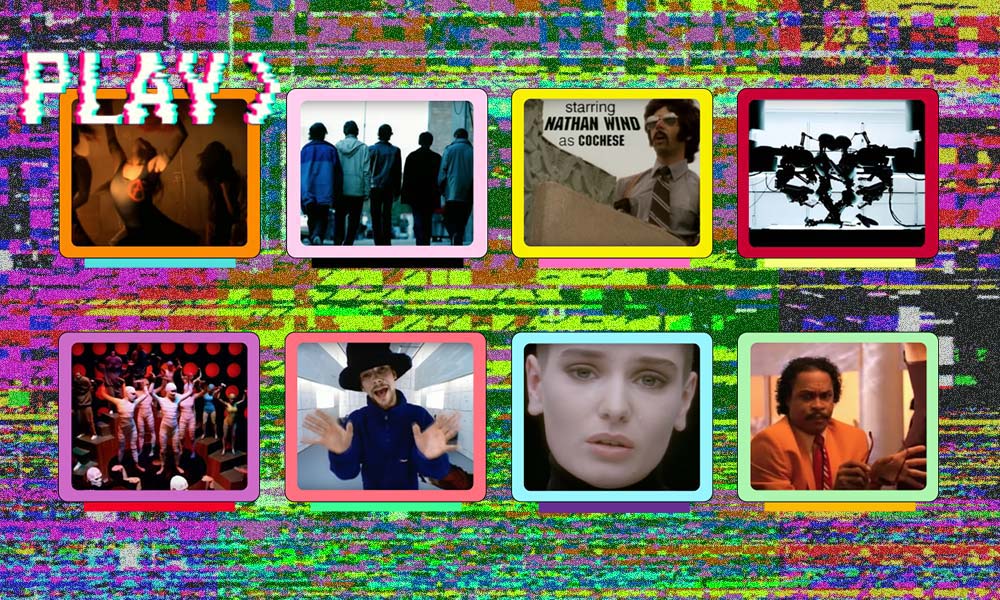 The 60s saw the birth of the music video, while MTV took it to a new level in the 80s, but the medium truly thrived – both creatively and commercially – with 90s music videos. Thanks to the mass proliferation that MTV afforded, it not only brought audiences and artists closer together but provided a fertile testing ground for exploring new ways of storytelling.
This golden era of music videos also brought forth a second wave of music-video directors led by David Fincher, Hype Williams, Jonathan Glazer, Mark Romance, Chris Cunningham, Peter Care, Michel Gondry and, most notably, Spike Jonze – talents that were given artistic license to create grand-scale short films.
From flashy spectacle to low-fi realism, surreal fantasy to retro fetishism, here are just some of the greatest, decade-defining 90s music videos.
20: R.E.M.: 'Crush With Eyeliner' (1994)
Director: Spike Jonze
Just as R.E.M. evolved with the alternative music scene, they were also hugely influential when it came to music videos. From 'Losing My Religion' to 'Everybody Hurts' and 'Man On The Moon', the Athens group are synonymous with MTV – and yet, for much of their career, they were largely absent from the videos, with Michael Stipe famously disliking having to lip sync. When the band shifted their sound dramatically for the glam-inflected 'Crush With Eyeliner', from Monster, the video imagined R.E.M. as a hip Japanese band that represented the band's identity swap.
19: Sinéad O'Connor: 'Nothing Compares 2 U' (1990)
Director: John Maybury
The promo for Sinéad O'Connor's cover of Prince's 'Nothing Compares 2 U' stands in stark contrast to the majority of 90s music videos. Stripped of any surrealist imagery and flashy visuals, it depicts the shorn O'Connor in a tight close-up and unflinching manner while she sings of her heartbreak. Almost as recognisable as the song itself, the clip led to the Gaelic singer becoming the first female artist to win Video Of The Year at the MTV Video Music Awards.
18: Blind Melon: 'No Rain' (1993)
Director: Samuel Bayer
When it came time to make a music video for the band's career-defining single, 'No Rain', Blind Melon used the artwork for their debut album (a photo of drummer Glenn Graham's sister in a bee outfit) as inspiration and created one of the most indelible and relatable characters in music video history: an awkward youth searching for companionship, otherwise known as "Bee Girl".
17: George Michael: 'Freedom! '90' (1990)
Director: David Fincher
Starring a coterie of supermodels including Naomi Campbell, Christy Turlington, Tatjana Patitz and Cindy Crawford, with plenty of soft lighting, piercings and sensual closeups, you'd be forgiven for mistaking this promo clip for a CK One advert. Helmed by the most in-demand music video director at the time, David Fincher managed to create one of the most iconic 90s music videos, fusing music and style in smouldering fashion.
16: Fiona Apple: 'Criminal' (1996)
Director: Mark Romanek
In the days when 99 per cent of everyone's photos were littered with red-eye, Fiona "This World Is Bullshit" Apple was brooding in 70s rec rooms like a seedy Polaroid come to life. In other words, 'Criminal' exemplified 90s music videos. The provocative visuals aligned with the lyrics about exploiting your own sexuality, but Apple faced severe backlash for it. 'Criminal' remains the most successful single of Apple's career – and yet it also paved the way for every American Apparel ad that followed.
15: Radiohead: 'Paranoid Android' (1997)
Director: Magnus Carlsson
By the time the 90s rolled around, MTV was not only a destination for music videos, but had expanded into animated series that used contemporary music. So when Radiohead debuted their animated epic for 'Paranoid Android', it felt right at home on the network. Created by Magnus Carlsson, the Swedish creator of the animated series Robin, the surrealist and somewhat graphic short both horrified parents and fascinated that sweet 12-34 key demographic.
14: The Verve: 'Bittersweet Symphony' (1997)
Director: Walter Stern
Like Sinéad's video, just hearing the symphonic intro of this Britpop landmark conjures up images of a lanky Richard Ashcroft loping down the streets of Hoxton in East London. Seemingly inspired by Massive Attack's single-continuous shot video for 'Unfinished Sympathy', the video sees Ashcroft making his way through a bustling metropolis completely unaffected and colliding with pedestrians along the way. Is it a metaphor for self-actualisation or self-entitlement? You be the judge.
13. Smashing Pumpkins: '1979' (1995)
Directors: Jonathan Dayton and Valeria Farris
Has a music video ever epitomised suburban ennui more than Smashing Pumpkins' slice-of-life promo for the smash single '1979'? From the fisheye lens to the teenage-party scenes, it stands apart from the otherworldly visuals for the rest of their double-album, Mellon Collie And The Infinite Sadness, and remains an invitation to adolescent nostalgia.
12: 2pac (Feat Dr Dre): 'California Love' (1995)
Director: Hype Williams
Tupac's galvanising West Coast anthem was such a smash, it needed two music videos to accompany it. While the majority of hip-hop's 90s music videos at the time were characterised by the blinged-out productions favoured by Bad Boy Records, this Hype Williams-directed joint had an equally large budget but a much more exotic locale, resulting in a Mad Max meets Burning Man dystopian epic set in a post-apocalyptic Oakland. At the end, Tupac wakes up from his "dream" for the Part 2 remix video, which swaps out desert jeeps for hydraulic cars and house parties in Compton.
11: The Prodigy: 'Smack My Bi__h Up' (1997)
Director: Jonas Åkerlund
Dubbed as "Snap My Picture" to the pearl-clutching censors on the radio, electro- punks The Prodigy scandalised MTV with their provocative music video for their big-beat single. Shot strictly from the first-person POV, it depicts a protagonist's wild night full of sex, drugs, vandalism and fighting – only to reveal at the end that it's a woman who's wreaking havoc. The graphic video drew instant backlash which only added to its popularity.
The Prodigy – Smack My Bitch Up – DVD edit from The Prodigy on Vimeo.
10: Busta Rhymes: 'Gimme Some More' (1998)
Director: Hype Williams
We could easily devote an entire list to the unbridled vision of music video director Hype Williams, who took hip-hop imagery to the outer limits. Like Michel Gondry with Björk, Williams found his match and muse in Busta Rhymes, bringing to life this twisted version of Loony Tunes and single-handedly perfected the fisheye-lens trend that everyone adopted.
9: The Chemical Brothers: 'Elektrobank' (1997)
Director: Spike Jonze
Before she was an indie auteur director, Sofia Coppola was an acrobatic gymnast starring in this Spike Jonze-directed video. The intricate twists and turns of her gymnastic floor routine align perfectly with the heavy breakbeats of the instrumental track from The Chemical Brothers' sophomore album, Dig Your Own Hole. With muted colours and cinematic flair, the whole thing plays more like an art house short than a music video.
8: Beastie Boys: 'Sabotage' (1994)
Director: Spike Jonze
There are two kinds of people in this world, those who think the Spike Jonze-directed 'Sabotage' music video is Beastie Boys' finest, and others who prefer the robot-B-Boy antics of 'Intergalactic', but we're inclined towards the former, which essentially created the blueprint for parody music videos that homage 70s cop shows.
7. Michael and Janet Jackson: 'Scream' (1995)
Director: Mark Romanek
What's better than a Michael Jackson music video? Two Jacksons in space! Who could forget the larger-than-life blockbuster video for Michael and Janet Jackson's 'Scream', from Michael's 1995 HIStory album? Allegedly the most expensive music video ever made, the space-age film sees the two siblings spitting refrains over industrial beats courtesy of Jimmy Jam and Terry Lewis. The futuristic black-and-white video came with a hefty price tag (a cool $7 million to build seven sound stages and the like), but it also created one of the most era-defining 90s music videos and reunited the siblings in the studio for the first time since 'PYT', from Michael's 1982 smash, Thriller.
6: Missy Elliot: 'The Rain (Supa Dupa Fly)' (1997)
Director: Hype Williams
No other director fit the poetic absurdity of Missy Elliot more than Hype Williams, who astutely combined the shiny-suit aesthetic of the era with Afrofuturism and the flyest garbage bag the world has ever seen. The cameo-heavy video, featuring the likes of Timbaland, Da Brat and Puff Daddy, made Elliot's cover of Ann Peebles' 1973 single the one to lunch her solo career.
5: Daft Punk: 'Around The World' (1997)
Director: Michel Gondry
Michel Gondry cut his teeth creating fantastical 90s music videos before moving onto feature films. He also birthed another key music video trend (the single-take video). Out of the 50-plus videos to his name, one of his classic cuts is the synchronised dance masterpiece he created for Daft Punk's world-conquering single, 'Around The World'. With each dancer synching up with each beat, synth and sound, it's a masterclass in co-ordination.
4: Nirvana: 'Smells Like Teen Spirit' (1991)
Director: Samuel Bayer
Just as 'Smells Like Teen Spirit' catapulted Nirvana to mainstream success, its gritty video served as the benchmark for grunge culture and the teen rebellion to the MTV-watching masses, who ate it up with their morning breakfast. A familiar scene to most American high-school students, the video depicts a pep rally gone wrong, with anarchist cheerleaders and Kurt Cobain's raw performance inciting a riot.
3: Nine Inch Nails 'Closer' (1994)
Director: Mark Romanek
Shot on a vintage hand-crank camera with stylistic yet perverse shots of a disembodied heart, a twirling pig's head and Trent Reznor in full S&M gear, the music video for Nine Inch Nails' 'Closer' resembles found footage from a Victorian snuff film rather than something you'd find on MTV. Despite its very NSFW visuals and lyrics, the track and video went on the become a massive hit. For the record, the monkey was not harmed during the making of the video.
2: Björk: 'All Is Full Of Love' (1999)
Director: Chris Cunningham
For some artists, music videos are not merely a tool for publicity, but an extension of their artistic expression, and no musician embodies that more than Björk. Since her first foray into the medium with 'Human Behaviour', she's pushed the boundaries of music videos, making them an integral part of the song, as evidenced by her sci-fi vision of love for 'All Is Full Of Love'. Directed by Chris Cunningham (who's responsible for the disturbing video for Aphex Twin's 'Come to Daddy'), his "karma sutra meets industrial robotics" concept came to life thanks to his background in prosthetic and modelling work for films such as Alien 3.
1: Jamiroquai: 'Virtual Insanity' (1996)
Director: Jonathan Glazer
No list covering 90s music videos would be worth its salt without the mind-bending promo by UK pop-soul act Jamiroquai. A literal take on their album title, Travelling Without Moving, the vertigo-inducing video made the band a global sensation and had everyone scratching their heads at both the technical wizardry and Jay Kay's fuzzy top hat.
End Credits
Britpop may not have made as much of a global impact as its US cousin, grunge, so whether you think it contributed to the truly decade-defining 90s music videos likely depends on what side of the pond you're from. Needless to say, however, that the clip for Oasis's 'Don't Look Back In Anger' is likely to cause many of a certain age to shed a wistful tear. Meanwhile, Blur's 'Parklife' video combines a particular type of British over-confidence, strains of Benny Hill humour and the emerging "lad culture" aesthetic to create something so uniquely British it hurts. If your memories of the era are more jaded, however, then Pulp's 'Common People' certainly enters the pantheon of great 90s music videos, its mix of social commentary and retro ennui managing to seem somehow dated and evergreen at the same time.
Also worthy of mention are Guns N' Roses 'November Rain' and Beck's 'Where It's At' promos, which sit at opposite ends of the spectrum of notable 90s music videos. The former, which, like the song's lyrics, is based on a short story by journalist and author Del James, stands in a long line of narrative music videos – though, while a classic clip, more vividly evokes the 80s than it does the 90s.
Anyone coming fresh to the 'Where It's At' video, however, may be forgiven for wondering what decade it came from. The references to 80s block parties, 60s Thomas Crown Affair-style split-screen edits, 70s fashions and timeless good ole boys' line-dancing offer a cornucopia of references to be decoded. Ultimately, however, its postmodern hijinks could only come from one decade, making it unique among 90s music videos for arguably having more ideas than there were minutes to cram them into.
Looking for more? Discover The 90s: The Decade That Doesn't Fit?
Format:
UK English