How To Buy John Coltrane: The Essential Albums
A guide to the essential albums that can form a solid foundation for a John Coltrane collection.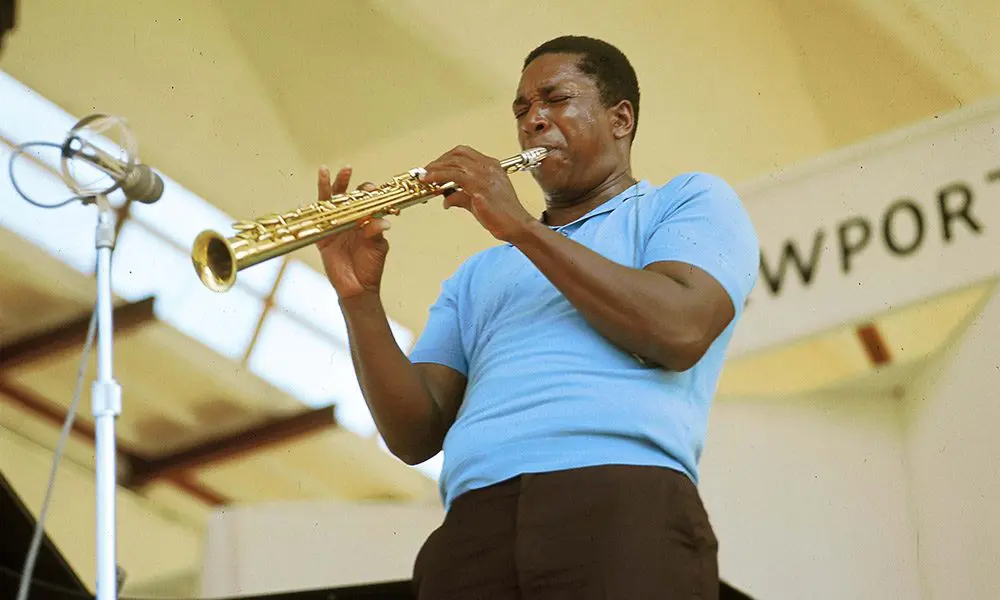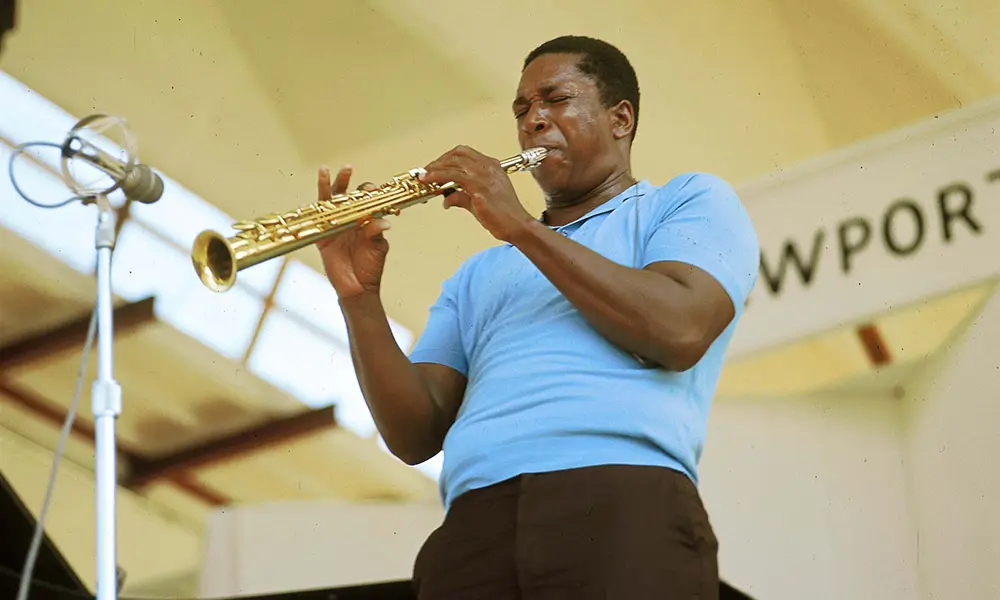 In jazz circles, the smallest mention of John Coltrane usually invokes a mood of hushed reverence. That's because Trane – as his disciples refer to him – is regarded as a deity whose extraordinary musical powers far exceed those of other mere mortals. Indeed, since his death, on July 17, 1967, Coltrane and his music, aided by its pronounced spiritual and metaphysical dimensions, has inspired a kind of religious devotion that no other jazz musician has experienced (there's even a church named after him in San Francisco – the St. John Coltrane Church). But the sheer amount of his music can be intimidating, so how do newcomers start to buy John Coltrane?
For those seeking to buy John Coltrane for the first time and start a collection from scratch, the following list offers a suggestion of albums that will hopefully function as a foundation for amassing an even bigger cache of the saxophonist's work. The albums aren't ranked according to their merits – this isn't intended as a definitive rundown of Coltrane's work – but are positioned in relation to their accessibility. Having said that, we haven't avoided some of Trane's more demanding and esoteric works. You'll find them later in the list – suggestions to explore once you've got a taste for Coltrane and want to discover more.
So if you're looking to buy John Coltrane, the following albums will be essential.
Coltrane '58 (Craft/Concord, 2019)
Coltrane's tenure at Bob Weinstock's Prestige label, where he began to flourish in 1958 after beating his heroin addiction, is often overlooked. The 5CD/8LP box set Coltrane '58 offers us a chance to re-evaluate the state of the saxophonist's art at a time when he was beginning to make his mark as a leader. These recordings show him moving to a more progressive style of jazz that would eventually lead him to become a trailblazer. The collection presents all 37 tracks that Coltrane recorded in 1958, chronologically sequenced, and charts his evolution and growth as a musician during what was a tumultuous and significant year.
Coltrane '58 can be bought here.
Blue Train (Blue Note, 1958)
This album, recorded in September 1957, marked John Coltrane's comeback after his heroin use led to his ejection from Miles Davis' band earlier in the year. After going cold turkey and successfully beating his addiction, Coltrane was a man reborn whose music became more sharply focused, especially after he began working with Thelonious Monk. He was still playing with Monk's quintet when he recorded Blue Train with a sextet that included young trumpet genius Lee Morgan. All but one of the tunes is by the saxophonist, and it's the title cut, with its memorable clarion call theme, which is the stand-out. Widely acknowledged as Trane's first masterpiece, anyone looking to buy John Coltrane for the first time needs to start here.
Blue Train: The Complete Masters can be bought here.
Blue Train (Remastered 2003/Rudy Van Gelder Edition)
Soultrane (Prestige, 1958)
Arguably the pick of Trane's output for producer Bob Weinstock's indie label Prestige, Soultrane was recorded on February 7, 1958 and found the saxophonist in the company of pianist Red Garland and bassist Paul Chambers, both of whom he was familiar with from his time in Miles Davis' band during the late 50s. Completing the line-up is drummer Art Taylor, who holds down a swinging groove. This hard bop session comprises five tunes – though, remarkably, none of them are by Coltrane – that demonstrate his florid "sheets of sound" style. As an entrée to Coltrane's world, this solid straight-ahead offering, whose killer cut is a hard bop deconstruction of Irving Berlin's "Russian Lullaby," is a safe bet.
Russian Lullaby (Rudy Van Gelder Remaster)
Giant Steps (Atlantic, 1960)
Recorded in 1959 while Coltrane was still playing in Miles Davis' band, Giant Steps marked a significant stride forward for the saxophonist, who, with the title track in particular – based on a cyclical series of descending chord changes – captured perhaps the ultimate expression of bebop. Having taken bebop to its limits, it was no wonder that Trane changed musical direction after this album, opting to explore modal jazz, which offered more freedom for improvisation. As well as the classic title song, Giant Steps included the haunting ballad "Naima," named after his first wife. Other memorable cuts on the album were the hard-swinging hard bop outings "Cousin Mary" and "Syeeda's Song Flute."
A Love Supreme (Impulse!, 1965)
This magisterial album, the saxophonist's four-part sonic prayer dedicated to the divine creator, encapsulates the deep searching quality of John Coltrane's music as his career neared its peak. The music is often intense, febrile, and probing, but, paradoxically, it's also blissfully serene in places. Trane is accompanied by his classic quartet, comprising pianist McCoy Tyner, bassist Jimmy Garrison, and drummer Elvin Jones. As well as being arguably Coltrane's best-ever album, A Love Supreme is also one of the greatest albums in jazz – and, significantly, it spawned the spiritual jazz movement. Though it's not as accessible as Trane's Prestige work, A Love Supreme possesses a hypnotic quality that can seduce even the most jazz-phobic of listeners and send them on a path to buy John Coltrane music.
A Love Supreme, Pt. I – Acknowledgement
A Love Supreme: Live In Seattle (Impulse!, 2021)
John Coltrane regarded A Love Supreme as a profoundly personal artistic statement, and rarely performed his masterwork in concert. For a long time, it was believed that only a single live recording existed. In 2021, a second onstage performance came to light, recorded at a Seattle jazz club called The Penthouse. It finds Coltrane augmenting his usual quartet with three other musicians, including saxophonist Pharoah Sanders; together, they give A Love Supreme an epic, widescreen treatment that runs to 75 minutes. It's an important musical artifact not only because it offers us a rare opportunity to hear Coltrane's iconic work live, but also because it reveals how his style had advanced since the earlier studio recording.
Buy A Love Supreme: Live In Seattle here.
Ballads (Impulse!, 1963)
Those who find Coltrane's music challenging should give this cool gem a spin. It finds the saxophonist in a reposeful mood, offering fairly laidback late-night renditions of eight jazz standards, including Gene DePaul's "You Don't Know What Love Is." Ballads features the same musicians (Tyner, Garrison, and Jones) that served up A Love Supreme, but the music is more reflective and less intense. Even so, it's still a classic Coltrane opus dominated by a distinctive probing saxophone sound. If A Love Supreme is a step too far for those looking to buy John Coltrane for the first time, then Ballads is much more palatable.
My Favorite Things (Atlantic, 1961)
Many mainstream pop-pickers first came across Coltrane via the single edit of this album's title song, on which he transfigured a popular tune from the hit musical The Sound Of Music into a vehicle for searing Eastern-influenced jazz improv on the then unfamiliar soprano sax. The full album version was almost 14 minutes long and, in concert, Coltrane could extend it to half an hour. It's the sonic keystone of a four-track album that didn't contain any original material but showed how Coltrane could take standards (including "Ev'rytime We Say Goodbye" and "Summertime") and transform them into intense jazz meditations.
Coltrane (Impulse!, 1962)
Coltrane was in the middle of his modal period when he made this album, which came out a year after My Favorite Things. At this point, he still wasn't averse to recording standards but his 14-minute "Out Of This World" – written by Harold Arlen with Johnny Mercer – is unrecognizable from the original. The same can be said for a wild soprano-sax-led reading of Frank Loesser's "The Inch Worm," in 3/4 time. Both tunes, however, epitomize Trane's freer approach to improvisation, as he blows over open-ended two-chord grooves. Of Trane's own tunes on Coltrane, the meditative "Tunji" anticipates the spiritual quest of A Love Supreme.
Both Directions At Once: The Lost Album (Impulse!, 2018)
One of jazz's most important archival discoveries in recent years is this long-forgotten studio session that was unearthed 55 years after its recording in 1963. Its performances, ranging from a conservative take on the jazz standard "Nature Boy" to more fiercely explorative original material – some of it not even titled – reveal that Coltrane's classic quartet was at a transitional point; poised between known and unknown sonic universes. Though not reaching the exalted creative heights of Giant Steps or A Love Supreme, Both Directions At Once is essential to our understanding of a significant lost chapter in the saxophonist's discography. Its value is best summed up by saxophonist Sonny Rollins, who in the album's liner notes likens the discovery of the album to "finding a new room in the Great Pyramid."
Both Directions At Once: The Lost Album can be bought here.
Crescent (Impulse!, 1964)
Crescent was Coltrane's ninth album for Impulse! Records. Featuring his so-called classic quartet (Tyner, Garrison, Jones), it contained all original compositions and proved to be a very spiritual LP epitomized by the haunting "Wise One," which opens with lush, rhapsodic chords from Tyner, who sets the mellow tone for Coltrane's tenor sax, which enunciates a beautiful melody. The second side of the album was also remarkable for containing two tunes ("Lonnie's Lament" and "The Drum Thing") on which Coltrane doesn't take a solo. Stylistically, it's a perfect starter to prepare the listener for the following year's A Love Supreme.
Ascension (Impulse! 1965)
This shouldn't be at the top of anyone's How To Buy John Coltrane list, unless you're familiar with the esoteric sound of free jazz. But Ascension is an album to seek out as you get acclimatized to the saxophonist's more avant-garde style. It was recorded six months after A Love Supreme but is radically different, with Coltrane surrounding himself with a ten-piece band that features three saxophonists (including Archie Shepp), two bassists and a pair of drummers to play a single, extended piece of music. Two versions of the composition were recorded, and recent CD reissues have featured both. While its collective improvisation reflects the growing influence of Ornette Coleman and Albert Ayler on his music, Coltrane nevertheless created a long-form improvised group composition without precedent.
Ascension (Edition I / Pt. 1)
Interstellar Space (Impulse!, 1967)
Not for the faint-hearted, but for anyone looking to buy John Coltrane at his most outré, then this is the album to get. Interstellar Space was recorded in February 1967, just five months before the saxophonist's death, aged 40. By this time his classic quartet was no more and Coltrane had been experimenting with different line-ups. Here, alternating between tenor saxophone and bells, Coltrane explores an extended musical dialogue with drummer Rashied Ali, spread over four tracks ("Mars," "Venus," "Jupiter" and "Saturn"). Dispensing with orthodox melody, harmony and structure, Interstellar Space divided both Coltrane's fans and critics. Decades on, it's still an unsettling listening experience but is an essential addition to your Coltrane collection, if you wish to understand him better and feel the full force of his pathfinding genius.