Thelonious Monk
Thelonious Monk was one of the most revered pianists in jazz, with a peerless career that showcased his improvisational style.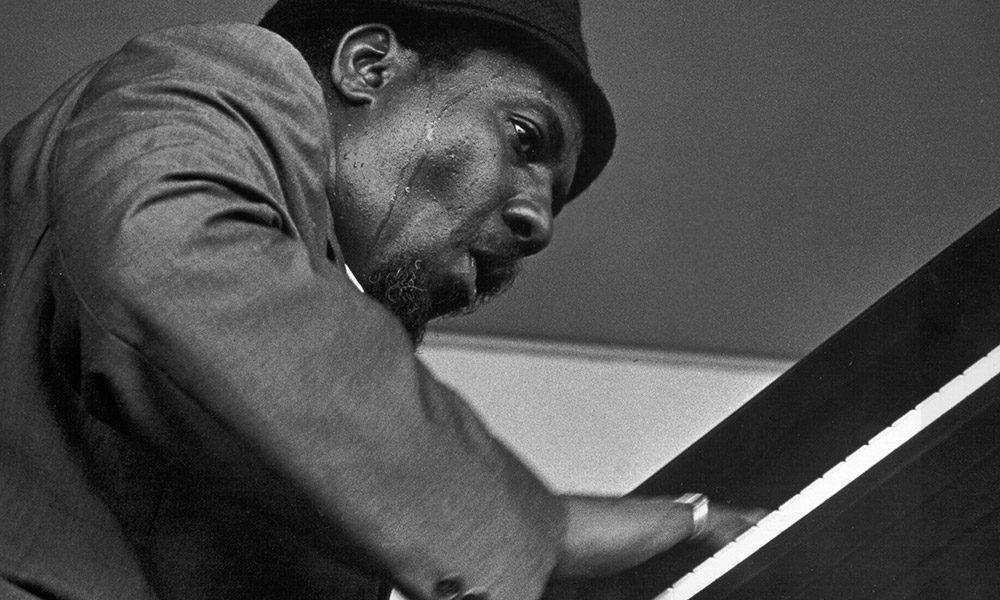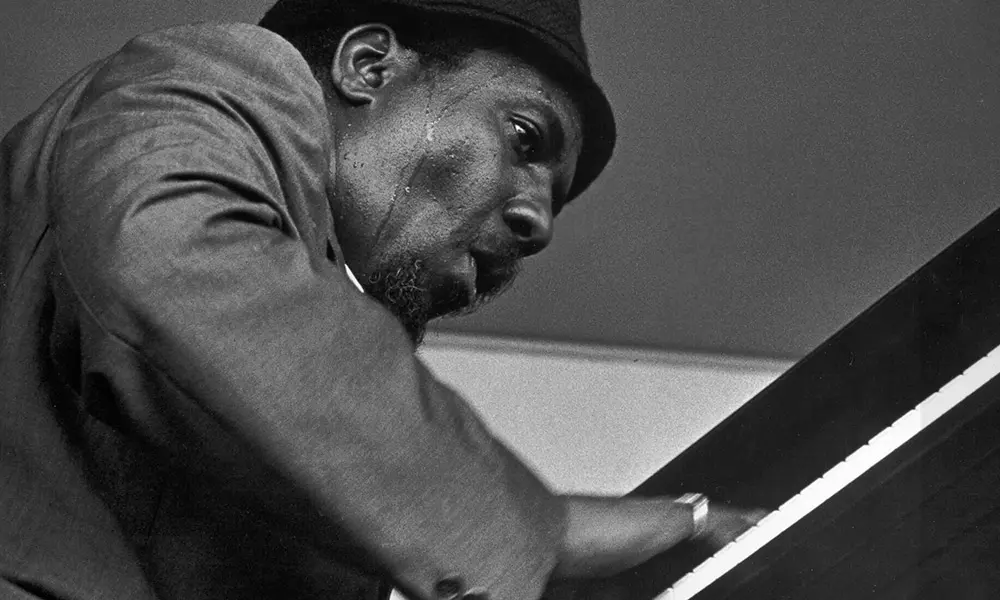 Thelonious Monk was born October 10, 1917, in Rocky Mount, North Carolina, but moved at age four, with his family, to New York City. Monk's father was musical, it is likely that this is where Monk got his early interest in the subject, but he was also an athlete in school; he began by studying piano when he was ten years old. Like many other pianists of his generation and background, he played the organ in church, but at the other end of the musical and spiritual spectrum he became a pianist for a travelling faith healer; later he played the piano at house rent parties. These affairs were very common in the Twenties and Thirties when people got together to 'pass the hat' to help pay the rent and to give a share to the musician(s). Without theses gatherings that originated in Harlem and spread through the Black communities, especially in the South, the development of both Jazz and the Blues could have been very different.
"Anybody can play a composition and use far-out chords and make it sound wrong. It's making it sound right that's not easy" – Thelonious Monk
His first professional work was playing Minton's Playhouse in Harlem, having been encouraged by pianist Bud Powell, who although he was Monk's junior had begun his professional career much earlier. There was a nod to Bud in 1947 when Monk began recording under his own name and he cut, 'In Walked Bud'. Monk may well have recorded with the house band, but no one is quite certain. What everyone is sure about is the fact that this famous Harlem club played host to musicians that included Don Byas, Charlie Parker, Dizzy Gillespie, Mary Lou Williams, Max Roach and Roy Eldridge, they along with others were at the forefront of the emerging Be-Bop style of jazz.
What is certain is that Monk entered the recording studio with the Coleman Hawkins Quartet in 1944 cutting a few titles. Some of the saxophonist's fans complained about their hero's eccentric pianist; what was also clear is that the veteran jazzman sensed the pianist's greatness. Monk had moved to the Spotlight Cub on 52nd Street and it was while he was here that he wrote ' 'Round Midnight' with Cootie Williams that the trumpeter recorded. It was in 1947 that Monk made his first recordings with a sextet, which he did for the Blue Note label. Among the music was the self-titled, Thelonious; these were the opening salvos of a five-year relationship with the label that produced some stunning records.
Because Monk played jazz piano differently than any other pianist, certainly before or probably since jazz fans were unsure what they were listening to. It produced some furious exchanges in the music press on both sides of the Atlantic; well it did in those sections of the press that tried to understand what was going on with jazz. Monk just ploughed his own furrow; his philosophy was simple, "play your own way. Don't play what the public wants—you play what you want and let the public pick up what you are doing, even if it does take them fifteen, twenty years". As the Fifties began Monk also played with Charlie Parker on a number of recordings. Among the standout tracks is the beautiful, 'My Melancholy Baby'. In 1951 an arrest for narcotics possession meant that he lost his cabaret card, a requirement for performing in New York Clubs, which made life difficult for a while and caused a loss in earnings.
Throughout this period Monk experimented with new concepts of harmony and rhythm and by 1953 he had signed to Prestige Records, which some critics have decided was his least fruitful period. Nevertheless, there were some amazing moments among his recordings. None more so than a session on Christmas eve 1954 when he recorded Bags' Groove with the Miles Davis All Stars. This record became one of the cornerstones of the post Bop movement. In the same year, he also appeared at the Olympia in Paris, which introduced him to a new group of jazz disciples across the Atlantic.
Monk having been appointed as 'the high priest of bebop,' was never content to confine himself to one jazz genre, as his recoding with Miles proves. In his own recordings and in his compositions he was soon entering uncharted territory; some in the jazz fraternity were not pleased that either he or they were making the journey. 1955's Gallop's Gallop was for some just too way out there, as was his work with Art Blakey for others. Then just to get things back on track, and to at least return some of the doubters to the fold, he recorded three LPs of sheer brilliance. There was the aptly named, Brilliant Corners, Thelonious Himself and an album with tenor saxophonist John Coltrane. Some even claimed that these albums made him the most controversial figure in jazz, others, quite rightly, see them as pivotal moments in jazz piano or any other kind of jazz for that matter. It was during 1957 that Monk played a long-term gig at the Five Spot Café in New York City with Coltrane.
What was different about Monk was that he utilized the entire keyboard of the piano, every black note, every white note. He even used silence to create a kind of music that had never been heard before. Some have argued that it was his ability to have both the simple and the complex together in the same piece, others feel that it is his humour, while others are certain that it's his chord construction that is what Monk's music is all about. The truth is, it's all of those things and more. It's music that makes the audience think and it also makes the musicians that Monk played with think very hard when they work together. According to John Coltrane. "I learned new levels of alertness with Monk because if you didn't keep aware all the time of what was going on, you'd suddenly feel as if you stepped into a hole with no bottom to it".
"When Thelonious Monk played the Apollo in the late 1950s he wore a pink sequinned necktie – his one concession to the demands of show business." – Ted Fox in Showtime at the Apollo
By the last years of the Fifties, Monk was enjoying one of the best periods in his career. He was touring extensively in America and Europe and he ended the decade with a concert at The Town Hall in New York with an orchestra playing arrangements of his compositions done by Hall Overton. The early sixties saw frequent touring, commercial and critical acclaim, a new recording contract with the more mainstream Columbia Records. His albums during this period included Monk's Dream and Straight, No Chaser; he even had his photo on the cover of TIME magazine ­– one of only three jazz musicians to ever have achieved such status.
By the 1970 and '71, he was touring worldwide, including a spell with the Giants of Jazz that included Dizzy Gillespie and Art Blakey. He recorded an album In London, which some critics hailed as yet another departure of the Monk – jazz explorer. However, before anything could become of this new venture Monk disappeared off the music scene and seemingly off the planet. He did make a couple of appearances at the Newport Jazz Festival in 1975 and '76, but other than that there was silence. During this time he lived in New Jersey with his friend and his patron, Baroness Pannonica de Koenigswarter.
Many conflicting stories have been put forward as to why Monk was absent. They range from drug theories, both his own use of them and the inadvertent taking of LSD; others talk of brain damage, most people agreed there were mental health issues. The fact is that he didn't play in public, and those who appear to be in the know think he didn't play in private either, after his 1976 Newport appearance, until he died in February 1982 from a stroke.
"All musicians are subconsciously mathematicians." -Thelonious Monk
Whatever the theories, the circumstances or the truth, the one truth is that the world lost a great and gifted musician – a true jazz visionary. But he has left behind a body of work that offers a jazz landscape more diverse and more challenging than most of his contemporaries. Sure there are other jazz artists who played it obscure, but none of them played it half as well or half as interesting as Thelonious Monk. The world is catching up with Monk. In 1993 he won a posthumous Grammy and in 2002 a Pulitzer Prize special citation. He's no doubt up there, doing it straight… no chaser.
Words: Richard Havers
Format:
UK English